PC gaming is going through a bit of a revival around the world, and Nvidia is looking to capitalise on that by tying up with system integrators to push a line of pre-built PCs. This takes the guesswork out of buying components and putting them all together. The graphics-obsessed company has chosen a handful of brands to partner with and has come up with five Battlebox configurations, ranging in price from Rs. 44,950 to Rs. 1,69,450 (excluding monitor, keyboard, mouse, speakers, operating system, etc).
Very few people are confident enough to build their own machines (relative to the total size of the potential market) and not everyone has the time or inclination to do so. There are hardly any brands catering to gamers, and even assemblers often don't know anything beyond the bare basics that sell in large enough numbers. Nvidia knows there are willing and eager buyers out there, and has taken the lead to help them get ready-made boxes that just work.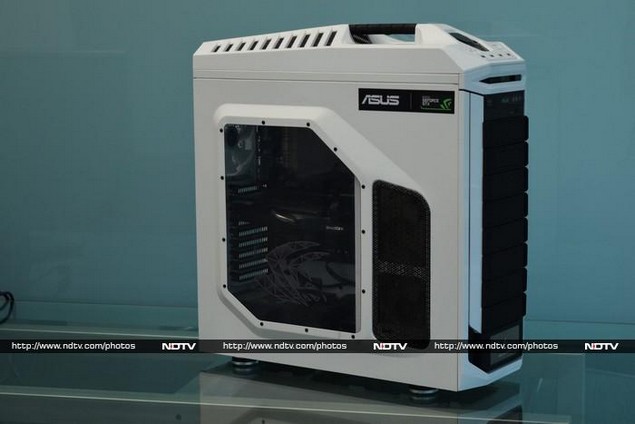 Obviously, Nvidia's own graphics cards are front and centre in each build, and there are logos and green accents scattered around. The company has taken care to emphasise that these are not Nvidia branded PCs, or being sold by the company at all, but are the result of collaborations between several industry players. The price points and configurations have apparently been researched specifically to suit Indian buyers, and plenty of attention has been paid to looks, for example the choice of cabinets. These are machines you should be proud to own and show off.
We have the Battlebox Titan Sr with us for review, which is the highest-end and most expensive configuration of the lot. At its launch in April, the spec sheet read like every enthusiast's wishlist of cutting-edge parts. A minor refresh has since relegated some of these components to the second tier, but we're still talking about performance that is leagues above and beyond what any ordinary home PC can deliver.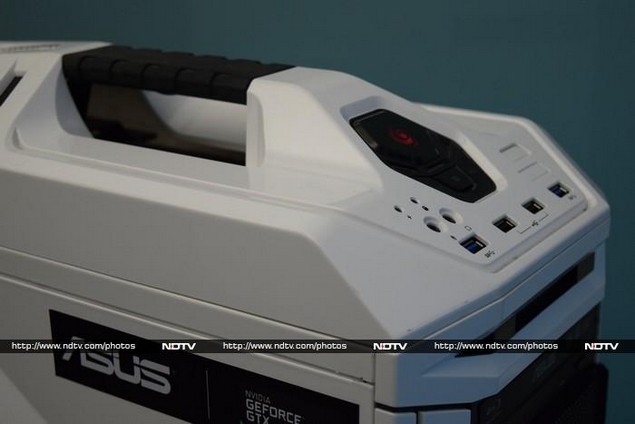 Looks
The Battlebox Titan Sr is a huge, imposing white box with black accents and a transparent side panel. It's many times bigger than ordinary desktop tower PCs. The first thing you'll notice is its rubber handle, which comes in handy since the whole thing figuratively weighs a ton. You'll also notice the upper panel, which puts ports and buttons at a comfortable height if the PC itself is placed on a floor or low cabinet.
We didn't care at all for the mismatched Nvidia logo stickers on either side of the chassis, or the Asus | Nvidia bumper sticker in one corner of the left panel. They were not applied very well and had started to peel by the time the Battlebox got to us, making the whole thing look a bit cheap.

Side windows are a hallmark of high-end PCs, but that's still not a common thing in India. You can see that attention has been paid to cable management - everything is sleeved in black and tied neatly to the cabinet's backplate. Front and centre, you'll see the beefy graphics card and the two rubber tubes for the CPU's liquid cooling system. There's a lot of empty space, since this cabinet can accommodate multiple large cards and hard drives, but that only amplifies the effect of the cooler. You'll see a lot of the motherboard surface, which is decked out with gold accents Almost everything is black - only the blue coolers on the RAM modules stick out.
When you switch the PC on, you'll notice the two fans on the side panel light up in green, and the CPU cooler block has a hexagonal white logo outline. There are also a few red LEDs on the lower edge of the motherboard. It all looks fantastic through the window.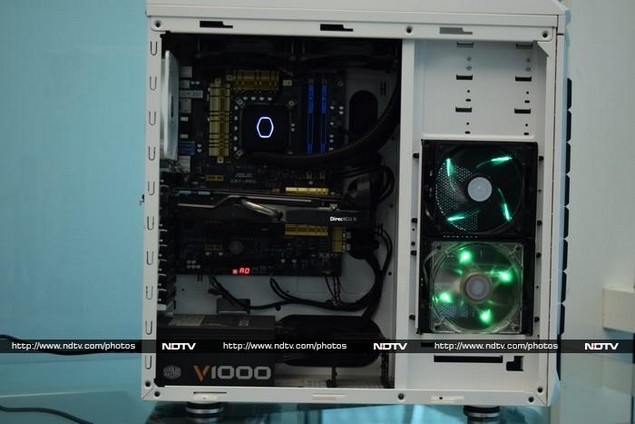 Specifications and assembly
The components are top-notch, or at least were top-notch as of a few months ago. At the heart of the beast is an Intel Core i7-4770K processor sitting on an Asus Z87-Pro motherboard. Both are very well regarded products; the 4770K has long been a favourite of gamers and overclockers, while the Z87 chipset is the perfect match for it.
Nvidia could have gone with a motherboard from Asus' gaming line, but the Z87-Pro is still a pretty solid choice. None of the Titan Sr's components are overclocked out of the box, but there are no corners cut here, so you will be able to mess around as much as you like - at your own risk.
The CPU runs at 3.5GHz with headroom for Turbo Boost to go up to 3.9GHz. Nvidia has chosen to forego the standard headsink-fan cooler that comes with the 4770K and jump right up to a Cooler Master Nepton 280L closed-loop liquid cooler. We love the fact that the Titan Sr goes a step above and beyond here - this particular model might even be a little over the top considering the rest of the configuration and the intended target buyer.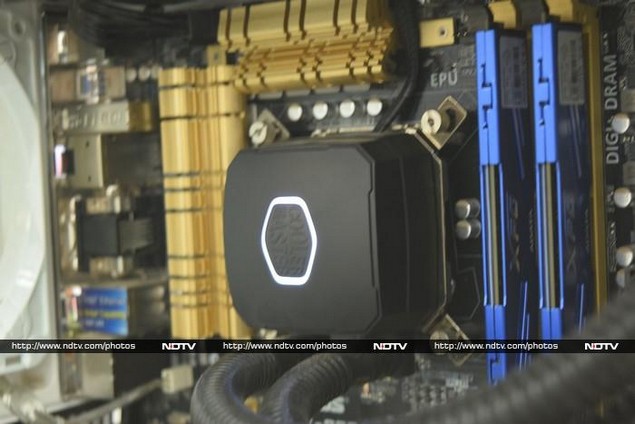 The Z87-Pro gives us plenty of features, including on-board Wi-Fi a/b/g/n, Bluetooth 4.0, six USB 3.0 ports on the rear, eight 6Gbps SATA ports, Realtek ALC1150 8-channel audio with optical S/PDIF out, and a 12-phase power block. Thanks to the Z87 chipset there is support for up to four-way SLI or CrossFire, though we're only dealing with one graphics card in this build. The board looks great in dark brown with gold accents.
There's 16GB of DDR3-1600 RAM in the form of twin Adata modules. The Z87 can support higher speeds, so we would have liked to see at least DDR3-1866. There's a 120GB Adata SX910 SSD as well as a 2TB Seagate Barracuda drive for bulk storage. We would definitely have preferred a larger SSD - considering some of the other specifications of this device, a 256GB drive could easily have made it into the budget. After installing Windows and your essential software, you'll only have space for a handful of games at a time on the SSD, which is a crying shame. 2TB will do for music, movies and all the other data that accumulates over the course of a PC's life, but games need to be installed on the SSD for this to be a true gaming machine.
On the other hand, the graphics card is a real beast - we have nothing less than Nvidia's GTX 780Ti GPU, the company's fastest current GPU (other than the workstation-class Titan series, which are not that much better at gaming but cost a whole lot more money). The GTX 780 Ti uses Nvida's GK110 GPU design with 15 "streaming multiprocessor" blocks for a total of 2,880 programmable CUDA cores, supported by 3GB of dedicated GDDR5 RAM. The specific card used is an Asus GTX780Ti-DC2OC-3GD, which uses Asus' custom DirectCU II cooler with two fans. Asus claims it's up to 20 percent faster and 3X quieter than the reference design. Surprisingly, even this top-end Battlebox doesn't include Nvidia's 3D Vision kit.
All of this is contained within a rather large, imposing Cooler Master Stryker chassis, part of the company's CM Storm gaming-oriented lineup. This case is all white, but it still looks rugged thanks to its sharp angles and black accents. There is the obligatory transparent window on the right and a very sturdy rubber-coated handle on the top. You'll get most of the conveniences of a high-end chassis, but this model is not without a few quirks.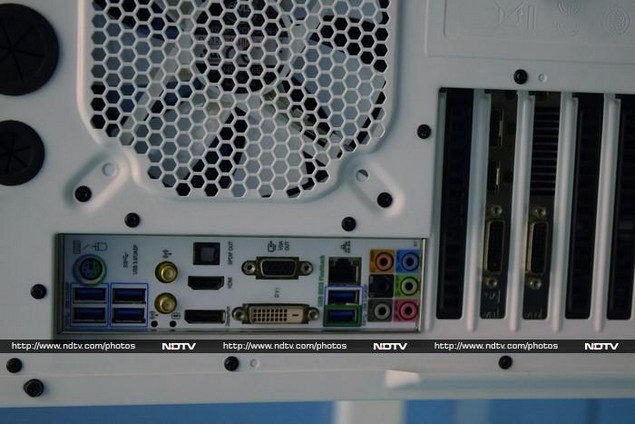 We liked the X-Dock, a slot on the Stryker's front panel into which you can slide any 2.5-inch HDD or SSD and use it like a giant removable drive, as well as the little tool drawer on the bottom that can hold all your spare screws, ties and standoffs. The top panel is home to two USB 3.0 ports, two USB 2.0 ports, audio in and out jacks, power and reset buttons, fan controller panel and a blanked-out space where an eSATA port should have been. There's plenty of room inside for cable routing, with rubber-lined holes below and to the side of the motherboard. You can fit up to seven fans in, and there are dust filters in all the intake locations. Oddly, the 5.25-inch bays require a screwdriver and the 3.5-inch bays are only accessible by popping off the right panel.
Our review sample came with two 120mm intake fans on the left and one 140mm exhaust on the rear. The front fans were not the standard ones with white lighting that come with this chassis - we can live with green lighting (which must be an Nvidia-inspired touch), but the two were different, which made for a very mismatched look. These fans blow across the drive cages but not directly into the cabinet, which leaves us a little uneasy. Luckily there's the huge water cooler for the CPU - and no other lighting strips or LED-heavy components.
The power supply is a massive 1000W Cooler Master V1000. This is pure overkill and you'll have loads of headroom to spare even with massive overclocking, a hard drive array and a second or third graphics card. There's also an Asus Blu-Ray/DVD-RW drive, which is a nice touch and could come in handy for large backups. It still makes sense to buy games on DVDs in India rather than downloading them, in many cases. Since there's no shortage of room, we're happy to have an optical drive.
For the most part, the Nvidia partner that assembled our review unit seems to have known what it was doing. We didn't much care for the crude stickers or mismatched fans, but we were impressed by the way wires were neatly routed and fastened. There were a few things that were out of place though - the optical drive was screwed in with ugly ordinary screws rather than the thumbscrews that come with the Stryker. The X-dock was just not plugged in. The Wi-Fi antennas were missing from our box, as were all the spare cables and adapters we should have had. Finally, something seemed off about the fan controller - we should have been able to turn off the fan LEDs, but they just stayed on, and in fact started flashing when we reduced the fan speed to anything below full which was just plain annoying. Everything looks nice enough through the Stryker's side window, but it's the little things that matter - especially if you're paying so much.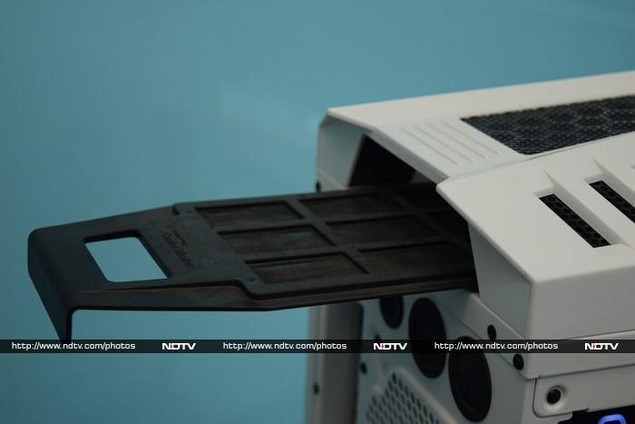 Setup and usage
Our review unit came without an operating system preinstalled, but setting up Windows was no problem at all. We hope that Battlebox vendors include all the components' drivers on a USB drive or on their original CDs, because we had to go scrounging around the Internet to find them all.
We tried the Battlebox Titan Sr with both a 1920x1080 monitor and later a 2560x1440 one. While some might find a 27-inch desktop monitor to be too big, we found that we weren't really using the full potential of the hardware with anything less. If you have become used to a tiny laptop screen, especially the lowly 1366x768-pixel variety that are all too common, using a desktop system like this will feel like you've had a revelation. 4K screens aren't out of the question either.
Windows 7 boots up in a matter of seconds, thanks to the SSD. We used the system for ordinary tasks for over two weeks and didn't encounter a single instance where software took too long to load. We could have dozens of browser tabs open and run a couple of heavy programs at the same time with no noticeable impact to the Battlebox's speed - in short, it was sheer bliss.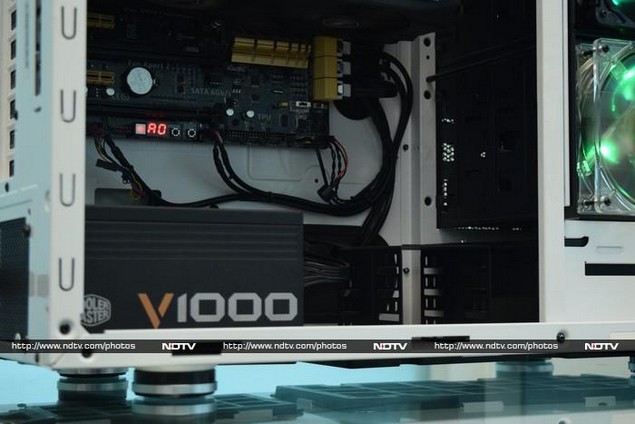 We got plenty of awestruck reactions, whether the Battlebox was just sitting idle on our desk or running with LED fans ablaze. It just looks undeniably deadly, especially with the side cutout and the illuminated outline of the Cooler Master logo on the cooler's water block. Some people in the office refused to believe it was a PC, and others nearly fainted when told its price. PC gaming is not very well understood - it took actual demonstrations to convey how this box is different from commodity home and office machines.
The only thing we'd say is unpleasant about using the Battlebox is that it's noisy. Despite the use of large, slow fans and a radiator, this PC emits a constant hum. It's nowhere near as loud as some PCs can get, but it's noticeable enough to be distracting. The Stryker's fan controller is not effective in reducing sound levels (and frankly, the flashing LEDs were so aggravating that we wound up never using it). Despite its awesomeness when in use, we would not want it in our bedrooms at night.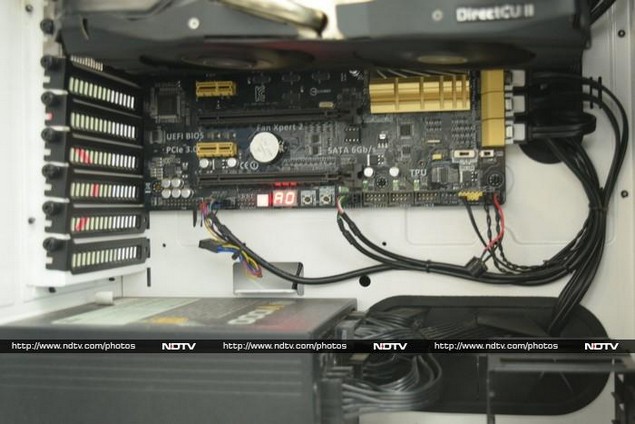 Performance and gaming
We were expecting ridiculously good performance and we got it. The Battlebox Titan Sr slammed and slashed its way through all our benchmarks like a ruthless wild animal - it became almost like a sport to come up with ideas for new tests and combinations of tasks that might choke it.
Our standard benchmark run includes tests for nearly every subsystem of a PC, from its 3D graphics capabilities to raw processing muscle. First off was SunSpider, which was completed in just 146.3ms. Browsermark 2.1 returned a score of 6829; within the 99th percentile of nearly every other machine tested.
You can of course overclock the CPU and even the graphics card to eke out a few more frames and points here or there, and both the power supply and liquid cooler will give you plenty of headroom. However the whole point of the Battlebox program is to give people a readymade, stable experience, so this is how we will test the box.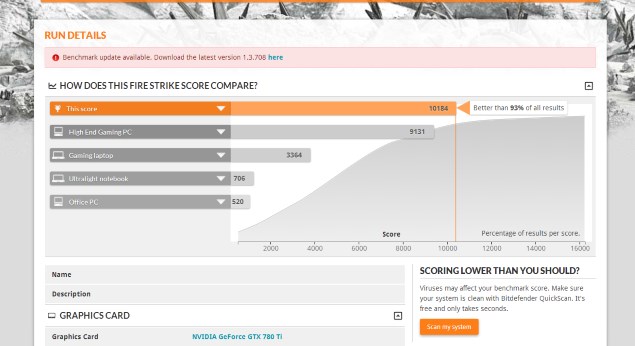 PCMark 8 gave us scores of 5471 in the Home (accelerated) run and 4805 in the Work run. These are easily double of what our best-performing laptops to date have achieved. Scores in the CPU-heavy SiSoft SANDRA tests were predictably astronomical: 156.74GIPS and 82.2GFLOPS respectively in the integer and floating point calculation tests. The Multimedia aggregate score was an unrivalled 352.39. Memory bandwidth was more than respectable, and file system scores were also snappy thanks to the SSD.
The Battlebox Titan Sr simply tore through Cinebench with an unbelievable score of 782 in the multithreaded CPU run. POVRay's standard benchmark finished rendering in just 2 minutes, 38 seconds - the average is around 12 minutes, but we've known a few systems that took over an hour. We added HyperPi to our regular rotation - the Core i7-4770K calculated Pi to a million decimal places with each of its eight cores simultaneously, in an average of 14.98 seconds.
Of course everyone's most interested in the gaming and graphics scores. To start with, our trusty 3DMark benchmark returned a whopping score of 10,184 points overall - and that too, while running at 2560x1440. The new Unigine Valley test uses some of the most intense graphical effects while generating a massive, richly detailed landscape. Using the Ultra preset with 8XAA in DX11 mode at 1440p, the Battlebox managed an average of 43.8fps. Star Swarm is a massive-scale simulation of thousands of spacecraft moving in 3D. Using the Extreme preset and the standard timed run, we got an average score of 63.77fps.
We tested the Battlebox Titan Sr with a variety of games, using either their internal benchmarks or FRAPS to determine performance in terms of frames-per-second scores and playable frame rates. We tested at both 1080p using an Asus VX238 monitor and 1440p using a Dell UltraSharp U2711. We found that the combination of hardware in use here was generally more than enough to handle any current game at 1080p with all quality settings turned all the way up. In fact, it almost seems like a waste to run games at that resolution - the GTX 780Ti should be able to handle dual-monitor gaming sesions with ease.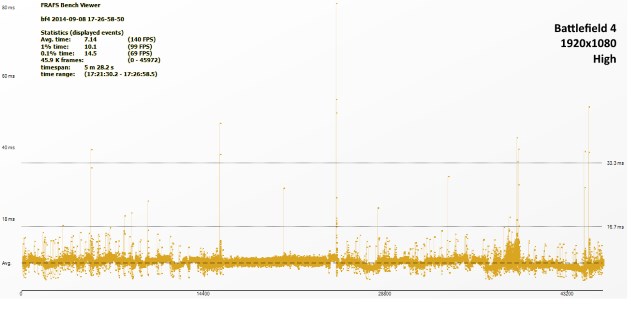 At 1440p, things started to get interesting. Average fps scores and even 99th percentile fps scores don't always reveal the whole picture. It doesn't matter how many frames a card can push out unless they're paced evenly. A PC might struggle to render frames in some parts of a game, which is masked when you only look at averages. The actual gameplay experience in such cases will suffer, with artefacts and tearing effects on screen.
We used FRAPS and FRAFS to visualise frame pacing, which shows how much deviation there is from the average. In general, the thinner the timeline and the fewer outlying points on it, the better.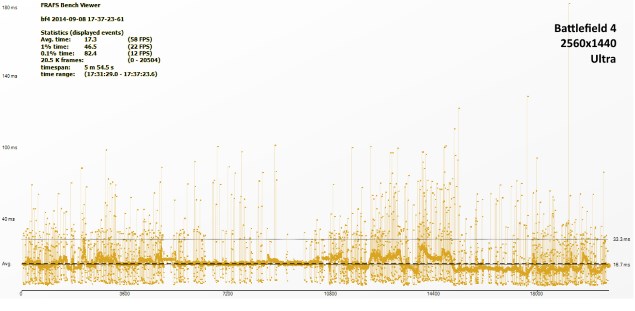 Battlefield 4 is a recent high-end game which can really scale to different hardware capability levels. Using the High quality preset at 1080p, we managed an impressive 140fps. The average frame time and 99th percentile time were 7.14 and 10.1ms respectively, which are not that far apart. There were fewer imperfect frames and very little skipping. When we stepped up to the Ultra preset at 1440p, things changed drastically. The average fps score plunged to 58, and pacing became extremely erratic. Average and 99th percentile timings were 17.3 and 46.5ms respectively, indicating a huge variance that is masked by looking at just the average, even though that itself is an impressive number.
So playability suffers, and we finally found the Battlebox's upper limit. If you demand a totally tricked-out gaming session at this resolution, you'll want to think about using two or more graphics cards.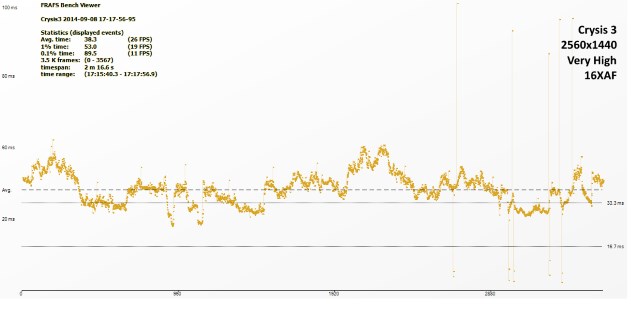 We also ran through Crysis 3 and Watch Dogs with FRAPS. Crysis 3 is incredibly demanding, but we still pushed it to 1440p with all settings Very High, 8XMSAA and 16XAF. The graph was uneven with quite a few outliers, but not severe ones. We were able to game at 26fps on average with the frame time of 38.3ms spiking to 53ms for the 99th percentile - again, we would have had to reduce the resolution and quality for a smooth enough experience. Watch Dogs ran at an average of 36fps at 1440p with 4XTSAA, and frame times were very consistent. Only a few outliers took our average frame time of 27.9ms to 37.7ms in the 99th percentile.
Grid Autosport is a whole different type of game, with gorgeous high-quality imagery and rich textures. Using the game's built-in benchmark at Ultra quality settings with 16XQCSAA, we saw 91.7fps on average, with even the minimum of 79.14fps more than enough for extremely smooth gameplay.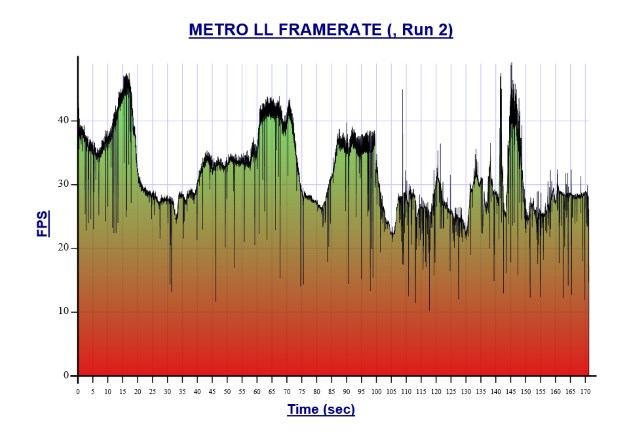 We even tried out the benchmark bundled with Metro Last Light, which plays through a scene automatically. Frame rates averaged 31.06fps, but dropped as low as 10.24 during an intense sequence.
In short, there's a whole lot of power to be tapped here, and you do get what pretty much you're paying for. The Battlebox Titan Sr has been designed as a gaming machine and it serves that purpose admirably. If you want even better, the next steps up from here would involve using two or more GPUs and more specialised high-performance components. If you need to go beyond this for non-gaming workloads such as video encoding or 3D animation, you could consider Intel's Extreme Edition CPUs and their matching platform.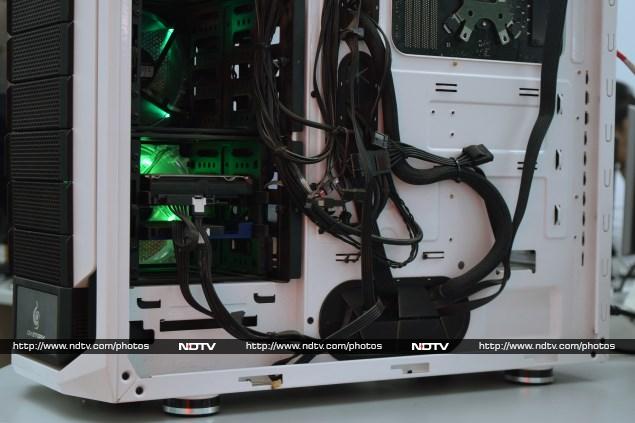 Verdict
We're happy to see Nvidia take the initiative to promote PC gaming in India. The price of the Titan Sr will be way too high for most people, but at least now buyers can experience the potential of PC gaming and find their own balance of cost and quality. We're told that system integrators who build and sell Battlebox units will be happy to make customisations - so think of these configurations as templates, or jumping points, which you can use as the basis for making your own informed decisions about what components to buy.
As it stands today, this build is just slightly behind the curve. We would try to swap out the Z87 with a Z97 and the 4770K with a 4790K, which now retail for exactly the same prices. We would also spend Rs. 1,000 more for a 256GB SSD (or downgrade the PSU and reallocate that amount from its budget). While the GTX 780 Ti is a monster in its own right, we expect Nvidia to release its next-generation GeForce flagship in just under a month. The new Maxwell architecture is very compelling in terms of performance and power savings, so it might be worth waiting for that as well. It might seem like there's just no good time to jump in since everything will eventually become outdated, but considering the total amount on the line here, we do want to get the best possible value which sometimes means delaying a purchase. We would also like it if a little more attention could be paid to the final fit and finish.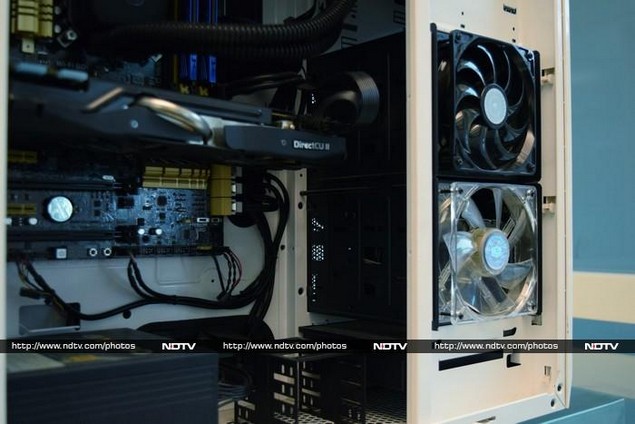 Even in its current form, though, the Titan Sr should be able to handle games for at least the next three or four years without requiring any major upgrades. PC gaming is seeing a revival around the world, but it makes a lot of sense in India, where console game titles are just getting more and more expensive and you're tied down to hardware that just will not keep up over the years.
We looked up the prices of all the individual components of the Battlebox Titan Sr, and came up with a total just around Rs. 5,000 less than Nvidia's recommended price. That isn't a huge difference, considering you get the whole box professionally assembled and ready to go. If you go this route, you'll save loads of time and effort (and potentially avoid some very expensive mistakes and accidents).

As far as warranty and support go, you have at least the individual warranties of the components. Beyond that you'll have the particular system integrator who sold the Battlebox to you, but Nvidia itself won't have any part to play in the warranty process.

If you enjoy buying parts and building your own PC, or if you want to recycle parts of an older build, you can just as easily use this template on your own - and you'll avoid the ugly stickers on the side in the bargain.
Price:
Rs. 1,69,450
Pros:

Extremely powerful

Comfortable headroom for overclocking

Mostly well assembled

Good component choices and pricing

Looks fantastic

Cons:

Low SSD capacity

Ugly stickers on cabinet

OS not preinstalled

Ineffective fan controller

Ratings (out of 5):

Design: 4
Performance: 5

Value for Money: 4
Overall: 4.5