MSI is a brave company. While seemingly every laptop manufacturer in the world is trying desperately to shave their products down to the absolute bare minimum, this Taiwanese component giant has decided to do the opposite. Instead of launching yet another stylish, skinny, underpowered model, the new GT80 is by far the most outrageously, unapologetically, delightfully massive one we've seen in years. It's loud, expensive, packed to the gills with high-end hardware, and has gamers squarely in its sights.
The MSI GT80 Titan SLI is so unusual that even the "gaming laptops" category, which consists pretty much exclusively of oversized models, doesn't even begin to do it justice. This is not the kind of machine you buy to carry around every day to get work done with and also slip in a little casual gaming on the side - it's for those who can afford to spend very close to Rs. 3,00,000 just for fun.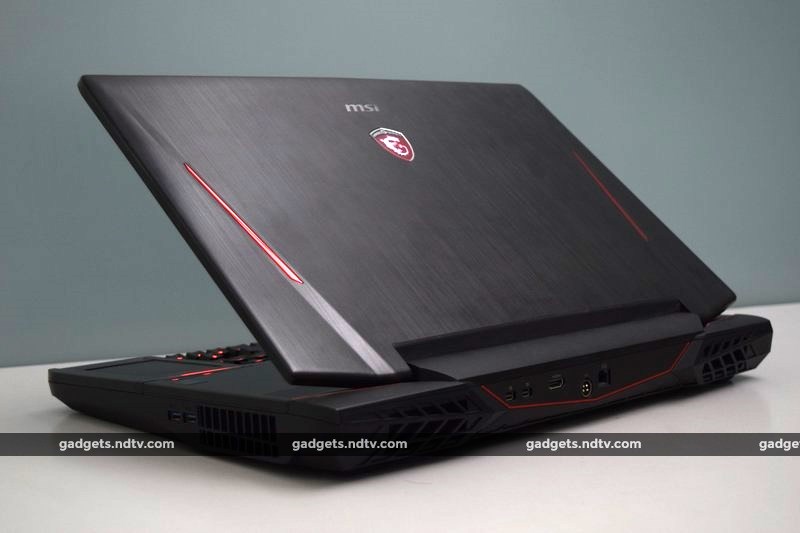 Look and feel
The MSI GT80 feels like a throwback from the 1990s, not just because it's massive but also because of its styling. While still portable at 4.5kg, there's no way anyone could carry this thing around like a regular laptop. It measures 456 x 330 x 49mm, which is roughly equivalent to the volume of six 13-inch MacBook Airs.
The body is mostly plastic, but there are metal elements such as the lid, which has a brushed texture. Aesthetic appeal is highly subjective, so you'll either love or hate the aggressive angles and red plastic accents.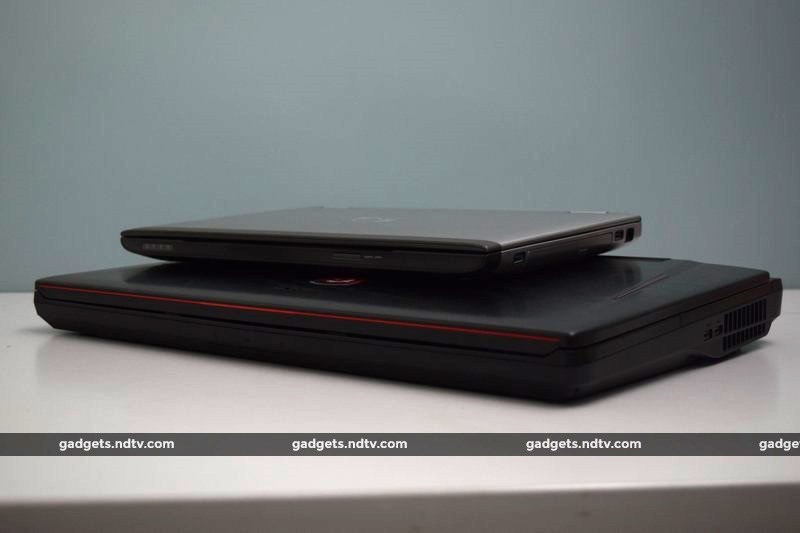 There's no clasp or even magnet for the lid, but the hinge feels solid. On flipping the GT80 open, you'll see one of its most noteworthy features - a full sized mechanical keyboard. Yes, while nearly every other laptop available today has an island-style keyboard with barely a millimetre or two of travel, MSI has gone in the exact opposite direction.
The keyboard is accommodated right at the edge of the laptop, so the trackpad is pushed to the right. This is an ergonomic disaster for left-handed users, but chances are you'll be using the bundled gaming mouse anyway. The trackpad can be turned into a touch-sensitive number pad by tapping the Num Lock icon in its upper left corner, which is a brilliant piece of thinking.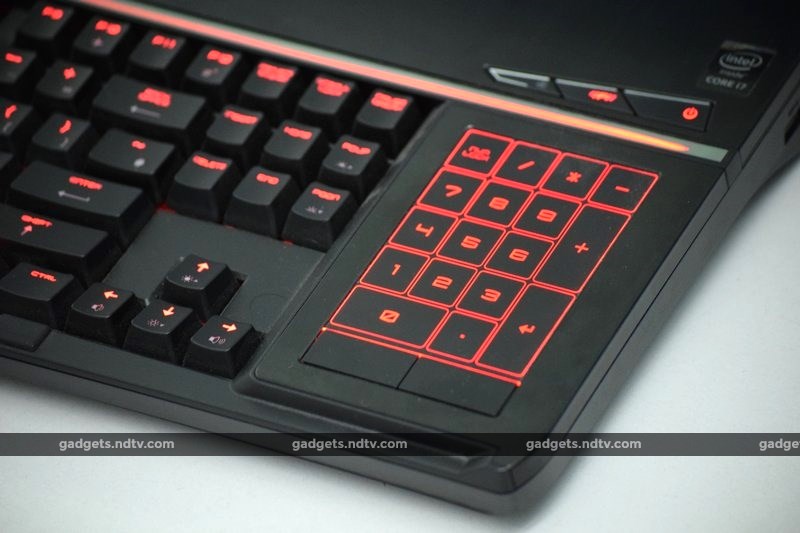 The unusual layout leaves a lot of room for beefy hardware and the cooling mechanisms they require - most of that is housed in the body behind the keyboard and trackpad. This blank space is finished with more brushed metal, but there's an etched MSI dragon logo if you look closely. There are no access panels and even the battery isn't removable, but the bottom seems as though it can be unscrewed with minimal effort.
You'll find three USB 3.0 ports on the left, one of which will let devices charge when in standby. Just next to them are an S/PDIF audio output and individual 3.5mm sockets for headphones and a mic. There's also an SDXC card slot and Blu-Ray writer. On the back, there's a Gigabit Ethernet port, HDMI output, two Mini DisplayPort outputs and the power inlet. There are two more USB 3.0 ports on the right for good measure. This should be more than enough for most power users, though Thunderbolt would have fit in nicely.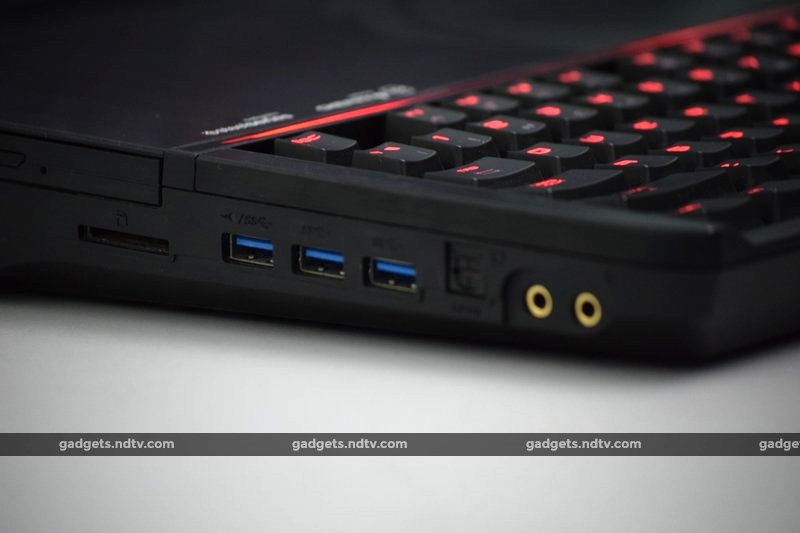 Specifications
MSI was clearly in no mood to compromise when it came to deciding which components should go into the GT80. Absolutely no concessions have been made to keep size, weight or power consumption down - just going through the spec sheet left us feeling giddy.
To start off with, there's an Intel Core i7-4720HQ CPU, a quad-core 45W part which runs at between 2.6GHz and 3.6GHz. Interestingly, MSI will sell the GT80 in India with a newer Core i7-5700HQ - the company told us nothing else was different. The step up to a fifth-generation Broadwell CPU should result in improved performance thanks to its newer 14nm fabrication process and more modern integrated graphics subsystem, even though it has a marginally lower peak speed of 3.5GHz.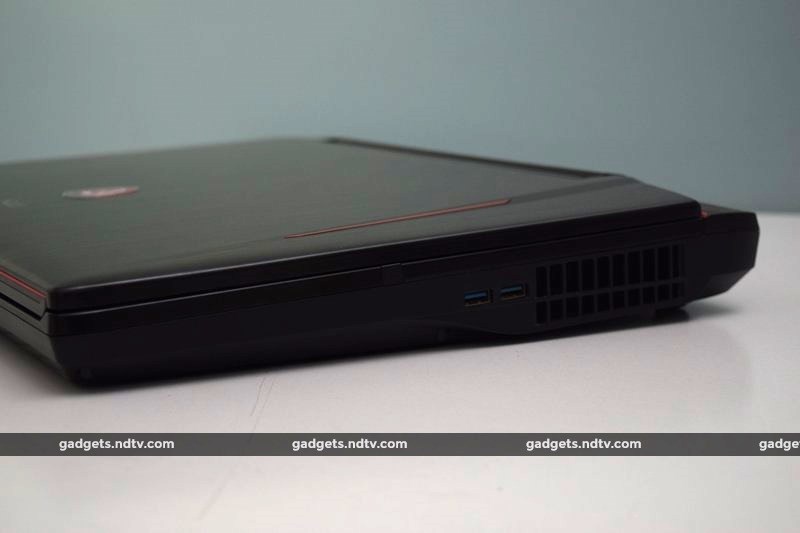 There's also 16GB of DDR3 RAM which can be doubled if you want an upgrade later. Storage is handled by two 128GB SSDs in a striped RAID 0 array for extra speed, as well as a 1TB, 7200rpm hard drive for bulk data.
A gaming laptop wouldn't be much good without a discrete graphics card, so of course MSI went and put two of them in. Yes, you get two of Nvidia's top-of-the-line GeForce GTX 980M GPUs teamed up in SLI. There's also Intel's integrated HD Graphics 5600 to fall back on when you want to conserve power. For some reason though, you have to reboot to switch between discrete and integrated graphics - the GT80 won't do this on the fly like modern laptops can.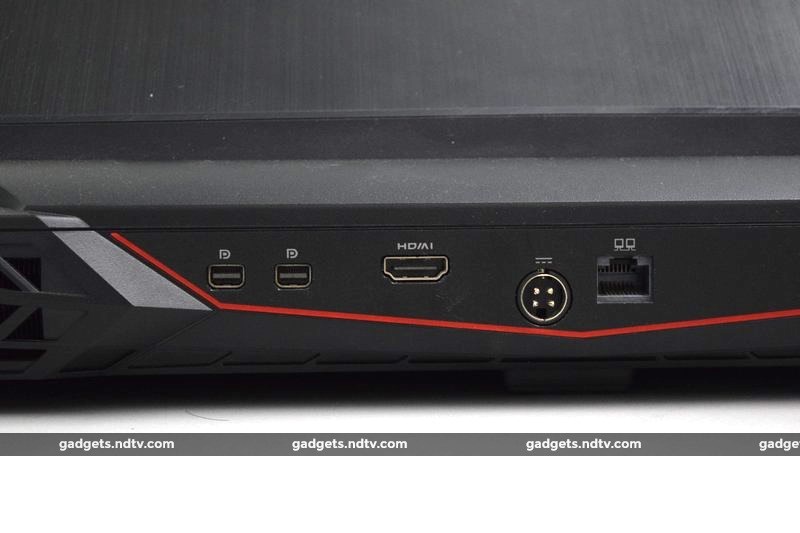 All of that power can be channelled through any or all of the HDMI or DisplayPort outputs, but of course there's the built-in 18.4-inch 1920x1280 screen. Thankfully, MSI realised that gaming would be awful on a glossy screen so we're treated to a glorious non-reflective panel. There is no touch capability which probably won't matter to the intended target audience. MSI also claims that the panels on all GT80s are pre-calibrated and can display "close to 100 percent" of the Adobe sRGB spectrum.
Both the Gigabit Ethernet and the Wi-Fi ac are managed by a Killer DoubleShot Pro controller, which can combine the throughput of both connections and allow you to prioritise traffic by program. There's also Bluetooth 4.1.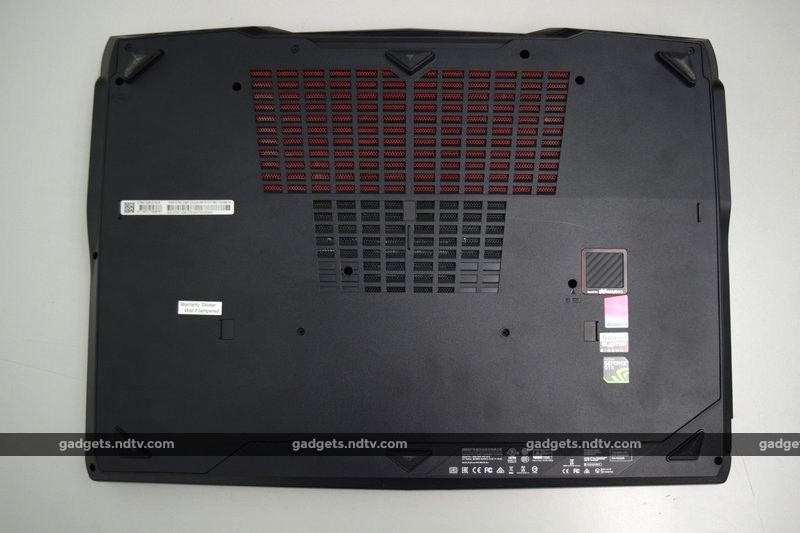 MSI has managed to install a 4.1 sound system with two speakers per channel. The battery capacity isn't specified, but don't expect too much considering the kind of hardware it has to support. The AC adapter that comes with this laptop can deliver a staggering 330W, and is larger than some of the compact desktops we've reviewed in the past.
Software
The GT80 ships with Windows 8.1 which you can of course upgrade to Windows 10 for free. We weren't thrilled with the amount of nagware MSI preloaded on the device though. Right from the first system boot, we were bombarded with multiple splash screens and popup notifications from assorted programs.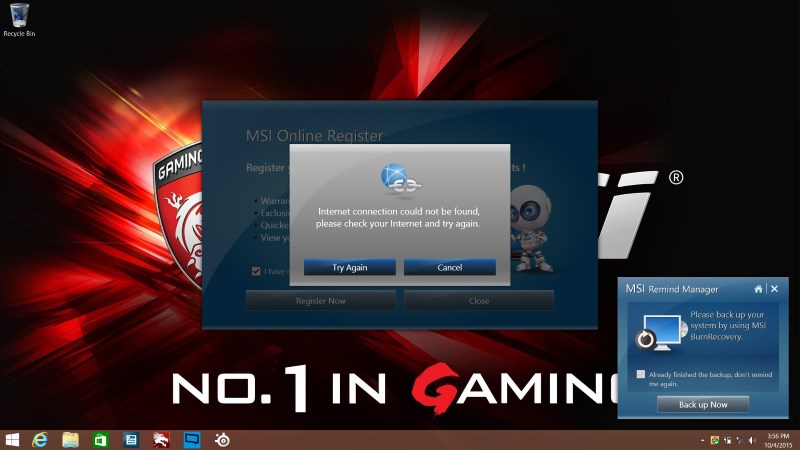 The first one was an annoying online registration prompt which was permanently visible above all other windows and could not be dismissed without an active Internet connection. Then there was MSI Remind Manager, which wanted us to create a system backup to a USB drive or blank DVD before doing anything else. Once that was dismissed, we had to run through MSI Boot Configure - a multi-step wizard-style program that needed us to decide on Windows settings such as whether to boot into the desktop or the Start Screen by default. It also wanted us to set screen scaling to 125 percent (though we found native 100 percent much more comfortable) and then tried to get us to agree to install Google Chrome for no apparent reason. Despite seeming like a one-time thing, it showed up on a few subsequent reboots.
The Windows notification area was also jammed with icons, indicating a number of programs running in the background. System Control Manager is a useless screen overlay with controls and status indicators for volume, brightness and similar things. Sound Blaster Cinema 2, GeForce Experience, Killer Network Manager and SteelSeries Engine 3 are manufacturer-specific utilities for the sound, graphics, network and keyboard hardware respectively.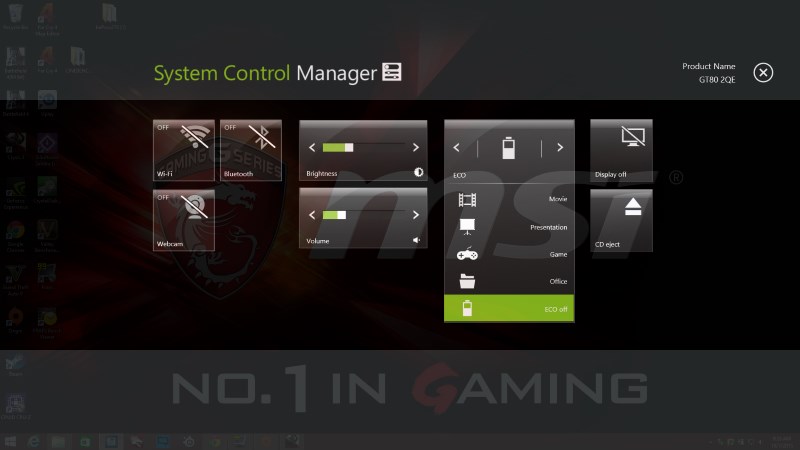 MSI Dragon Gaming Centre is an odd program that combines a system monitor, shortcuts to the same hardware utilities, mouse and volume controls, configurable shortcuts to games, and a crude task manager. This is also where you can switch the GT80 between "Green", "Comfort" and "Sport" modes which balance power against heat and noise. There's also another toggle labelled "High Performance" which seems redundant - no explanation is offered.
You get 60-day trials of Norton Internet Security and Microsoft Office, and Nvidia's Xsplit Gamecaster as well. Norton is by far the most intrusive bit of preinstalled software, constantly displaying popups for its own browser toolbar and extension. In short, the software is a mess, and you'll have to spend ages as each program insists on updating itself and taking you through its steps on first boot.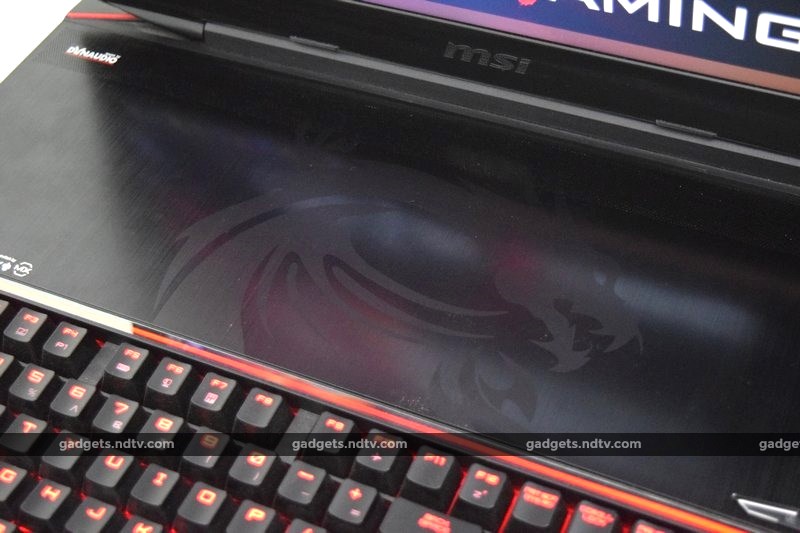 Usage
The MSI GT80 will spend 99 percent of its life on a desk. You cannot possibly use it on the move, and you'll singe your thighs if you try perching it on your lap. We absolutely loved working on the expansive screen, though by today's standards a higher resolution or touch capabilities would not have hurt.
We were far more eager to get our hands on the keyboard though. With Steelseries and Cherry MX branding, we were hoping for something truly extraordinary. The keys are full-sized and have the travel height of a standard desktop keyboard. Moreover, miracle of miracles, there's an actual unsquashed cursor pad and a full paging block to the right of the QWERTY keys.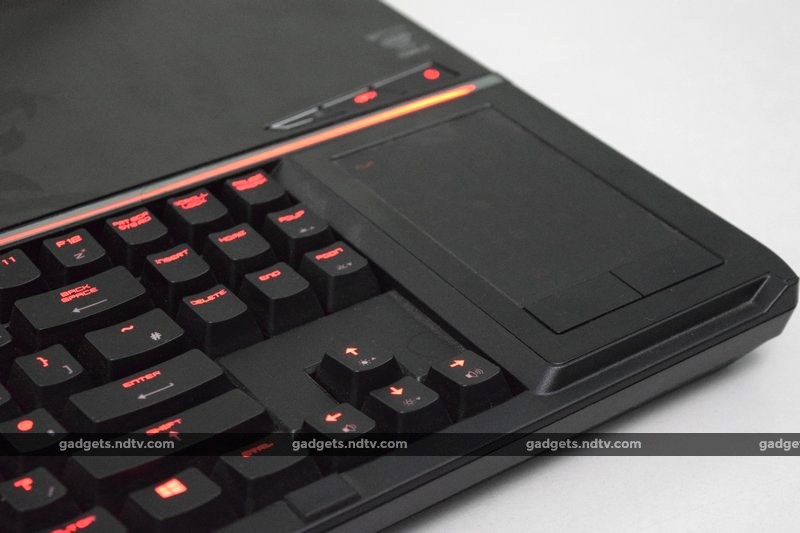 However, the layout is a pain. MSI has gone with a European layout which moves many of the punctuation keys around. You can set the input language to US English in Windows, but then the key labels will be wrong. A Fn key displaces the Windows key from the left of the spacebar. If you need to do a lot of typing, this will be infuriating - surely MSI should have known better.
You can cycle through three different backlight intensities or turn the lighting off altogether. There's no colour control or zone-specific lighting. Each key can be programmed with a macro, and you can switch profiles automatically when launching different games - this makes up for the lack of dedicated programmable shortcut buttons.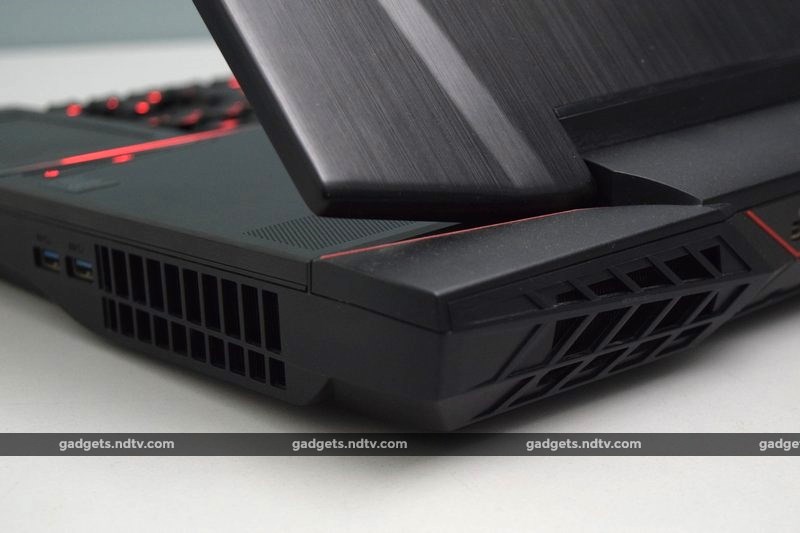 Popping the keycaps off reveals the choice of Cherry MX Brown switches. As with most mechanical keyboards, this one makes a lot of noise. If you mash buttons furiously in games, the clacking will drive anyone around you insane. However, these keys actuate before they hit the bottom of the keybed which means you can type almost silently if you use a gentle touch, but it will slow you down. Gamers will have different reactions to the keyboard based on the kinds of games they play, but they provide a fair balance between sharpness and subtlety.
And then there's the unique side-mounted trackpad. It took a little while to get used to the placement, but we adjusted well. Left-handed users would probably not be as forgiving of MSI's design. While sufficient for basic tasks, we found that two-fingered scrolling, tap-to-drag, and other common gestures seemed to work less precisely than we would have liked. We were afraid of accidentally activating the number pad mode, and while this didn't happen, we never actually wound up using the number pad much so we'd have liked a way to disable it altogether.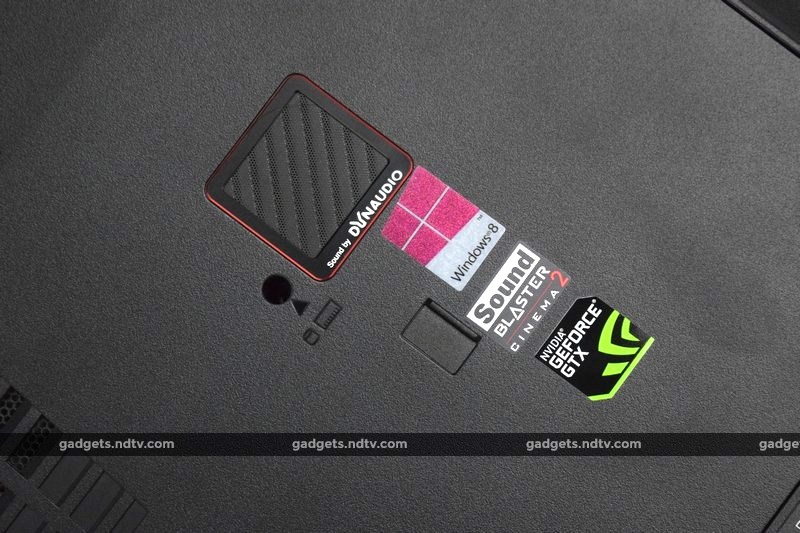 The main problem with the keyboard and trackpad is that they are much higher off the table surface than a standalone keyboard and mouse would be, and there's no wrist rest. You'll have to hover your palms or risk cramping and wrist pain.
The big screen is pushed further back than usual which prevented us from slouching over the keyboard, but it's much lower than desktop monitors usually are so we still felt a little uncomfortable after an hour or so of gaming.
Switching between the integrated and discreet GPUs requires a reboot, which is annoying. Overall performance is throttled when running on battery power, but the GT80 can't automatically switch to integrated graphics to save power even then.
Fan noise and heat output were unbelievable. The GT80 would become progressively louder when playing games, to the point that it distracted us from the action on screen. You'll need a headset to drown it out because unlike with a desktop, you can't move away from the vents. We could feel hot air up to a foot away on either side, which affected mouse placement.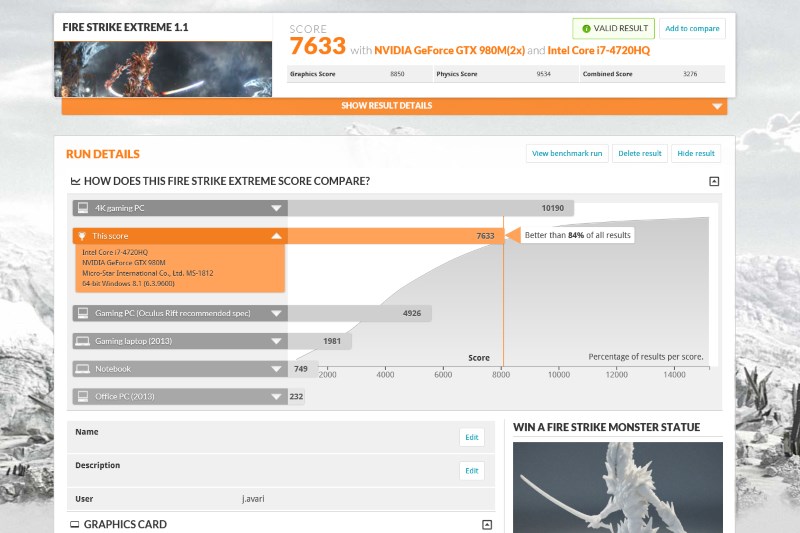 Performance
The first thing we did was update all drivers, after which we got down to serious business. Starting off with some general PC performance tests, we noted consistently high scores across the board. PCMark 8's Home and Work tests gave us scores of 4,617 and 3,400 respectively, which is close to what a high-end desktop gaming machine would be able to achieve. Cinebench produced a CPU score of 636. SiSoft Sandra and CrystalDiskMark both highlighted the capabilities of the SSD RAID array, and we saw staggering sequential read and write scores of 866Mb/s and 650Mb/s respectively. Note that the performance of Indian retail units might be a little better than these scores indicate due to the updated CPU.

We ran 3DMark's Fire Strike test at all three presets: standard, Extreme, and Ultra. The scores were 13,294, 7,633 and 4,314 respectively - easily beating our desktop GeForce GTX 980 Ti and brushing right up against the GeForce GTX Titan X. That was truly unexpected; even the highest-performing notebook parts are generally slower than their desktop counterparts. MSI's decision to go with two of them in SLI certainly paid off.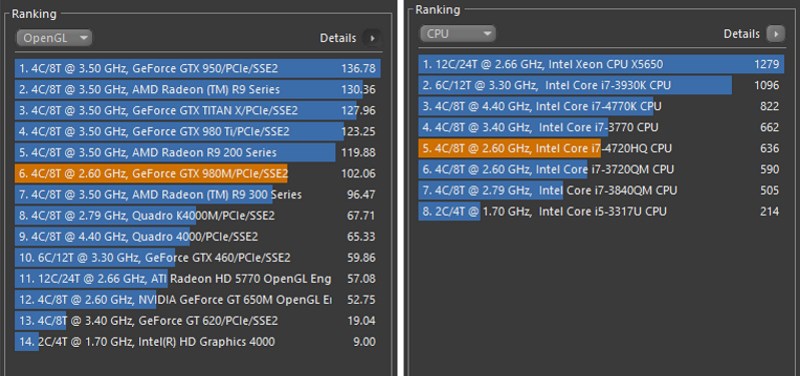 We ran a few synthetic gaming and graphics benchmarks as well. All tests were run at 1920x1080 on the built-in display. Unigine Valley ran with 8xAA at the Ultra preset and gave us a buttery smooth average of 84.4fps, with a minimum of 30.4fps. The incredibly detailed Star Swarm space battle simulator averaged 47.26fps.
However, those numbers only illustrate the ability of the graphics cards to push pixels out, not how well they do it. SLI setups in particular are often the cause of stuttering and tearing - just looking at frames-per-second averages masks that kind of issue. In real-world gaming tests with Far Cry 4, Battlefield 4, GTA V and Crysis 3, we definitely did notice these issues. All tests were run at 1080p which should not have been a problem, considering the amount of horsepower we have on tap.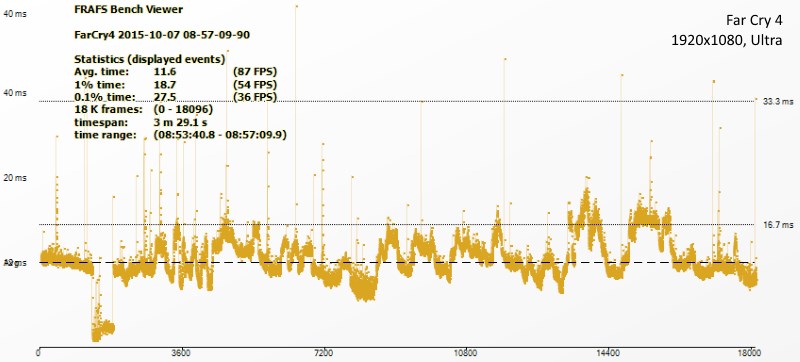 GTA V's automated run-through gave us an average of 59.99fps with most settings pushed to high levels. Mild stuttering did occur, but we were generally happy with the experience. On the other hand, we saw significant tearing in Far Cry 4 when doing simple things like just panning from side to side. We initially tried running the game at Ultra with SMAA and HBAO+, but had to tone down the settings to smoothen out gameplay. The issues were distracting enough to make us stop and reconfigure the graphics settings - and we were pushing way below what we've seen similarly specced gaming desktops capable of.
Battlefield 4 ran pretty well - we were able to enjoy gameplay at 1080p with settings at Ultra, 4xMSAA and HBAO. Frame rates were consistently high and frame times were also tight - indicating little of the kind of variance between frames that is sometimes visible as stutter. Crysis 3 ran nearly as well with 8xMSAA and 8xAF. Frame rates were reasonably within the range needed for smooth 60fps gameplay.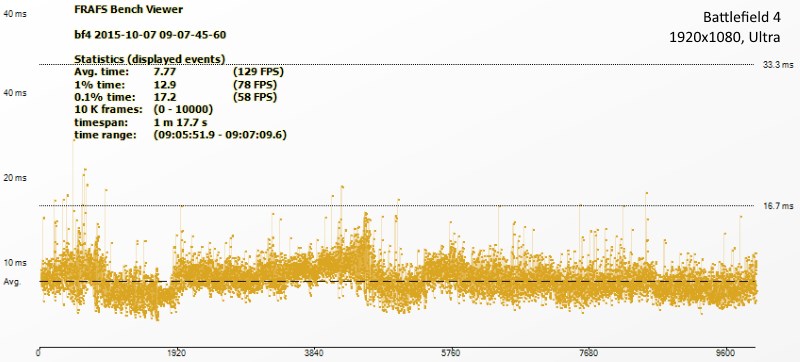 The MSI GT80 also managed to play 4K videos without a hitch. Our test collection ran smoothly and it was a pleasure to watch them. There were only the slightest pauses when skipping around the timeline. 1080p videos were of course not a challenge at all. In terms of sound quality, we weren't much impressed with MSI's efforts. The GT80 certainly could get loud, but music was lifeless and everything distorted badly at high volumes. The speakers did a good job with game sounds, but their placement right beneath the screen meant everything was drowned out by fan noise.
We tested battery life even though this machine will never be used as a portable workstation. After switching to the integrated Intel GPU to be more realistic, we got a paltry 1 hour, 03 minutes from Battery Eater Pro's standard test. You'll be able to get some work done in an emergency or move the device around without having to shut it down, but don't even try gaming on battery power.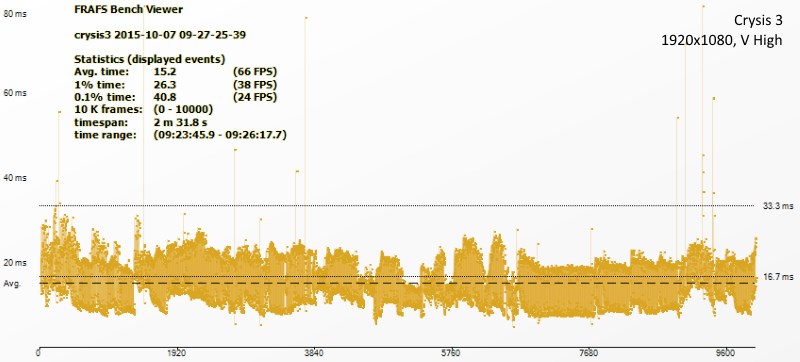 Verdict
The MSI GT80 is a beast of a machine with zero finesse. It's designed purely for power, casually batting aside all the considerations that current-day laptops make in terms of looks and features. Does anyone really need a laptop with a mechanical keyboard, RAID SSDs and dual flagship graphics cards? Almost certainly not, but that didn't stop MSI from tossing them all in anyway, and we're love that it did. No doubt, this product will appeal to a lot of people for the bragging rights alone.
Don't think of the MSI GT80 as a laptop. It's a small desktop with a battery and an integrated screen. It will take up less space than even a small-form-factor desktop, and can be carried or stashed away more easily. If space or clutter are the main things preventing you from buying (or building) a gaming PC, this could be a very capable alternative. If you're a frequent LAN party hopper or need to move your PC around for any other reason, this is also a product worth considering.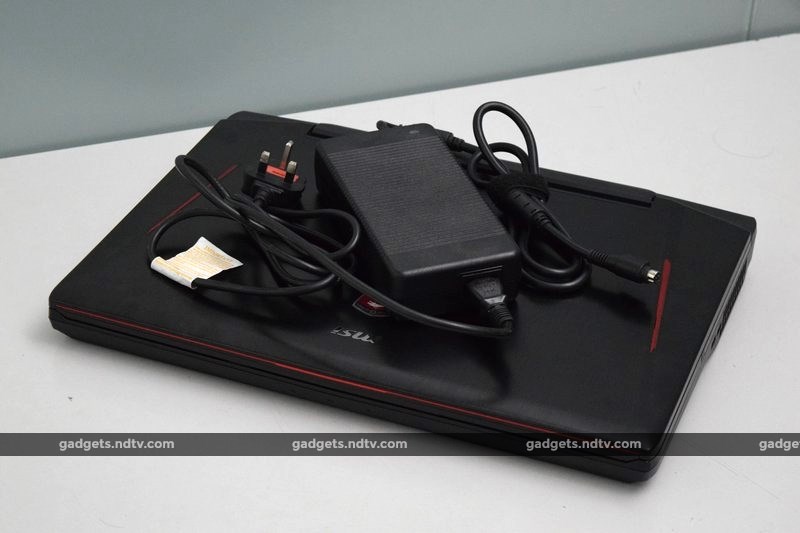 For all other purposes though, it's hard to imagine how or why you should buy this product over a desktop PC. You can get a more powerful machine with a larger monitor and more flexibility for far less money. If you have this much to spend, you could build an incredibly powerful gaming desktop with all the bells and whistles - and you'd be a lot more comfortable using it.
Price (MRP): Rs. 2,95,000

Pros
Unbelievable gaming performance

Portable

Mechanical keyboard

Cons

Fans get really loud

Average sound quality

Expensive and impractical

Ratings (Out of 5)
Design: 4
Display: 4

Performance: 4.5
Software: 3

Value for Money: 3
Overall: 4