MSI has been quite aggressive with the launch of its gaming notebooks in India and we really appreciate the fact that the latest component refreshes don't take too long to make their way here. This January, we reviewed the GE62 6QD Apache Pro laptop based on the new Intel Skylake platform and today we have a slightly beefier gaming laptop called the GT72 6QD Dominator G.
That name doesn't exactly roll off your tongue, but the important thing to know is that this model is also based on the latest Intel platform, and has a more powerful graphics card for those with deeper pockets.
Look and feel
The size of this laptop falls somewhere between the GE62 6QD and the gargantuan GT80 2QE Titan SLI, which makes it only borderline portable at best. It becomes apparent very quickly that the Dominator G is designed mostly for desktop use since its 3.7kg weight is hardly lap-friendly.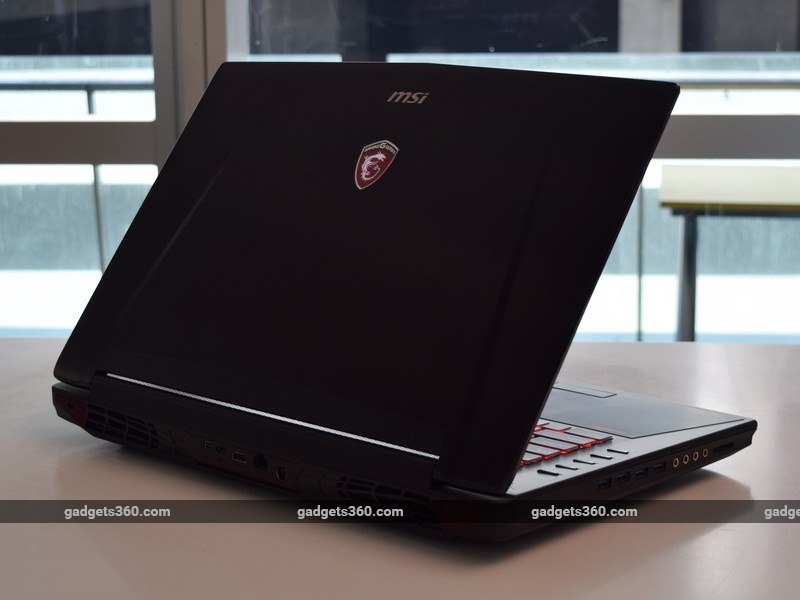 Compared to the build quality of MSI's older offerings, which often felt a bit crude and unpolished, the GT72 6QD is an improvement with higher quality plastic for the body which puts it on par with Asus's ROG series. MSI has done its best to disguise the bulkiness of the laptop by adding contours and ridges along the sides of the chassis, and that does work to an extent.
The outer lid has a brushed metal plate which provides adequate protection for the display. We didn't see any warping even after applying pressure from the back. There is a bit of flex though since the bezel is made of plastic, which creaks slightly if you open or close the lid with one hand. The hinge feels pretty sturdy and you can tilt the screen back up to 180 degrees.
Speaking of the screen, we have a 17.3-inch panel with a full-HD (1080x1920) resolution and a high native refresh rate of 75Hz. This laptop also supports Nvidia Gsync technology, which should help eliminate screen tearing and in-game stutter. The screen also gets an anti-glare coating, which is a blessing as reflections from ambient light sources are barely ever a problem.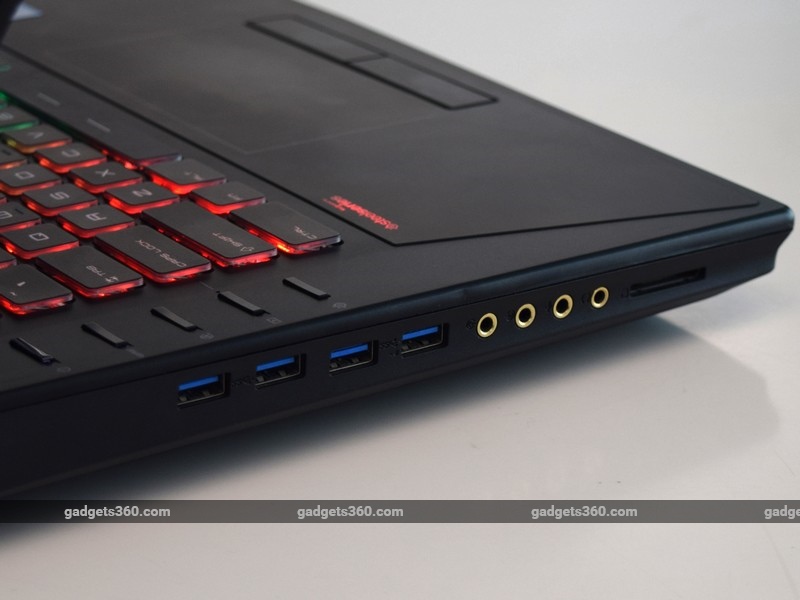 In terms of connectivity, the GT72 is nearly as good as a respectable gaming desktop. We have a total of six USB 3.0 ports spread around the laptop plus one USB 3.1 (Type-C) port, an SD card slot, mini-DisplayPort (v1.2), HDMI (v1.4), Killer E2400 Gigabit LAN, and a Blu-ray writer. Audio is handled by speakers and a bottom-firing sub-woofer from Dynaudio. MSI has also integrated an Audio DAC from ESS which enables native 24bit/192KHz audio sampling and can drive high-impedance headphones of up to 600 Ohms. There are separate audio sockets for headphones and a microphone along with dedicated line-in and line-out sockets.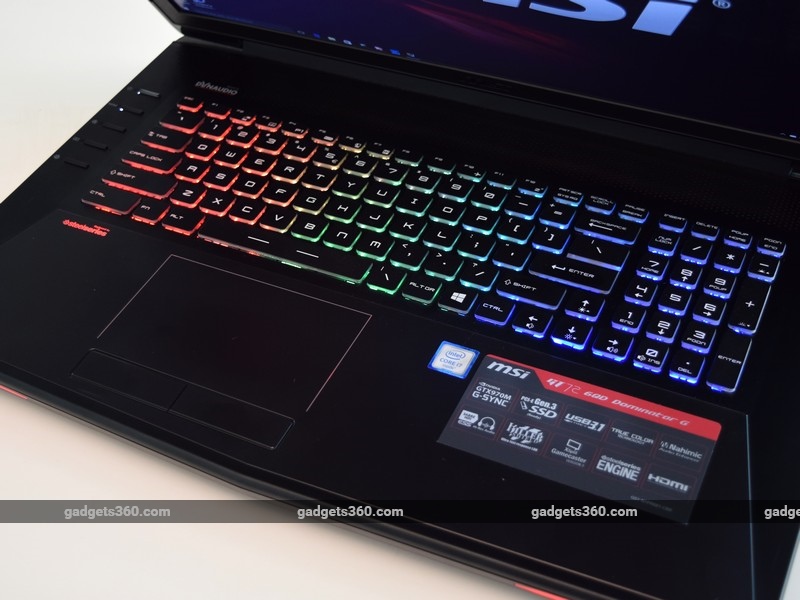 The palm-rest area is very spacious and so is the trackpad. There are individual mouse buttons for left and right click actions, which feel a bit stiff, but it's something you'll get used to. We didn't face any issues with precision when using the trackpad but some of the gestures for Windows 10 and even basic ones such as two-finger scrolling didn't always work well.
MSI has incorporated a full-sized keyboard from SteelSeries, which offers very good tactile response. You get RGB backlighting, which can be customised using an application. Strangely, MSI has yet again placed the Windows key on the right instead of its usual position on other QWERTY keyboards. This can get on your nerves, especially if you're used to keyboard shortcuts.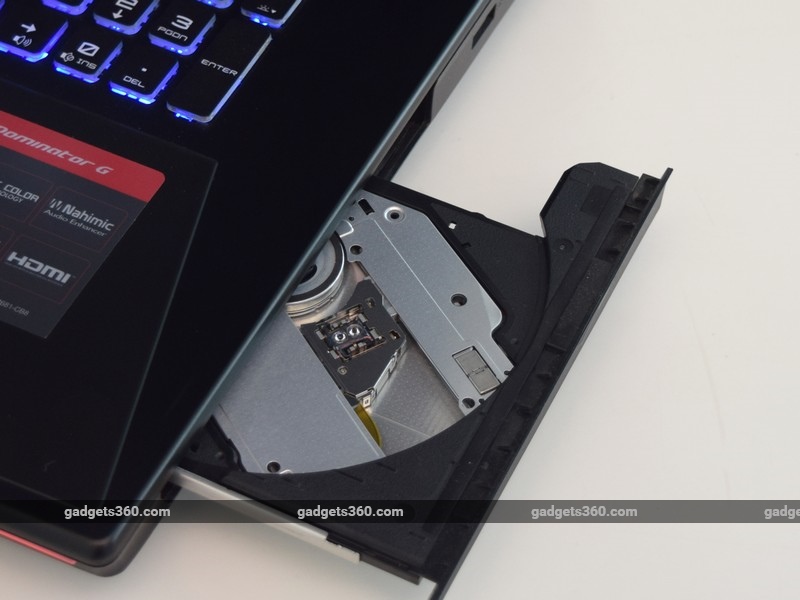 There is a column of buttons on the left which let you trigger certain functions. These include switching between the discrete and onboard GPUs; forcing the fans to their highest speed; toggling XSplit Gamecaster; and switching between different colour patterns for the keyboard.
Overall, MSI's GT72 6QD makes a very good first impression, and we haven't even gotten to the best bit yet. The quality of plastics used for the body is definitely a notch better than before, although the bezel for the screen still feels flimsy. Connectivity is excellent in terms of the number and variety of ports, and you get a very good keyboard to boot. The laptop ships with a 230W power adapter and a backpack.
Specifications and software
We now come to the part that matters the most in a gaming laptop - the components. We kick things off with the processor, which is an Intel Core i7-6700HQ. This is a quad-core CPU clocked at 2.6GHz which can turbo to 3.1GHz on all cores or up to 3.3GHz on two cores. The chip also features an integrated HD Graphics 530 GPU and a dual-channel DDR4 memory controller.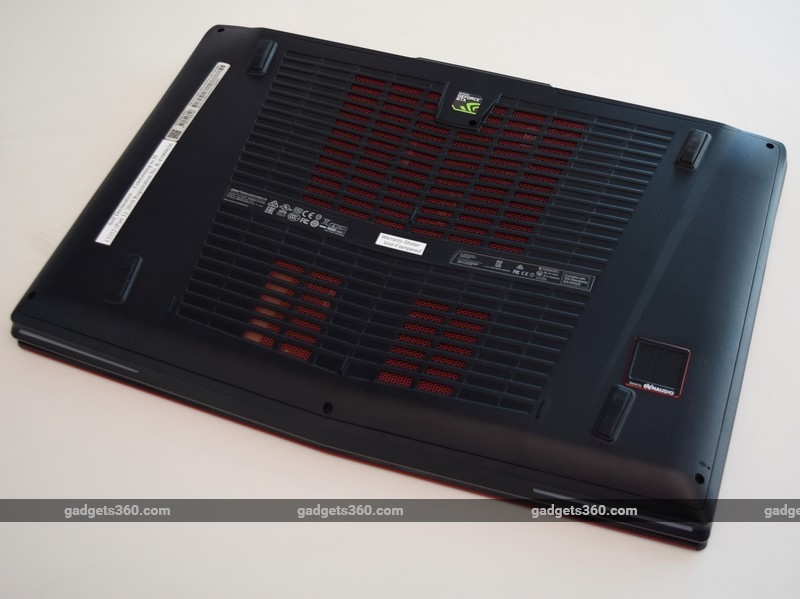 You get 16GB of RAM which comprises of two 8GB Samsung modules running in dual-channel mode at 1066Mhz. Amazingly, the laptop has two more empty slots if you need more in the future. Graphics duties can be handed off to an Nvidia GTX 970M with 3GB of GDDR5 video memory, while storage is taken care of by a 1TB 7200rpm drive from HGST. Other specifications include Wi-Fi b/g/n/ac, Bluetooth 4.1, and a full-HD webcam.
Things get more interesting when you open the bottom cover which can easily be done by unscrewing the base. A word of caution here; opening the base will void your warranty. Unless you have a genuine reason to do so, MSI recommends you take the components you wish to add to the nearest retail partner who will perform the upgrade for you. This does seem tedious process if all you wish to do is add more RAM or an SSD, to be honest. We would have liked to see at least an upgrade-friendly hatch which only give users access to components which can be upgraded easily.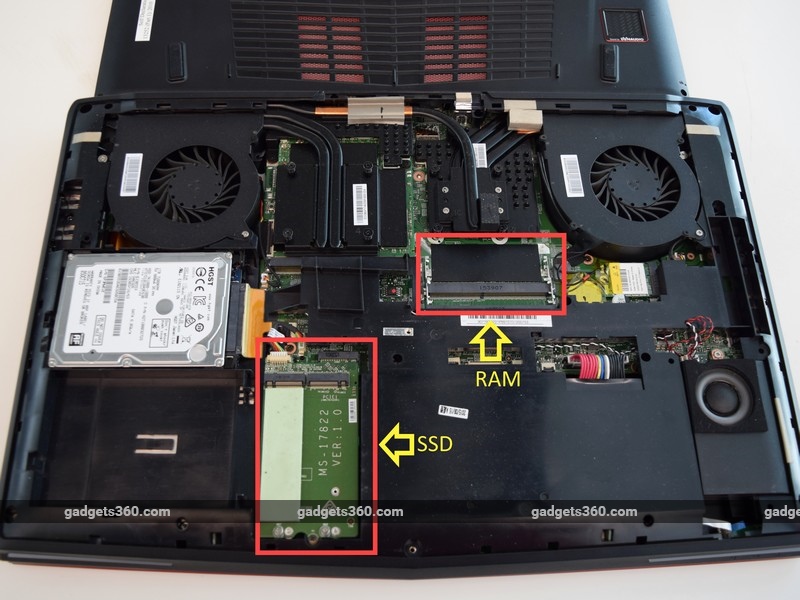 Inside, you'll see the two vacant RAM slots in the middle and the hard drive to the left. There's another slot which could have held a second 2.5-inch drive, but there's no SATA connectivity there, which makes us think the chassis is shared with multiple other models which might support two 2.5-inch drives. The exposed green circuit board is where you can install either one NVMe M.2 SSD or two SATA3 M.2 SSDs in RAID 0.

This laptop is also MXM upgradable which means you can swap out the GTX 970M graphics module for a newer one in the future. We checked with MSI India, which confirmed that this upgrade program is not currently supported in India due to the unavailability of the required components. However, if you are travelling abroad, you can get an upgrade performed at an authorised store in that country, if available.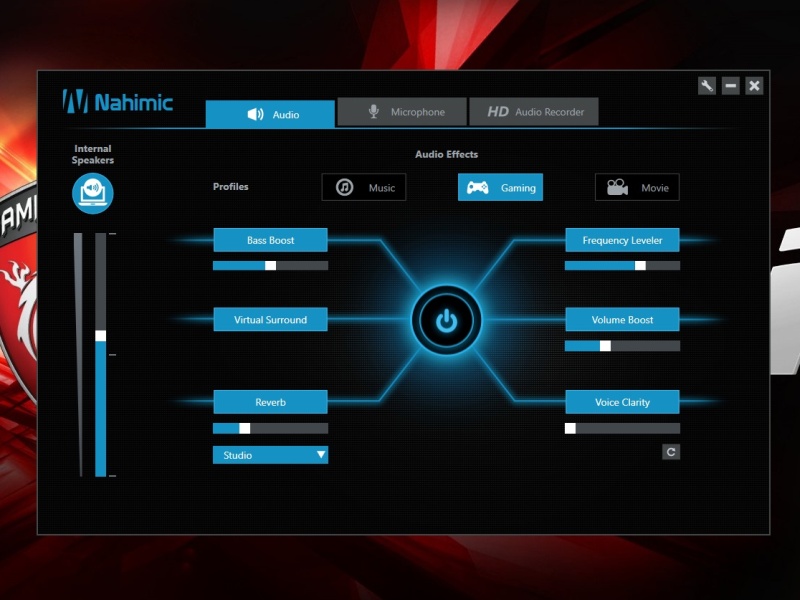 The GT72 ships with Windows 10 Home (64-bit) along with plenty of utilities. System Control Manager gives you large controls for Wi-Fi, adjusting brightness, etc, which is nice but we didn't find much use for it. SteelSeries Engine 3 is a desktop application which lets you customise the lighting and set up macros. Just like when we tested the GE62 6QD, the program refused to work without an update. MSI True Color is a display utility which lets you automatically switch display profiles based on the running application.
In addition to the Dynaudio speakers and ESS DAC, MSI also uses Nahimic audio enhancement which lets you tweak the audio settings for the application being used. One utility which we really could have used is an MSI update program, which simply keeps all the utilities, firmware and BIOS up to date without needing to visit MSI's support page.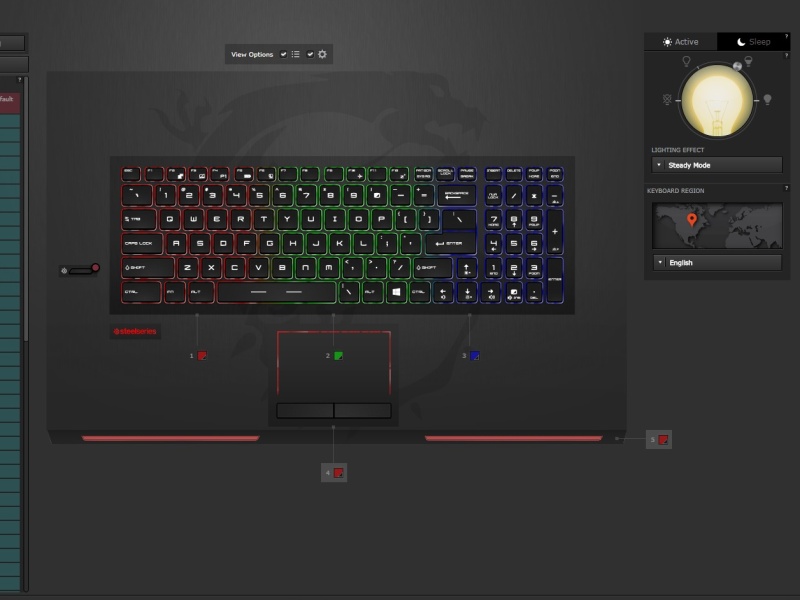 Other than the standalone utilities, MSI has also integrated some shortcuts for features into the keyboard. For instance, MSI Shift lets you toggle between Green, Comfort and Sport power modes by hitting the right combination of buttons. You can even cycle through three keyboard lighting intensities.
Pre-installed third-party apps included a couple of Windows Store apps and trial versions of Microsoft Office 365 and Norton Security.
Performance
Despite the lack of an SSD, Windows 10 works pretty flawlessly, and better than it did on the Asus GL552JX, in our experience. Boot times aren't the fastest and there is a bit of lag if you're trying to multi-task with heavy applications running in the background, but apart from this, the experience is not bad. The display can get really bright which makes it a breeze to use under most lighting conditions. Colour reproduction is also very good and thanks to the 1080p resolution, images and text look fairly sharp.
Audio quality is certainly among the best we've heard thus far, especially positional audio, which makes games quite immersive even without headphones. The volume level of the speakers is fairly loud too without no audible distortion.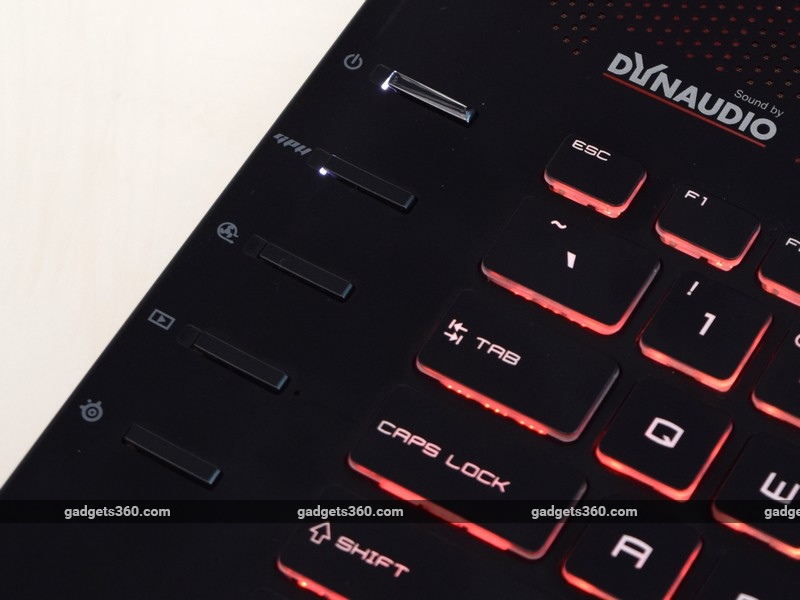 Ditching Nvidia's Optimus technology is an interesting choice on MSI's part, since you have to reboot the laptop if you want to switch between the integrated and discrete graphics capabilities. The GT72 isn't really designed for gaming on-the-go, and since it will most likely spend its whole life on your desk where you'll always have access to a power outlet, it won't be that big an issue. Also, people who buy this type of laptop are probably not looking at battery life as a major feature so it's not a real calamity, but it certainly isn't ideal.
In terms of raw computational power, the i7-6700HQ processor is roughly 10-15 percent faster (on average) than a Core i7-4750HQ, which is reflected in the synthetic benchmarks. Cinebench R15 gave us a score of 672 points in the CPU test while POVRay gave us a trace time of 3 minutes, 3 seconds. We also ran PCMark 8's Home, Creative and Work test suites, which resulted in scores of 4171, 4868 and 3240 respectively.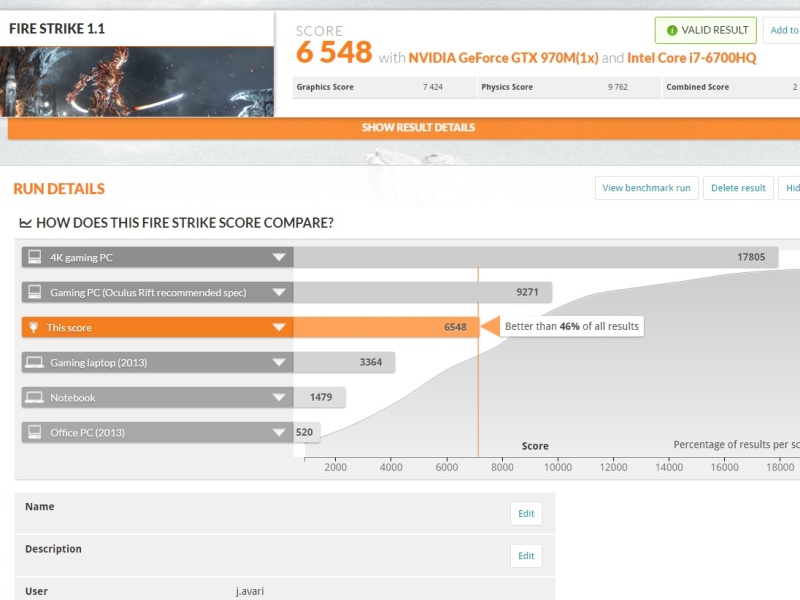 The GPU on the other hand is a much more powerful beast than the GTX 960M. For starters, you get twice the number of shader units and a wider 192-bit memory bus, which has a big impact on games. We got a healthy score of 6548 points in 3DMark Fire Strike and 3451 points in the Extreme run. The Unigine Valley benchmark also returned a decent average score of 35fps with Ultra settings and 8x AA.
Coming to real world games, the GT72 blasted its way through anything we threw at it without breaking a sweat. It's also important to note that palm rest area doesn't heat up while gaming and the two exhaust fans stay off until you manually engage them. All real-world games were tested at the screen's native resolution, and the eye candy was pushed to the highest possible limit. Gsync works beautifully in getting rid of screen tearing or stutter during gameplay.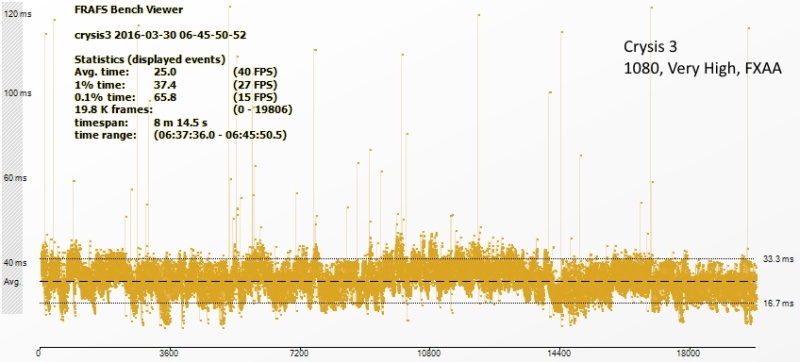 We start off with Crysis 3, in which we managed to get a smooth 40fps average frame rate with all the settings bumped up to the Very High preset and with FXAA enabled. You could boost the anti-aliasing further but we found that caused slight lag during heavy gun fights with lots of explosions.
Tomb Raider (2013)'s built-in benchmark ran at an average of 47fps with everything maxed out and anti-aliasing set to 4x SSAA. We recommend keeping TressFX turned off as it almost halves the frame rate. Also, dropping down the anti-aliasing to less taxing modes like FXAA results in a 60fps+ average framerate without losing too much quality.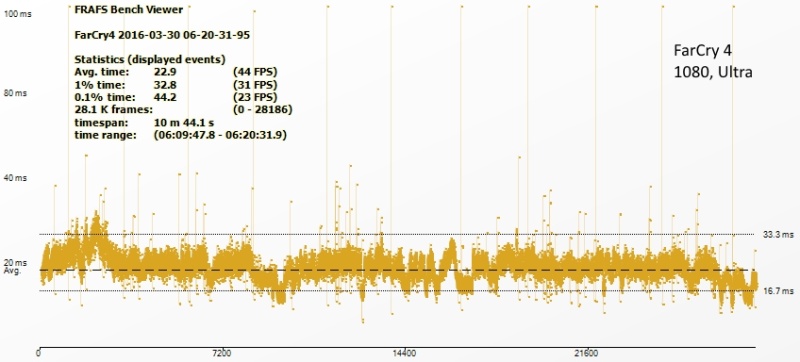 FarCry 4 looked absolutely stunning with everything maxed out at Ultra, and was very fluid for the most part. During our run, we managed an average of 44fps which is very good. Metro: Last Light Redux is still a very demanding game which makes it a perfect candidate for benchmarking. We got an average of 27fps with everything maxed out, except for tessellation, which was set to Normal.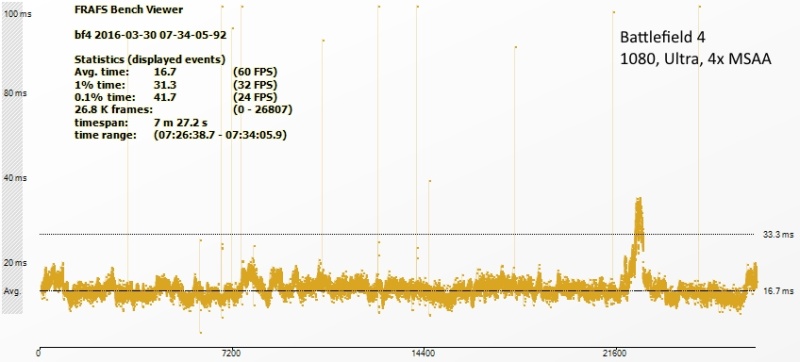 We were able to max out the settings in Battlefield 4 very easily, with 4xMSAA. During our benchmark run, we managed to get a solid average frame rate of 60fps.
Last but not least, we have Grand Theft Auto V, which ran surprisingly well with nearly everything turned up as well. Extended distance scaling and shadow distance was untouched only due to the shortage of video memory. We were averaging 56fps which is excellent as gameplay was butter smooth and the game looked stunning with all the eye-candy maxed out.
The GT72 has a non-removable 9-cell battery, which lasted only around 1 hour 43 minutes in Battery Eater Pro. We ran this test with the Nvidia GPU and the keyboard backlight turned on. With ordinary use, we managed about two and half to three hours with a mix of watching videos and Web surfing. You can squeeze out more battery life if you switch to the internal GPU but that involves rebooting the laptop, which is tedious, especially due to the lack of an SSD.
Verdict
You can find the MSI GT72 6QD Dominator G retailing at around Rs. 1,68,000, and it has a 2-year warranty. The laptop is serviceable anywhere in the world if you buy it in India, though strangely the reverse doesn't hold true.
Yes, this is a lot of money for a gaming laptop, but when you consider the other contenders at around this price level, such as the HP Omen, MSI does offer much better value considering its excellent gaming performance and upgradability. You'll have to forego the portability and style that the Omen offers, but the GT72 is just a much better all-rounder.
MSI has done a great job with the fit and finish of the GT72, which puts it on the same playing field as Asus's ROG lineup. The laptop has excellent connectivity, a vivid display, a comfortable keyboard, good audio, and very good performance which will only get better since you can add more RAM and potentially upgrade to a faster graphics card and SSD if needed. On the downside, even a simple SATA SSD really should have been standard at this price.

If you absolutely must have a gaming laptop instead of a desktop, then the MSI GT72 6QD Dominator G is certainly one of the better options out there.

Price (MRP): Rs. 1,68,000


Pros

Good build and finish
Excellent GPU performance

RGB backllit keyboard

Anti-glare full-HD display
Runs cool and quiet
Upgradable RAM, storage and GPU

Cons

No pre-installed SSD
Upgrading process is slightly tedious

Not very portable

Ratings (Out of 5)

Design: 4
Display: 4
Performance: 4
Software: 3.5
Value for Money: 3.5
Overall: 4