Nvidia's latest and greatest consumer graphics processors, the GeForce GTX 10 series, are finally available in reasonable quantities in India. While graphics cards based on the GeForce GTX 1080 began popping up a while ago, the relatively lower-powered GeForce GTX 1070 has only just made an appearance. The latter of the two is much more likely to be popular here, given its lower price, and so we're reviewing it first.
Nvidia introduced the idea of "Founders' Edition" cards with this generation of GPUs. This is basically a new way to refer to cards that feature Nvidia's own reference cooler, which has been widely praised since it debuted a few generations ago. All of Nvidia's board partners have launched Founders' Edition cards, which are all pretty much exactly the same, as well as their own custom-designed cards. However, while reference cards have typically been the lowest tier of most companies' lineups in previous years, the Founders' Editions are being positioned as premium.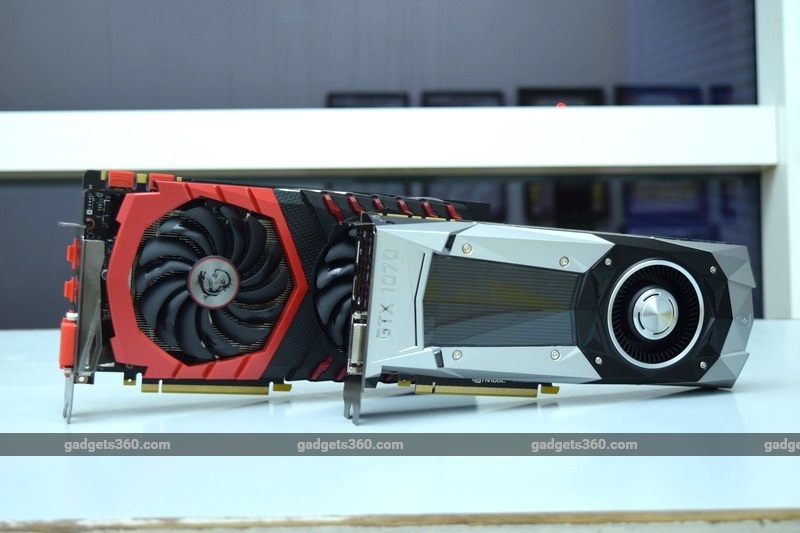 Custom cards from companies such as Zotac, Asus, MSI, and Gigabyte have their own coolers with more fans and are usually clocked slightly faster. They might also use custom-made circuit boards with their own power circuitry and other tweaks or improvements. We have one such card from MSI for review; the GeForce GTX 1070 Gaming X. We're curious to see whether the GTX 1070 GPU lives up to its promise of delivering performance that tops last year's GeForce GTX 980 Ti (Review), and also how MSI has improved on the stock design.
Pascal and the GeForce GTX 1070 Founders' Edition
The big new thing at the heart of all these new graphics cards is Nvidia's brand new Pascal architecture. Several years in the making, Pascal improves upon Maxwell (which powered the GeForce GTX 9 series) and Kepler (the GTX 7 series). It's fabricated on a new 16nm process, which is a huge jump from 28nm which the industry had been stuck on for much longer than originally planned. Nvidia is also extremely proud of its power delivery and management subsystem, which it claims is incredibly efficient and able to switch between power states in a matter of microseconds. Quite a lot of work has also gone into making VR and multi-monitor experiences more fluid and realistic than ever before.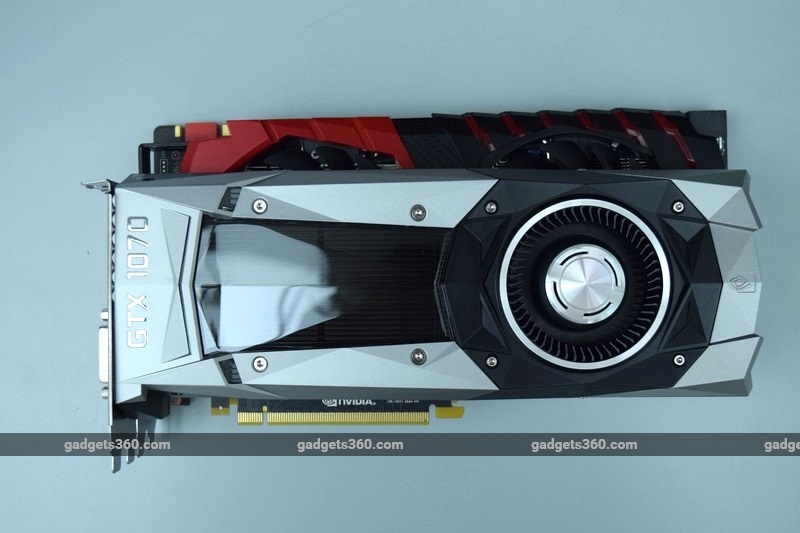 The GTX 1070 is architecturally the same Nvidia GP104 GPU as its bigger sibling, the GTX 1080, except with a significant chunk of its hardware disabled. Essentially, you get three-quarters of the whole GPU, which means 1920 processing units instead of 2560 and 120 texture units as opposed to 160. You get the full 256-bit memory pathway, but there's 8GB of conventional GDDR5 RAM rather than the faster, newer GDDR5X that the 1080 alone can boast of, which results in lower overall memory bandwidth.
Core clock speed is 1506MHz for the Founders' Edition, and it can go up to 1683MHz when needed. Total power consumption is rated at just 150W, and you only need a single 8-pin PCIe power connector, which is amazing for a graphics card at this performance level. Nvidia suggests that a 500W power supply is enough to run one of these cards. All of this bodes well for the possibility of miniature versions of this card which don't compromise too much on speed and power.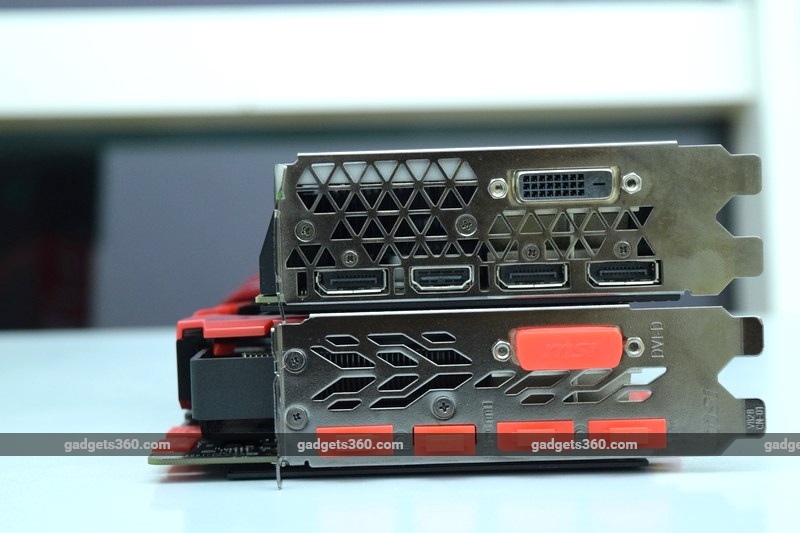 Overall, we're looking at projected performance which matches that of the GeForce GTX 980Ti, but at a much lower cost and in a package which consumes less power and generates less heat. The silver metal Founders' Edition shroud has more sharp creases and angles than previous generations' reference coolers did. In the case of the GTX 1070, it's also simplified inside, with a relatively simple arrangement of heatsinks and heatpipes as opposed to the vapour chamber.
The Founders' Edition card has three DisplayPort 1.4 outputs, one HDMI 2.0b port, and a legacy DVI-D port (which is digital only, and cannot be used with a VGA adapter). Nvidia's MRP is Rs. 40,800 and you should be able to find identical cards from partners selling for around Rs. 39,000.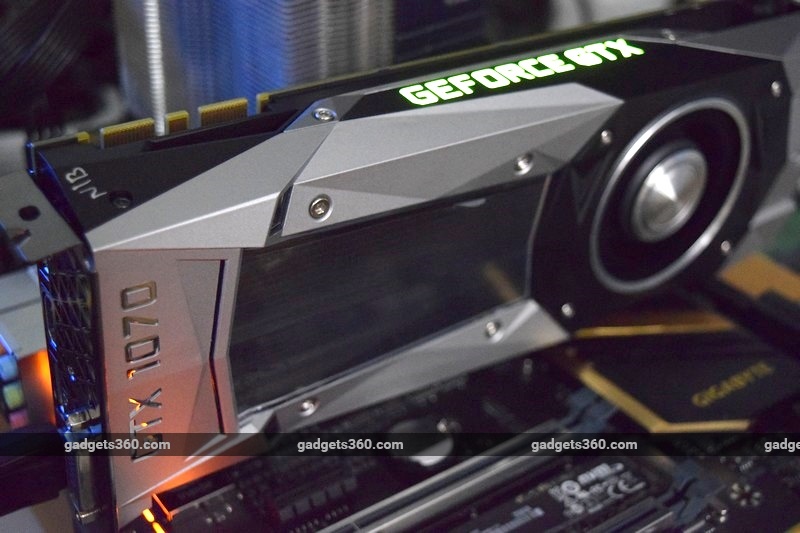 MSI GeForce GTX 1070 Gaming X
Despite Pascal's relatively low power consumption and heat dissipation, MSI has seen fit to slap an enormous cooler it calls Twin Frozr VI, onto this particular custom GTX 1070. This card is roughly 30mm taller and 12mm longer than the Founders' Edition, which hardly seems necessary. You're going to need an especially roomy PC cabinet to accommodate it - keep in mind that even more clearance will be needed as the power connectors are placed pointing upwards from the top. The two enormous fans push air around inside your case instead of venting it out the back; an arrangement which is less noisy. They can also spin down to zero so that the card can run completely silent when it is not being stressed.
The red and black plastic shroud with its clawmark-like accents seems especially loud when compared to the demure metal Founders' Edition. MSI has outfitted the Gaming X with a bunch of red LEDs on the shroud and an RGB logo on the top (which will be partly blocked if you choose to use an SLI bridge). You can control lighting effects through MSI's desktop app - the LEDs can be set to pulse, flash, stay steady, or respond to game sounds and music. Thankfully, you can also turn them off.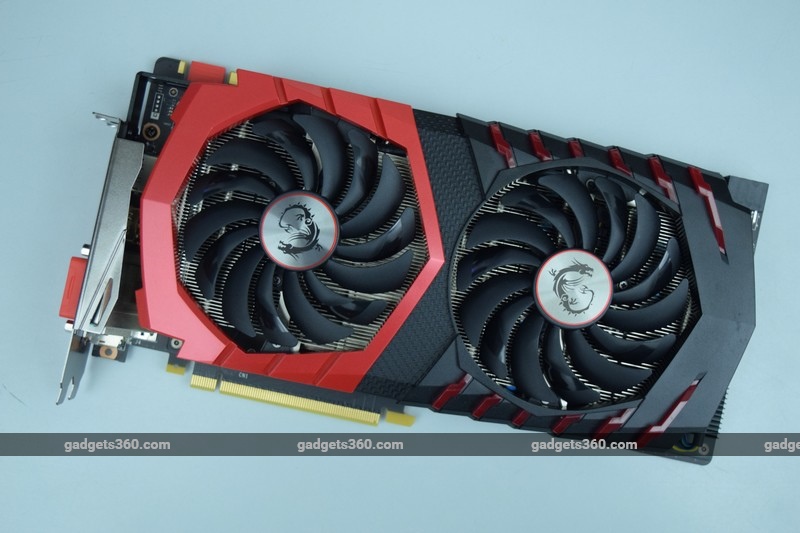 You'll notice that the MSI GeForce GTX 1070 Gaming X requires two power connectors; one six-pin and another eight-pin. The company has gone with its own 10-phase PWMs which have their own heatsink. There's also a solid black backplate and a metal bracket to help support the weight of the Twin Frozr VI assembly. You have the same complement of ports on the rear as with the Founders' Edition, except that each has a red dust cap.
You can choose between what MSI calls OC Mode, Gaming Mode and Silent Mode, which are basically three different performance profiles which let you prioritise either raw performance, lower temperatures, or a balance between the two. Silent is the slowest, with core and boost clocks at 1506MHz and 1683MHz (matching Nvidia's default spec), whereas OC is the fastest, at 1607MHz and 1797MHz respectively. OC Mode also pushes the memory speed up slightly to 8108MHz. You can switch between modes using MSI's software.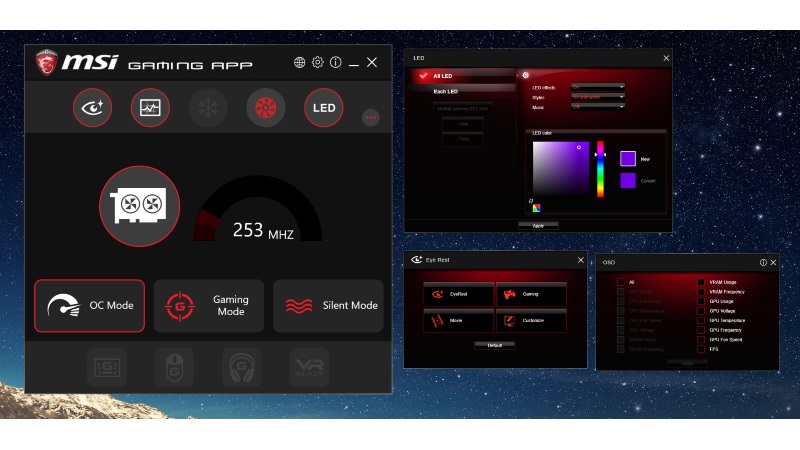 Performance
Our MSI GeForce GTX 1070 Gaming X review sample was set to OC Mode by default, and we conducted all tests at these settings. The card did not seem stressed out at all, even running with its fans off for considerable amounts of time while benchmarks were running, so we believe that OC Mode represents real-world utility and is not just there to help boost speeds artificially at the cost of the gameplay experience. It should also be interesting to see the difference between the Founders' Edition running at stock speed and MSI's factory overclocking effort. Reports have circulated online that companies including MSI have been less than forthcoming about reviewers' samples being shipped with these defaults, and it's true that we were not informed that this would be the case. We cannot confirm yet whether retail units ship in the same state.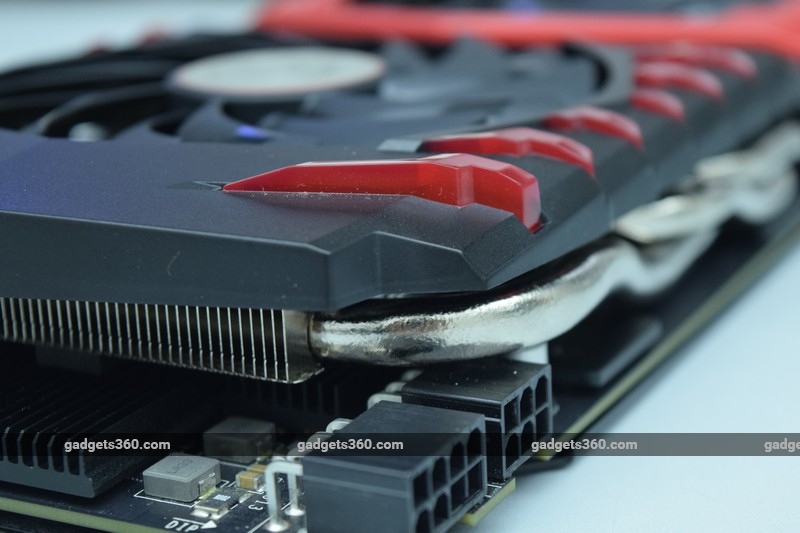 We tested on an open bench consisting of the following components and the latest drivers available from the respective manufacturers' websites:
Intel Core i7-6700K CPU
Gigabyte GA-Z170X-UD5-TH motherboard

2x8 GB Kingston HyperX DDR4-2666 RAM
256GB Samsung SSD 950 Pro
Cooler Master Hyper 212X cooler

Corsair RM650 power supply
Asus PB287Q 4K monitor
Windows 10

We started with the trusty 3DMark, a synthetic benchmark which can simulate game conditions with zero variance between runs. Our Founders' Edition sample from Nvidia scored 4180 points in the Fire Strike Ultra test, which is geared for 4K gaming, while the MSI Gaming X pushed out 4523 points. For the sake of comparison, we tossed an overclocked Galax GeForce GTX 980Ti HOF on the same bench and ran the same tests. Sure enough, it came in behind the overclocked MSI card with a score of 4492 points.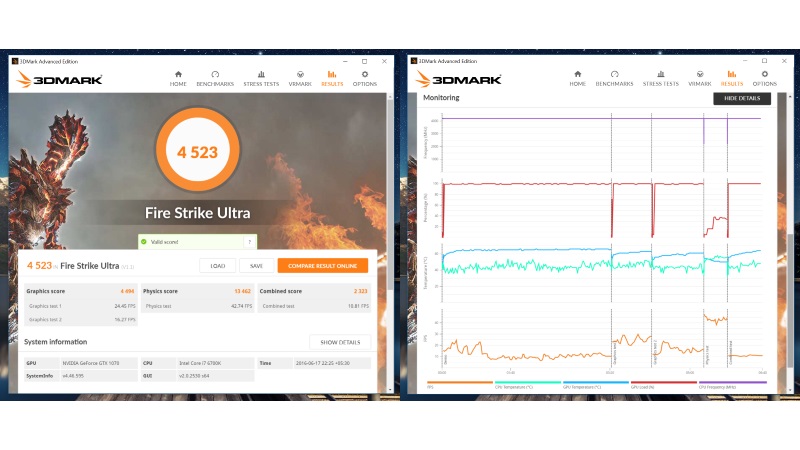 We also ran a GeForce GTX 1080 Founders' Edition sample through the same tests and were blown away by the score of 5075 in Fire Strike Ultra. That's just a sneak peek - stay tuned for a full review of Nvidia's top-end flagship GPU and a variety of cards from third-party vendors coming up soon.
We continued the synthetic tests with Unigine Valley, in which the Founders' Edition managed an average of 91fps while the Gaming X pushed out 95.3fps. Interestingly, the GTX 980Ti pushed out 97.4fps here, so there are still areas in which it pulls ahead. Results showed a similar trend in Star Swarm, in which the Founders' Edition scored 88.42fps while MSI's custom card scored 99.37fps on average, and the 980Ti scored 114.68fps.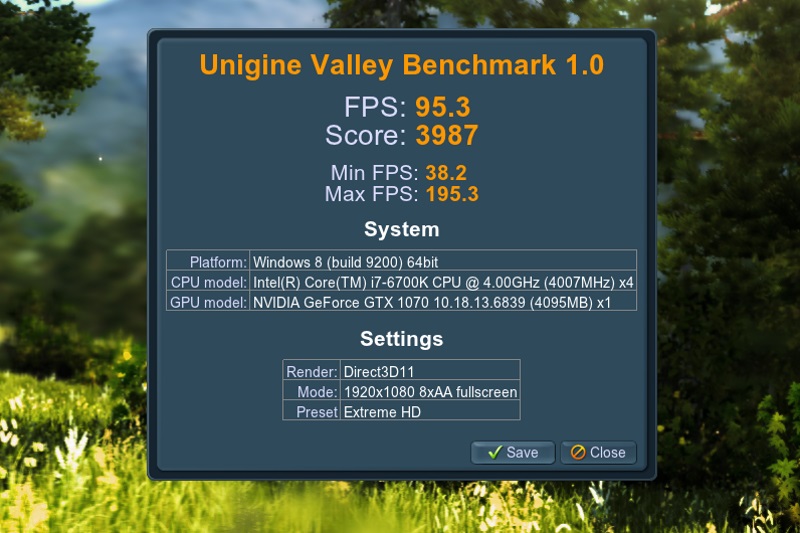 We put the MSI GeForce GTX 1070 Gaming X through a battery of game benchmarks and real-world runthroughs. At 4K, with pretty much all settings maxed out, GTA V's built-in benchmark gave us an impressive 46.86fps, though there was minor screen tearing. Dialling the settings back a little should deliver a buttery-smooth gaming experience with very little perceptible difference in image quality.
Ashes of the Singularity (Review) ran in DirectX 12 mode, which lets games and software harness more of a GPU's power by cutting out driver overheads. We were able to achieve 45.1fps at 4K resolution at the Extreme quality preset.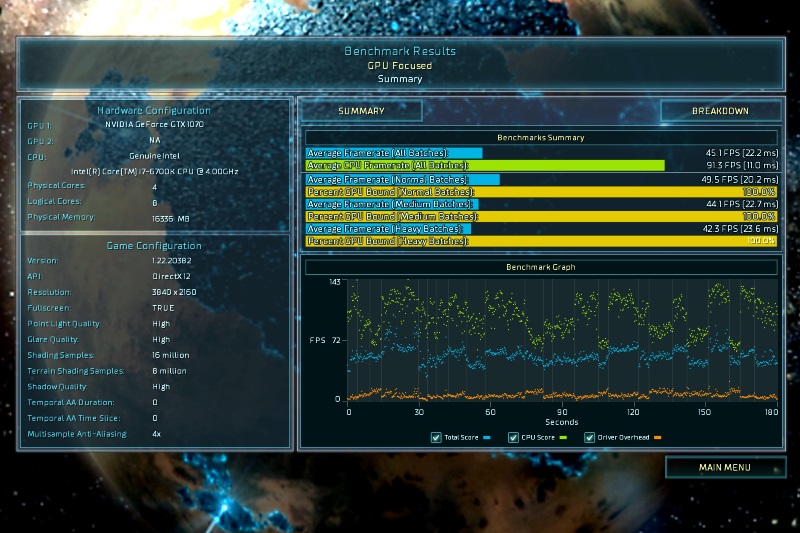 We ran Far Cry 4 at the Ultra preset, first at 4K and then at 1080p. FRAPS allowed us to measure both average frame rates and frame timings, which is a better measure of gameplay quality in terms of consistent frame delivery and therefore smoothness. At 4K, we averaged 46fps with relatively tight timings of 21.9ms overall and 26.1ms at the 99th percentile. The scores zoomed up to 125fps on average at 1080p, with timings of 8.02ms on average and 11.8ms at the 99th percentile. This shows that the GeForce GTX 1070 is basically overpowered for 1080p gaming unless you use a monitor with a high refresh rate, or want to play around with stereo 3D and VR.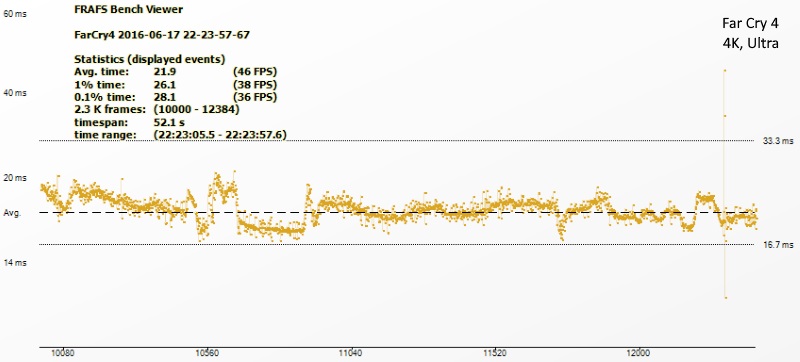 Rise of the Tomb Raider (Review) is a popular new game, and we played for a while at 4K with the Very High preset selected. Even with a solid average 36fps, Frame times were a bit more scattered on our graph and ranged between 28.1ms on average and 36ms at the 99th percentile.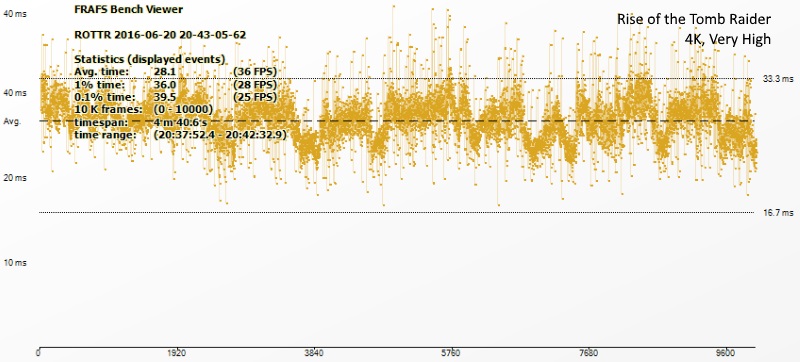 DOOM (2016) (Review) was a pleasure to blast through at 4K and at Ultra settings. We managed 57fps on average with frame times of 17.7ms (average) and 21.1ms (99th percentile).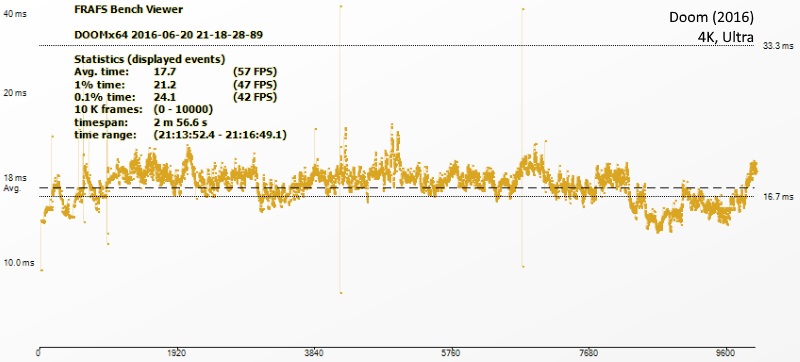 Crysis 3, an older but still demanding title, looked good at 4K with the Very High preset. This game actually brought us down to 19fps on average and we saw some stutters which were reflected as major variances on the frame time graph. They were few and far between though, so while the average frame time was 52.1ms and 99th percentile time was 66.3ms, it zoomed up to 110ms at the 99.9th percentile.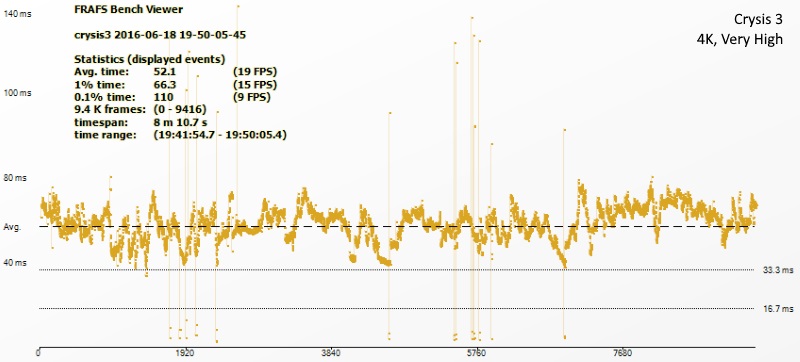 Battlefield 4 looked incredible at 4K with the settings pushed up to Ultra. We were happy with the 53fps average frame rate and 18.8ms average frame time, with variance up to 25.2ms at the 99th percentile.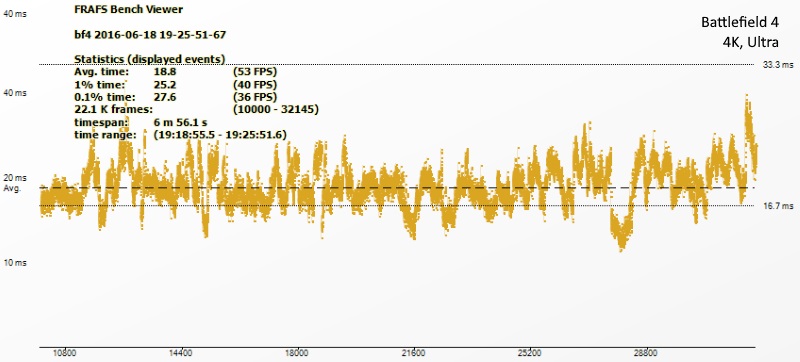 Throughout our testing period, whether it was games, benchmarks or synthetic tests, the MSI GeForce GTX 1070 Gaming X ran cool and silent. There was a bit of a high-pitched whine when under load, but this wouldn't be audible unless you run it on an open bench a few inches from your face, like we did. The fans actually stayed motionless a lot of the time, even several minutes into some of our tests. Thankfully there's no distracting noise as they ramp up or down in speed. The Founders' Edition card gave off a more noticeable and consistent thrum, but even this would be dulled inside an ordinary PC cabinet.
We did not push MSI's card further than its factory OC settings during our test period. It's quite likely that you could manually overclock it beyond MSI's spec and extract more performance out of it thanks to the custom power circuitry, additional PCIe header and massive cooling apparatus. SLI performance testing was also not possible because of the height difference between the two cards and the need for a new high-bandwidth SLI connector.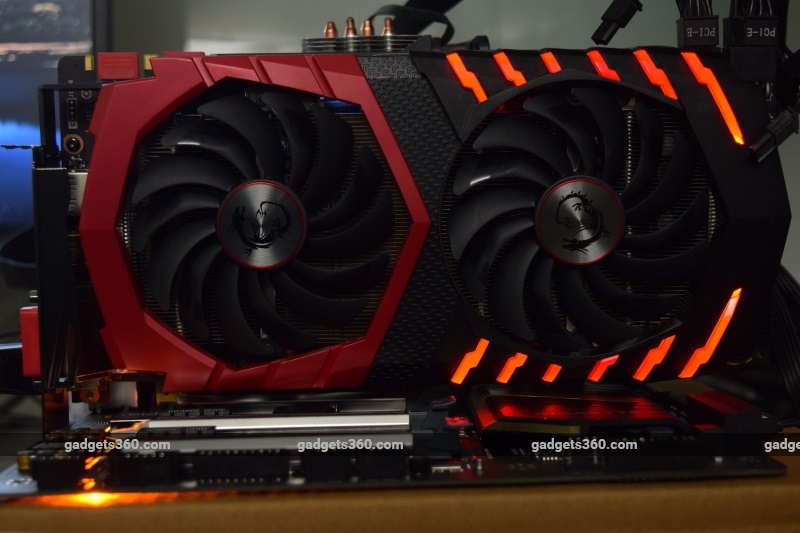 Verdict
It is absolutely clear that Nvidia's new GeForce GTX 1070 GPU is a monster. It equals or tops the GeForce GTX 980Ti - even an overclocked one - in a variety of games and tests, and does so in a smaller package, consuming less power, and for a lot less money. This card is overkill for gaming at 1920x1080, so consider what you're really going to be using it for. This is a GPU that you should consider if you need it to deliver VR, high refresh rates, multiple monitor output, and top-tier experiences for current and future games over the next several years.
With that said, it's not a GeForce GTX 970 replacement despite its name. This GPU is aimed at a higher segment. Prices start at around Rs. 39,000 for Founders' Edition cards from Nvidia's partners, and go up from there, so think of it as a lower-cost GTX 980Ti equivalent. If you're looking for performance better than the GTX 970 at around the same Rs. 26,000 price point, you'll have to wait for Nvidia to expand its range downwards - or at least see what AMD can deliver with its upcoming Radeon RX 480. Prices might be higher than this initially due to supply and demand issues, especially in general retail outside the common PC markets - don't pay more than you already have to.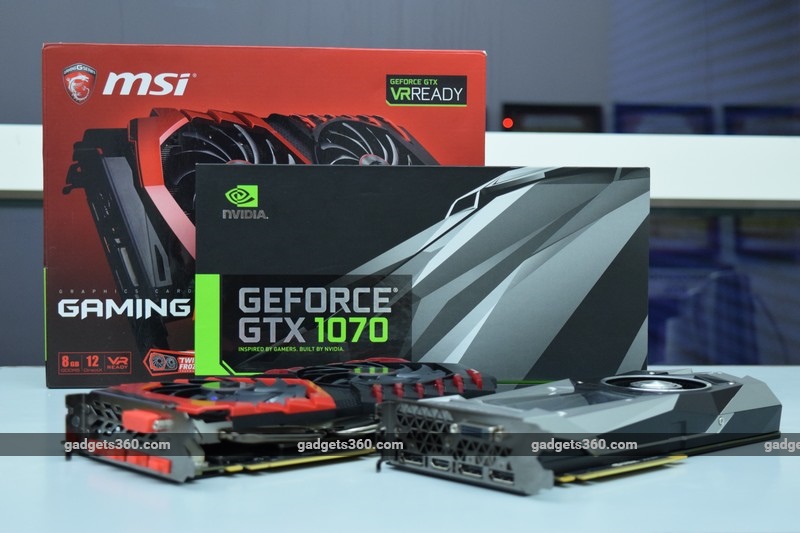 MSI's GeForce GTX 1070 Gaming X has a suggested retail price of Rs. 40,000 making it a no-brainer over Founders' Edition cards - but only if you have a PC cabinet large enough to accommodate it. The LED lights are pretty much useless, but if you have a side window and enjoy showing off, there's no harm in having them. Performance is extraordinary, and doesn't come at the expense of heat, power consumption, noise, or cost.
Pricing for the GeForce GTX 1070 overall might force all such graphics cards into the premium niche, but if you have this kind of money to spend, you won't regret buying it. At this point, you should avoid the much higher priced GeForce GTX 980 and 980Ti. If you're salivating for even more performance, stay tuned for our review of the GeForce GTX 1080 Founders' Edition and its derivatives, coming up very soon.
MSI GeForce GTX 1070 Gaming X
Price:
Rs. 40,000
Pros
Excellent performance in OC Mode

Powerful cooler
Low noise and power consumption

Well suited for 4K, VR, and high refresh rate displays

Cons
Ratings (Out of 5)
Performance: 4.5
Value for Money: 5
Overall: 4.5