A short while ago, we reviewed the obscenely expensive
ThinkPad X1 Carbon (2015)
, Lenovo's most elite business laptop. While it did everything possible to be slim and light, it didn't lose focus of its core audience - business users who rely on their computers for critical work. Like most in the PC industry, Lenovo thinks business and home users have different demands and different priorities, and so the equivalent machine for end consumers is quite different.
The Yoga 3 Pro owes its name to its ability to bend over all the way backwards, allowing it to be twisted into various postures. Its hinge is designed to look and feel like a watch strap, and is assembled from over 800 individual pieces of metal. The overall package is meant to be slim and light above all else.
Fashion is subjective, and not always practical or cost-effective. The Yoga 3 Pro is a playful device, for those who can afford to be playful. While that's definitely important, we're equally interested in seeing how good it is at being a computer.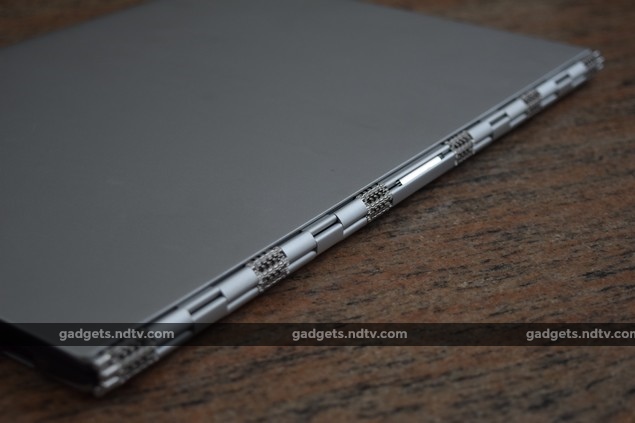 Look and feel
The Lenovo Yoga 3 Pro is all about looks, and we can honestly say that this is one of the most visually striking laptops we've handled in a while. The top and sides are pretty ordinary, but the hinge more than makes up for that. It's really attention-grabbing, running across the entire width of the Yoga 3 Pro's body. The interlocking links are shiny silver, and are separated by duller matte metal segments. The whole effect is pretty blingy - needless to say, this is not the right device for you if you have an understated sense of style.
The hinge has a very smooth action, but you'll need two hands to open the laptop thanks to its stiffness and the fact that the base is not heavy enough to stay put when the lid is lifted. You can raise the lid to any angle and it will stay in place, but the screen still wobbles when you touch it.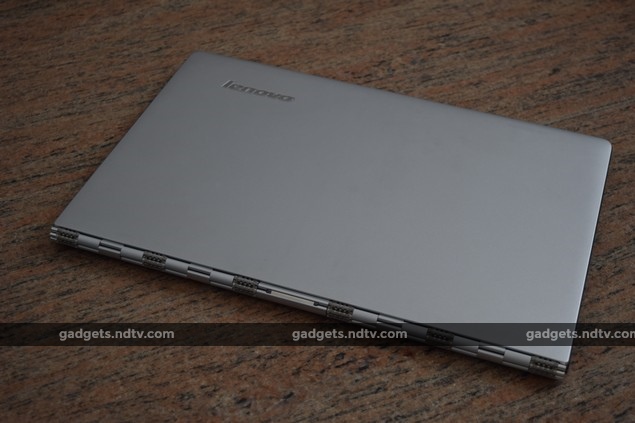 You'll find one USB 3.0 port on either side, a 3.5mm headset socket on the right, and a Micro-HDMI video out and an SD card reader on the left. An additional USB 2.0 port on the left doubles as the charger input. We have to make a special mention of the Yoga 3 Pro's charger here - it's barely larger than the ones that ship with tablets today, and has a USB port rather than a fixed cable. However, both this port and the one on the Yoga 3 Pro have additional non-standard pins to carry the extra juice this laptop needs.
The idea is somewhat similar to what we now see in the form of USB Type-C, but grafted onto the older standard, Frankenstein-style. Luckily, the charging cable that comes with the laptop has a slightly modified plug on one end, which can only fit into the laptop's repurposed USB port. What all of this means is that you get an extra USB 2.0 port when you aren't charging your Yoga 3 Pro, and as a bonus the wall adapter can be used to charge smartphones and tablets via regular USB. Clever, but potentially confusing.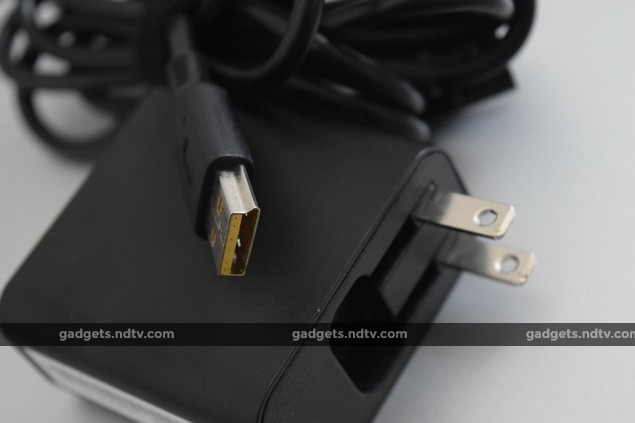 Since the lid can fold over backwards, tablet-style buttons for power, volume and screen rotation lock have been provided on the right edge. The speakers are on the bottom, so expect muffled sound especially when in tablet mode.
Our review unit had a silver lid. Variants with the company's trademark orange and even a special gold edition are featured on Lenovo's website, but are not available in India at this time. In contrast to this demure exterior, the keyboard deck is made of a rubbery black material with a polka-dot pattern of dimples. There are three stickers on the right wrist pad which we think take away from the overall look, but they'll peel off easily thanks to the unusual body material.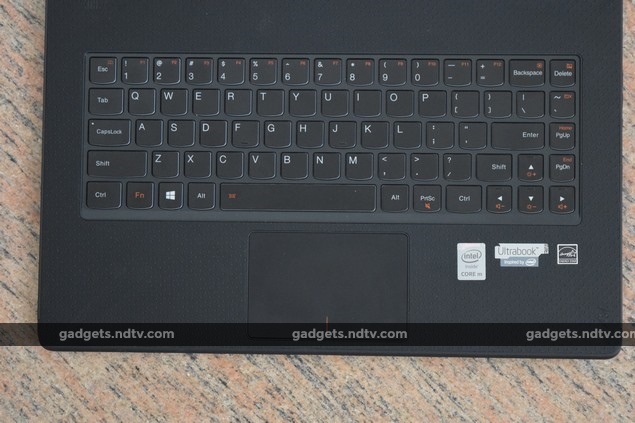 We can't understand why keyboard layout is always sacrificed when it comes to making laptops thin and light. Companies seem to assume that no one who buys a non-business laptop might have any need to work on long documents or use keyboard shortcuts in software. In this case, the entire Fn row has been dispensed with, and F1-F12 have been mapped to the number row. Some alternate functions such as volume and brightness control have been sprinkled around onto other keys, but others including media playback controls have simply been axed. Even Home and End have been demoted to alternate functions. At least the left Ctrl key is in the correct spot.
The keys themselves have black caps but clear sides that let the backlighting through. The backlight itself is toggled by hitting Fn+Space, but its brightness doesn't seem to be adjustable. While the layout is cramped, typing was not uncomfortable. The keys have a crisp action that works really well given the Yoga 3 Pro's space constraints.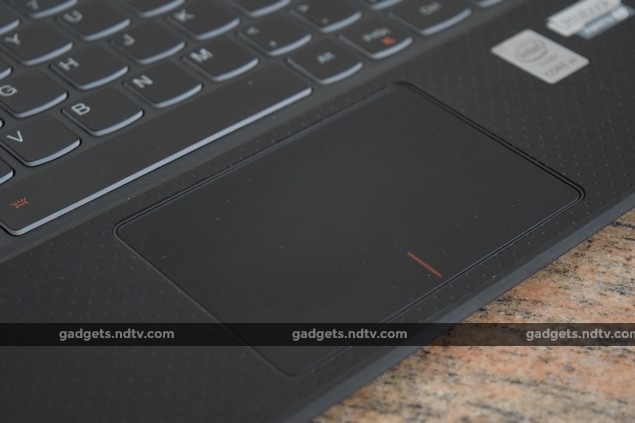 The trackpad is clickable and we didn't have any trouble with it. It has a matte texture that picks up a lot of grime, and we also believe it will rub off in time. Of course you can also use the touchscreen, which will take precedence over the keyboard and trackpad when the Yoga 3 Pro is folded into any of its less traditional postures.
There's a lot of blank plastic around the screen which felt out of place. A Windows logo beneath the screen doubles as a Start button. The screen surface is very highly reflective and the enormous silver Lenovo logo in the upper left corner is also very distracting. One interesting feature that Lenovo has implemented is the ability to reduce the screen's colour temperature. Utilities such as F.lux are commonly used to reduce eye strain when reading over long periods of time, and you can achieve the same effect to some extent with a quick Fn+Esc shortcut.
Specifications and software
Our review unit came loaded with some pretty high-end hardware. At the heart of the Lenovo Yoga 3 Pro is an Intel Core M-5Y70 processor, part of the ultra-low-power fifth-generation Core M series designed for laptops exactly like this. It has two cores which support Hyper-Threading, and an integrated Intel HD Graphics 5300 GPU. The base speed of 1.1GHz can dynamically scale to a maximum of 2.6GHz in bursts when needed.
There's 8GB of system RAM and a 256GB solid-state drive, of which quite a bit is lost to recovery partitions. Only 197.34GB is available to users, and quite a bit of that is consumed by the OS and preloaded software. The battery has an impressive capacity of 5,410mAh.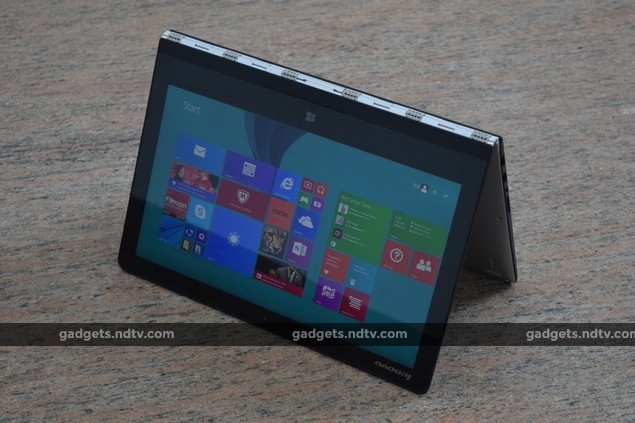 There's Bluetooth and the modern Wi-Fi ac standard as well, which is a good thing since the fat Ethernet port was jettisoned. It should go without saying that everything is sealed in and none of the internals are user-accessible.
Lenovo is particularly proud of the Yoga 3 Pro's screen, which has a resolution of 3200x1800 pixels. This is a massive improvement over common laptops in terms of sharpness, but unfortunately it just doesn't work well on a 13-inch panel. Windows' most aggressive scaling setting is used by default, resulting in an effective resolution of 1280x720 which is much less usable workspace than even the bog-standard 1366x768. Everything is beautifully sharp but disproportionately large, and quite a lot of software (including a lot of Windows' own tools) don't scale well. Most users won't even know that this can be changed - if you're comfortable enough, experiment with the Display settings in the Appearance and Personalisation section of the Windows Control Panel.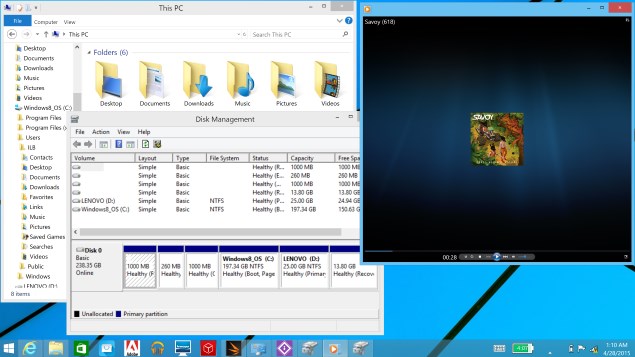 Speaking of software, we really have to point out that Lenovo has gone overboard with the preloaded bloatware. Nearly 50 percent of the Start screen is taken up by tiles for things we didn't want - Lenovo Companion, Lenovo Settings, Lenovo Reach, Lenovo Harmony, Lenovo Photo Master, Lenovo Motion Control, Lenovo Veriface Pro, Lenovo Shareit, Hightail for Lenovo... the list goes on. There's also Yoga Chef, an app that seems to have been designed to be used when in the tent position; Filmfon.tv, a video streaming app that didn't work for us; Tripadvisor; Evernote; Free Online Games; The Weather Channel; The Telegraph; Dragon Asssistant; Amazon; Kindle; Ebay and Dailymotion.
The story continues on the desktop: a pointless "PC App Store", a Google Play signup shortcut, Lenovo user manuals, Lenovo Phone Companion, McAfee Central and Adobe Reader, amongst others, dot the taskbar and notification tray. The only potentially useful bits are the default Microsoft Office trial and Dragon Assistant, which could help those with mobility impairments.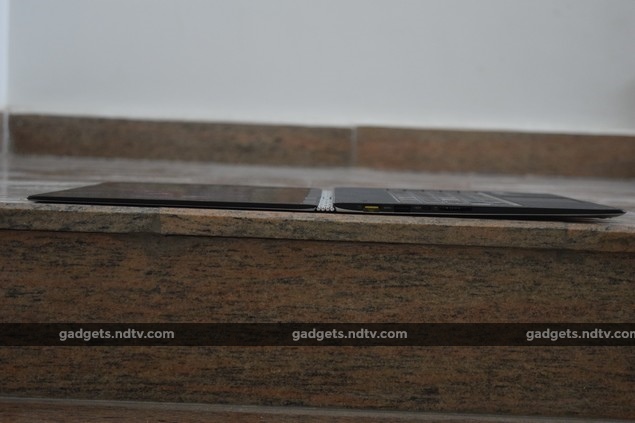 Usage and performance
We found the Lenovo Yoga 3 Pro to be exceptionally easy to carry around, and really appreciated the tiny charger (although the cable is a lot shorter than most ordinary laptop charger cables are). We tried using it in all its acrobatic positions and frankly, we came away with the impression that the flexibility is mostly a gimmick. The device spent over 90 percent of its time with us as a standard laptop, and the rest as a tablet folded over. As a tablet, we found the Yoga 3 Pro far too unwieldy, and the screen flexed every time it was touched because it doesn't rest flat against the base.
Stand mode, in which the keyboard is flipped upside down and the touchscreen is brought forward, was our least-used position. The rubbery keyboard deck serves as a great base, but picks up gunk really easily. The disadvantages of not having a keyboard handy even for quick little things outweighed the advantages. Tent mode is the least practical, but it has some merit because the screen is stabilised and does not wobble when touched.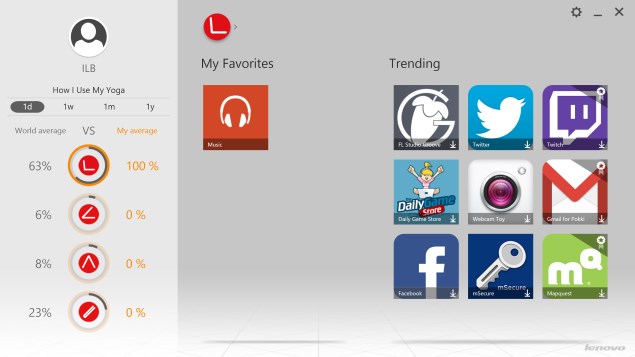 The Lenovo Harmony utility runs in the background and detects when you swivel the lid into any of these positions and claims to change settings to suit each one. It shows the apps that it thinks you use the most in each mode, along with links to more that you can download - more referral spam. About one third of the screen is used to show statistics about how much time you spend in each mode. While the app's developers must have thought this a clever idea, never once did we feel the need to track our usage habits to the exact percentage point. It's no surprise however that the app wants to send this data to Lenovo.
As stated, the keyboard was rather pleasant to use over time - we just wish the layout had been more standard. We had the same problem with Acer's svelte Aspire S7 and we would hate to see such things becoming the norm. The screen's viewing angles were impressive, but on the other hand we found that it wasn't quite bright enough. We had to push the brightness up to the maximum level even when indoors under office lighting. Videos were enjoyable on the crisp screen and sound was a lot clearer and more powerful than we thought would be possible.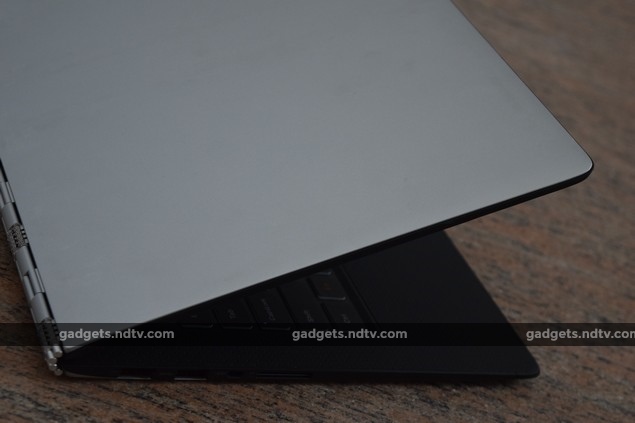 In formal benchmark testing, we logged mostly disappointing results. This is definitely not a performance-oriented machine, despite its astronomical price tag. PCMark 8 scores were 2394, 1845 and 3077 in the Home, Creative and Work runs respectively. 3DMark produced only 312 points overall. POVRay took 13 minutes, 19 seconds to complete its built-in benchmark, and the Cinebench CPU score was 159.
These numbers are well below what we would expect from even an Ultrabook, and even the Acer Aspire S7 beats it by a significant margin. However, Battery Eater Pro measured a runtime of 3 hours, 42 minutes under heavy load, which will translate to about 6-8 hours of ordinary usage.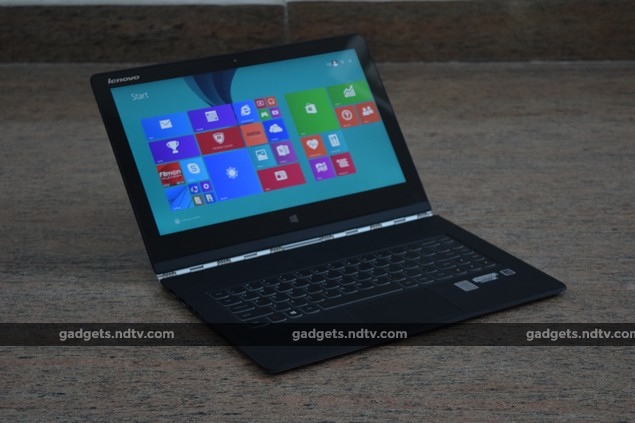 Verdict
This is a laptop you can show off anywhere, but not necessarily one you can get any serious work done on. If you are a power user you will encounter several frustrations. While the screen looks great at first, it feels very constricted to work on. There's a large SSD and lots of RAM, but the processor isn't really suited for heavy workloads.
It seems clear that Lenovo's foremost priority when designing the Yoga 3 Pro was style. Those who are taken with its unique look and enjoy spending lots of money on indulgences will find a lot to like about this laptop. However, the price is not justified in terms of performance or usability. Even slightly thicker notebooks offer better bang for the buck, and we don't think the acrobatic hinge offers enough of an advantage to justify this premium.
Price (MRP):
Rs. 1,14,990
Pros
Slim and light

Can be used in a variety of positions

Good battery life

Cons

Relatively low overall performance

Very expensive

Non-standard keyboard
Screen scaling issues

Ratings (Out of 5)
Design: 3.5
Display: 3.5

Performance: 3

Software: 3
Battery life: 4

Value for Money: 3
Overall: 3