Lenovo is getting innovative in the consumer space, and is making serious plays in the smartphone, tablet and PC categories. At an event in Mumbai on Tuesday, the company showcased new offerings that should appeal to a wide variety of users. The products announced by Lenovo were first debuted to the world at the 2015 Consumer Electronics Show in January, but have only just made it to the Indian market.
By far the most interesting product launched at the event was the Yoga 3 Pro, a super-slim 2-in-1 notebook intended for the sort of buyer who values style above all else and isn't fazed by six-digit price tags. The device uses premium materials and components, and Lenovo has no pretensions about this being a top-selling mass-market product.
The most unique thing about the Yoga 3 Pro is its hinge, which Lenovo says was inspired by the straps of luxury watches. It features visually distinct links which come together in a smooth yet firm mechanism. There's nothing new about a notebook with a lid that can flip over all the way backwards, but the Yoga 3 Pro's hinge has a totally new and different feel to it.
Aesthetically, this notebook won't be everyone's cup of tea. The Yoga 3 Pro is unremarkably plain from every angle except the rear, and so the blingy segmented hinge feels very out of place. It's safe to say that no other notebook looks quite like this.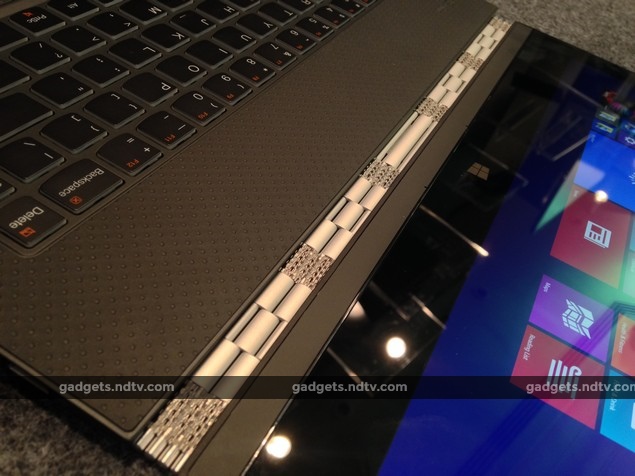 Lenovo says the hinge is made of 813 distinct pieces of aluminium and steel. We tried bending and flexing the Yoga 3 Pro's lid and found that it was a lot more stable than most notebooks and 2-in-1s. We could bend it all the way around smoothly and with very little effort. The Yoga 3 Pro's lid was also very stable even at odd angles. It stayed put when propped up like a tent, or bent over backwards like a photo frame.
At 12.8mm thick and weighing 1.19kg, this is one of the most easily portable notebooks available that still has a large screen and full-sized keyboard. Predictably, physical connectivity is limited: there are only two USB 3.0 ports, one USB 2.0 port which doubles as the DC charger input, one Micro-HDMI video output, and a SD card reader. You'll also find the power button, a rotation lock button and a volume rocker on the right edge.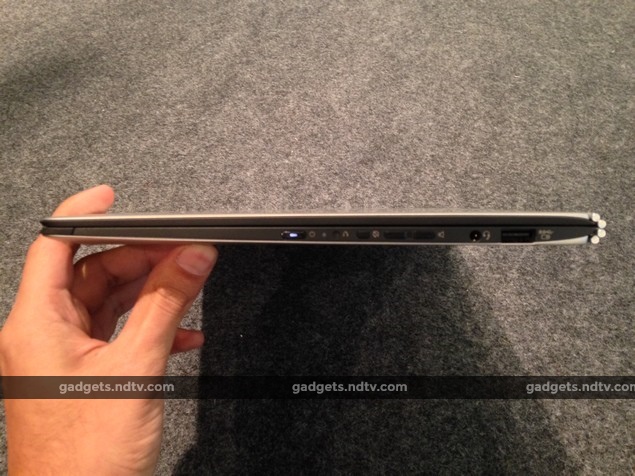 There's a lot of space around the keyboard deck, which has a polka-dot pattern of dimples. The keys themselves are very shallow but typing is reasonably comfortable. The keyboard layout is thankfully not too cramped. In our limited time with the Yoga 3 Pro, we found the trackpad easy to use.
Specifications are top-end, and at this price we would not have accepted anything else. The screen is gorgeous, with a WQXGA+ resolution of 3200x1800 pixels (which Lenovo refers to as QHD+ though it is quite a bit higher than even 2560x1440). Text and graphics are ridiculously crisp. For such a thin lid, it's surprising that Lenovo managed to fit in a touchscreen. It will take more detailed inspection to determine how good it is in terms of colour reproduction and performance in various lighting conditions.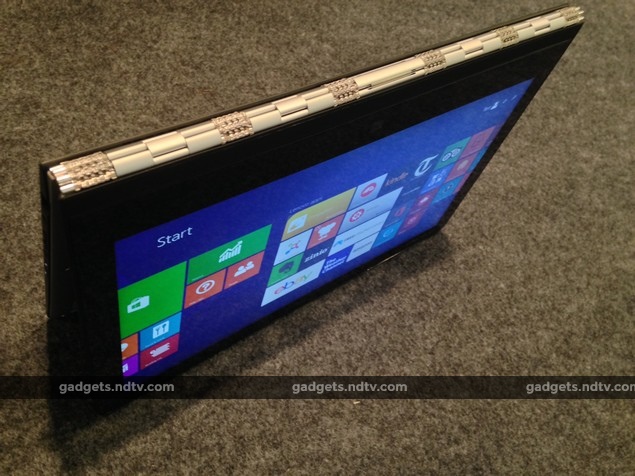 As with most modern ultra-thin notebooks, the Yoga 3 Pro is based on Intel's new Core M platform, better known by its codename, Broadwell. Specifically, it's an Intel Core M-5Y71, which has two cores and runs at 1.2GHz but can boost itself up to 2.9GHz in spurts. There's also Intel's HD Graphics 5300 logic integrated into the CPU. Lenovo has gone with 8GB of RAM, a 512GB SSD, and a Wi-Fi ac module. Don't expect any of these to be swappable or upgradeable.
The four-cell battery leaves us a bit uncertain, but Lenovo claims up to 7.2 hours of life on a single charge. We'll test this claim when we are able to conduct a full review under regulated conditions. We were also unable to test the JBL speakers and Waves Audio experience at Lenovo's event due to ambient noise.
The Yoga 3 Pro is an unabashedly premium product. It feels as though Lenovo really pulled out all the stops here, crafting something without any thought about the final price. It's in MacBook Pro territory, and might actually be more appealing on the basis of specs alone. No matter which you ultimately prefer, it's nice to have choices.
Clearly, there will be a very small audience of buyers for the Lenovo Yoga 3 Pro. Lenovo declined to comment on how many units it expected to sell, but it knows there won't be many. The company hopes that it will become something of a halo product, serving to demonstrate its engineering and design prowess. For that reason, the device will be available only at Croma retail outlets and a small number of Lenovo's own brand stores. Both Croma and Lenovo's websites will offer it too, though you should really check it out in person before deciding whether or not to drop more than a lakh on it.