The ThinkPad X1 Carbon, now in its third generation, tries to bridge the gap between slim, fashion-first laptops and solid business machines. Laptops over the years have become worse and worse in terms of features and comfort, largely because of a push to become as thin and light as possible. Even business-focused laptops, such as Lenovo's ThinkPads, have somewhat succumbed to this trend. The tradeoffs have been a reduction in upgradeability, fewer ports, worse keyboards and trackpads, and shorter lifespans - all things that casual users don't necessarily mind, but are alarming to those whose lives depend on their work machines.
Lenovo knows that style is important, and the X1 Carbon line attempts to bring that sort of appeal into a brand otherwise known to be frumpy and serious above all else. It's all about being slim and light while still offering cutting-edge technology and class-leading comfort. It's a hard balance to achieve, and with a legion of long-term fans, Lenovo doesn't have quite the same amount of leeway as others do when it comes to features and cutting corners.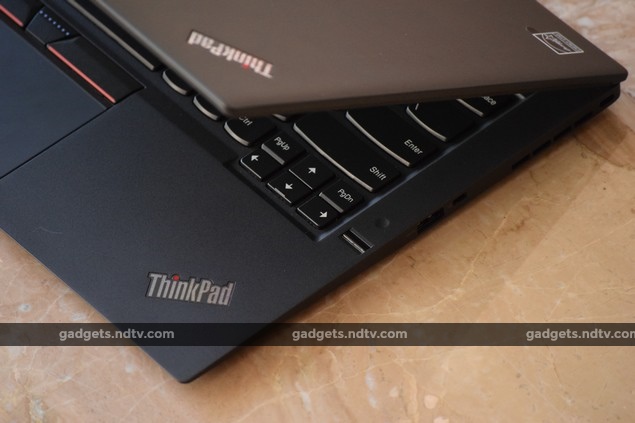 The 2015 ThinkPad X1 Carbon is a valiant attempt at achieving that balance, and while it is undoubtedly a ThinkPad, it's actually quite modern and stylish. It carries forward many of the hallmarks of its lineage, such as sturdy metal hinges, a black matte exterior, and even the 45-degree ThinkPad logo in metal with a red LED dotting the i. It also pulls back a lot by discarding radical changes made to its predecessor, which caused a huge outcry amongst brand loyalists. The modern touches this time are limited to tech features, such as a big, high-resolution screen, plenty of wired and wireless connectivity, and the latest high-end internals. We're eager to see how things play out for the new ThinkPad X1 Carbon, and whether Lenovo can keep everyone happy.
Look and feel
The ThinkPad X1 Carbon is easy to carry around, at 18.46mm thick and weighing just over 1.3kg (our review unit was the model with a WQHD touchscreen; the non-touch and Full-HD models are a hair thinner). That leaves room for a decent selection of ports around the edges: the charger inlet has an integrated port for Lenovo's OneLink dock adapter, and there's also an HDMI output, Mini-DisplayPort, two USB 3.0 ports, a 3.5mm headset socket, and a small breakout for an included Ethernet dongle. We're surprised that there's no card reader of any variety. Some models will have a SIM card slot on the rear for integrated 3G connectivity.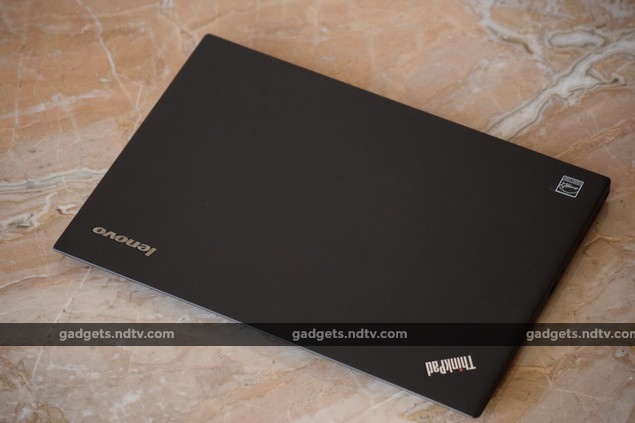 The battery is sealed in and there are no flaps or other ways to access the internals. The lid flips open with minimal effort, and you'll see one of the X1 Carbon's best features right in front of you. Even though it's just about the size of a 13-inch laptop, Lenovo has made room for a 14-inch screen. The borders are quite narrow, and there's also a matte film over the screen, much like smartphone screen protectors. This eliminates reflections that make it impossible to position some laptop screens clearly.
The keyboard deck is quite busy, with two Intel stickers on one side that we felt detracted from the device's otherwise premium look, and another metallic ThinkPad logo on the other. The trademark bright red TrackPoint input controller is in its natural place right in the middle of the keyboard. There's a fingerprint reader to the right, with a little dimple guiding you to position your finger optimally before swiping.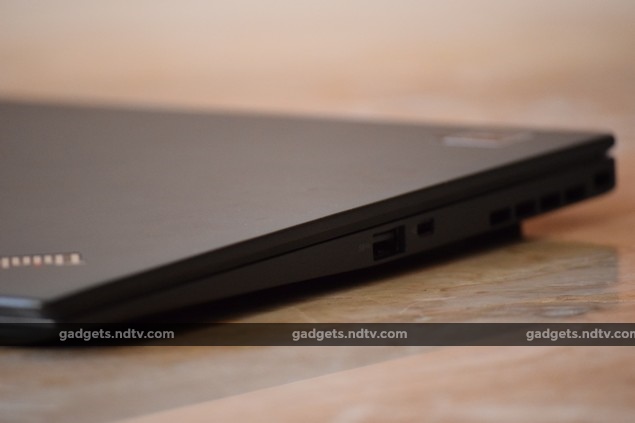 Specifications and software
The new ThinkPad X1 Carbon is available in multiple variants. Our test unit came with an Intel Core i7-5500U, based on the new fifth-generation Broadwell platform and running at 2.4GHz with integrated Intel HD Graphics 5500. It also had 8GB of RAM and a 256GB solid-state drive of which around 216GB was available to users.
The screen was a glorious 2560x1440-pixel panel with 10-point multitouch support. The lowest available resolution is Full-HD, which is great news. Lenovo has used Windows 8's most aggressive scaling setting to make 1440p usable on a 14-inch screen, so while everything is crisp and beautiful, there isn't that much more effective screen area than there would be on a consumer-grade 720p display. You can tweak this setting to your own liking, but Windows doesn't always play nice unless you reboot each time.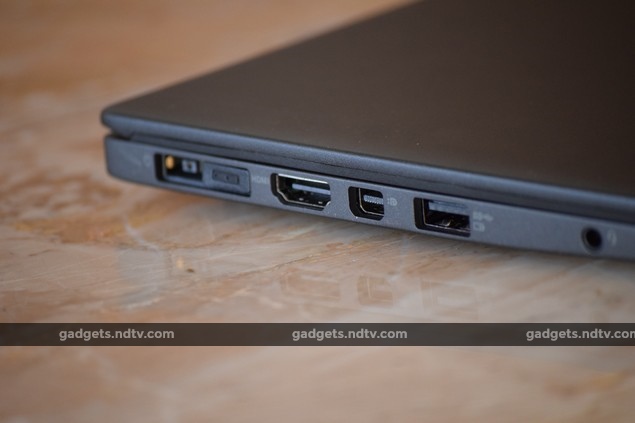 You get Wi-Fi b/g/n, but surpisingly not the latest Wi-Fi ac standard in all variants. There's also Bluetooth 4.0. The models that have cellular connectivity will work on 3G networks in India but not 4G. The battery capacity is 50Whr, and Lenovo claims up to 10.9 hours of life, though it doesn't specify under what usage conditions.
We were truly disappointed by the amount of rubbish Lenovo has preinstalled on what should be one of its most elite products. A lot of the slick look and feel is undone by the software experience. On the taskbar alone there are five extra shortcuts: "PC App Store", Lenovo PC Experience, Lenovo Reach, Maxthon Cloud Browser and Lenovo Messenger. The last of these is pure spam, delivering ads and corporate messages. The Start screen has tiles for Lenovo Companion and Lenovo Settings, which are both redundant. The useful ThinkVantage tools we were looking for are buried.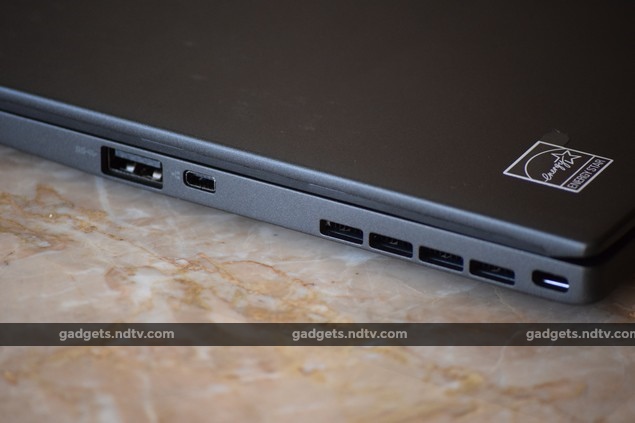 We were bombarded with popups to register the preinstalled Norton Internet Security suite. Also of note, quite a lot of Lenovo's bloatware is not optimised for the high-resolution screen and will either be unusable at the native resolution or look awful when scaled.
Keyboard and trackpad
Laptop keyboards have been the biggest victims of the shift to thinner and more stylish devices, and even the ThinkPad line has had its share of missteps in this regard. Business users, including touch typists, need to be sure that they can get used to a keyboard quickly, which means that important keys shouldn't be moved around, squashed together or even removed entirely just to make things look good. Every deviation from the standard layout means there's something else to factor in when moving from one machine to another.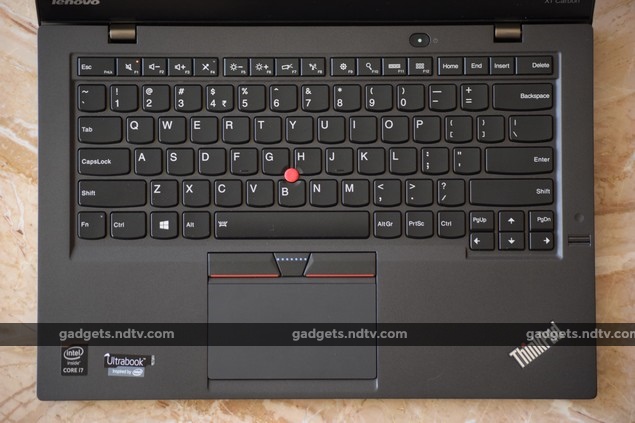 Of particular note, the second-generation ThinkPad Carbon X1 had a wildly unusual keyboard that replaced the entire top Fn key row with a context-sensitive touch strip, which resulted in several other keys being displaced as well. Lenovo decided to make Delete share room with the Backspace key (a recipe for disaster) and replace Caps Lock with Home and End. Esc jumped into the numbers row and Insert was left out altogether. In short, it was a nightmare to work on and an absolute dealbreaker for anyone who types for a living. Whatever innovation the touch strip might have brought was lost because of the rest of the changes.
Thankfully, Lenovo has backed down and the 2015 X1 Carbon's keyboard is actually pretty great. In fact, the company has standardised on a single layout across all its 2015 models. The paging keys aren't in a block and the arrows are a little cramped, but this is as good as a laptop layout gets today for career typists. Of course Lenovo still insists on putting its Fn modifier where the left Ctrl key should be, and it's still infuriating. You can swap the keys' behaviours in the BIOS, but your brain will never really get used to this. Why, Lenovo, why!
The Fn row is mapped to system shortcuts by default and you can hit a Fn Lock combo to change this, but the Fn key has a green LED that stays on all the time if you do this. Even the speaker and mic mute shortcuts have their own LEDs, but for some strange reason, the Caps Lock key does not. Interestingly, some common shortcuts such as playback controls have been dropped, and instead there's one that calls up the Alt-Tab task switcher, and another that bypasses the Windows 8.1 Start screen and brings up the All Apps screen.
In terms of comfort, the mechanical action is one of the best we've used on a laptop in recent times, and is a pleasure to type on. The Fn row is shallow, but the main keybed is just right. You can toggle a backlight on or off, but there doesn't appear to be any way to choose its intensity.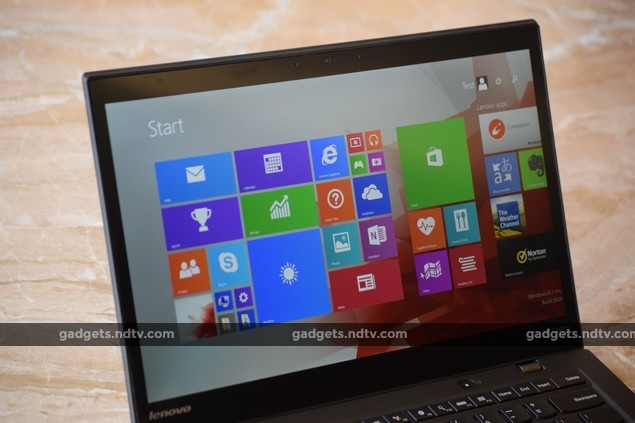 The trackpad is fairly large and is of the clickable variety so there are no discrete buttons. Thankfully it isn't wobbly like some others are, so we'll give that a pass. Multi-touch gestures are of course supported. TrackPoint lovers will be happy that IBM's old trademark still alive and kicking, but more so that the buttons which had been merged into the upper edge of the trackpad on last year's ThinkPads are now back to their old selves - complete with red and blue markings. Lenovo's attempt to phase out that feature of its business devices in favour of a clean design clearly backfired. The TrackPoint lets you control the cursor and scrolling without moving your fingers off the keyboard's home row. It's the kind of thing that takes a while to get used to but is absolutely indispensable after you do. We found it to be comfortable and work well after calibration.
As if there aren't enough options for input, don't forget that the ThinkPad X1 Carbon has a touchscreen. The main problem is that there's no physical support for the screen, so even the mildest touches make it wobble on its hinges for a few seconds. Ultimately, this is a nice feature to have, but we wouldn't have had any problem without it. When using the X1 Carbon as a work machine on a desk, there are very few times when it makes sense to reach up to the screen.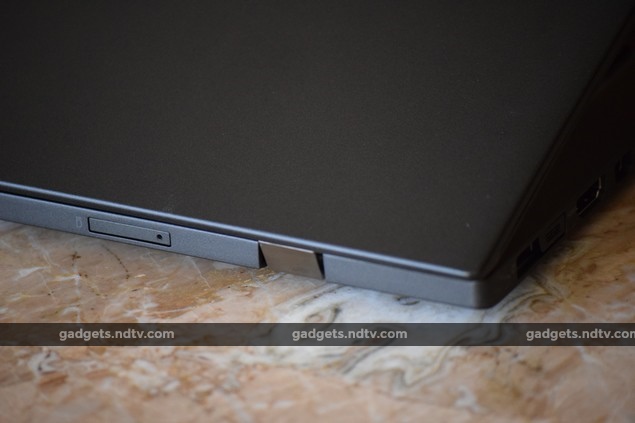 Performance
As expected from a flagship business laptop aimed at the upper rungs of the management ladder, performance is exemplary. We loved how quickly the system booted, and had no problems with lag or slowdowns in day-to-day usage. Heavy apps should run smoothly, and the ThinkPad X1 Carbon should make even high-end design and production software feel great.
The laptop generally ran quietly even when stressed by our performance benchmarks, although the upper right corner of the keyboard deck did get warm and blasts of hot air could be felt coming out of the vent in this area.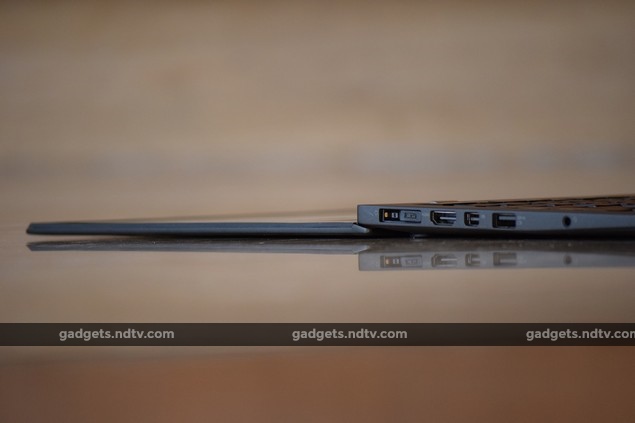 PCMark 8 gave us impressive scores of 3311, 3542 and 4239 in the Home (Accelerated), Creative (Accelerated) and Work run-throughs respectively, which are the highest of any laptop we've tested, edging out even the Acer Aspire S7. These show the ThinkPad X1 Carbon to be an all-rounder in terms of capabilities. 3DMark Fire Strike delivered 685 points overall, which is not too bad especially considering the amount of work needed to fill the high-res screen. A discrete graphics card would have helped gaming performance, but that isn't what ThinkPads are about anyway.
SiSoft SANDRA also reported impressive CPU scores, especially in tasks such as data encryption that leverage extensions found in more expensive models. The SSD was responsible for high sequential read and write speeds of 516.38Mbps and 228.37Mbps respectively.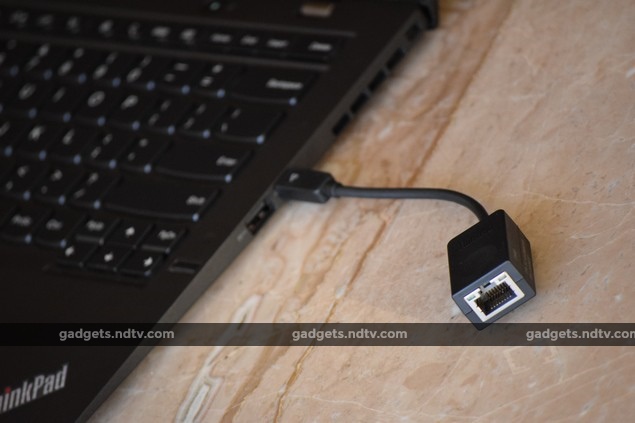 SunSpider finished its Web-based benchmark run in only 101.5ms, and Cinebench R15's multithreaded CPU score came to 257 points. POVRay managed to run through its built-in benchmark in only 8 minutes, 11 seconds, whereas mainstream laptops can take up to three times as long.
We tested video playback at the screen's native resolution and had no issues with up to 1080p files. The speakers are on the bottom, firing sideways. They aren't particularly loud and the sound is indirect, but they are clear enough for dialog in videos and some detail in music to stand out.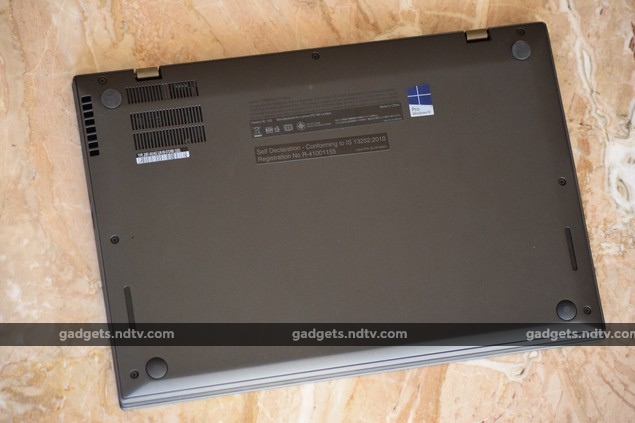 The battery lasted 2 hours, 32 minutes under Batter Eater Pro's standard rundown test, at standardised conditions, which is consistent with most mainstream laptops and should translate to about 6-8 hours of casual use. We would have liked to have seen a much higher number, and at least Lenovo's claimed figure of nearly 11 hours when idle. That is the tradeoff for being slim and light, which are most manufacturers' priorities today.
We were also a little disappointed by the screen. While the non-reflective film was definitely appreciated, we felt that it resulted in a slight loss of colour vibrancy. The screen also didn't get as bright as we were hoping for, and viewing angles weren't especially impressive. However, there's nothing like the crispness of the 1440p resolution.
Verdict
As far as business use cases go, there's a lot to like about the Lenovo ThinkPad X1 Carbon - if you have a bottomless expense account, that is. In fact, there's a lot to like for pretty much any consumeruse case as well, and anyone who can afford such an indulgence should give this one serious consideration. Sure, it isn't the most stylish or the slimmest and lightest laptop around, but manufacturers seem to be forgetting that the primary reason for having a laptop in the first place is to get things done.

On that note, ThinkPads exist for a reason and Lenovo has somewhat successfully managed to pick and choose consumer-friendly "features" that don't make it more difficult to get work done. The 2015 X1 Carbon is a vast improvement over its predecessor in this regard, but more can still be done and we hope Lenovo takes that up as a challenge.
There's no doubt that this is an outrageously expensive device, and for most people, it won't work out to adequate value for money. The most obvious competitors are the 13-inch and 15-inch MacBook Pro with Retina display models, which both offer equal or better specs in better-looking bodies for quite a bit less. However, if you're a demanding professional who can really make use of the phenomenal screen but don't specifically need graphics power or a massive battery, this is the laptop you'll want to work and travel with every day.
Price (MRP):
Rs. 1,75,000
Pros
Study, slim and light

Great performance
Good screen
Cons

Average battery life

Software bloat

Limited physical and wireless connectivity

Ratings (Out of 5)
Design: 4
Display: 4

Performance: 4.5

Software: 3
Battery life: 3.5

Value for Money: 3
Overall: 3.5