Lenovo is trying out yet another design for a touch-enabled Windows 8 notebook. This time, the screen isn't detachable and doesn't twist around to allow a tablet-like experience. Instead of pretending to be a laptop and ending up too thick, the Lenovo Flex 10 just tries to overcome the discomfort of reaching across the keyboard and trackpad to interact with the touchscreen.
The Flex 10 gets its name because its lid can fold back flat and then around up to 300 degrees. It can then be placed with the keyboard deck upside down, which then acts as a stand. This way, the screen tilts at a comfortable angle, but is closer to the user.
We'll find out how practical this design really is, and whether the Lenovo Flex 10 is a good machine considering its budget aspirations.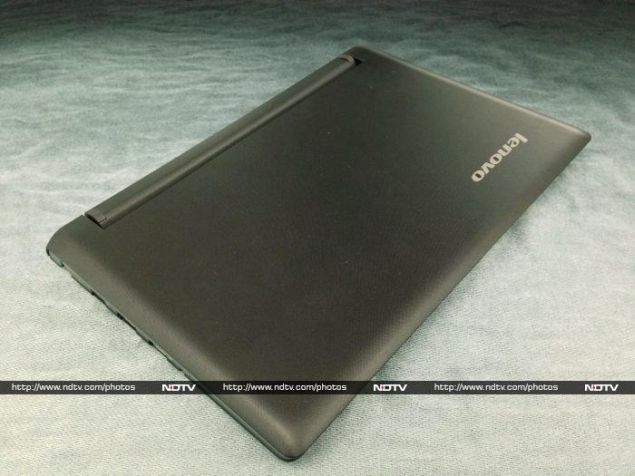 Look and feel
At first glance, you wouldn't guess that the Flex 10 is not a premium device. It looks sturdy and solid, with a very high-quality finish. The lid is a deep but neutral brown, with a cloth-like texture. Although everything is plastic, you won't find any part of it looking cheap. Even the bottom (which spends a lot of time on the top, when folded over), looks quite good.
This isn't the thinnest or lightest device around, by any means. All the ports, of which there aren't many, are arranged on the left and right edges. The power and volume buttons are also on the side, so they're accessible no matter which way the device is placed.
With the hinge open, you see that the screen is a lot smaller than the lid, and the side bezels are nearly an inch thick. There's also a huge bright Lenovo logo above the screen, which is a bit distracting. The Windows logo centered below the screen is actually a capacitive Home button, as seen on new tablets.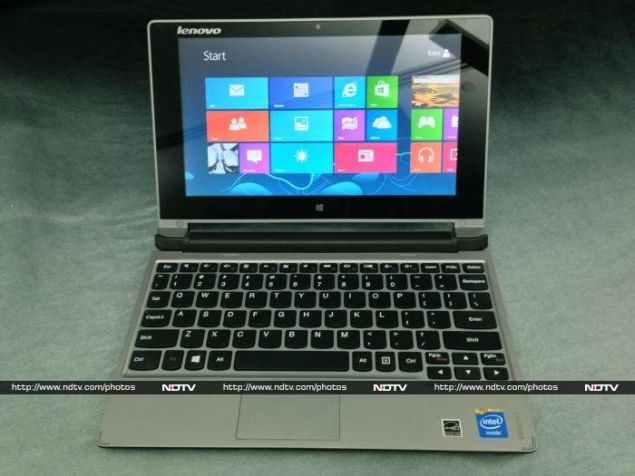 The keyboard, by contrast, takes up the entire width of the device. While all important keys are accounted for and the layout isn't too cramped, the keyboard itself is very, very shallow. These keys just don't offer a satisfying feeling, and you'll really have to adjust your typing style to get used to them.
The trackpad is rather cramped, and we quickly grew annoyed with it. It's way too small for regular productive use. You'll also find there's too little room for a wrist rest on either side of it, which affects overall comfort.
The Flex 10's main trick is that you can fold the screen backwards far enough that the whole unit can stand up with the keyboard deck forming a base. This means the screen has a stand and you don't have to stretch out your hands to use it. Unlike Lenovo's similar Yoga hybrids, the screen can't fold flat against the back of the lower deck, so you can't use it in your hands like a tablet.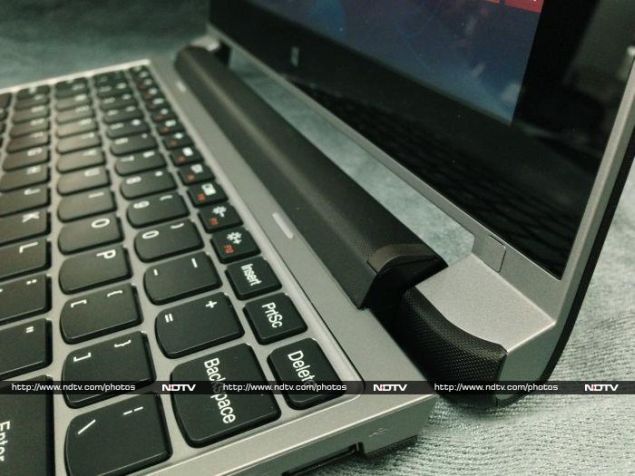 With the Flex 10 in this configuration, it's definitely easier to poke at the touchscreen. The keyboard and trackpad are of course inaccessible, so you'll need to rely entirely on Windows 8's gestures and the on-screen keyboard. There really aren't many use cases we can imagine for such a device: you can't use it like this while sitting or reclining, though you can rest it on a table or lie down with it on your stomach. You can play games, surf the Web and flick through apps, but any sort of typing is awkward at best. For any situation that requires typing, it's far easier to unfold the Flex 10 and use it like a laptop than it is to attempt pecking at on-screen buttons.
Specifications
For some reason, Lenovo decided to apply its latest design idea to a very low-end device. The Flex 10 runs a lowly Intel Celeron CPU, a dual-core N2805 running at 1.46GHz. It's based on the relatively recent Bay Trail architecture and thus consumes fairly little power, but it's also saddled with one of Intel's weakest integrated graphics processors.
The processor supports 64-bit instructions, but for some reason Lenovo sells the Flex 10 with a 32-bit version of Windows. You won't be running any heavy software but this still presents a few limitations which could have been avoided.
There's 2GB of RAM and a 5,400rpm 500GB mechanical hard drive. The Flex 10 doesn't appear to have any vents, and the only cutouts we saw in the body were for the twin stereo speakers on the lower lip of the front edge.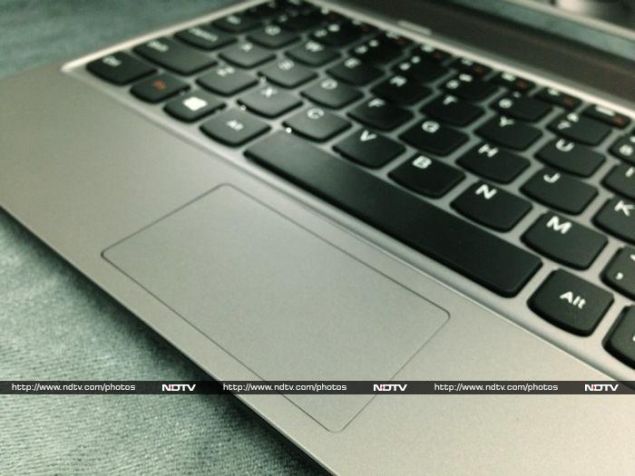 There are two USB ports, but only one of them supports high-speed USB 3.0 peripherals. These, along with an HDMI video output and stereo headset jack, are the only physical ports. We would have liked to see a few more USB ports and an SD card slot. Wireless connectivity comes in the form of Wi-Fi b/g/n and Bluetooth 4.0.
The screen, predictably, is a low-resolution 1366x768 LCD panel. At this size it doesn't seem too bad, and things are generally crisp and clear. Unfortunately, the entire surface is highly reflective, and viewing angles aren't all that good either.
The volume buttons are oriented to feel natural with the keyboard folded back, which means they're the wrong way around when you're using the Flex 10 like a regular laptop.
Performance
Unfortunately, even though this laptop has an interesting design and excellent construction quality, Lenovo has decided to push it at the low end of the market and has thus used components which are far too weak. We were disappointed by the Flex 10's benchmark performance, which was in some cases weaker than that of recent tablets.
The Flex 10 took an agonising 65 minutes to render POVray's built-in benchmark, which is all down to the low-budget CPU. Scores for non-intensive workloads in PCMark 8 were roughly equal to those of modern Windows 8 tablets, but those that involved graphical tasks took a huge hit, and the Flex 10 trailed even Atom-powered devices. 3DMark failed to complete despite repeated attempts.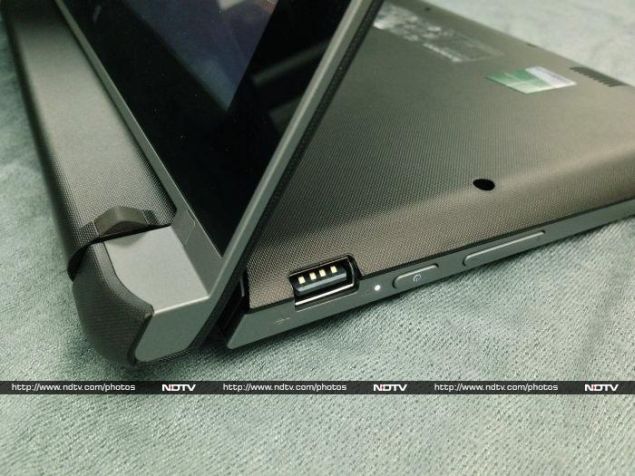 It's clear that Lenovo allocated most of this device's cost to its more visible features. In terms of functionality, it is best thought of as a modern-day netbook: good enough for surfing the Web, creating basic documents and watching movies now and then, but not suitable for any serious work.
Thanks to the touchscreen, you can use many of the full-screen apps and games available in the Windows Store, but again, nothing too heavy. Keep in mind that a large part of the screen is obstructed when you need an on-screen keyboard. Children might enjoy playing with drawing or musical apps.
The battery lasted for 2 hours, 42 minutes in our Battery Eater Pro test at standard settings. This means the Flex 10 isn't even suitable as a road warrior's machine. General audio and video performance was also quite average - 1080p video was laggy at times, but we were impressed with the maximum volume level.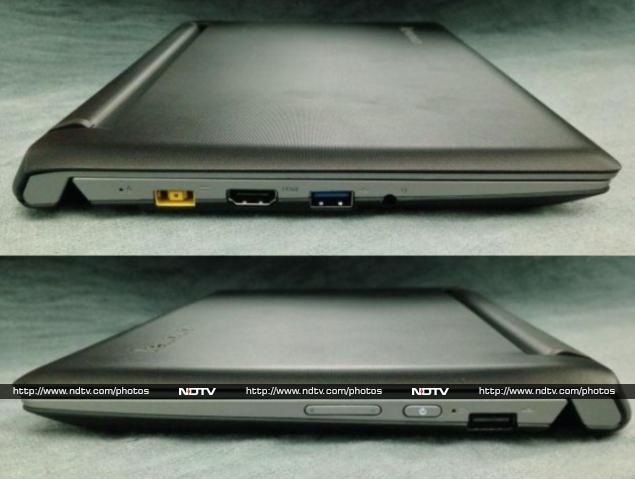 Verdict
The Lenovo Flex 10 might be an entry-level device, but it isn't cheap. For the same amount of money, you could get a far more powerful notebook, although you would have to give up the touchscreen and swivel feature. Given a choice between performance and looks, we'd choose performance every time.
It's not really clear that the flexible design has much merit on a device this weak. The screen is too small to really enjoy movies on, and there isn't much we can do with it in "stand" mode that we can't in regular "laptop" mode. If switching between the two was a little smoother and the keyboard was a little more usable, we'd be more impressed. Perhaps the larger, more powerful models in the Flex series will be able to strike a better balance and feel more useful.
As it stands, the Lenovo Flex 10 is a fascinating product but not one we can see a strong target market for. It seems like just another Lenovo form-factor experiment. Pick it up if you love the looks and don't think a tablet would suit your needs, but avoid it if you rely on a PC at school, work or home.

Lenovo IdeaPad Flex 10 in pictures
Price: Rs. 26,001

Pros

Small and relatively light

Excellent construction quality

Unique design makes Windows 8 easier to use with touch gestures

Cons

Disappointing performance
Limited expansion and connectivity

Expensive

Ratings (out of 5)
Design: 4
Display: 3

Performance: 2
Software: 3
Battery Life: 2.5
Value for Money: 3
Overall: 3