For far too long, PC enthusiasts have seen and understood the massive advantages of solid-state drives over traditional spinning hard drives, but their cost has kept them out of reach for all but a few. Slowly and steadily though, SSD prices have been falling. It used to be that 30GB SSDs were the only affordable options - just about enough to install Windows and maybe one game on, but nothing more. Today, 120/128GB drives are fairly common, and 240/256GB drives are beginning to approach that magical point where they really do make a lot of sense despite a considerable price premium.
Sure, most desktop users can toss a hard drive in for multi-Terabyte bulk storage, and that makes a lot of sense especially since the music, video and document files we tend to accumulate don't benefit all that much from being on an SSD. But there are legions of laptop users, and small-form-factor builds are becoming more and more sensible. SSDs also offer reliability, low power consumption and silent operation.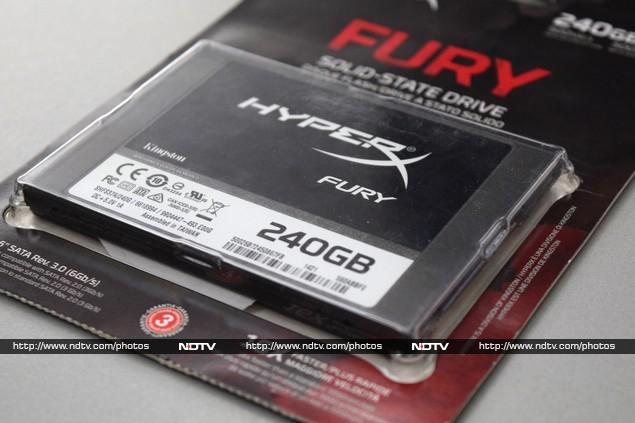 With 120GB, you can store all the files you need and install heavy software for creative work and gaming. A desktop user shouldn't get anything less than this, even if he or she has a secondary hard drive. Of course, stepping up to 240GB gives you twice as much breathing room, and this is the current sweet spot, even for laptop users.
Kingston has had a number of SSD offerings for a long time, with a focus on the value end of the Indian market. Its latest product line is called HyperX Fury, which is a name shared with the company's gaming-focused RAM products. It slots in between the company's SSDNow consumer series and HyperX 3K high-end gaming SSD. We have the 240GB model in for review, so let's see what it brings to the table for gamers and for everyone else.
Features and specifications
The HyperX Fury looks like any other 2.5-inch SSD. There are no design touches; not even a colourful sticker. It comes in a simple blister package which has a bit of stereotypical gamer appeal. There's a big HyperX sticker, if you like that sort of thing on your cabinet, and a stick-on frame for padding so the drive will fit into caddies designed exactly for 2.5-inch hard drives. There is no 3.5-inch adapter sled and no screws or cables, which some SSDs come with.
The HyperX Fury models are compliant with the 600Mbps SATA 3.0 specification and will work perfectly well with SATA 2.0, just at lower peak speeds. The 240GB model is rated for 500MBps read and write speeds, which we will verify for ourselves.
The HyperX Fury uses the popular (though dated) Sandforce SF-2281 controller and MLC flash, which is the common standard for consumer-grade SSDs. The drive is rated for 1 million hours MTBF (mean time between failures) and comes with a three-year warranty which covers a replacement or refund in case of any manufacturing defect.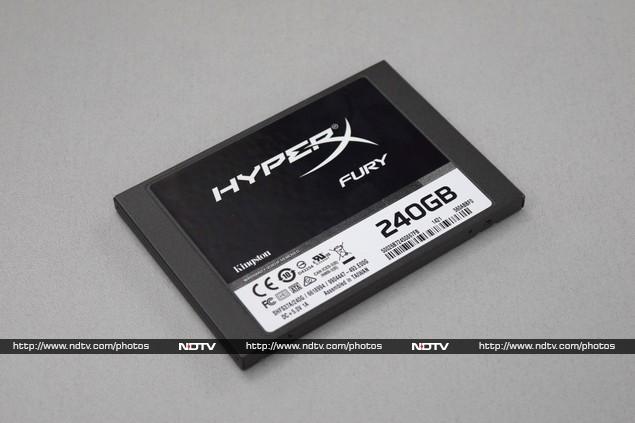 Performance
We installed the drive in a test machine built with an Intel Core i5-4570 running at stock 3.2GHz and 8GB of Adata DDR3-1600 RAM running on an Asus H87I-Plus motherboard. An Asus GTX760-DC2OC-2GD5 graphics card and a 500W Cooler Master Thunder power supply rounded out the test rig specifications.
All tests were run on a brand new drive. We managed to achieve reasonably good scores using CrystalDiskMark and SiSoft Sandra 2014. Sandra reported a total drive score of 524.42Mbps in the physical disk test. Sequential and random read speeds were 506.63 and 493.5MBps respectively, which more or less match up to Kingston's best-case-scenario claims, although the more realistic random read and write scores were 213.18 and 210.86MBps respectively.
CrystalDiskMark scores were consistent, with 490.8 and 225.8MBps sequential read and write speeds. When random 512KB blocks are tested, the speeds fall a little to 415.7 and 222.0Mbps respectively. Testing random 4KB blocks, which represents most closely how an SSD is likely to be used in the real world, gave us read and write speeds of 28.92 and 99.16Mbps.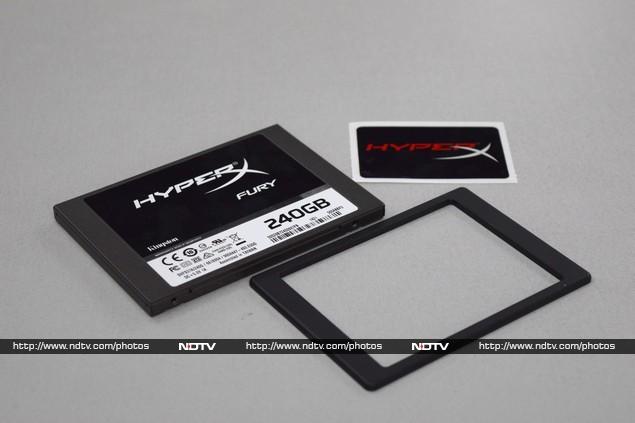 Verdict
It's a good time to be in the market for an SSD. Kingston isn't the only company pushing prices lower and capacities higher, which is great news for consumers. The HyperX Fury range represents good, solid performance which is great for anyone - gamer or otherwise.
The main downside is pricing. Kingston's official MRPs are Rs. 6,500 for the 120GB model and Rs. 11,000 for the 240GB model. Street prices will be significantly lower, but are not known yet. For the sake of comparison, Crucial's highly regarded MX100 SSD costs around Rs. 7,850 for a 256GB model and Kingston's own SSDNow V300 240GB drive costs Rs. 7,650 in local markets. If you're strapped enough for cash that you'd choose a 120GB drive, you'll definitely appreciate the even lower cost of Transcend's 128GB SSD340 (Rs. 4,200).
The HyperX Fury is a solid product, but that isn't enough to make buyers take notice. It will have to fight for its place in an increasingly crowded and competitive market.
Price (MRP): Rs. 11,000 (240GB)
Pros
Cons

Street prices need to be lower

No bundled accessories

Ratings (Out of 5)
Performance: 4
Value for Money: 3
Overall: 3.5