USB pen drives come in all shapes, sizes and colours. Some have special purposes while others are just whimsically different. Sometimes innovation is welcome, while other times it all seems unnecessary. With smartphones, laptops and most other kinds of tech products all beginning to look like each other, this seems to be the one category in which companies are truly letting loose.
There is no shortage of brands in the market and there really is no scope for loyalty. Prices keep going down and buyers are usually happy to pick up whatever is the cheapest at any point of time. That means manufacturers have to get clever, creating value and trying new things in order to get customers to take a second look.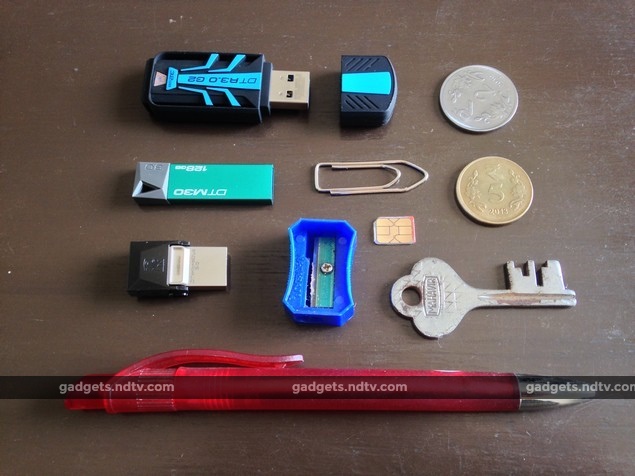 Kingston has been around for ages, and has earned a decent reputation when it comes to memory and storage products. When it comes to pen drives, Kingston has over a dozen models in the market, most of which have a unique feature or purpose. We have three of them in for review: one with a Micro-USB plug for Android devices, one with a rugged body, and one with a massive capacity. In keeping with the times, all of them work at USB 3.0 speeds.
We found all three drives easy to use in everyday situations. While the two 32GB models reported formatted capacities of 29.30GB, the 128GB DataTraveler Mini showed 117.22GB. We measured each drive's performance with CrystalDiskMark.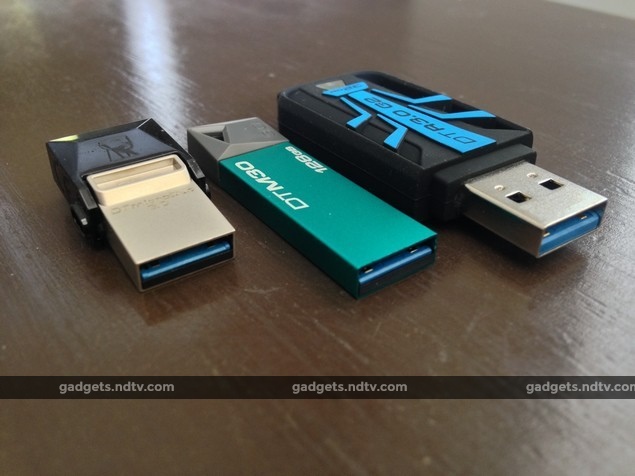 Kingston DataTraveler R3.0 G2
The first of our trio is the rugged DataTraveler R3.0 G2, which claims to be resistant to water and shock. It's quite chunky and the design is anything but subtle, with raised blue and black fins all over its body. We didn't find it attractive, but tastes vary and aesthetics aren't really a high priority. The rubberised outer coating is pretty thick so you can get a good grip on this pen drive, and it's also less likely to get misplaced than the others, which are pretty tiny. On the other hand, it might block multiple ports on a laptop or desktop if they aren't spaced out.
The DataTraveler R3.0 G2 has a removable cap. You can pop it onto a tab on the drive's rear, but it doesn't stay very reliably. There's a small cutout for a lanyand, but one isn't included in the retail package. The IPX8 certification covers submersion in water for up to an hour at 1m depth, which is reassuring. The shock resistance rating is based on a military standard, MIL-STD-883H, METHOD 2002.5, though Kingston doesn't go into detail about what this means.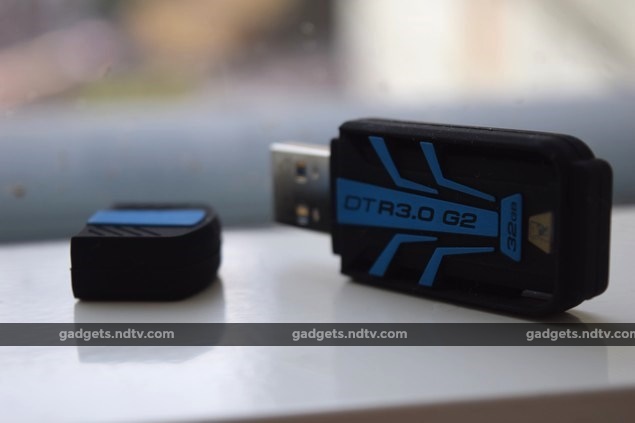 The DataTraveler R3.0 G2 underperformed a little, compared to its rated speeds. We achieved 43.82Mbps sequential reads and 39.80Mbps sequential writes. A more realistic idea of random reads and writes, measured with 4K blocks, came in at 4.17Mbps and 21Kbps respectively.
Those who are afraid of losing pen drives or damaging them with heavy use should consider a model like this, which offers more protection than basic plastic pen drives do.
Price:
Rs. 1,300 (16GB); Rs. 2,000 (32GB); Rs. 2,800 (64GB)
Pros
Rugged, water-resistant body

Decent data transfer speeds

Cons

Ratings (Out of 5)

Design: 3.5
Performance: 3.5
Value for Money: 3.5

Overall: 3.5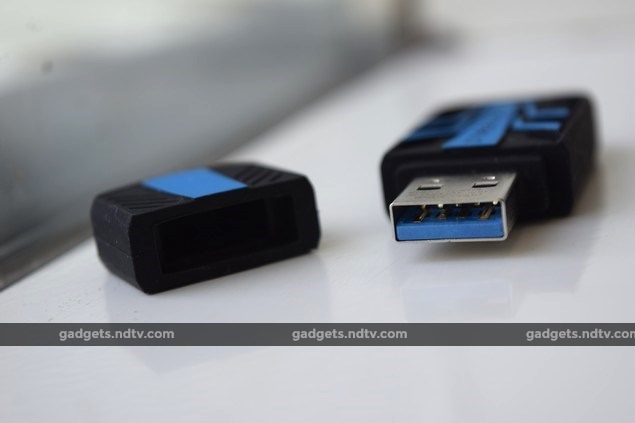 Kingston DataTraveler Mini 3.0
Also known as the DTM30, this is a far more mainstream product than the rugged R3.0 G2. We've seen hundreds if not thousands of pen drive designs over the years, but this one still manages to stand out and grab attention. Users who care about style will gravitate more towards this model. It's slim and rectangular, with almost the entire body in the shape of what looks like an extended USB plug. Only the angular plastic tip on the end is a bit taller, allowing you grip the drive when plugging it in or pulling it out of a USB port. Our 128GB review model came in a bright emerald green, but 16GB, 32GB and 64GB models come in different colours.
One effect of this design is that the USB plug is always exposed. This might not be a problem for many, but it's worth noting. The body is made of a thin metal and tends to flex when pressed, even with relatively little effort. Any accidental pressure could deform it to the extent that it won't fit into a USB port. We also noticed that the finish became a bit scratched just by using the drive, since the body itself scrapes against the inside of USB ports.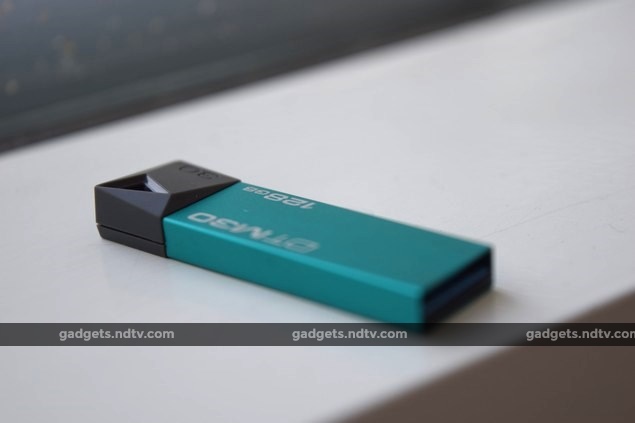 Interestingly, it arrived formatted in the exFAT filesystem which is able to handle files larger than 4GB and works across modern versions of Windows and OS X, but isn't recognised by Windows XP and has limited Linux support.
The DataTraveler Mini 3.0 resulted in anomalous scores - 109.4Mbps for sequential reads, which was significantly higher than the rated 70Mbps, but only 11.33Mbps for sequential reads. This definitely won't work well for those who need to dump large files in a hurry and be on their way. Random 4K block read and write speeds came in at 10.25Mbps and 6Kbps respectively.
Price:
Rs. 750 (16GB); Rs. 1,200 (32GB); Rs. 2,500 (64GB); Rs. 5,000 (128GB)
Pros
Small and looks good

Available in high capacities

Cons

Expensive
Inconsistent speeds

Ratings (Out of 5)

Design: 3.5
Performance: 2.5

Value for Money: 2.5

Overall: 3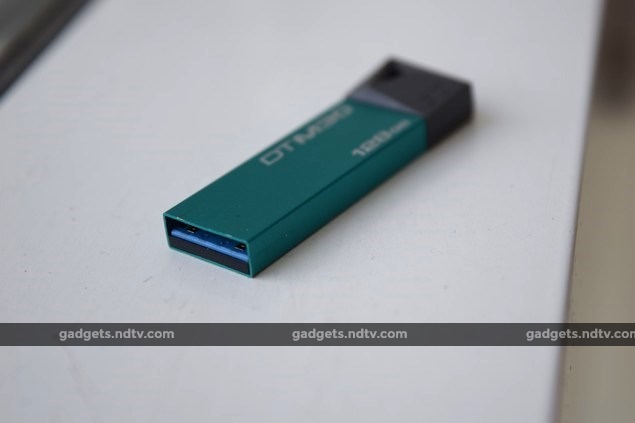 Kingston DataTraveler microDuo 3.0
We reviewed an earlier version of the DataTraveler microDuo a little while ago, when it was one of the first dual-interface pen drives on the market. What Kingston has done now is to upgrade it to support the much faster USB 3.0 protocol. Nothing has changed about the design or functionality of this drive otherwise. It's still small enough to be relatively unobtrusive when plugged into a smartphone or tablet.
The Micro-USB plug is protected by a swivelling plastic cap, but the regular USB plug remains exposed. You can use this drive to copy files between PCs and mobile devices which support USB On-The-Go through their Micro-USB ports. Many Android and even some portable Windows devices support such drives, making the slight price premium well worth it if you need to copy things often.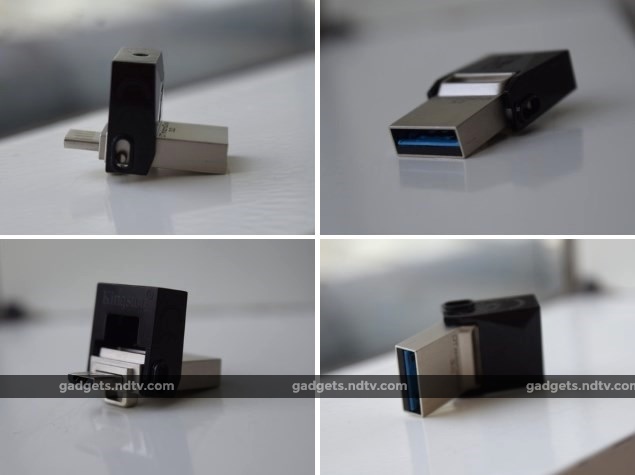 As the tiniest of the three drives we're reviewing today, it was easy to get worried we would misplace it. Amazingly, even though it's only about the size of two thumbnails, the DataTraveler microDuo 3.0 is available in capacities of up to 64GB.
The DataTraveler microDuo 3.0 posted sequential read and write speeds of 43.39Mbps and 14.64Mbps respectively, handily beating its USB 2.0 predecessor by almost 3x. Random 4K block speeds were 5.6Mbps and 6kbps respectively. Considering this drive's special purpose and miniscule body, it isn't geared for raw speed.
Price:
Rs. 1,100 (16GB); Rs. 2,200 (32GB); Rs. 3,000 (64GB)
Pros
Tiny and portable

Works with USB-OTG devices
Cons

Mediocre data transfer speeds

Ratings (Out of 5)

Design: 4
Performance: 2.5

Value for Money: 4

Overall: 3.5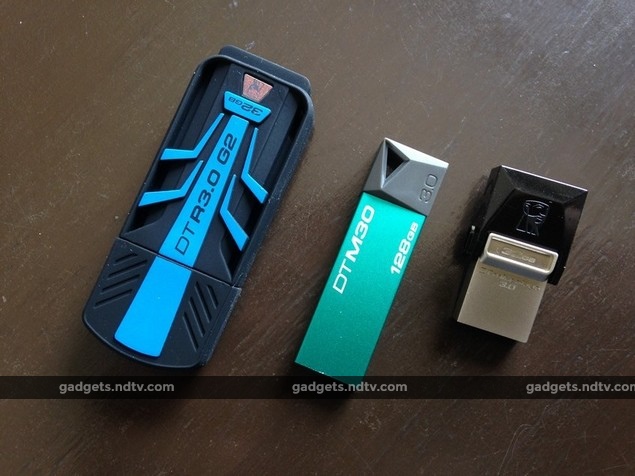 Verdict
Kingston has demonstrated that its various models aren't just dressed up differently, but have different purposes which are significant enough to make a buyer consider each one on its own merits. If you're just looking for a storage device, you can pick up any pen drive from a reputable brand which happens to be the cheapest at the time. However, it might make sense to spend a little more on a rugged drive such as the DataTraveler R3.0 G2 if you think you might need some extra protection from the elements, or the DataTraveler microDu0 3.0 if device compatibility is more important than transfer speed.
The DataTraveler Mini 3.0 is the least unique, with only its 128GB capacity to make it tempting. Street prices are usually well blow MRPs, but even so the cost is way higher than that of two 64GB drives. Inconsistent test results aside, this one is for those who want the latest, greatest product even if it isn't the most practical option.