In recent years, Intel has spent much of its energy chasing the smartphone and tablet markets. Even in its more traditional PC stronghold, the focus has really been on lowering power requirements in order to help laptops become thinner and lighter. Along the way, desktop enthusiasts and gamers have been somewhat overlooked - what with talk of CPUs hard-soldered to motherboards and thermal materials deliberatelyreduced in efficacy, it almost seemed as though the golden days of the desktop were behind us.
Thankfully, we've been given a bit of a reprieve. Intel has been talking up a desktop renaissance of sorts, and that has involved making overtures to gamers and overclockers for much of this year. The Devil's Canyon series and Pentium Anniversary Edition were released specifically for this purpose, and are not only unlocked (and thus highly overclockable) but also work towards righting some of the wrongs that the company now freely admits it has made.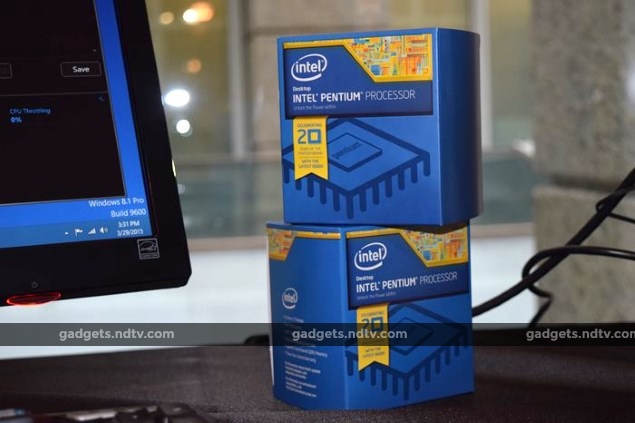 What is the Pentium Anniversary Edition?
Devil's Canyon refers to two high-end CPUs, the Core i7-4790K and the Core i5-4690K. These stand out from the rest of the Haswell generation thanks to additional circuitry to better handle high voltages and a much-improved thermal interface to help dissipate heat. The K suffix in both names tells us they are unlocked and so users can push them well beyond their official rated speeds.
In contrast, the Pentium Anniversary Edition, more properly known as the Pentium G3258, doesn't have these features. It also has the same limitations that the Pentium line has compared to the Core series, namely a 1333MHz DDR3 speed limit and the lack of Hyper-Threading, Turbo Boost, virtualisation and AES extensions. The G3258 also has only two cores as opposed to four. However, despite not having a K suffix, this CPU is just as overclockable as its beefier siblings are - and it has a killer price of around Rs. 4,550.
All of this points to a whole lot of potential. Overclocking has traditionally been the domain of enthusiasts who can afford extremely high-end hardware (and who can afford to risk destroying it). With the Pentium G3258, lots more people can try their hand at overclocking and learning how to manipulate the CPU multiplier and voltage. You'll still need a motherboard with a Z-series chipset (officially, at least) which tend to be expensive, but the low price of the CPU compensates for that to a large extent.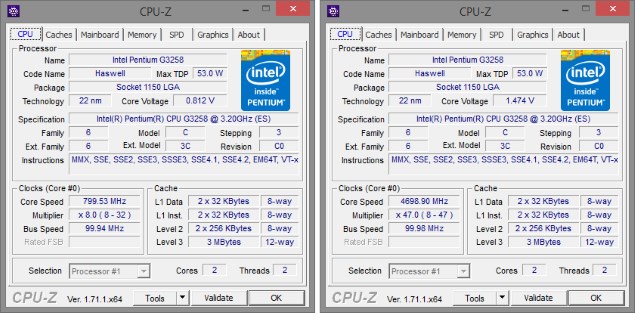 The Pentium G3258 is based on the same 22nm Haswell architecture as the Core series and will fit into any motherboard with a Socket 1150 interface. That covers the x8x and x9x chipset generations - Z97 is the best fit but Z87 boards should work as well after a BIOS update.
The G3258 itself is rated to run at 3.2GHz, though its frequency will reduce in order to save power when situations allow it. The 53W TDP means you'll be fine with the standard low-profile heatsink fan combo if you're only planning to run it at stock speed, but for the sort of overclocking we have in mind, a much beefier air cooler or a closed-loop liquid cooler would be far more appropriate. Intel's integrated "HD Graphics" GPU won't be much good for 1080p gaming, but will do for basic workloads.
As described above, this CPU is low-end and has certain limitations. One thing the G3258 does have going for it is Intel's QuickSync video enhancement, which greatly speeds up the encoding and compression of video files.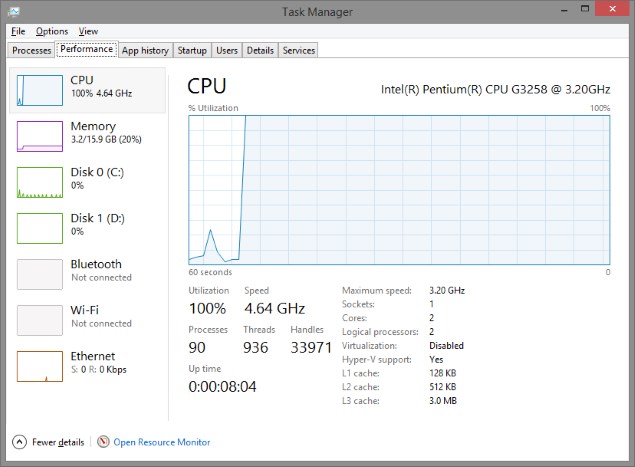 Stock performance
We tested the Pentium G3258 on an Asus Z87 motherboard with the latest UEFI firmware update. The test rig included 16GB of Adata DDR3-1600 RAM, a Cooler Master Nepton 280L closed-loop liquid cooler, Nvidia GeForce GTX 980 reference graphics card, Cooler Master V1000 power supply, and 128GB Adata SX910 SSD. We used Arctic Silver 5 thermal compound when assembling the test system. The high-end specifications should ensure that no other component is responsible for bottlenecking the CPU at any point.
We had no problems whatsoever with the setup, and the Pentium G3258 was up and running within minutes. CPU-Z reported normal values for the multiplier and core voltage (8-32 and 0.812 respectively), which correspond to the speed ramping between 800MHz and 3.2GHz depending on the workload at any given time. Before overclocking, the temperature ranged from 29 degrees at idle to 46 degrees under a 100 percent load simulated by the Prime95 stress test. With the speed and voltage bumped up as far as they'd go, we touched 90 degrees.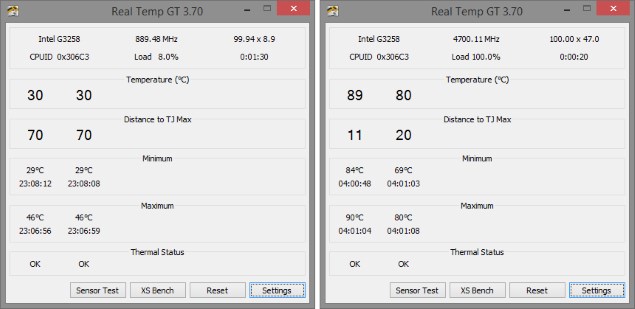 We ran through a variety of tests and were fairly pleased with the results. We got a score of 238 in Cinebench R15's multi-threaded CPU test, and POVRay's built in benchmark completed in 7 minutes, 17 seconds. For the purpose of comparison, the same test rig with a Core i7-4770K CPU at stock speed managed 782 points and 2 minutes, 38 seconds respectively.
SiSoft SANDRA's CPU Arithmetic test scores revealed consistent gaps between the Pentium and the top-end Core i7 except in one area. While most tests revealed a 3x-4x improvement in stepping up to the more expensive CPU, the Encryption/Decryption bandwidth test revealed a difference of over 10x. This is entirely due to the disabling of AES instructions on the Pentium.
Interestingly, while number-crunching apps showed significant differences between CPUs, games did not. Tomb Raider played smoothly and the built-in benchmark showed no appreciable reduction in frame rate. Similarly, Battlefield 4 and Crysis 3 were just as playable on both CPUs. These games didn't seem to take advantage of the Core i7's features and speed, which illustrates the point that in many cases, gamers are much better off allocating money to a better GPU than a faster CPU.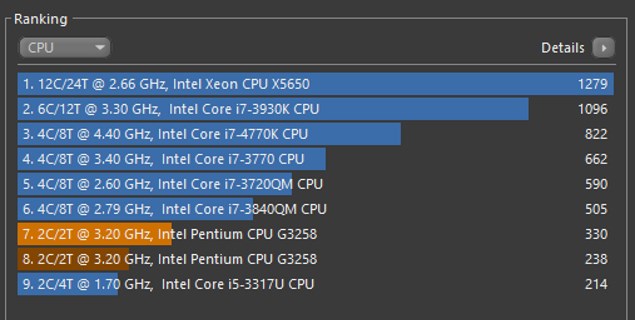 Overclocking
We first ran Asus' AiSuite 3 utility which is freely available to anyone who buys an Asus motherboard. The overclocking component of the utility ran completely automatically. It required a couple of reboots, but the software even took care of that itself. It raised the multiplier in increments of 100 at a time and ran a simple stress test before trying each next higher value. It finally crashed when it reached 48, which meant 47, or 4.7GHz was the most stable achievable overclock. The voltage went up to 1.47v which was manageable. That's a 47 percent increase over the Pentium G3258's stock speed which was very satisfying to see indeed.
At 4.7GHz, the Nepton 280 ran louder than we'd ever heard it before. Temperatures were up to 90 degrees under load, but things went smoothly. We were able to run Prime95 for 10 minutes, confirming the stability of the OC. We then attempted to use these values as a guideline to improve the overclock manually in the BIOS but could not push it beyond 4.7GHz.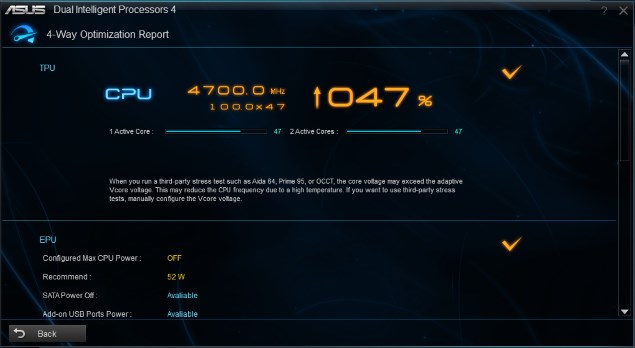 Performance jumped quite a bit in most of our tests - this time, Cinebench gave us 330 points and POVRay took only 5 minutes, 1 second to run. The Sunspider score improved from 178.7ms to 136.4ms, and Mozilla Kraken took only 952.8ms compared to 1272.1ms at stock speed. Similarly, HyperPi calculated one million digits of Pi in 9.141 seconds as opposed to 12.43 seconds.
Games were quite unaffected - as before, it's possible that users with more realistic graphics cards will see greater benefits. Considering the amount of noise our liquid cooler had to make just to keep the G3258 chugging along, we'd say that overclocking it for games alone would not be worth it.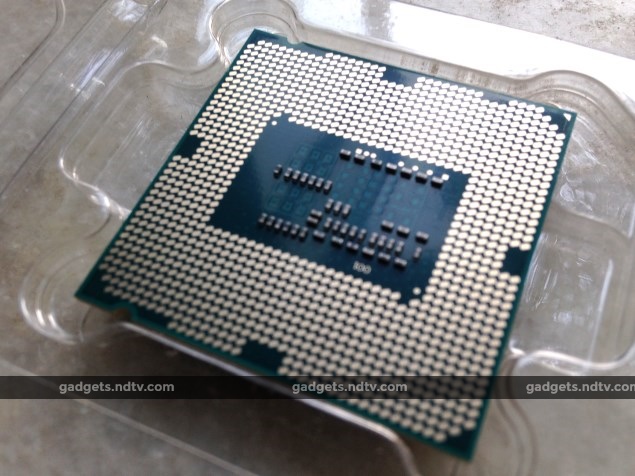 Verdict
The Pentium G3258 is a fantastic little monster of a CPU with a deadly price to match. This could be the foundation of a very competent budget gaming rig, allowing you to spend more money on other components that matter . If, on the other hand, you're going to be doing a lot of work on your PC apart from gaming, you'll quickly understand the benefits of the Core series over Pentiums and Celerons.
The Pentium G3258 is still a low-cost Pentium at heart, and so it is limited in many ways. Keep in mind that if you're planning to overclock, you'll have to spend a fair amount of money for a Z-series motherboard and a decent power supply - if you aren't planning to overclock, you might as well save even more money and buy a regular Pentium (or try for a Core i3).
A lot of people might think the very idea of a low-cost CPU that tries to act like a high-end one is funny. The Pentium brand is not as aspirational as it was 20 years ago, but there are parts of the world in which value really does matter and Pentiums handily outsell Cores. This product thus brings overclocking to a whole new market segment, and it really will allow a lot of people who are comfortable with PC hardware the chance to experiment without much capital investment. There is a certain joy to be had in squeezing every last little bit of performance out of their hardware - it's great fun in the way that all impractical little indulgences are.