Just over two months ago, we reviewed the tiny Intel Compute Stick which promised to turn any TV or monitor with an HDMI port into a full-fledged PC for less than Rs. 10,000. At the time of its launch, there was a footnote about iBall launching its own version of that product, though details were scarce. Today, we have the iBall Splendo PC-On-Stick in our hands, and while it has lots in common with Intel's own effort, there have been a few noteworthy changes that might make all the difference in the Indian market.
The Intel Compute Stick turned out to be a little bit of a damp squib thanks to its underwhelming performance and limited connectivity. Essentially a budget tablet's guts without the screen or battery, the Compute Stick offered too much trouble and too little payoff. It seemed like a good idea only for very specific use cases such as basic education or low-cost Web browsing, but that was about it.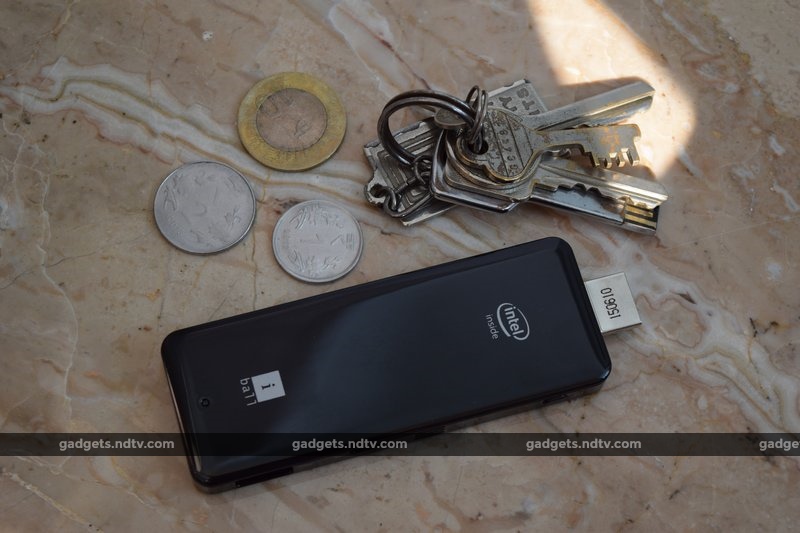 Enter the iBall Splendo, with pretty much the same hardware but a sleeker body, an extra USB port, a bundled wireless keyboard and mouse set, and - on top of all that - a lower price tag. One of the most interesting things that iBall has done differently is that it has also ditched the Compute Stick's cooling fan. We're interested to see whether this slightly different take on the same concept will earn a more favourable review.
Look and feel
The iBall Splendo PC-On-Stick (yes, that's its actual name) ships in an awkwardly large rectangular box. That's because everything is laid side-by-side for some reason: the keyboard, mouse, and Splendo stick with all its accessories. The Splendo itself is barely larger than two packs of gum placed side by side. It's flatter than the Compute Stick and surprisingly, looks a lot more like a polished consumer product.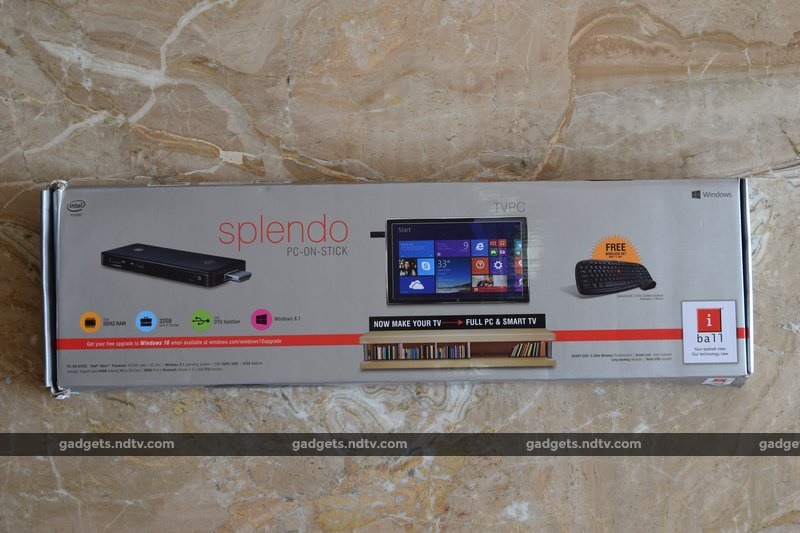 It will stick out from the side or rear of your TV, but not as obtrusively as the Compute Stick. It's also still wide enough to block adjacent ports. There's a power button, Micro-USB power input and full-sized USB port on one side, and a microSD card slot and a fully functional Micro-USB port on the other. There's also a tiny vent on either side, but other than that, there's nothing to see.
We were able to pry the lid off our iBall Splendo review unit, much like the rear panel of a smartphone. There isn't much to see because everything is so densely packed, but we could confirm the lack of active cooling.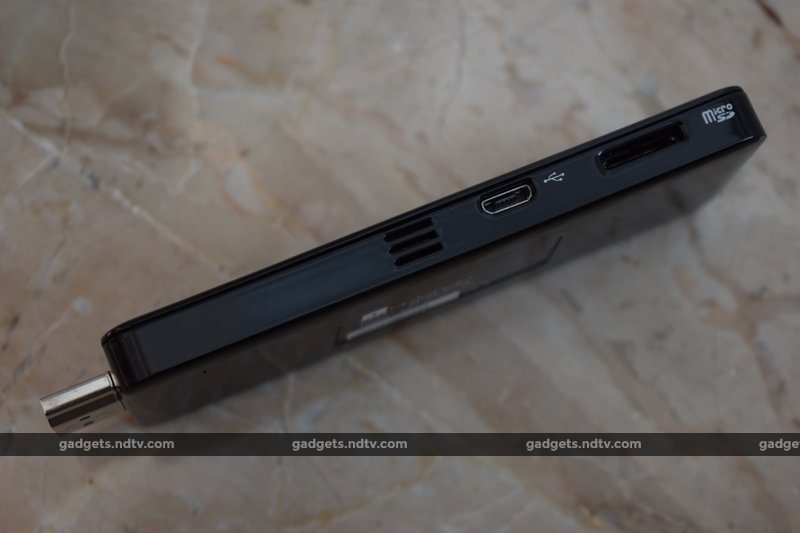 iBall includes a short HDMI extension cable which is handy if you want to avoid blocking other ports or want to tuck the Splendo somewhere out of sight. There's also a USB-OTG adapter so you can use the second Micro-USB port; a standard USB cable, and a simple AC power adapter. You might be able to route power from a USB port on your TV, but this will vary by model.
The keyboard and mouse in the box are iBall's Dusky Duo 06 set - seriously, who came up with these names? The set sells for around Rs. 1,000 so you might think you're getting great value for money, but honestly, they're both so mediocre you'll most likely throw them away. Both need two AAA batteries, which are thankfully included. Even with the batteries in, they feel light and flimsy. The body of the keyboard even flexes with minimal pressure applied.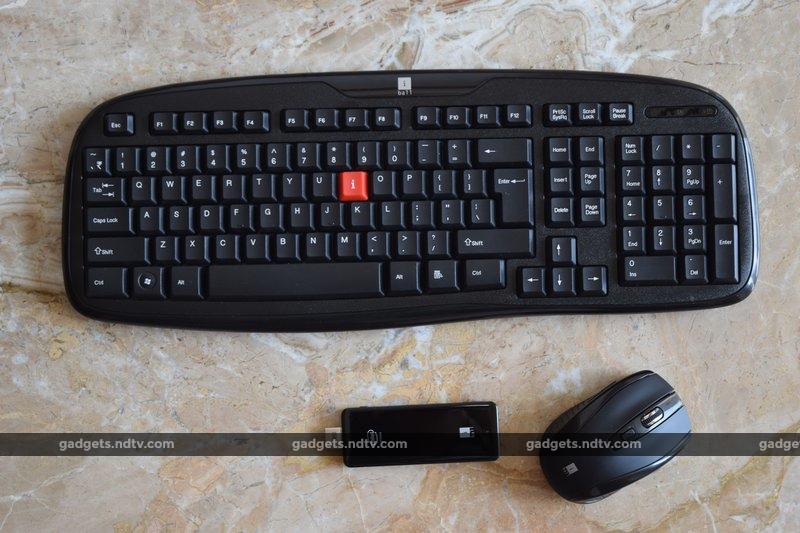 The keyboard has iBall's trademark red i keycap which is a little distracting. The layout is compressed a bit, with the cursor block eating into the QWERTY area and the paging block rearranged. The Enter key is shaped like UK standard keyboards, but the rest of the layout is US. The keys are all mushy and the space bar tips from side to side like a seesaw, and has to be struck right in the centre to work because there's only one anchor point. This is not a keyboard for any serious purpose, but it will do for occasional use.
As opposed to the desktop-sized keyboard, the mouse is the size usually used with laptops. It needs to be held and piloted with your fingers; you simply cannot grip it in your palm. It has two extra side buttons and a DPI control which seemed to allow cycling between three levels of sensitivity.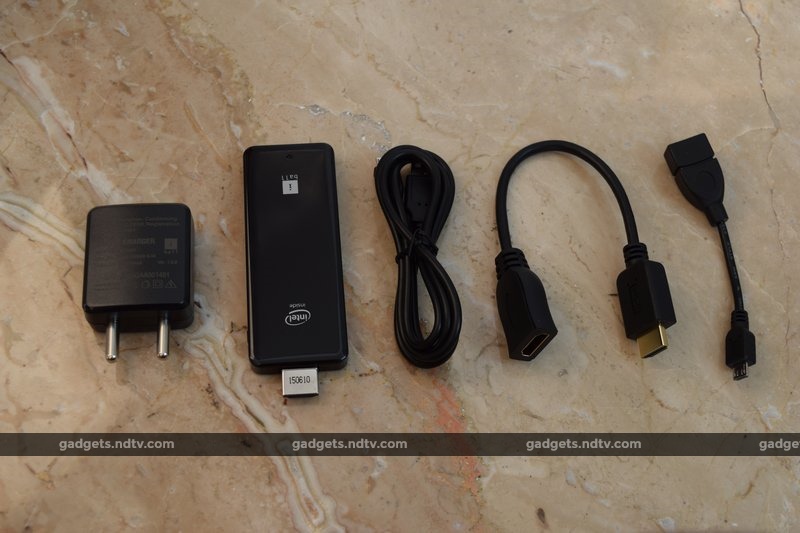 The keyboard and mouse use a unified USB RF receiver which can slot into the bottom of the mouse for safekeeping. This means that you'll either have to dedicate one of the precious USB ports on the Splendo just for input, or invest in a small USB hub. Considering the Splendo's purpose and the fact that this is supposed to be a set of products working together, iBall really should have gone with a Bluetooth pair even at a slightly higher cost.
Usage and performance
There isn't much to do to get up and running with the iBall Splendo PC-On-Stick. Just plug it into an HDMI port on any TV, monitor or projector, plug in a power source (which could even be a portable USB battery), and slip the wireless receiver into the USB port. It boots straight into the Windows 8.1 initial setup process, and in a few minutes you'll be looking at the familiar Start screen.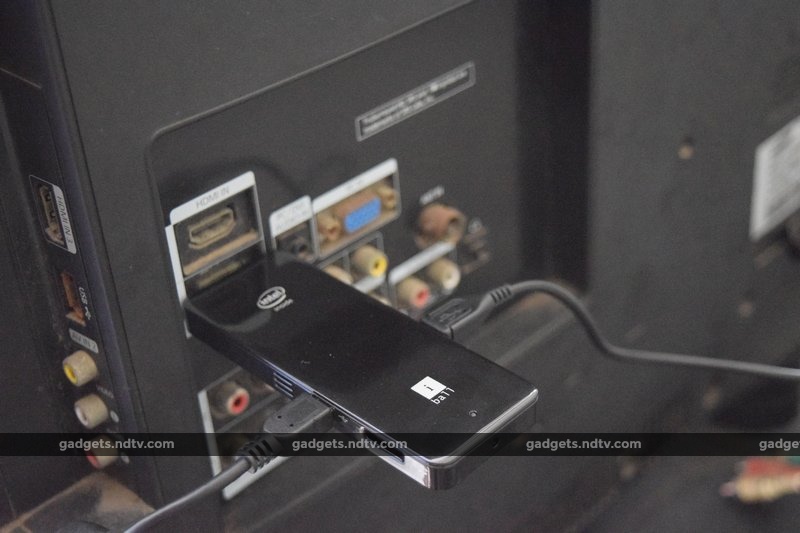 For here, you can do whatever you like, including set up Wi-Fi. We found that output resolution was limited to 1920x1080. Just like with the Intel Compute Stick, there is no way to adjust for TVs that crop the signal at the edges, which means you might have to deal with the Windows taskbar and the title bars and toolbars of maximised progams being hidden offscreen.
We noticed the same grainy video output that marred our experience with the Compute Stick. Things were okay on desktop monitors, but stretching this image to even a 32-inch full-HD TV looked awful. This kills the potential of the product as a video streaming device or home theatre PC.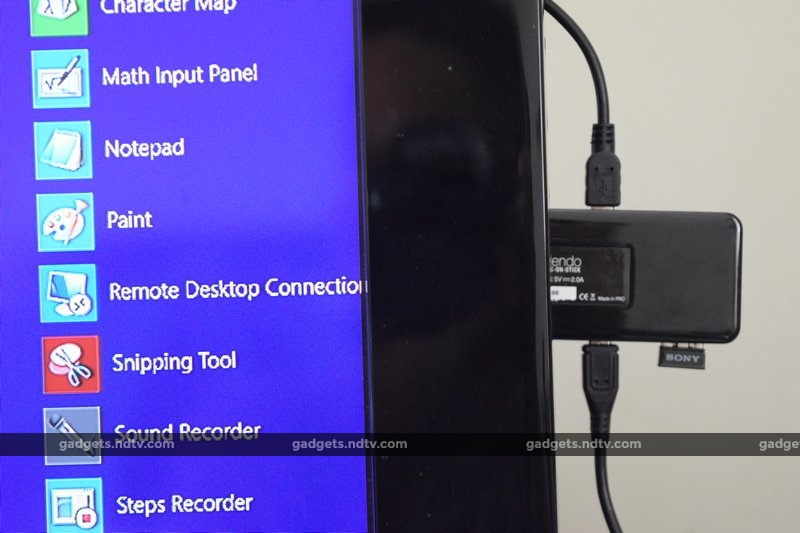 There are plenty of other things that lead us to believe this isn't a good solution for a living room TV. The power button is placed in the worst possible position; you'll have to reach around your TV and stick your fingers into a tight spot between connectors to even power the thing on. It sticks out awkwardly, and there's no way to support the weight of cables or a USB hub. If your TV is wall mounted, the Splendo and its cables will look really ugly sticking out of an HDMI port on the side. The exposed microSD card slot will also get choked with dust in no time if it's left empty.
In more PC-like settings, we were able to use the iBall Splendo comfortably. It performs about as well as today's cheapest budget Windows tablets can be expected to. 1080p videos ran smoothly though the output quality was poor. Web browsing wasn't a problem, and we were able to multitask between simple apps including a Web browser with a dozen or so tabs open. Compared to the Intel Compute Stick, the second USB port and unified keyboard and mouse receiver made a world of difference - even though it's a Micro-USB port which requires a dongle to be used. It was a relief not to have to dig out a USB hub and keep swapping plugs.
The iBall Splendo PC-On-Stick has pretty much exactly the same specifications as the Intel Compute Stick, including the ever-popular Intel Atom Z3735 processor which has four cores running at up to 1.83GHz. There's 2GB of RAM and 32GB of embedded storage along with integrated Wi-Fi b/g/n and Bluetooth 4.0. The USB ports run at USB 2.0 speed only. While there is a second USB port, iBall also only supports microSD cards of up to 64GB while Intel claims 128GB cards will work.
We were curious about how the iBall Splendo would keep up considering it relies on passive cooling. While we did feel it get warm, it isn't enough to be a problem at all. CPU-bound benchmark tests all ran between 10 percent and 25 percent slower than they did on the Intel Compute Stick. POVRay trace time went up from 24 minutes, 47 seconds to 30 minutes, 13 seconds and SunSpider took 607.4ms as opposed to 469.3ms. Whether this was due to thermal throttling or other factors is hard to say. On the other hand though, the memory and storage subsystem tests showed advantages over the Compute Stick.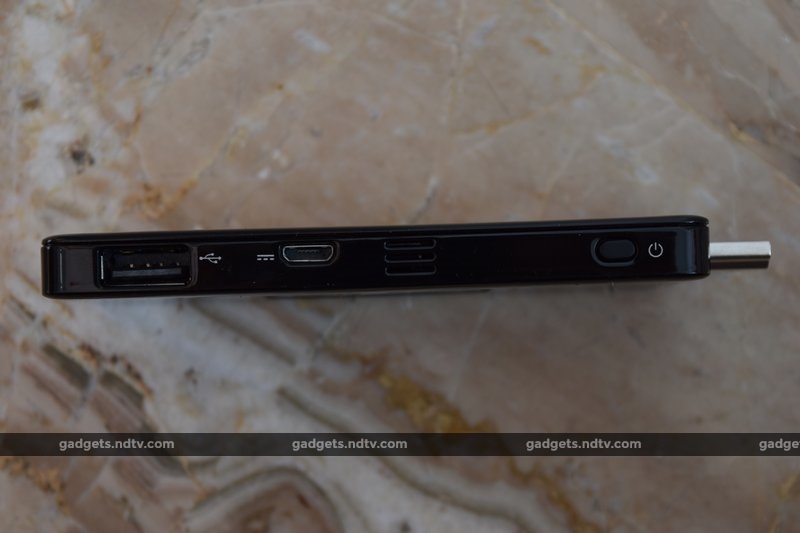 Verdict
The iBall Splendo PC-On-Stick is a small improvement over Intel's Compute Stick template - if you don't mind the drop in CPU performance, that is. In our opinion, the improved USB connectivity is the main reason to choose this version over the original. It's also much less obtrusive, less likely to get clogged with dust, and it even has a significantly lower price tag.
As far as the keyboard and mouse go, iBall could have worked out a more sensible, HTPC-oriented set but instead seems to have just thrown the cheapest ones it could find into a box. The cost-cutting and the lack of thought put in are frustrating. If the Splendo had been more expensive than the Intel Compute Stick because of the forced packaging, we'd have deducted points for the sheer waste of plastic. As things stand, they're essentially free and therefore better than nothing - but not by much.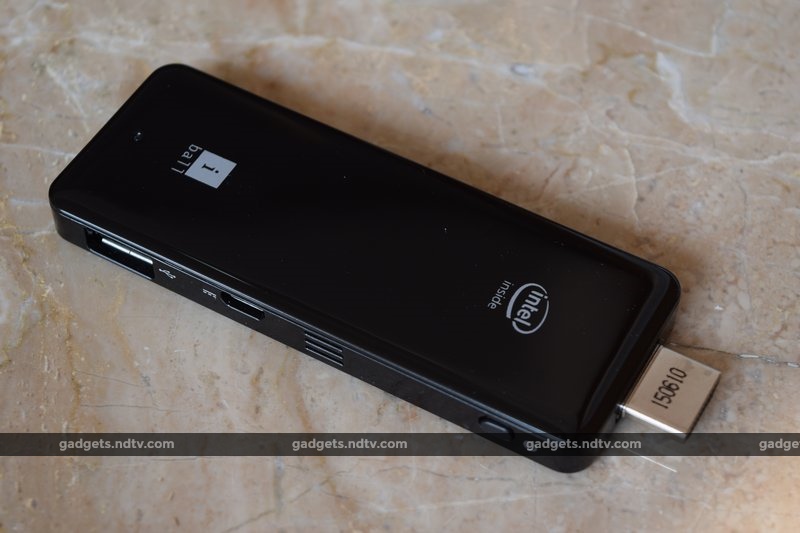 This device isn't the "smart TV adapter" or HTPC alternative that it could have been. It's far more useful as a super-affordable PC. If you need to deploy a large number of desktops in a school or office, the iBall Splendo could be an interesting solution. It could also be great for travelling light when you don't need a full-fledged laptop. However, just as with the original Intel Compute Stick, we'd advise waiting a little while till a more refined version comes out.
Price (MRP): Rs. 8,999

Pros
Small and versatile
Inexpensive
Bundled keyboard and mouse

Cons

Poor quality of accessories

Grainy video output
Low performance

Ratings (Out of 5)
Design: 3.5

Performance: 3
Value for Money: 3.5
Overall: 3.5