How low can prices go? iBall's
announcement of the launch of its latest tablet, the Windows-based Slide i701
, made us sit up and take notice. Our first reaction was disbelief, and then we had to resist the urge to dismiss it as a joke. There have been plenty of products over the years promising advanced functionality at unbelievable prices, and most of them have been absolute junk.
Such products infuriate us not only because they are essentially e-waste before they're even out of their boxes, but also because the people who actually buy such things tend to be the ones who don't have any money to spare in the first place; ones who trust advertisements and hope that they're getting a killer bargain only to be devastated a short way down the line. Low-brow manufacturers know this and deliberately prey on those who are the weakest, which is something we cannot abide.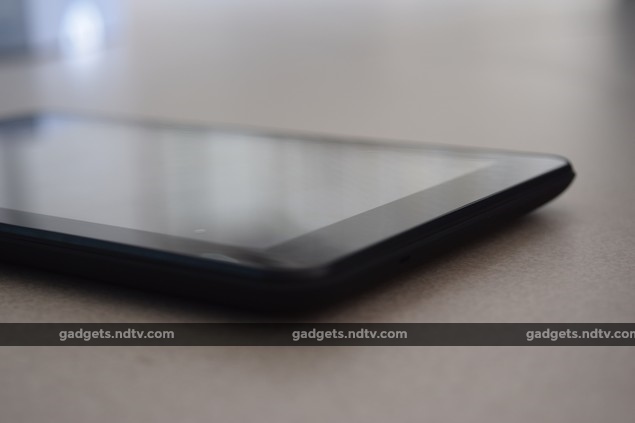 We couldn't help but be suspicious of the iBall Slide i701's shockingly low price tag. This thing is even less expensive than the recently announced Intel Compute Stick, and it has a screen and battery. Added to that, it looks like quite a lot of iBall's budget went into the packaging and accessories rather than the tablet itself.
However, we took a look at the iBall Slide i701's spec sheet and couldn't find any obvious points of failure. The Intel Atom processor and relatively mainstream configuration gave us hope. With question after question on our minds, and more than a little scepticism, we set about reviewing this device.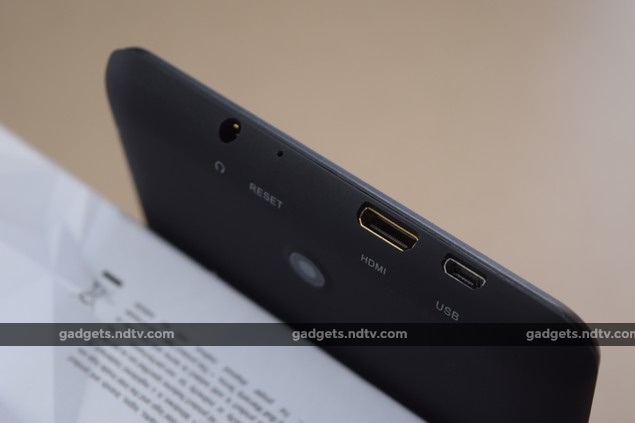 Look and feel
The front of the iBall Slide i701 is entirely blank except for the camera lens above the screen. If not for that, there would have been be no way to know which way was up. We were surprised to note that there is no Windows or Microsoft branding - there isn't even a capacitive Start button. iBall ships the Slide i701 with a protective scratch guard already applied, and it's become normal for us to see this done badly leading to bubbles under the surface.
The device's sole Micro-USB port, which is used for charging, peripherals and storage, can be found on the top along with a Mini-HDMI video output, a 3.5mm audio socket, and a reset button pinhole. The volume and power buttons are on the right, and there's an exposed microSD card slot on the left.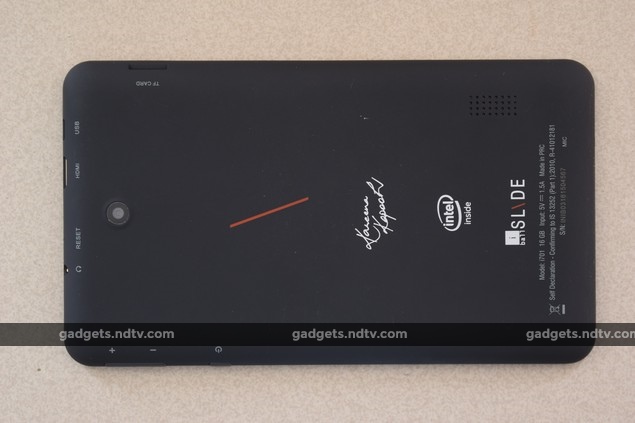 The rear of the tablet has a soft-touch texture which gets pretty slippery, and also tends to pick up dust and smudges very easily. The camera lens protrudes just a tiny little bit. The rear looks very busy, with labels for all the ports, slots and buttons around the edges and plenty of branding. From top to bottom, all in a line down the centre, you'll see the camera lens, a red slash to match iBall's Slide logo, the signature of a Bollywood actress who endorses the brand, an Intel Inside logo, a full iBall Slide logo with another red slash for good measure, and a few lines of regulatory text. There's also a speaker grille off to one side.
The Slide i701 might be very affordable, but iBall has somehow managed to pack the box with accessories. There's a thin sleeve and not just one but three brightly coloured plastic shells; a tiny chamois cloth for the screen; additional red slash stickers; a charger with a fixed cable; and a USB-OTG adapter. The box, which optimistically describes the i701 as a "performance tablet", also promises that you'll get an HDMI cable (presumably Mini-HDMI on one end) separately for free.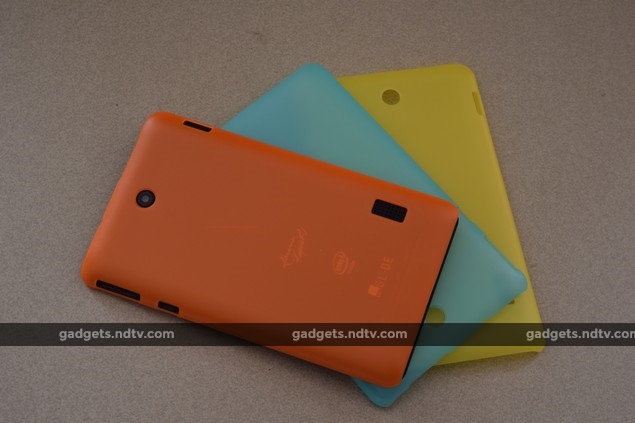 The tablet is pretty small, but not especially thin or light. It would have felt good in the hand if not for the slippery rear. Construction quality is just about okay - the rear flexes when touched and the whole unit seems like it's held together with glue.
Specifications and software
The processor is a surprisingly robust Intel Atom Z3735G, a quad-core Bay Trail model running at up to 1.83GHz (though more likely at its 1.33GHz base speed most of the time). This is the same processor we've seen in 2-in1 tablets in the Rs. 15,000-20,000 price range, such as the Micromax Canvas LapTab LT666 (Review), Notion Ink Cain (Review), and Swipe Ultimate Tab 3G (Review), so it's interesting to note that iBall managed to squeeze it into such a low budget, and makes us wonder whether the Slide i701 might live up to its "performance" claim. On the other hand, there's only 1GB of RAM and the screen resolution is only 1024x600.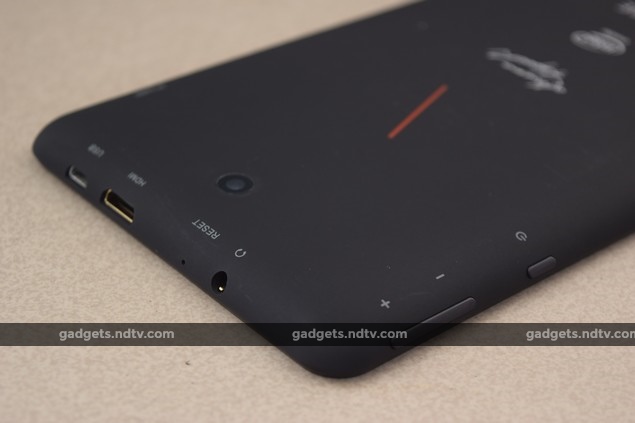 There's also only 16GB of storage, so don't expect to be installing many programs. MicroSD cards of up to 64GB are supported so at least you can store lots of media to play. There's also Bluetooth 4.0 and Wi-Fi b/g/n, and iBall helpfully points out that 3G will be possible using a USB dongle. There are no sensors other than an accelerometer for automatic screen rotation, and the battery seems rather weak at 3,200mAh. For some reason there is a 2-megapixel rear camera and a front camera which probably isn't better than VGA quality - iBall didn't even bother specifying its resolution.
Thanks to Microsoft's fear of Android, iBall was able to offer Windows 8.1 and the now-standard one-year Office 365 subscription thrown in at no extra cost. This is the tablet's most unique selling proposition as well as its biggest point of failure - Windows 8.1 is not at all suited to run on such a tiny device. Using the Windows desktop with touch alone is frustrating as it is, but this did not work at all, as we will soon explain in detail. Those considering this tablet should understand that they will largely be limited to Modern UI apps and should avoid the Windows desktop altogether.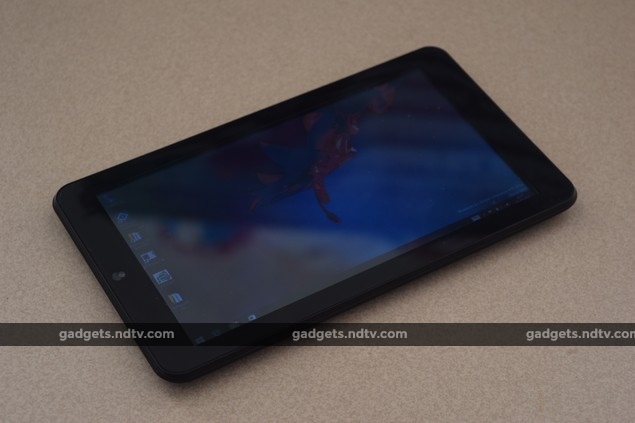 Usability
There's a lot to like about the iBall Slide i701 on paper, but actually using it proved to be a neverending source of frustration for two huge reasons: the screen is absolutely horrible, and Windows 8 just cannot be used by touch alone on such a small device.
We had expected the screen to be at best a letdown, and we were correct. The resolution of 1024x600 is laughable; lower even than Microsoft's own published minimum of 1024x768. Text is horribly jagged, thanks in part to Windows' inability to scale, but also because colour reproduction and contrast are so poor.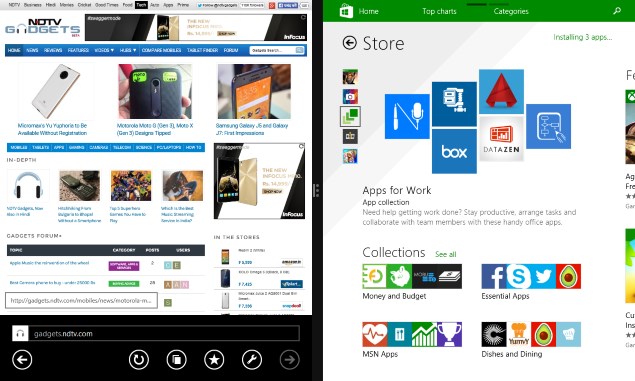 Viewing angles might be the worst we've ever seen - in fact it is impossible to use this tablet while looking at it head-on. You have to tilt it around in your hands till you find just a somewhat workable angle, and then try as hard as you can not to move it at all. Colours shift and invert when you tilt the device even a few degrees. In fact, you can't even focus on the entire screen at once because no matter where you look, the rest of it will become a mess. Black areas are especially problematic, for example the dark on-screen keyboard which stretches across the screen becomes distorted and unreadable.
Multitouch is limited to five points, but you'll never need that because there just isn't enough sensitivity to perform even basic gestures such as pinching and scrolling. That might be attributed to the screen protection film though. Another problem was the lack of a Start button, which meant we had to rely a lot on Windows 8's touch gestures and the Charms bar, which, to be honest, we've grown accustomed to ignoring over the years. This particular device really highlights the thinking that went into crafting the original Windows 8 touch-first experience, which has since been watered down.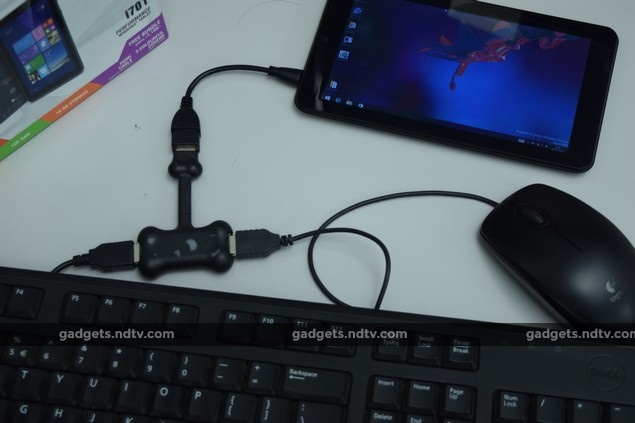 We constantly found ourselves wishing there had been a stylus in the box rather than three shells. Ultimately, we had to hook up a keyboard and mouse using a USB hub through the included OTG Micro-USB adapter. This was the only way we managed to run our Windows benchmarks, but it was hardly practical (and the slick back made it difficult to prop the tablet up too). Charging the tablet became a problem as well, because the sole Micro-USB port was occupied.
Interestingly, we were able to download Modern UI apps from the Windows Store and snap them to either side of the screen, although Microsoft explicitly says this shouldn't be possible due to the low screen resolutioni. We should note that buyers will qualify for an upgrade to Windows 10 when it releases later this month, but after installing it they will lose access to the Windows desktop and only be able to run Modern apps. Windows 10 will behave largely like Windows Phone on sub-8-inch devices such as this.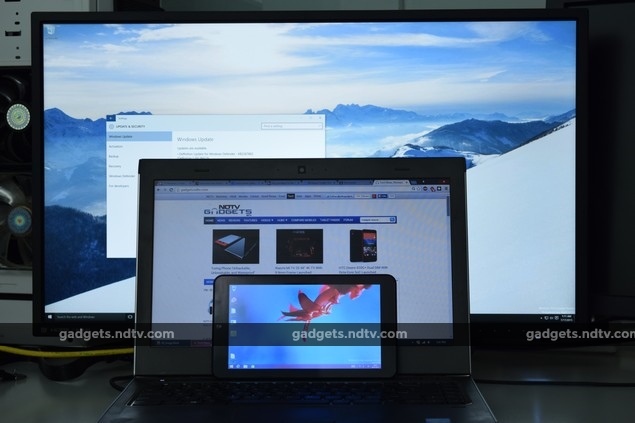 Performance
In terms of benchmark test results, we found the performance of the iBall Slide i701 practically indistinguishable from that of the Micromax Canvas Laptab LT666 we reviewed a little while ago. Render time for POVRay's built-in test was 25 minutes, 10 seconds. SunSpider and Mozilla Kraken took 525.6ms and 9664.9ms respectively. SiSoft SANDRA reported subsystem scores nearly identical to those of the Canvas Laptab LT666 except for slightly weaker SSD performance and memory bandwidth which was only half as good, indicating that the 1GB of RAM in this tablet uses a single controller channel.

Full-HD video clips played without stuttering but weren't very enjoyable because of the screen quality. Audio was loud enough but not particularly good. Photos and videos taken with the rear camera were absolutely dreadful.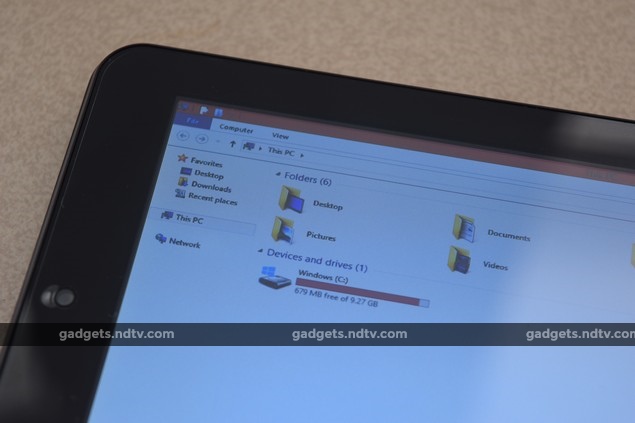 We tried a few casual games from the Windows Store, including Cut The Rope 2 and Microsoft Mahjong, and they ran without any trouble. By tablet standards, they were actually enjoyable. However, the rear of the tablet did get quite warm after about 10 minutes of play.
The battery lasted only 2 hours, 24 minutes in Battery Eater Pro's standard scenario. This is awful by tablet standards, but we can't really complain at this price point. We also observed that the device was very slow to charge.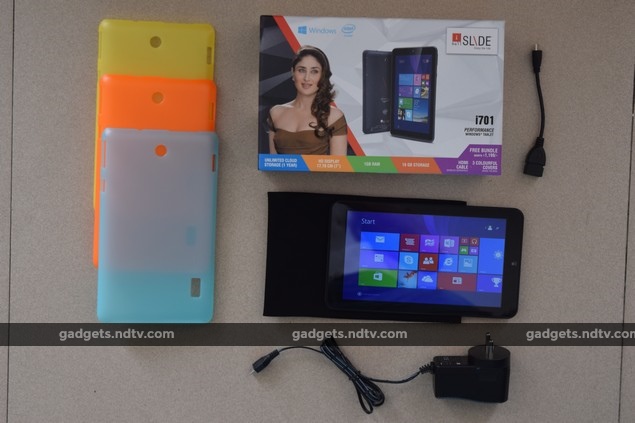 Verdict
There is almost no situation in which the iBall Slide i701 would be a pleasure to use. It's impossible for us to conceive of getting any work done on it at all. If the usability doesn't kill any purpose you might have had for it, the battery life will. That said, even Android tablets at this price point aren't all that good, and we get the feeling that the Slide i701 would at least be more versatile. On its own, using it is an exercise in masochism. Combined with a USB hub, Bluetooth accessories and an external display, though, things could get very interesting.
Let's not lose sight of the fact that this is a full-fledged Windows 10-capable X86 computer which costs half as much as products such as the Intel Compute Stick. In that sense, it is truly pathbreaking. We could easily see students and hobbyists use it to build projects with. We could also see ourselves strapping it to the back of a monitor and turning it into a cheap, no-frills desktop. We can even imagine people buying these, gutting them for their parts and building some really interesting low-cost devices (and we wonder how affordable a device of this calibre minus the screen and accessories could be).
We admire iBall for bringing this product to market for less than Rs. 5,000. Those who need a computer and can only afford so much now have an option they never did before. If the company is serious about value rather than just low prices and can pull off a far more useful product for maybe Rs. 1,000-2,000 more, we'd be truly impressed.