The Spectre 13 is a premium Ultrabook that's designed for Windows users who demand the absolute best in terms of portability without compromising on power. This laptop is poised to be the perfect companion for the globe-trotting executive looking to make a statement.
HP surprised everyone when it announced this stunning piece of hardware in April, and just a few months later, HP has launched it in India.We spent some time with the Spectre 13 a couple of months ago, and now it's time to put it through the grind to see if it truly stands out.

Design and build
The Spectre 13 is quite possibly one of the best built laptops we've come across thus far. The body is crafted from aluminium and carbon fibre which lends it a lovely texture, but also ensures that it can endure the rigours of everyday use. It's ridiculously thin and light at just 1.1kg, which has even the 13-inch MacBook Air beat. In fact, most people we showed this laptop to had a tough time believing it was indeed a laptop, up until we opened the lid. The Spectre 13 might look incredibly sleek, but it can tolerate a bit of rough usage.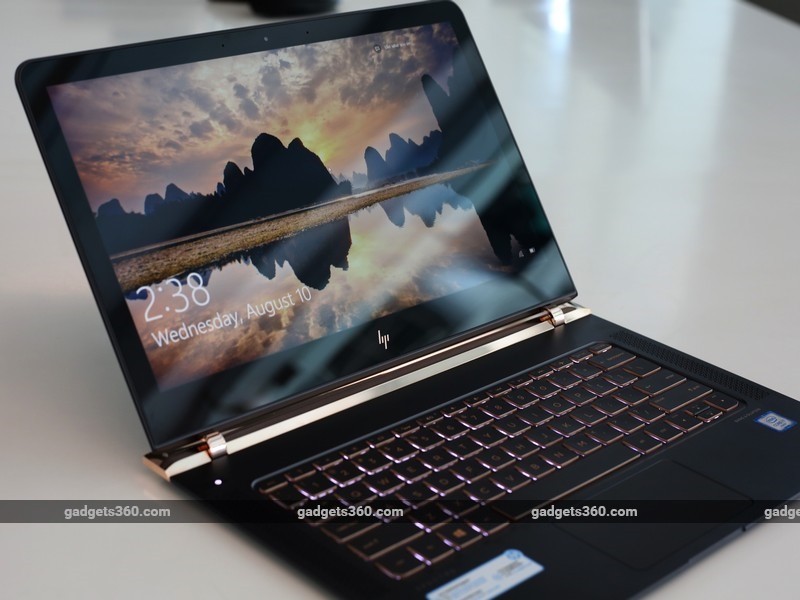 In order to achieve this slim profile, HP has moved all the ports to the back of the laptop on the copper-coloured strip. We have a 3.5mm headphones and microphone combo port, two USB Type-C Thunderbolt 3 ports and one additional USB Type-C (USB 3.1) port for charging. You can use the any of the Type-C ports to plug external devices in. Thankfully, HP ships the Spectre 13 with Thunderbolt adapters for USB, HDMI, VGA, and Ethernet.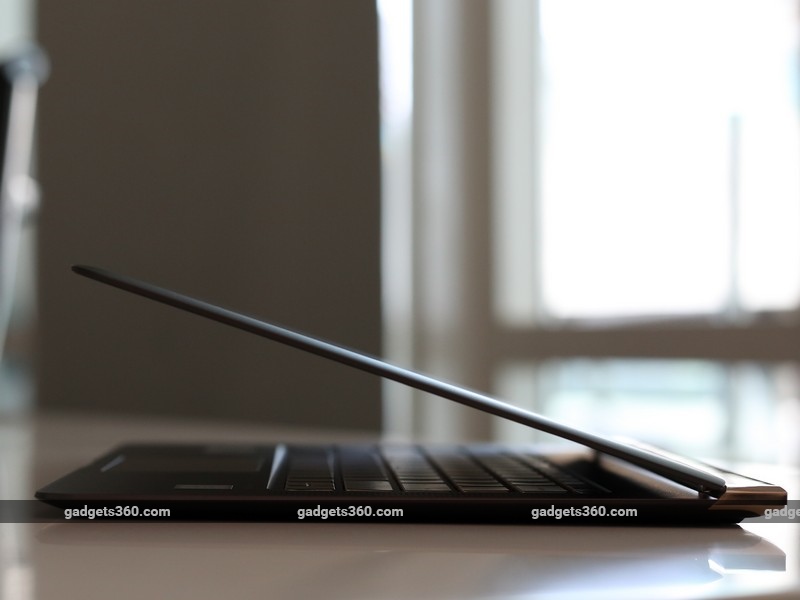 The Spectre 13 is first laptop to debut HP's slick new logo, which will be seen on all its premium products going forward. The 13.3-inch glossy display has good levels of brightness, which helps deal with reflections. The full-HD resolution ensures that text and images are readable, and colour reproduction is also very good. However, this resolution isn't as high as we've seen on some other premium laptops. HP has used edge-to-edge Gorilla Glass 4 for structural strength. The lid does an excellent job at protecting the display, and we found virtually no flex or warping.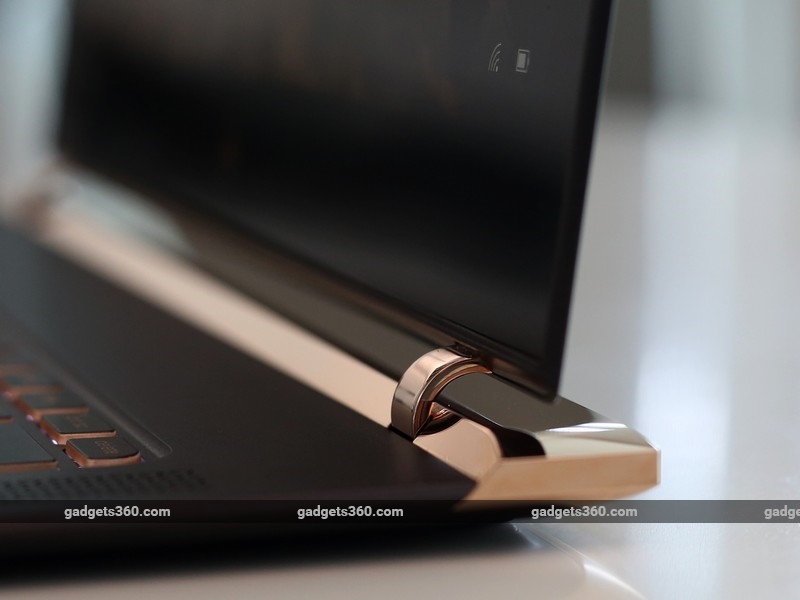 The next engineering trick is the Spectre 13's hidden hinge design. It's possible to open the lid of the laptop without having to hold the base down, which is a mark of good weight distribution. The hingeslooks like gold cufflinks, which we're guessing was the intention. The rear portion of the laptop is a big magnet for fingerprints, but at least HP included a microfiber cloth in the box.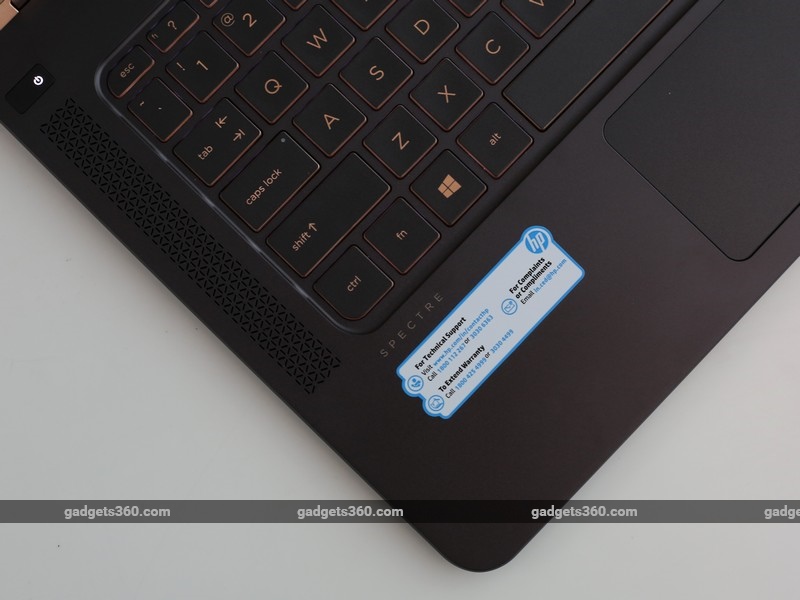 The palm-rest area has very good spacing given the laptop's size, and the glass trackpad offers smooth tracking and gestures works well. The chiclet keys are just the right size for comfortable typing and there's no flex here either thanks to the aluminium base. The keys are backlit but there aren't any intensity levels to choose from other than on or off. Key travel is good and the keyboard as a whole is pretty silent. The arrow cluster is a bit cramped, but at least other keys like Shift and Enter weren't compromised.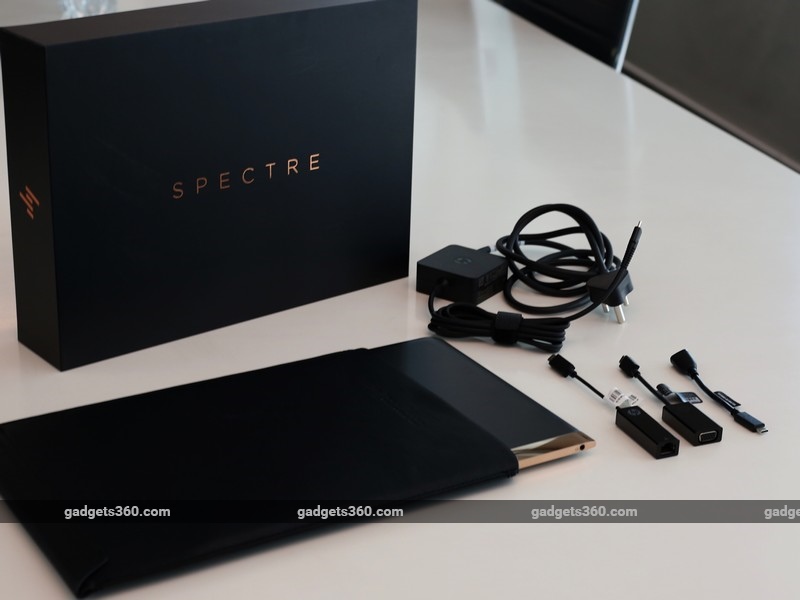 Audio is handled by Bang and Olufsen (B&O) and we have speakers placed on either side of the keyboard. There are three rubber strips at the bottom which act as the laptop's feet. The intake and exhaust vents are placed near the back so you don't really feel the heat too much when using the this device on your lap. The Spectre 13 ships with a leatherette sleeve, Thunderbolt adapters we mentioned earlier, and a 45W charger. HP also sells matching accessories like a Bluetooth mouse, zipper sleeve and carry bag, which can be purchased separately.

Specifications and features
The HP Spectre 13 is available with either a Core i5 or Core i7 processor and the one we have is the top-of-the-line model with a dual-core Core i7-6500U CPU running at 2.5GHz, with HyperThreading and TurboBoost 2.0. It's worth noting that despite the slim profile, HP hasn't gone with a Core M processor option but rather has stuck with the standard U-series for mainstream performance. According to HP, this is possible due to its hyperbaric cooling solution which continuously sucks in cool air and vents out hot air.
You also get 8GB of RAM, a 512GB PCIe SSD, dual-band Wi-Fi b/g/n/ac with 2x2 MIMO, Bluetooth 4.2, an HD webcam, and Windows 10 Pro 64-bit. HP ships the laptop with a 1-year subscription to McAfee LiveSafe. The laptop also comes with HP Recovery Manager and some device registration programs. There isn't much bloatware apart from a few universal apps that come pre-installed by pretty much all OEMs.
Performance
The Spectre 13 is not just about beauty but also manages to deliver good performance. With light usage (browsing the Web, Office documents, watching a movie, etc), the laptop runs cool and silently. Do a bit of CPU or GPU intensive tasks like playing a game, however, and you'll clearly hear the fan spinning up to full speed. In a quiet environment, it does sounds like a mini turbine. The intake vents can get blocked if you use this device on your lap.
The Core i7 CPU coupled with flash storage gives you very good performance. Boot times and app loading times are both very good. We got 3275, 3800, and 3049 in PCMark 8's Home, Creative and Work benchmarks. These scores are not too far behind the numbers we got from the Lenovo Y700, which we recently reviewed. The Samsung SSD produces very good read and write speeds and we clocked 1.2GB/s for sequential read and 598MB/s for sequential write bandwidth in SiSoft Sandra's File System benchmark.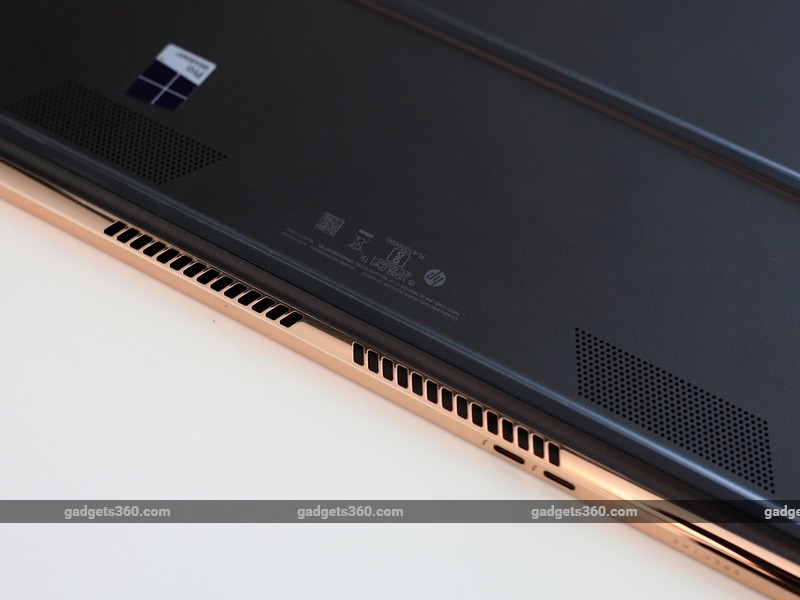 Graphics performance is not as good as having a dedicated card but it's no slouch either. The Intel HD 520 chip can handle older games pretty well. We managed to get playable framerates in Tomb Raider (2013) by dropping the resolution down to 1366x768 and with the Normal quality preset. Apart from a bit of aliasing on screen, we got a decent 32fps on average during actual gameplay.
The display is superb for viewing media content as colours are vivid and images are nice and sharp. Viewing angles are pretty good too. In a quiet room, the volume level of the speakers gets sufficiently loud and dialog clarity is good. The sound is a bit tinny with a rather weak bass response, but considering the depth of speaker chamber, it's to be expected. We just wish the speakers had a bit more bite to them when the ambient noise in the room goes up, as the sound can easily be drowned out.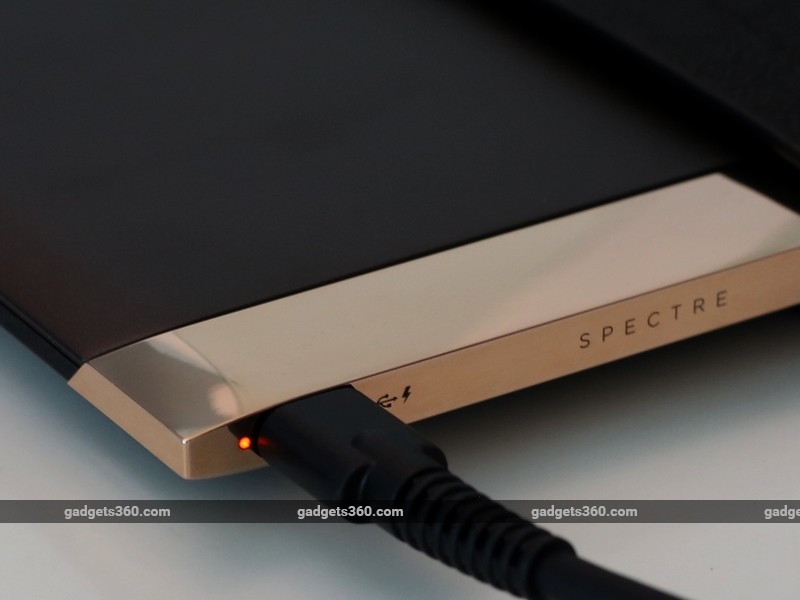 The 4-cell battery lasted 1 hour and 37 minutes in the BatteryEater Pro benchmark. During actual usage, we managed to clock around four hours of battery life. This was with a mix of Web surfing, streaming music and some TV shows. This is below average, considering laptops with beefier specifications also offer similar mileage.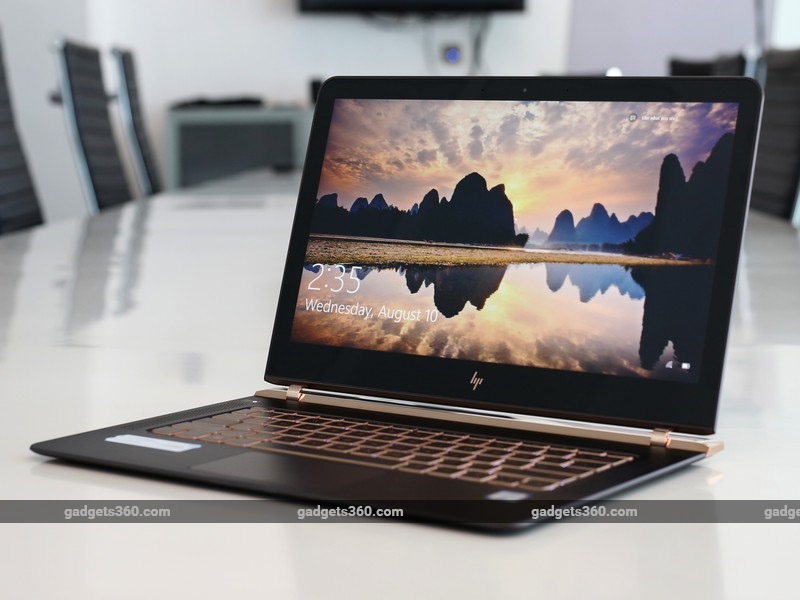 Verdict
HP has revised the pricing of the Spectre 13 in India since it launched, and it now starts at Rs. 99,990 for the model with a Core i5 CPU and a 256GB SSD. If you want to go all out, then the flagship model that we reviewed will set you back a cool Rs. 1,39,990.
The Spectre 13 is designed with a specific audience in mind and we have a feeling that this kind of buyer wouldn't mind spending a lot of money for the ultimate in portability, not to mention the engineering that has gone into making the Spectre 13 so slim and yet powerful. It's a stunning laptop from pretty much every angle. The gold accents might a bit too 'blingy' for some but others will love the design. The build, performance and display quality all really shine. We like the fact that you get multiple ports for connecting peripherals and that the adapters are bundled in the box. On the downside, battery life could have been better and the fan does get noisy when you're doing any graphics intensive work.
The HP Spectre 13 is worth the premium if you want a highly portable Windows laptop without compromising on performance.
Price (MRP): Rs. 1,39,990
Pros

Excellent build quality and design

Very good performance

Vivid display

Good bundled accessories
Cons
Battery life could be better
Fan can get noisy

Speakers sound a bit tinny

Ratings (Out of 5)

Design: 5

Display: 4.5

Performance: 4

Software: 4

Value for Money: 3.5

Overall: 4