HP's latest range of laptops comes in a variety of colours, and we have the bright blue Pavilion 15 p029TX with us for review today. Obviously, the colour won't appeal to everyone, but it does have a certain youthful exuberance and there will be people who will want to buy it for this reason alone. In a sense, this is the laptop equivalent of an iPhone 5c.
The p029TX is priced a bit above the entry level but is not quite in the premium space. It has a few features that come across as great value right at the outset. Based on first impressions alone, it would be very easy to see this laptop as suitable for students, home users and even working professionals who need a machine that can last for several years.
We are therefore very curious to see how well it holds up in our test suite and whether it's a worthy buy - regardless of its unique appearance.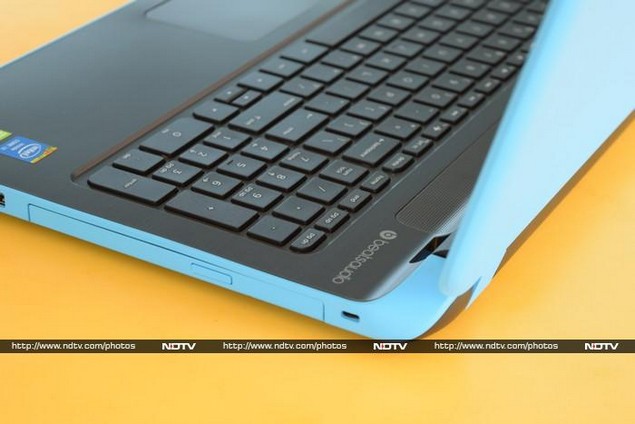 Look and feel
The first thing that will hit you when you take the Pavilion 15 out of its box is the particular shade of blue that HP has chosen. It's almost too bright and cheerful, and reminds of the cyan shade made iconic by some ofNokia's first Lumias. It's also very plasticky, with a matte finish and sculpted corners. The lid has a ribbed texture which helps in getting a grip on the device. The sides and bottom are the same colour, except for the strip which houses the battery. Thankfully the keyboard deck and screen bezel are black - we're sure we would have begun to suffer from eye strain otherwise. The blue on the hinge and edges becomes a sort of accent for the inner surfaces, which is fine.
This is a pretty bulky laptop, with a 15-inch screen and full-sized keyboard with a number pad. It weighs 2.27kg which is just a little more than we would have liked, and is definitely not in the race to be the slimmest. It has a DVD-RW drive and a removable battery, both of which are rarities these days. There aren't any flaps for access to components, but it seems as though the entire back should pop off easily when unscrewed.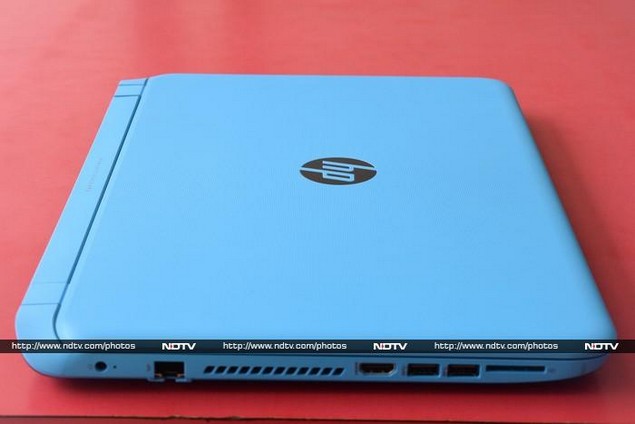 All the ports are on the two sides: there's a power inlet, charge indicator LED, Ethernet jack, HDMI output, two USB 3.0 ports and a multi-format card reader on the left, while the right houses the DVD-RW drive along with a Kensington lock slot, headset port, USB 2.0 port and tiny power and HDD activity indicators. If HP had students in mind when designing this laptop, it shouldn't have left out a VGA port which is still needed for connecting to projectors.
The clickable trackpad is quite large and doesn't have separate buttons, which is the norm today. It's positioned such that your palms will have to rest on it while typing, so we'll have to see whether that becomes a usability problem. The keyboard is a bit shallow and mushy, which isn't a good thing for those who will be typing a lot. HP has a bad habit of squashing the arrow keys on its keyboards to fit in a single line, and that's still the case here. The Scroll Lock and Pause/Break keys have also been left off, though most people won't miss them.
The speakers are in an uncommon position above the keyboard. Thanks to the chassis' contours, they're actually angled right at you. To the right of the rather large grille is a Beats Audio logo. Apple might own the company now, but its licensing deal with HP is intact for now.
Features and specifications
The HP Pavilion 15 p029TX is powered by a fourth-generation Intel Core i3-4030U CPU with two cores running at 1.9GHz. This should be adequate for most everyday tasks, but is definitely not a powerhouse. The processor does have integrated Intel HD graphics but HP has gone with a discrete Nvidia GeForce 830M GPU with 2GB of RAM of its own. Again, this is not a very powerful specimen and will not do for high-quality gaming, but it's better than nothing.
The 4GB of DDR3 RAM and 1TB hard drive are very welcome, since upgrading won't be very easy later on. We're not sure how many people still need to burn DVDs, but you can do so at 8X with the Pavilion 15. We would have liked to see more than two USB 3.0 ports, and strangely, the Ethernet port is only specced at 10/100 Base-T, not Gigabit. Wi-Fi b/g/n and Bluetooth 4.0 are standard, though.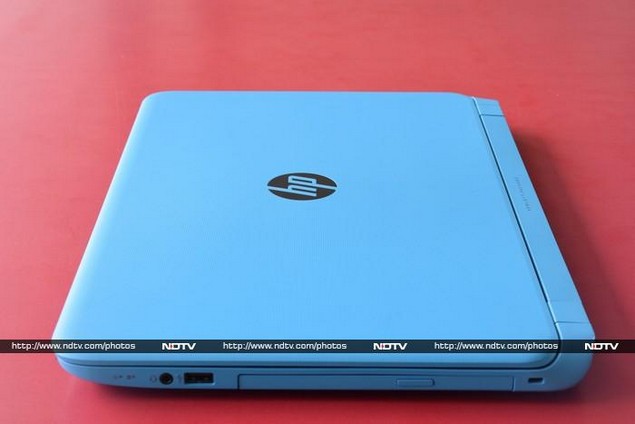 We must say that we're disappointed that the screen is stuck at the awful low resolution of 1366x768. This is something that really needs to fade away - it might be acceptable on bargain-basement 13-inch laptops, but is just not right for a mainstream 15-inch model today. Everything looks huge and cartoonish at this resolution, and you're simply unable to make the most of the available screen space. There's also no support for touch input - a feature the intended target audience would have liked.
Windows 8.1 is preinstalled and thankfully it's the 64-bit edition which allows us to take full advantage of the processor and RAM, and ensures headroom for software to run in the future. HP is no stranger to software bloat - the Pavilion 15 comes with HP's Connected Music and Connected Photo apps and a games marketplace called WildTangent. Evernote, YouCam, CyberLink Media Suite and the Amazon Kindle app are preinstalled and you also get a limited time trial of Microsoft Office 365.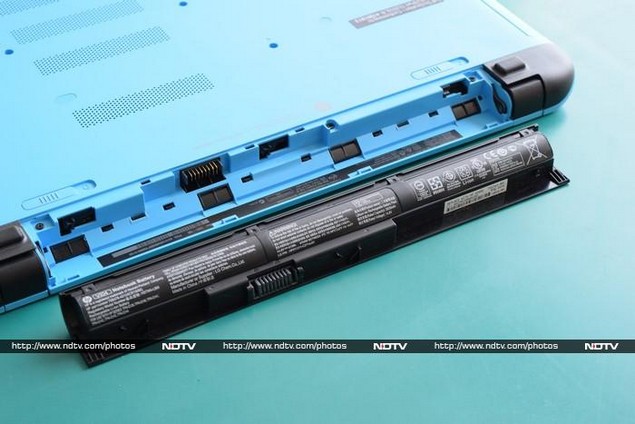 Performance
We were mostly satisfied with the performance of the Pavilion 15 p029TX in our benchmark suite. Scores were comfortably above entry-level thanks to the Core i3 CPU, discrete GPU and generous amount of RAM.
We recorded solid scores of 2,880 and 3,006 in PCMark 8's Home and Creative test runs. POVRay rendered its test scene in 11 minutes, 15 seconds, and Cinebench returned a score of 184 in its multi-threaded CPU test. Graphics scores were also relatively good, with 1164 points overall in 3DMark and 36.57fps in Cinebench's OpenGL run. We use SiSOFT Sandra to test subsystems such as the hard drive and RAM, and we found that scores were consistent with those of other laptops with spinning drives.
You'll have no problems using this laptop for surfing the Web with lots of tabs and apps open, music, video, and light content creation. Thanks to the low-resolution screen, you'll even be able to run quite a few recent 3D games at low to medium quality settings.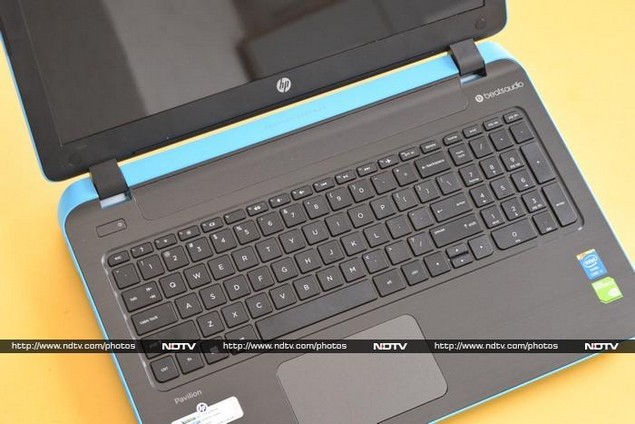 The screen was just a little washed out and dim. We had to pump up the brightness almost to its maximum setting for the screen to be comfortable during the daytime. Sound from the speakers is adequately loud but too thin and tinny, despite the relatively thick chassis and Beats Audio branding. Voices aren't very clear and the complex layering in some of our test audio tracks was all muddled together.
We really would have liked the Pavilion 15 to have had a backlit keyboard, but it doesn't. The keys are a bit too mushy and awkward. The Fn keys work as Windows shortcuts by default, but even then common shortcuts such as Alt+F4 work without having to use the Fn modifier, which is quite clever.
Battery life was really disappointing. Our test unit lasted only 1 hour, 39 minutes in the Battery Eater Pro Classic test, which stresses the CPU and GPU. We wouldn't expect more than five or six hours of life when performing even the most basic tasks with the screen brightness set low.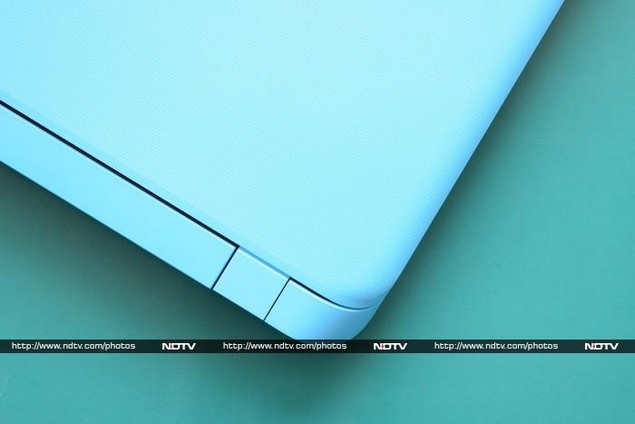 Verdict
The Pavilion 15 p029TX is certainly unique and we like the fact that HP has made a bold choice. We can't really see any corporate office buying hundreds of bright blue laptops for its workforce, but this model could still be popular with the BYOD crowd. If nothing else, it's memorable, and we're reminded again of the niche that Nokia has managed to carve out with its Lumias based on design alone.
The p029TX does cost quite a bit more than today's best bargains but it will most probably be usable for longer since its specifications are mostly on target. We would have liked a few more conveniences, such as a backlit keyboard and touch-capable 1080p screen, which we hope HP considers for future variants. We'd also really love to see a lighter 13-inch version of this laptop with way better battery life. Still, if you're looking for good value and not just the cheapest model available, this is a pretty good device to consider.
If you like what you've seen so far but are put off by the bright blue, you're in luck. HP sells an identical model, the p028TX which comes only in white, at the same price. There's also a slightly more expensive one, the p001TX (this time in silver) with a Core i5 processor.
Price: Rs. 41,990
Pros:

Unique look and good build quality

Discrete GPU and high HDD capacity

Good performance
Cons:

Low-resolution screen

Substandard battery life

Ratings (out of 5):

Design: 4
Display: 3
Performance: 3.5

Software: 3.5
Battery Life: 2.5
Value for Money: 3.5
Overall: 3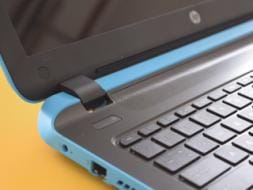 HP Pavilion 15 p029TX in pictures