HP is sticking to what it does best - churn out affordable, medium-spec laptops that take care of all the little things, while still remaining affordable and stylish. At the bottom end of the market, you'll find models that ship without Windows, with barely any RAM and the smallest available hard drives. People who buy these devices feeling like they've got a great bargain are often disappointed just a few years down the line, when things start getting bogged down and little problems become big headaches.
HP gets the specifications mostly right by staying out of the premium territory in which metal bodies, solid-state drives and other such conveniences drive up the sticker price. The result is a workhorse laptop that's still portable, has plenty of connectivity, and should last for quite a long while. Let's see if the execution matches up to the formula.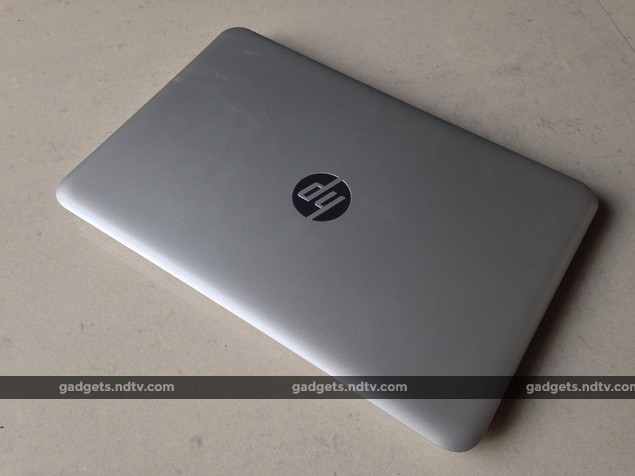 Look and feel
The metallic silver body is surprisingly sober - HP's brightly coloured laptops have been very visible for a while now. While those were targeted at young buyers, we're sure most people would prefer something simple and neutral. The Pavilion 13 is still entirely made of plastic. Even though there's no mistaking it for a MacBook, it has a very mature yet modern appeal.
The silver body is pretty plain, which is not at all a bad thing. The inside of the laptop is darker, and the keyboard deck has the subtlest brushed texture. Thankfully there are only two stickers though we really wish there hadn't been any at all. A fairly large Beats logo is printed on the inside of the hinge - Apple might have taken over the well-known audio company, but its deal with HP hasn't expired yet.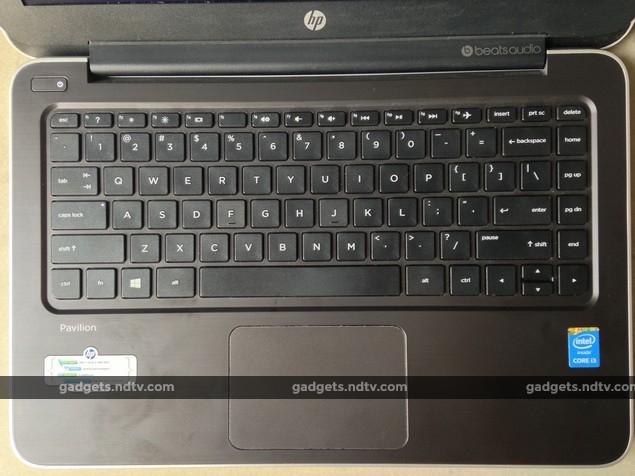 As far as 13-inch laptops go, the Pavilion 13 is pretty light and portable. At 1.7kg and 21.33mm thick, it isn't competing with the MacBook Air, but then again the two aren't in the same price league.
Most of the ports are lined up on the right edge. Other than the DC power input, there's an Ethernet jack, HDMI video out, two USB 3.0 ports and an SD card reader. There's a tiny charge indicator next to the power socket and a separate power LED towards the front, next to a hard drive activity LED. All of them are white, in keeping with the Pavillion 13's understated vibe. There's one USB 2.0 port, a Kensington lock slot and a single 3.5mm headset jack on the right.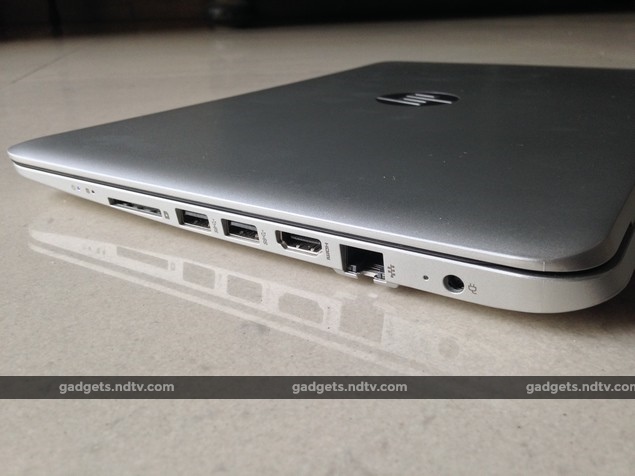 The keyboard has HP's usual design, including the signature cramped arrow key cluster. We aren't fans of this layout at all, but there's no escaping it. At least the keys are fairly comfortable to type on; just a little shallow but firm and not too bad overall. The trackpad is smooth but doesn't have distinct buttons. You click the lower corners of the pad itself, which is just a little bit wobbly.
There's a webcam above the screen, though you can hardly see it, and two speakers which fire forwards and downwards from the Pavilion 13's bottom front lip. There is no flap to let you easily access the battery or any other components. There are quite a few visible screws and disassembly shouldn't be too tough, but evidently HP doesn't think any user will want to do this him- or herself at any point.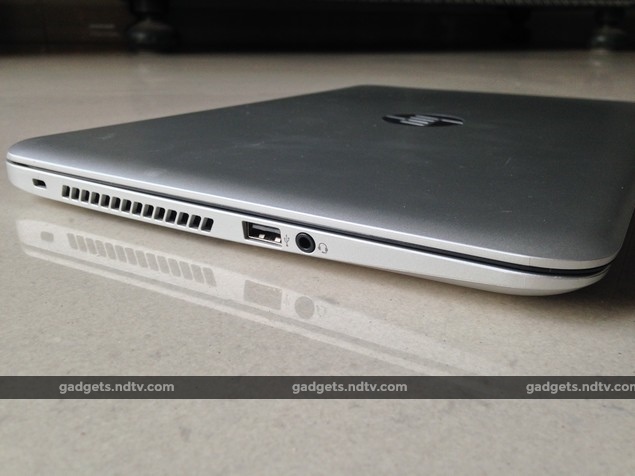 Specifications
We received the Pavilion 13-b102TU for review, which is based on a dual-core Intel Core i3-4030U processor running at 1.9GHz. As the model number's U suffix suggests, this is a low-voltage part designed to keep temperatures and power consumption low. There's also a Pavilion 13-b103TU model based on a Core i5.
The Pavilion 13-b102TU has 4GB of RAM and a 1TB hard drive, both of which are nice to see. The drive spins at a relatively slow 5,400rpm though that's normal for small laptops and helps extend battery life. Graphics processing is handled by the CPU's entry-level integrated HD 4400 GPU. There's Wi-Fi b/g/n and Bluetooth 4.0.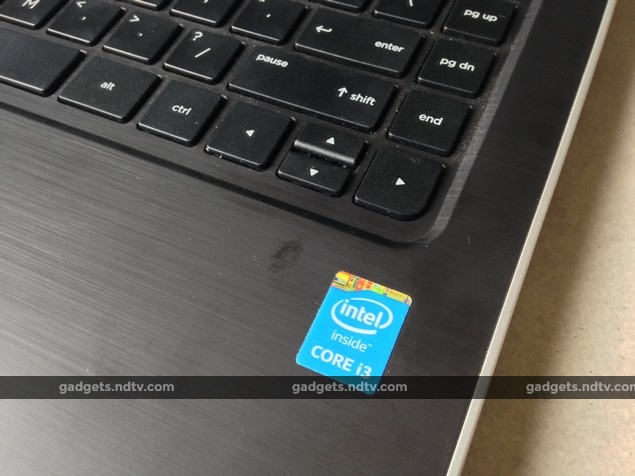 One of our favourite things about the Pavilion 13 is its non-glossy screen. This is a rarity nowadays but anyone who has had to constantly fiddle with their laptop screen's angle to avoid harsh reflections under indoor lighting will agree with us. It's something we wish was more common, but companies believe glossy screens make colours pop more. It isn't a touchscreen either, which is not really a problem for most users looking for a low-cost workhorse laptop.
Conversely, the screen resolution is a lowly 1366x768, which is one of our least favourite things about laptops today in general. It keeps costs down, but there's definitely scope for improvement considering this is a 13-inch panel.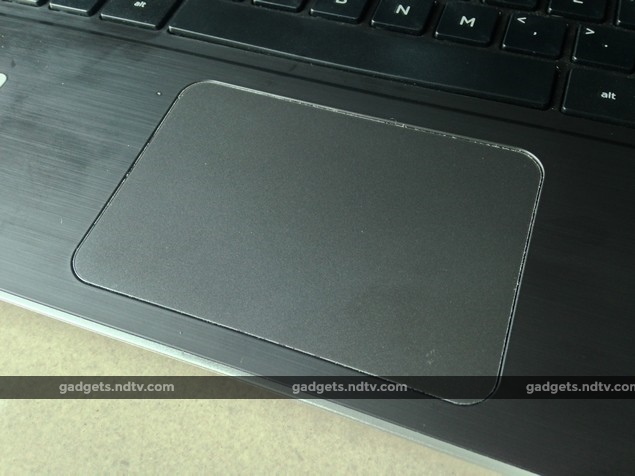 HP ships this laptop with a 64-bit version of Windows 8.1 and a small assortment of preloaded apps and shortucts which border on advertising. These include WildTangent Games, Tripadvisor, The Weather Channel, MySMS, Evernote, HP Connected Music, and a Getting Started with Windows 8 guide. As with all Windows laptops, a trial version of Microsoft Office is also preloaded.
Performance and usability
We found the HP Pavilion 13-b102TU light and convenient enough to carry around. Like most modern laptops, it lacks an optical drive, which shouldn't be a problem for most people. The lack of older ports, such as VGA display out, could be a problem in schools or offices which are fitted with projectors.
The trackpad supports Windows 8 gestures such as two-finger scrolling. The pads of our wrists rested on it while typing, but it did a great job in differentiating those movements from intended input.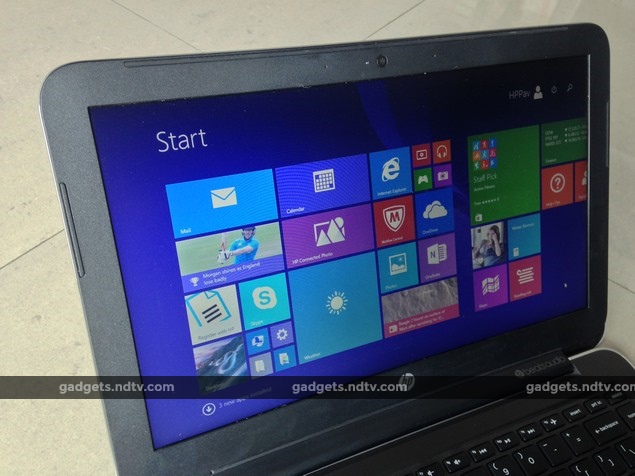 Throughout our time with the Pavilion 13, we had to put up with a constant clicking sound coming from either the hard drive or the fan. It got a lot worse when the machine was under load, but also just seemed to kick in at random times and keep going when background tasks were active. It became really aggravating after a while and was a nuisance even to people sitting a few feet away from us. We could easily see this becoming a problem in a quiet classroom or any other such environment.
As far as benchmark tests go, the Pavilion 13 managed scores of 2,552, 4,023 and 2,552 in PCMark 8's Home, Work and Creative test scenarios. 3DMark gave us 33,278 points in the Ice Storm run and 467 in Fire Strike. POVRay's benchmark run completed in 11 minutes, 2 seconds and Cinebench R15 returned a CPU score of 189.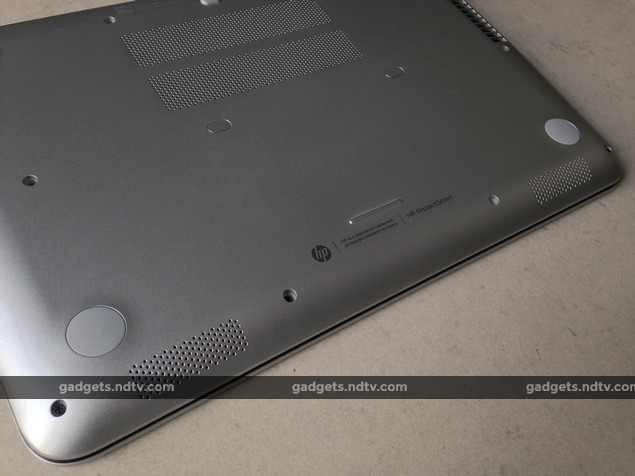 These scores are consistent with our expectations from entry-level laptop processors. They indicate decent levels of performance for everyday tasks and media, but very little overhead for gaming or anything graphically intense.
Sound quality was very impressive. Music was not only considerably louder than we expected possible, but also very clear and well-rounded. We didn't hear distortion even when pumping up our heavy EDM test tracks, and were able to discern the complex layering in western classical pieces too.

Battery life was quite disappointing. HP doesn't report the exact capacity but we detected it as 43.41Wh which is on the lighter side. It lasted 2 hours, 32 minutes in Battery Eater Pro's Standard stress test, which is slightly below par. We would expect no more than five hours of usable battery life with the brightness set to a reasonable level and Wi-Fi enabled.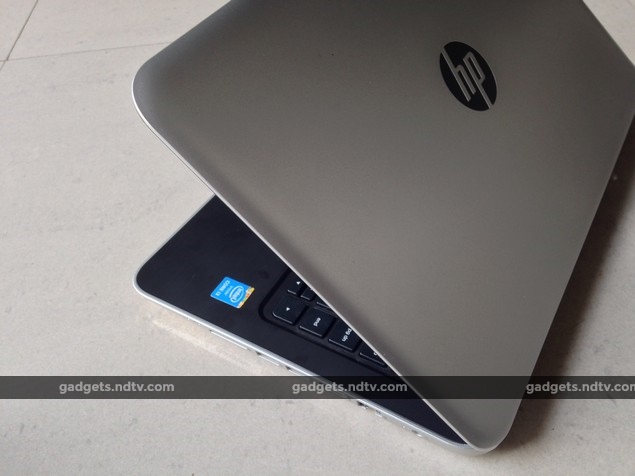 Verdict
The HP Pavillion 13-b102TU is an elegant, attractive laptop with basic core specifications but just enough extra to justify its price tag. Students and workers who live off their laptops will particularly appreciate the large hard drive and matte screen, but this laptop would be just as suitable for home use too. Battery life is on the low side, but that's the tradeoff necessary to achieve this weight and thickness.
The only real problem we have with it is the clicking noise - it's not just distracting, it's enough to drive anyone crazy. We found stray mentions of similar experiences with this model and its Core i5-based sibling in the comments sections of retailers online, so it's not just our test unit. We hope this affects only a small batch of products, but potential buyers should definitely evaluate a unit in a store before making a decision.
Other than this one glaring fault, we enjoyed our time with the Pavilion 13. HP seems to have caught on to the demand for lightweight laptops with well-rounded features, and we hope to see more of this going forward.
Price (MRP):
Rs. 39,990
Pros
Good looks and low weight
Non-glossy screen

Good specifications and connectivity

Cons

Average battery life

Awful, constant mechanical sound

Ratings (Out of 5)
Design: 4
Display: 3.5

Performance: 3
Software: 3
Battery life: 3

Value for Money: 3.5
Overall: 3.5