HP has really embraced colour and youthful energy of late. Just like the electric blue Pavilion 15 p029TX before it, the new Pavilion 11-n016tu x360 has no intention of blending into the background. If the bright red body didn't grab your attention right away, the 360-degree swivelling touchscreen will.
Still, there's more to a device than just looks. HP is hoping its target audience will be tempted by the prospect of a laptop that can be used as a tablet in some situations. Most hybrid laptops, which are becoming popularly known as 2-in-1s, are quite expensive. Such features have so far been reserved for the premium segment. HP is pushing for a bigger slice of the youth market by offering a convertible device at a relatively approachable price level.
Of course, there are going to be tradeoffs - as with all products that try to be two things at once, the HP Pavilion 11 x360 runs the risk of being unable to fit either profile. We'll see if the company has managed to strike the right balance, or if it would make more sense to stick with a regular laptop.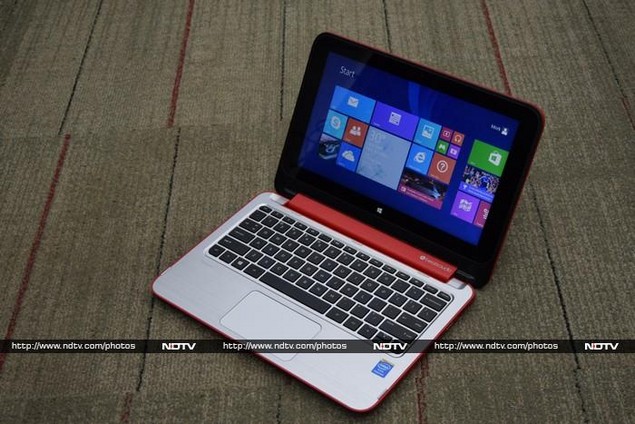 Look and feel
The HP Pavilion 11 x360 is not sleek or compact, as far as 11-inch laptops go. It's quite chunky, though not necessarily too heavy. The proportions give it a solid feel and the sculpted front and rear (more evident in profile) make it less cartoony than it could have turned out.
The bright red body is something you'll either love or hate, though even if it isn't to your taste, you'll agree that it doesn't look tacky. The plastic has a soft matte finish and the construction quality is very reassuring. The red plastic picks up dirt and is even more susceptible to marks caused by sweat or natural oils, which is unfortunate.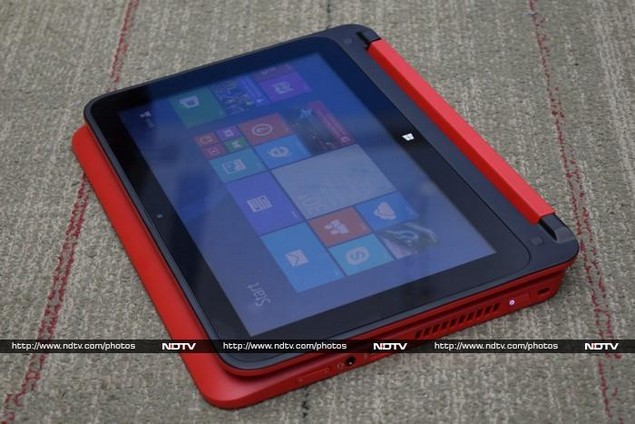 The hinge is a bit tight, and you'll have to hold the base down with one hand while lifting the lid with the other. This is the clever bit - you can push the screen back till it's flat, and then keep going till it folds right around the other side of the base. The hinge is firm enough that you can stop at any point, which allows for interesting possibilities such as the "stand mode" in which the touchscreen is right up front with the keyboard and trackpad out of reach.
While most of the visible outer surface is red plastic, the inside is another matter. The screen is surrounded by thick black borders, and the keyboard deck is metallic silver with only a little red showing through around the edges. The colour combination is quite striking.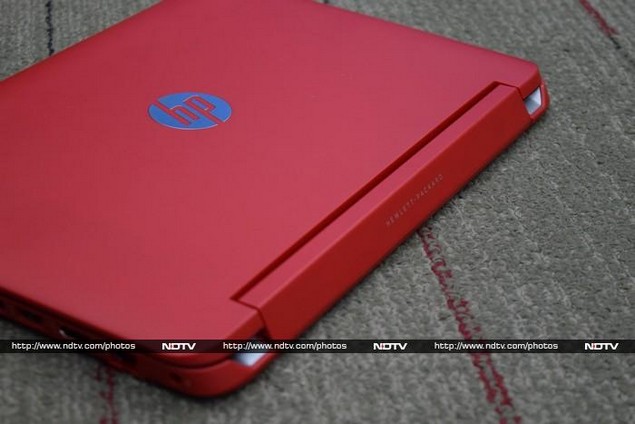 The keyboard and trackpad are shut down when the lid is pushed back more than 180 degrees. This means you can switch the Pavilion 11 x360 into tablet mode and lounge around with it in your lap without worrying about the exposed keys and trackpad on (what would then be) the bottom.
All ports and buttons are located around the edges so that they're useful with the keyboard on top or on the bottom. The power button on the left edge is depressed and takes a bit of effort to use. The volume buttons are also mushy, but less so. There's a single USB port and a 3.5mm headset jack on that side, along with a Kensington lock slot. On the right edge, you'll find an Ethernet jack, HDMI video output, two more USB ports and an SD card reader. Sadly, only one of the three USB ports is of the USB 3.0 variety.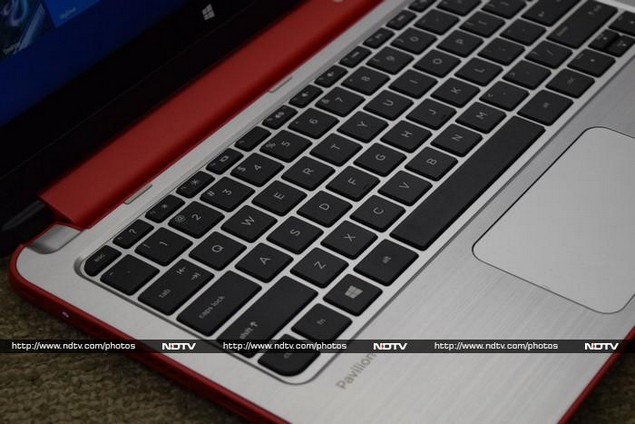 The stereo speakers are on the bottom, angled forwards. This means they'll fire backwards in stand mode and be slightly obscured in tablet mode - there isn't much anyone could have done to avoid this. We also found that the hinge, while stiff, could not prevent the lid from wobbling uncontrollably whenever the screen was touched. You can comfortably use the touchscreen with the lid folded all the way back, but even a light tap when the device is sitting on a table will set it off.
We spent a fair bit of time with the Pavilion 11 x360 and found that while it's always nice to have a touchscreen (even if you hardly ever use it), there was no really comfortable way to use it. Even with the screen folded back completely, this product is bulky and unwieldy. Stand mode might be nice for passive use, such as watching movies or video chatting, but anything that requires interaction is better done with the keyboard and trackpad than using touch.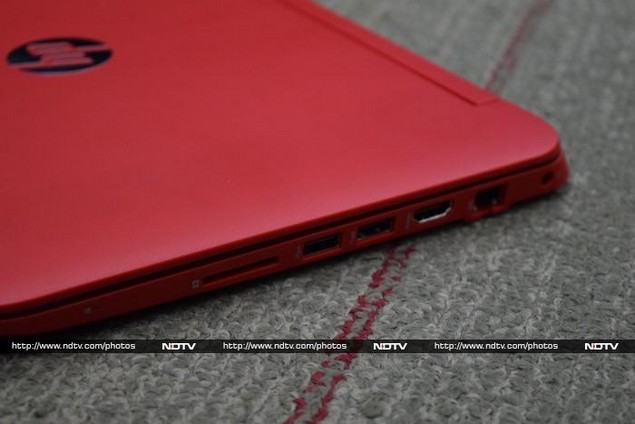 Specifications
The insides of the Pavilion 11 x360 are decidedly more modest than its flashy exterior. The processor is an entry-level Intel Pentium N3520. It has four cores and runs at 2.17GHz, but is based on the low-power Silvermont architecture and so cannot be compared to the mainstream Intel Core series. The integrated Intel HD Graphics also means you have relatively little horsepower for running anything visually demanding.
You get 4GB of DDR3 RAM which should help keep things snappy, and a 500GB mechanical hard drive. There's Wi-Fi b/g/n but the Ethernet jack is only rated at 10/100Mbps, not the usual 1000Mbps Gigabit speed.
The screen resolution is 1366x768 which is not surprising at all. However, at 11.6 inches, there's a lot more border space around it than we're used to seeing these days, making it feel just a little too small for its body. The screen is not very bright or sharp and is easily washed out in daylight. Viewing angles are also not very impressive.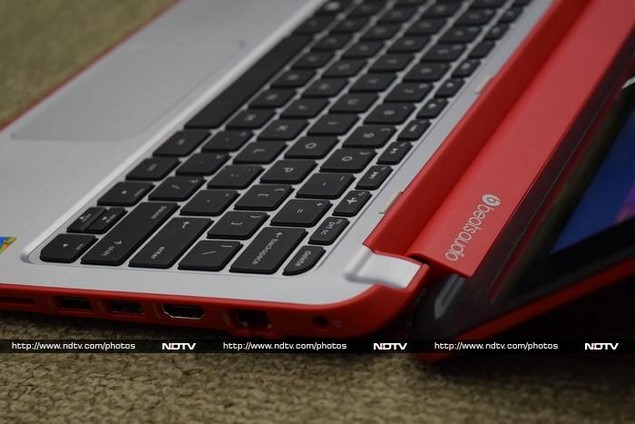 Windows 8.1 comes preloaded, as do a few bundled apps that you might or might not find useful. There's a limited trial of McAfee Live Safe Internet Security, which we found to be highly intrusive. WildTangent Games is a spammy storefront that bombards you with ads while trying to sell you games. Then there's the Kindle app, YouCam, and a few assorted Windows Store apps.
Overall, the HP Pavilion 11 x360 has enough power to get you through most basic tasks, such as typing documents, browsing the Web and playing music and movies. On the other hand, it's no speed demon, and there are definitely better-equipped laptops in this price range which you can consider if you aren't completely sold on the convertible tablet feature.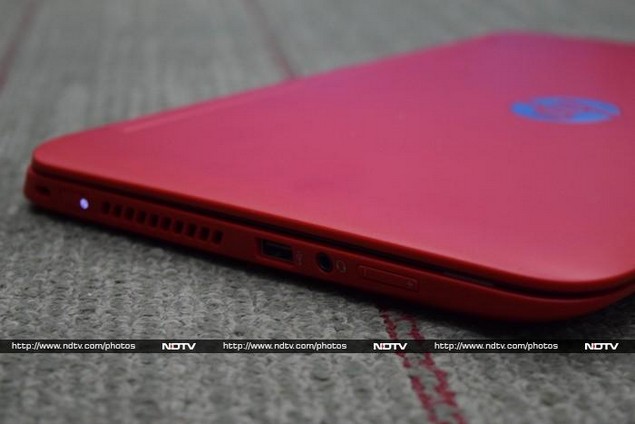 Performance
With specifications like these, it's clear that the Pavilion 11 x360 is not going to set any performance records. Still, we were satisfied with its speed in day-to-day situations. The screen was fairly disappointing, and we found that the highly reflective panel was more of a problem than the quality of the screen itself.
We used the Pavilion 11 x360 in all its intended modes and found that it wasn't exactly comfortable to use as a tablet. It was convenient to have a keyboard and trackpad that could be unfolded in a few seconds, but that was balanced out by its bulk and weight. The sensation of a hard drive spinning up while we were reclining with the device was also a little disconcerting. The feeling is definitely not the same as when using much slimmer "ultrabook"-style 2-in-1 devices.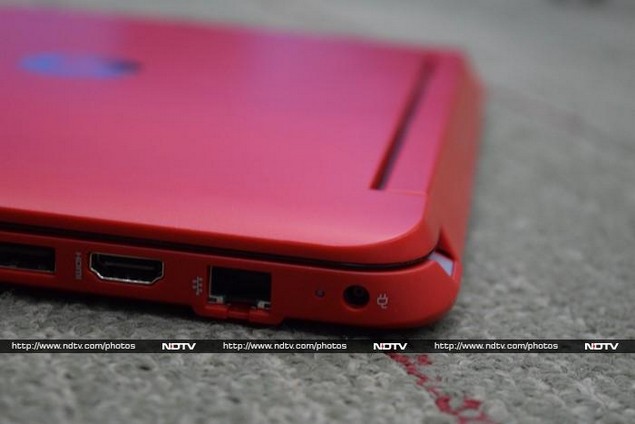 As far as formal benchmarks go, the Pavilion 11 x360 performed as well as other entry-level laptops do. It scored 1,853 and 1,524 points in PCMark 8's Home and Creative (accelerated) test runs, and 314.5 in SunSpider, which are just about okay. These are the kind of results we'd expect from basic netbook or tablet devices. POVRay took 16 minutes, 50 seconds to trace its benchmark scene, and Cinebench returned a score of 146. 3DMark failed to run despite three attempts.
Don't expect to be playing any 3D games, although older titles might work at very low quality settings. You should be fine with any of the casual titles available in the Windows Store. We were able to play 1080p video clips, and we were fairly impressed with the sound. Beats Audio branding has been common on HP products for a while, and it's placed rather prominently on the Pavilion 11 x360 too. Music sounds a bit thin and hollow, but is clear. Movie dialogs were crisp and clear enough to be enjoyable without headphones.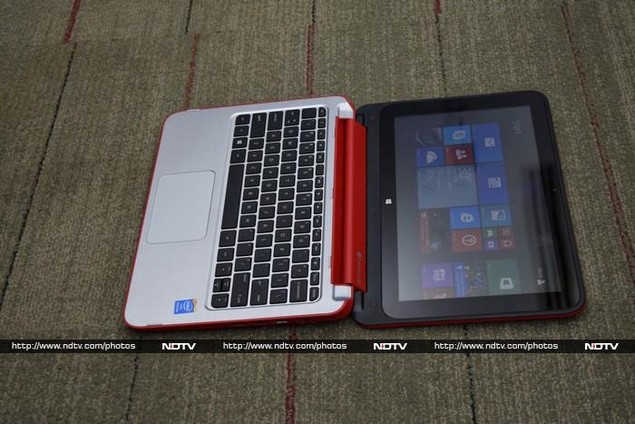 We're usually not thrilled with the keyboards and trackpads on convertible devices such as this, since manufacturers tend to sacrifice comfort for slimness and weight. However, we were quite happy with the business side of the Pavilion 11 x360. The keyboard is only slightly cramped - especially the arrow keys - and a few keys are missing, but it's comfortable to type on. Likewise, the trackpad is large and smooth enough to be used without any problem.
Battery life was on the low side - the Pavilion 11 x360 lasted 2 hours, 26 minuntes under Battery Eater Pro in Standard mode, which keeps the screen and processor active. At best, you'll be able to get five or six hours of moderate usage with the screen well below full brightness and Wi-Fi active.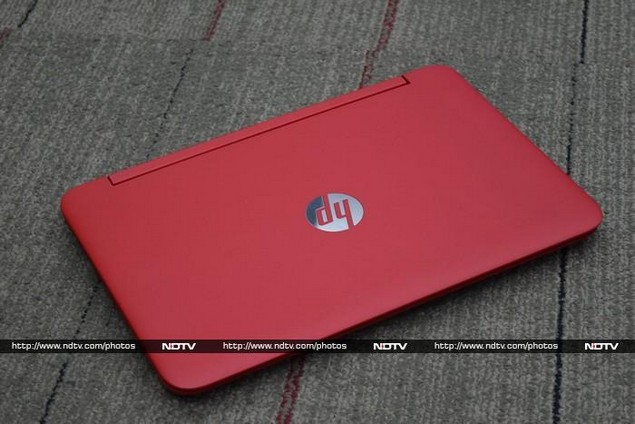 Verdict
The HP Pavilion 11 x360 is not the right machine for those who are interested in squeezing the best possible performance out of every rupee invested, and are only looking for a vanilla workhorse laptop. Buyers who are looking for something with a little personality and flexibility will really like this device and will not have any trouble with it as long as their expectations are properly calibrated.
Once again, HP has pulled off something unique. It's not going to have mass-market appeal, and that's totally fine. Whether it's worth spending nearly Rs. 40,000 on this computer is entirely a personal decision. There are better touchscreen devices and there are better laptops out there - if you think you'd like an adequate combination of the two worlds and would like to stand out in a sea of black and grey laptops, it's certainly worth considering this model.
Price (MRP):
Rs. 39,990
Pros
Versatile design
Good looks and construction quality
Cons

Average performance
Limited connectivity

Low-quality screen

Ratings (Out of 5)
Design: 3.5
Display: 3

Performance: 3
Software: 3
Battery life: 3

Value for Money: 3
Overall: 3