Suddenly, it seems as though every PC manufacturer in the country is pushing a gaming laptop or two. Maybe it's because of recent advancements in mobile graphics capabilities, or maybe it's because there's only so far you can go in the thin-and-light category. Either way, we're glad to see the comeback of powerful machines. HP seems to agree, but unlike some of the other products we've seen of late, the HP Omen is really trying to be the best of both worlds.
Gaming laptops are generally portable, but you wouldn't want to carry them around every day. That isn't necessarily true of the HP Omen, which at 2.12kg and just 20mm thick, isn't too much of an inconvenience. What this machine does have in common with its counterparts though is aggressive styling, an abundance of LEDs, and a very ambitious price tag. Let's see how it stacks up.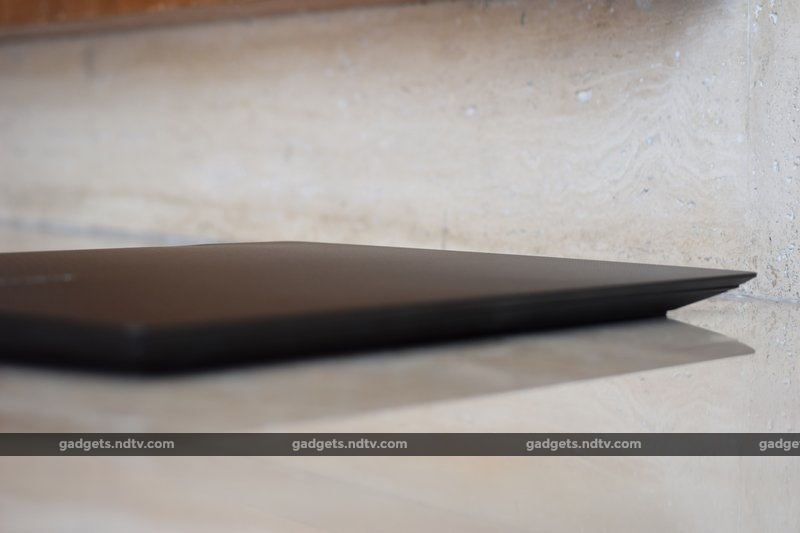 Look and feel
The HP Omen comes in a distinctive trapezoidal box with a graphic printed sleeve. The laptop is nestled under a foam-padded lid, and the charger and bundled USB Ethernet adapter fit into a cavity below it. The Omen itself follows the same design cues, with a wide top and sides that taper down and inwards to meet a much smaller base.
The Omen's lid is matte black metal with a pattern of embossed triangles. It looks great at first, but the tiny indentations quickly fill up with dust. Hewlett Packard's name is spelt out in bold, off-centre lettering. The other thing you'll notice at once is the bright metallic hinge, which protrudes a little from the back and has a unique burnt effect on the ends. Flipping the Omen over, you'll see that HP has paid just as much attention to the design of the bottom. There's a huge vent in the same triangular pattern and large rubber legs that seem to encircle the entire device.
When opened, you can see that the angular design results in the lid being wider than the base. This looks a little odd, especially because the screen appears to have an extra border around its frame. The keyboard deck is also metal, but is devoid of texture other than the perforated speaker grilles running down the sides. All attention is meant to be focused on the multi-coloured lighting effects.
The keyboard has a standard layout with an additional column of programmable shortcut keys on the left. Sadly, the available space wasn't used to make the core layout any better, so you'll have to deal with a ridiculously squashed arrow cluster.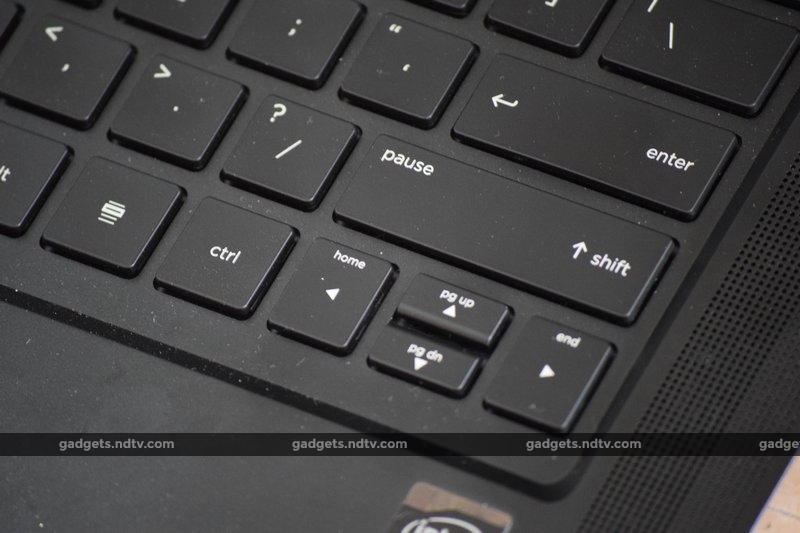 The keyboard has six different lighting zones - the power button, the programmable keys, the WASD keys, and the rest of the main QWERTY block in three sections. The two speaker grilles are another independent zone. HP's preloaded software lets you tweak the colours and intensity of the lighting - more on that later.
There isn't any other laptop that looks quite like this, and with good reason. The sharply tapered sides make it impossible to have any ports there, so they're all on the rear; out of reach. From left to right, you have the power inlet, four USB 3.0 ports, HDMI and Mini DisplayPort video outputs, and a 3.5mm audio socket. They're all very closely spaced, so you might have a tough time especially with larger USB devices. The only thing that isn't on the back is the SD card slot which fits in a cutout on the right.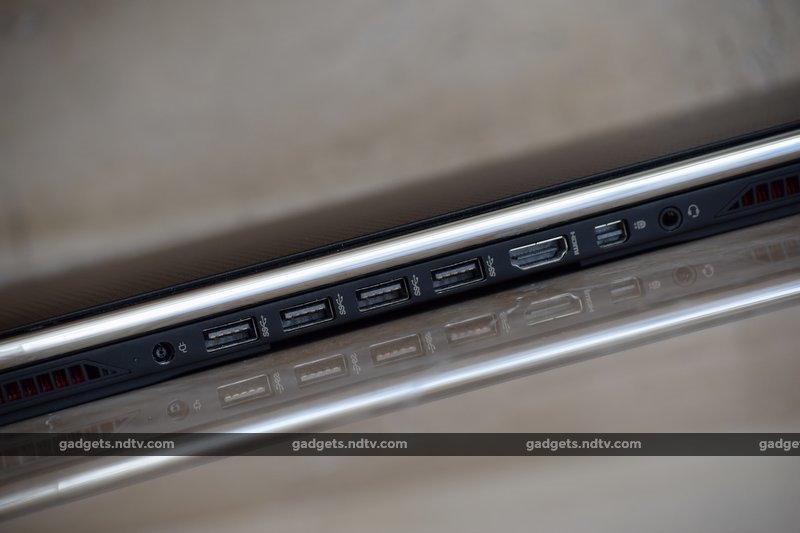 Specifications
HP has made some interesting choices in order to balance power, physical design, cooling, weight, and maybe to some extent, cost. The CPU is a pretty high-end Intel Core i7-4720HQ - the same as we saw in the MSI GT80 2QE Titan SLI. It runs at 2.26GHz with the ability to turbo up to 3.6GHz for short bursts. The four cores support Hyper-Threading for a total of eight concurrent threads.
There's 8GB of DDR3 RAM though we would really have liked to have seen 16GB on a machine of this calibre. The only storage option is a 256GB SSD which again seems like it might run short especially considering that each top-tier game can occupy 60GB or more these days.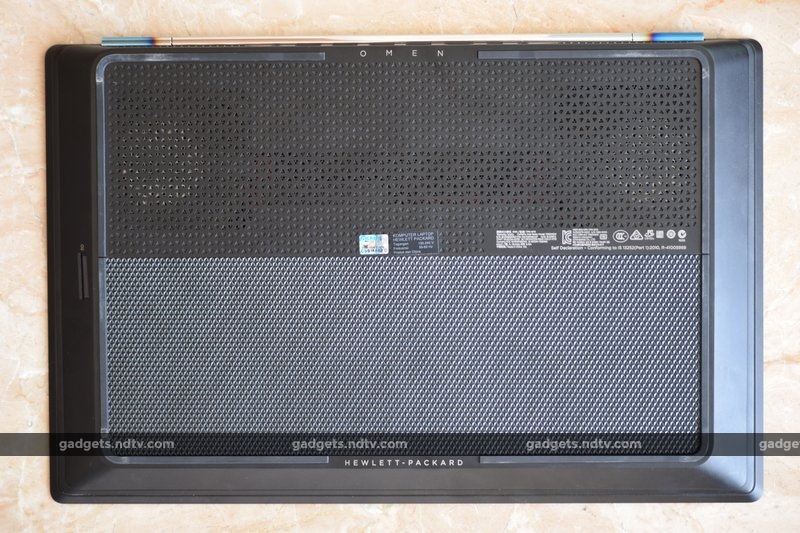 Graphics duties are handled by an Nvidia GeForce GTX 960M with 4GB of dedicated VRAM, which is a decidedly mid-range solution. The touchscreen measures 15.6 inches diagonally and has a comfortable resolution of 1920x1280.
There's also an HD webcam, Wi-Fi, and Ethernet via an included USB adapter. HP has a tie-up with Bang & Olufsen and all its laptops now come with B&O enhanced sound, which should be a suitable replacement for Beats. The Omen ships with Windows 8.1 which you can upgrade to Windows 10 for free.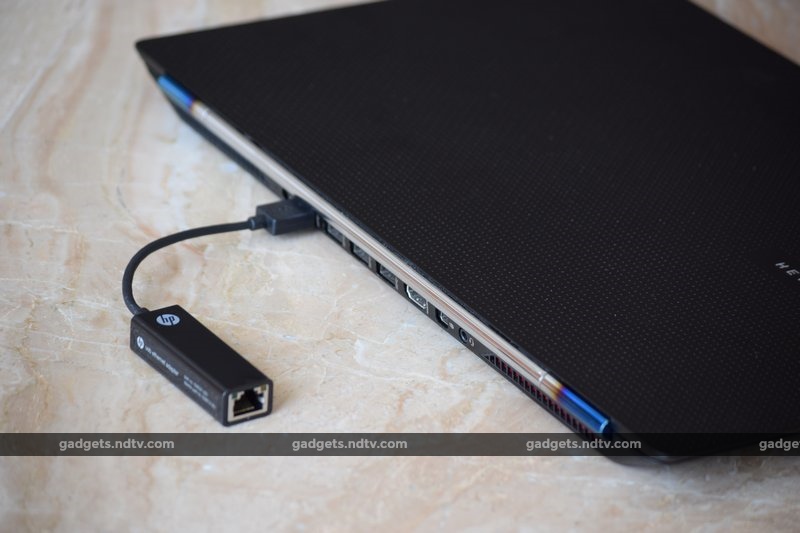 Usability
We spent quite a bit of time getting to know the HP Omen. It seems clear that HP wanted its gaming laptop to be refined and sleek, rather than an all-out beast like the MSI GT 80. It definitely wins points for style and we felt that we could carry it around and use it for all kinds of tasks other than just gaming. However, there were certain compromises.
We found the screen to be far too reflective - it needed constant adjustment even under ordinary indoor lighting. Having all the ports on the rear proved to be quite inconvenient - at least the audio jack should have been more accessible.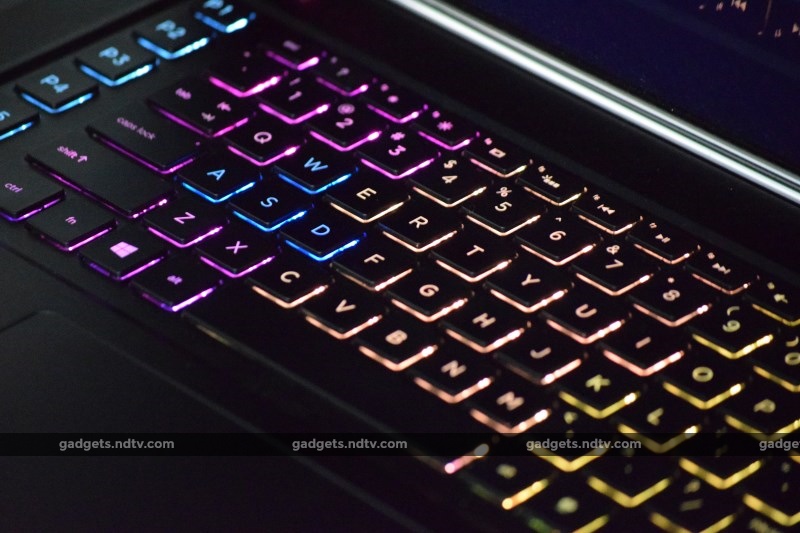 HP might say the keyboard is designed for gamers, but we found it to be too shallow to really allow for quick flicks. It also wasn't that great for regular typing. On the other hand, the extra wide trackpad was a pleasure to use.
The lighting effects are a bit over the top, but that's perfectly normal for a device like this. If you don't like it, you can turn it off for some or all zones. We turned off the colour cycling animation pretty much immediately and then turned down the brightness. We also found that the on-screen colour picker wasn't really accurate, so a lot of experimentation is needed. The programmable keys can be set up for different games (or anything else, really) using profiles. We also liked the ability to disable shortcuts via the Advanced panel.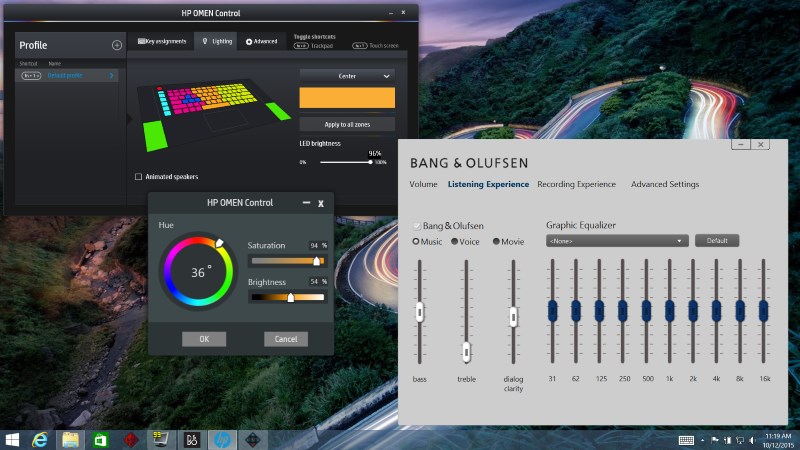 Fan noise is always a concern with high-end components, and we found that HP could have done a better job with the Omen. The fans were never too loud during games, but they did ramp up very sharply and suddenly; sometimes even when nothing was going on. Fan noise was definitely noticeable - maybe a design with more vents would have helped.
Performance
HP has gone with the same processor we saw in the MSI GT80, and yet the final package is much slimmer, lighter, and less expensive. The significantly lower-end graphics solution has a huge part to play in this, but we're eager to see the differences resulting from HP's approach. We noted very similar scores between the two in CPU-intensive tests. In fact the HP Omen came out very, very slightly ahead with a CPU score of 667 in Cinebench and an overall trace time of 3 minutes, 16 seconds in POVRay. HyperPi and SiSoft Sandra's CPU arithmetic, multimedia and encryption tests also showed negligible differences between the two. PCMark showed a slight difference in the Work scenario but much more pronounced ones in the Home and Creative runs which test multimedia as well.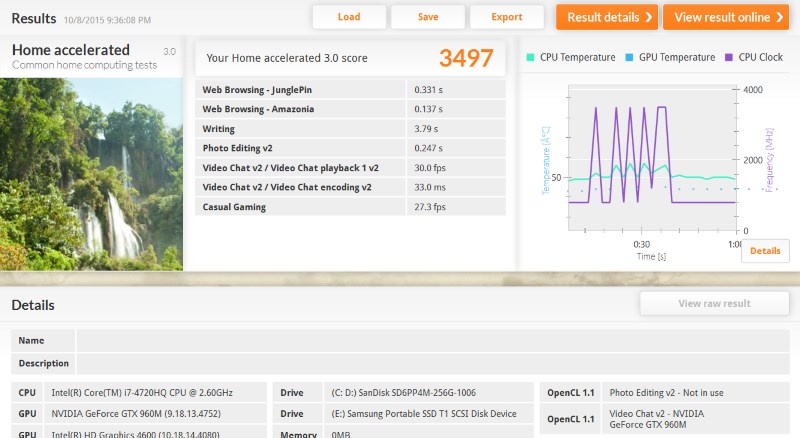 So in terms of CPU power, the HP Omen matches a device that's nearly twice its size, weight and price. However, that doesn't tell the whole story. HP has gone for a much wider appeal, not the same all-out, no-compromises approach. There's no way to compare the two on any other parameters. Tests of the memory, storage and graphics subsystems show clear differences between the two.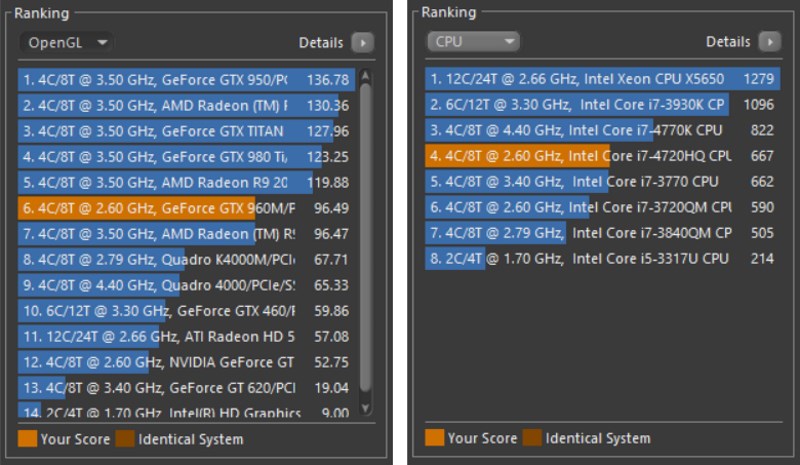 We got a score of 3,904 overall in 3DMark's Fire Strike test. The higher-end Fire Strike Extreme and Ultra tests gave us scores of 1,967 and 962 points respectively. Unigine Valley ran at an average of 20.2fps with dips as low as 8.7fps when run at 1080p with 8xAA and the quality set to Ultra. As expected with the GeForce GTX 960M GPU, we were unable to push quality settings to the limit and had to go easy on the special effects for a smooth enough experience.
Tomb Raider, one of our favourite titles and also one that doesn't need top-end hardware, gave us a very playable 51fps average in its internal benchmark. At its lowest point it still manged 42fps - that's with 16xAF and the quality set to Ultra at 1080p. Desktop GTX 960 cards perform only a little better than this, so you're actually getting excellent performance.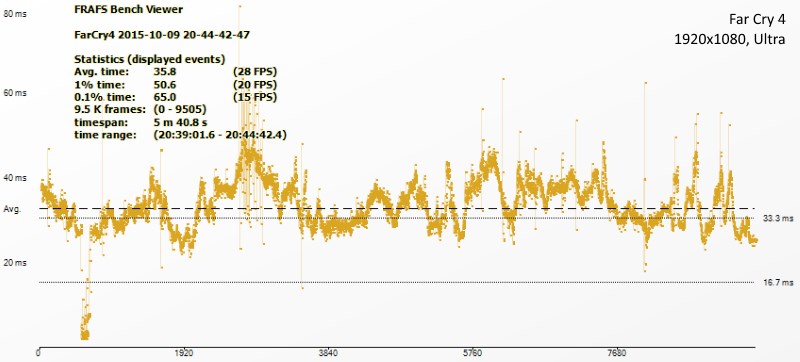 Far Cry 4 also ran pretty smoothly at 1080p with Ultra quality, SMAA and HBAO+ enabled. Using FRAPS during an unstructured gaming session, we recorded an average of 28fps with minor stuttering in places. Frame times varied between 35.8ms overall and 50.6ms for the 99th percentile of frames. Lowering settings a bit worked well again.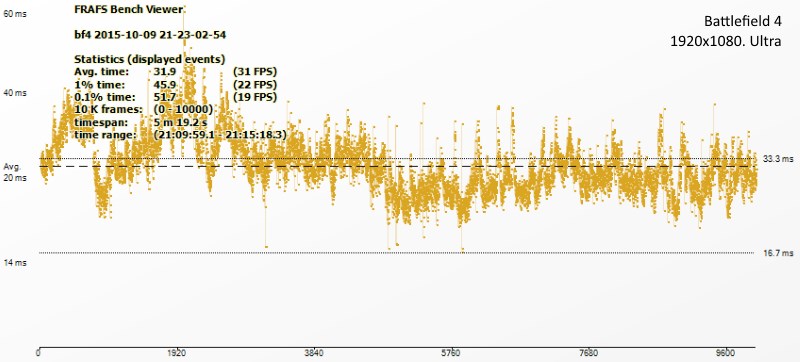 Battlefield 4 also ran well enough with moderate settings. For benchmarking, we ran it at native 1080p with 4xMSAA and HBAO enabled, and averaged a reasonable 31fps. Gameplay was smooth and enjoyable. Crysis 3 on the other hand showed its demanding side and ran at barely 15fps with the average frame time as high as 66.1ms and wild inconsistency in pacing, all the way up to 102fps for the 99th percentile. We couldn't enjoy this game at 1080p without drastically lowering settings.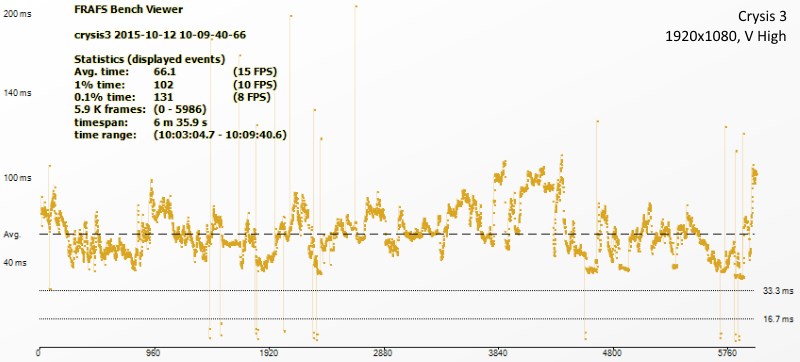 Sound was pretty impressive in movies and games alike. We didn't find it entirely immersive, but it managed to get quite loud without crackling or getting tinny. The battery lasted 1 hour, 47 minutes in Battery Eater Pro's standard test, which should translate to about 4-5 hours of casual usage. You won't be gaming on battery power anyway.
Verdict
We've compared the HP Omen to MSI's GT80 in some aspects, but the two are very different animals meant for very different buyers. Doing so just serves to illustrate that "gaming laptop" doesn't mean one specific type of device. While MSI went for all-out power with no worries about cost or practicality, HP knows that the mainstream audience it is targeting would never put up with that.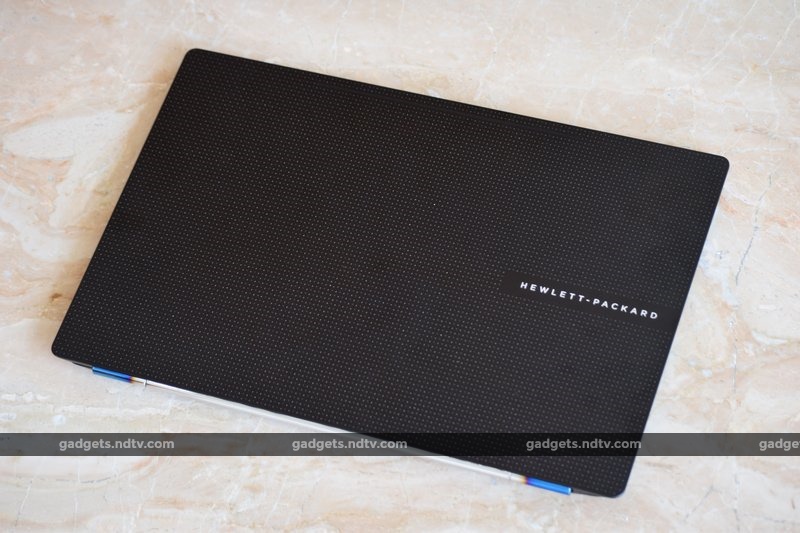 The HP Omen strives to be stylish and versatile, and while it does pull that off completely, it sometimes feels as though too much attention was paid to those aspects of design and not enough to core usability. We think the balance of gaming power and portability is just right - you can carry the Omen around and get all your day-to-day work done as well. It isn't the most comfortable laptop for that purpose, but it will make heads turn.
If space is more of a constraint than budget, you'll really like the HP Omen. However, if you need something for hardcore gaming and want it to run top-tier titles even a year or two from now, you might want to keep your options open.
Price (MRP): Rs. 1,59,990

Pros
Relatively lightweight and portable

Looks fantastic

Can run modern games at medium settings

Cons

Shallow keyboard

Inconvenient design

Ratings (Out of 5)
Design: 4.5
Display: 4

Performance: 4
Software: 4

Value for Money: 4
Overall: 4