Not too long ago, there were around half a dozen hard drive manufacturers to choose from in the market, but Seagate and WD have swallowed nearly all their former competitors. Two familiar names, Hitachi and IBM, were combined into Hitachi Global Storage Technologies, which is now owned by WD.
For some reason, the Touro S hard drive doesn't feature either WD or Hitachi's names in any prominent manner. The HGST badge is still around, although you'd have to look pretty hard at the Touro S's packaging to find it. This is strange, since it makes the drive come across as cheap, unbranded and unfamiliar - not good at all for something you're trusting with important data. In fact, unless you were already familiar with the old Hitachi Touro name, you'd never know who the manufacturer is.
The Touro S is meant to be a stylish product, but is that enough to choose it over the more familiar WD and Seagate options? We put it to the test.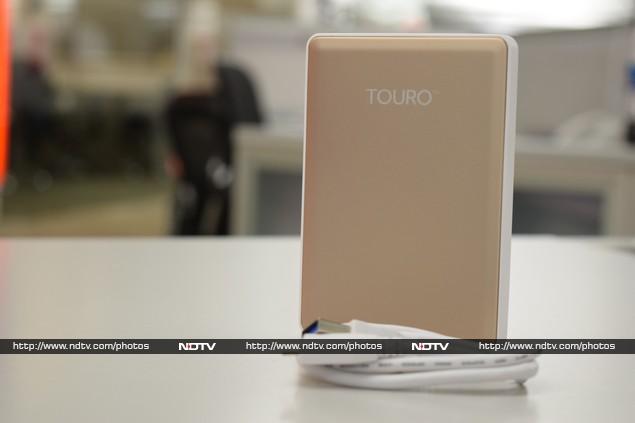 Look and feel
You can't really get creative with the shape or size of a hard drive. The Touro S is a standard rectangle with a plain plastic body. There's a Micro-USB 3.0 port on one end along with a tiny white LED.
This definitely isn't the slimmest drive we've ever seen, but it's small and light enough to fit in a pocket. It's available in four colours; gold, silver, platinum and ruby. Our gold review unit definitely stood out, but not for all the right reasons. The plastic doesn't feel very premium, and on the whole the Touro S definitely isn't as slick as the Seagate Backup Plus we reviewed recently. If it hadn't been for the arresting colour, this would have been just a boring plastic rectangle.
Specifications and software
USB 3.0 isn't a premium feature anymore, and the Touro S doesn't gain anything by proudly boasting about it. Pretty much every laptop and desktop motherboard sold in the past two years has at least one USB 3.0 port, but the standard was designed to be backwards compatible so the Touro S will work perfectly well with USB 2.0 ports and cables as well - just a lot slower. The drive inside the Touro S spins at 7200rpm which should also help speed things up a bit.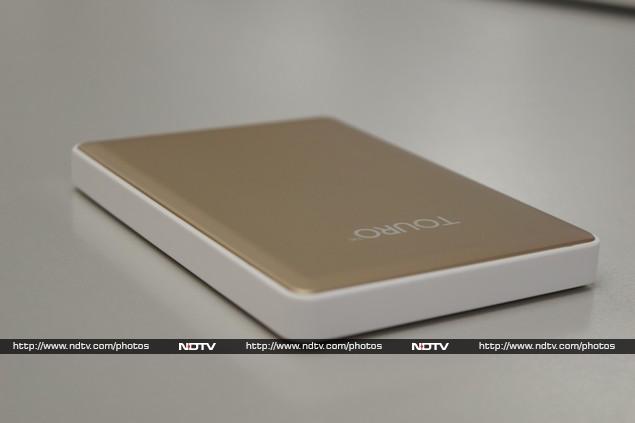 HGST also runs an online backup service called Touro Cloud Backup, and promises 3GB of space free with every Touro S. That isn't strictly accurate because anyone can sign up for a free 3GB account, regardless of whether or not they buy this drive. The Touro Cloud Backup software lets you select files and folders that can be backed up to any physical drive as well as the online service.
It's a bit basic, but all the essentials are covered, including scheduling and version control. Up to 10 versions of files are kept safe for future retrieval. You can sign in to your account via any browser and access your files from anywhere in the world. Files and folders in the cloud can also be shared with friends - all you have to do is generate a URL and send it to them. There is an iOS app but no Android version at the moment.
If you like HGST's cloud offering and 3GB isn't enough, you can sign up for the premium service, which gives you 250GB of space for $59 (approximately Rs. 3,550) per year. There are file storage services which offer much more than 3GB of space for free, and backup services such as Crashplan give you unlimited space and greater flexibility for the same amount of money (or less, if you pay for more than a year at a time). Touro Cloud is a good idea, but it doesn't work as a value-add for the Touro S.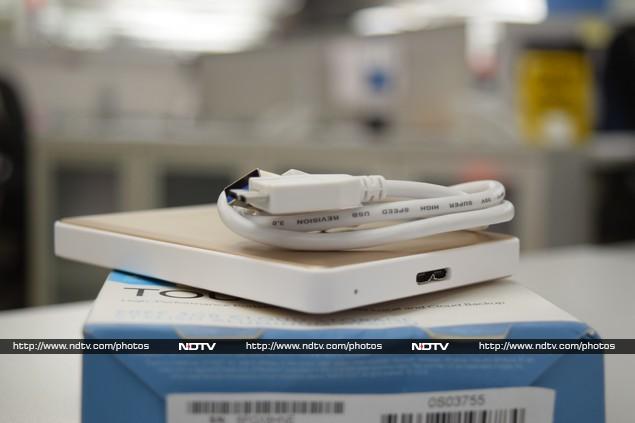 Performance
We were pretty impressed with the speed of the Touro S. It consistently did well across our SiSoft SANDRA benchmarks. Sequential read and write speeds were 141.37MBps and 133.56MBps respectively, which were both significantly higher than the speeds of the Seagate Backup Plus. However, both drives were at par when it came to random read and write speeds as well as random disk access time.
The Touro S should do quite well in any usage situation, and we have no complaints about its performance.
Verdict
The Touro S is a competent portable hard drive with no real distinguishing characteristics. Street prices fluctuate regularly, and thankfully the Touro S currently sells for way below its stated MRP. It's a good choice if you love its looks or if you can find it at around the same price as any 1TB model from Seagate or WD. However, we wouldn't pay a huge premium for this drive over a competitor.
Price:
Rs. 6,000 (1TB)
Pros
Unique looks

Good performance
Lightweight

Cons

More expensive than competitors

Cloud service is not very useful

Ratings (Out of 5)

Design: 3.5
Performance: 4.5
Value for Money: 3
Overall: 3.5