Dell's Inspiron series has long been the safe choice for those looking at budget laptops. Every year, we see a slight refresh in the design in order to keep it up to date, and nearly two years ago, we had the new 7000 series which elevated the Inspiron name to a more premium standing.
The company has now added a gaming-oriented subset to the current Inspiron 7000 series, and it's is based on the latest Intel Skylake platform. Currently, there are just two SKUs in this series in India, of which we have the premium one. The Inspiron 15 7559 currently competes with the likes of the MSI GE62 6QD, which is also priced close to this Inspiron's Rs. 1,20,990 price tag.

Look and feel
The design is very similar to the older Inspiron 7000 series, except for the fact that Dell has traded in the aluminium for a plastic chassis with a matte rubber finish. Coupled with a red motif around the trackpad, speakers, exhaust vents and the logo on the lid, you're looking at a very striking yet understated laptop. The aggressive look is more stealth than flashy, which is something we approve of. It's quite a chunky laptop though, measuring nearly 17mm in width (when closed) and weighing in at 2.72kg. The Inspiron 15 7559 is certainly not going to be easy to carry around.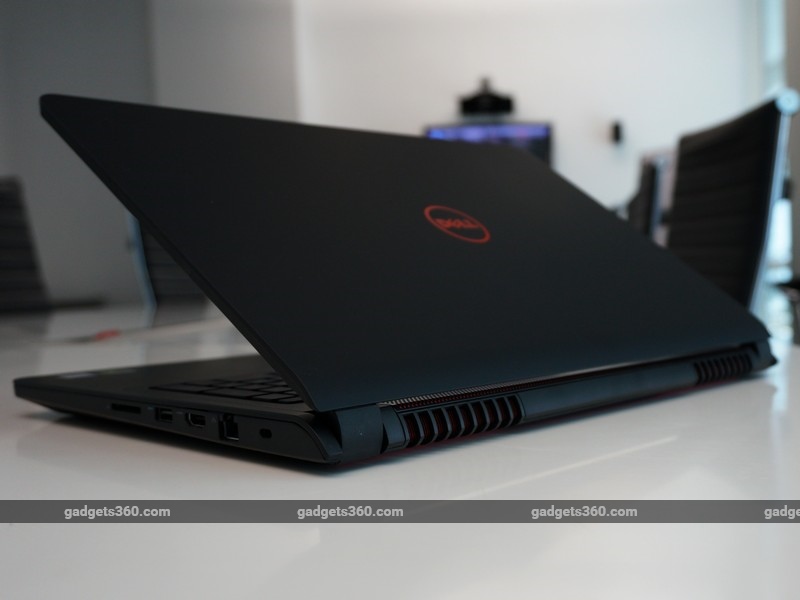 The rubber texture feels really good and doesn't attract scratches easily. It extends over the entire palm rest area, which makes typing very comfortable. The trackpad is wide and placed off-centre so it doesn't get in the way when you type. The multi-finger gestures for Windows 10 work fine but don't feel as responsive as they would on a glass trackpad. Since this laptop is geared towards gaming, chances are you'll be using a mouse anyway, so it shouldn't be an issue. There's a full sized keyboard with chiclet-style keys, which are backlit in white. Tactile response is good and thankfully the keyboard doesn't flex at all when used, which is great for typing.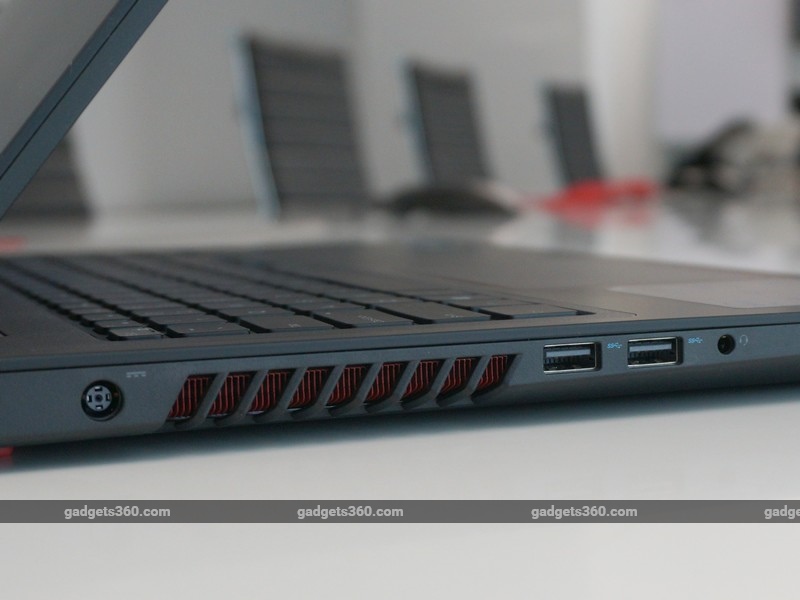 This top-end version of the Inspiron 15 7559 comes with a 15.6-inch UHD (2160x3840) LED-backlit touchscreen. The brightness and colour reproduction of the panel are both very good, with colours looking punchy. The display has thick black borders all around which doesn't do much for the aesthetics. However, the lid does provide good protection for the screen with only slight flex - the display doesn't distort much when you apply pressure from the back. Keep in mind that the display is glossy so reflections can be a nuisance. This isn't something you can opt out off if you go with the UHD resolution model.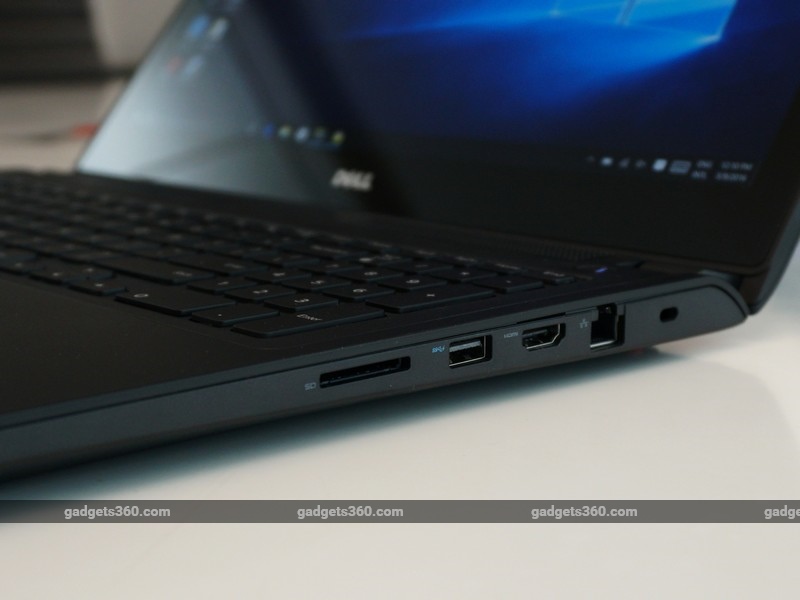 The Inspiron 15 7559 offers a decent selection of ports for connectivity. We have a total of three USB ports (one USB 2.0, two USB 3.0), an SD card slot, a headphones and microphone combo jack, HDMI, and an Ethernet port.
The laptop features two cooling fans and three exhaust vents (one on the side, two at the back) to keep things running cool. Underneath, we have air intake vents along with two rubber strips for feet, which help prop the laptop up. The battery is non-removable. For notification lights, the laptop only has a single front-facing LED in the middle of the chassis.
Specifications and software
The Inspiron 15 7559 packs a decent amount of firepower under the hood to qualify as a gaming laptop. We have the Intel Core i7-6700HQ, a quad-core processor with Hyper-Threading technology running at 2.6GHz and a maximum turbo frequency of 3.5GHz. You also get 16GB of RAM, a 1TB Seagate hard drive (5400rpm), a Samsung 128GB M.2 SSD, and an Nvidia GeForce GTX 960M with 4GB of dedicated GDDR5 memory. With those core specifications well taken care of, you also get dual-band Wi-Fi b/g/n/ac, Bluetooth 4.0, an HD webcam, and a 6-cell (74WHr) battery.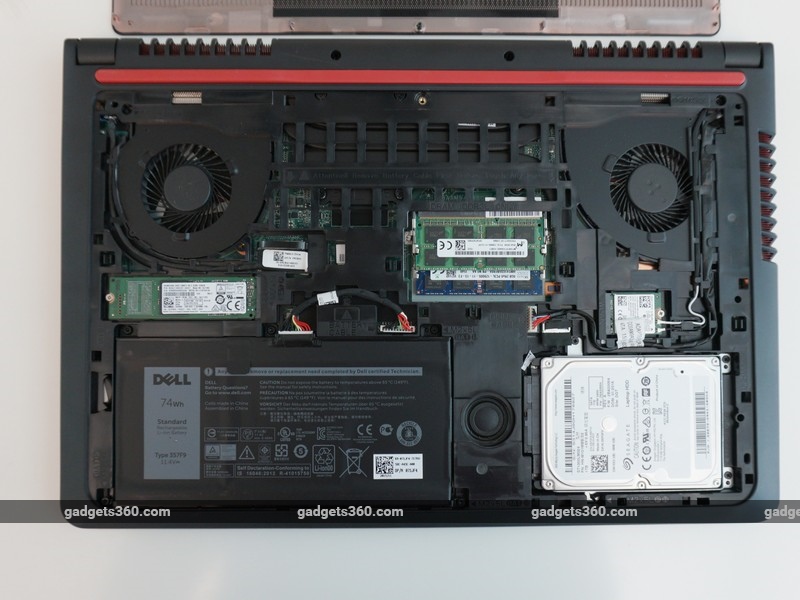 The SSD, hard drive, RAM and battery are all easily accessible once you pop off the bottom panel, which is just a matter of turning one single screw. All the cables and connectors are labelled neatly making it easy put everything back together. Both RAM slots are occupied, so adding more will necessitate replacing these modules (not that you'd want to anytime soon with 16GB in place).
The laptop comes with Windows 10 Home 64-bit along with some standard pre-installed software including a trial version of Office 365, 20GB of free Dropbox space for a year, a 15-month subscription to McAfee Security Centre, Dell Backup and Recovery, Dell Power Manager and Dell Audio.
Performance
After the initial Windows setup, the Dell updater program automatically installed a number of updates to its programs including a BIOS update (v1.1.7). Since this is a UHD display, Windows automatically set the display scaling to 250 percent, although during our testing, some apps like the Unigine Valley benchmark and certain overlays for Origin and UPlay refused to scale within games, making them too small to decipher.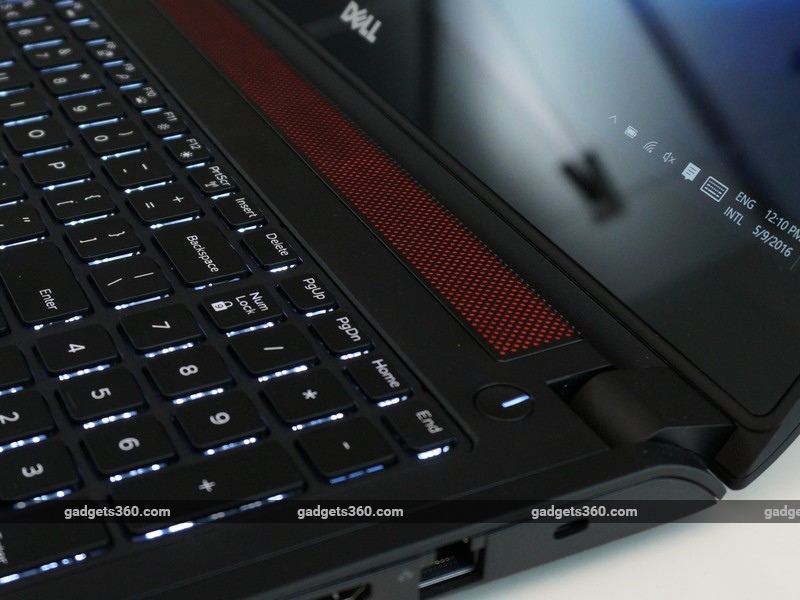 The laptop runs quiet for regular tasks but the fans are audible during prolonged gaming sessions. We didn't find it too distracting when using the speakers, but if you're on headphones, people around you might get annoyed after a bit while you remain oblivious. The palm rest area stays cool as the warmth of the exhaust can only be felt towards the upper portion of the keyboard area. Thankfully, you won't need to poke around that area long enough for it to be of any trouble. General Windows and app performance is very good since the SSD is used as the boot drive while the 1TB mechanical drive is left for storage.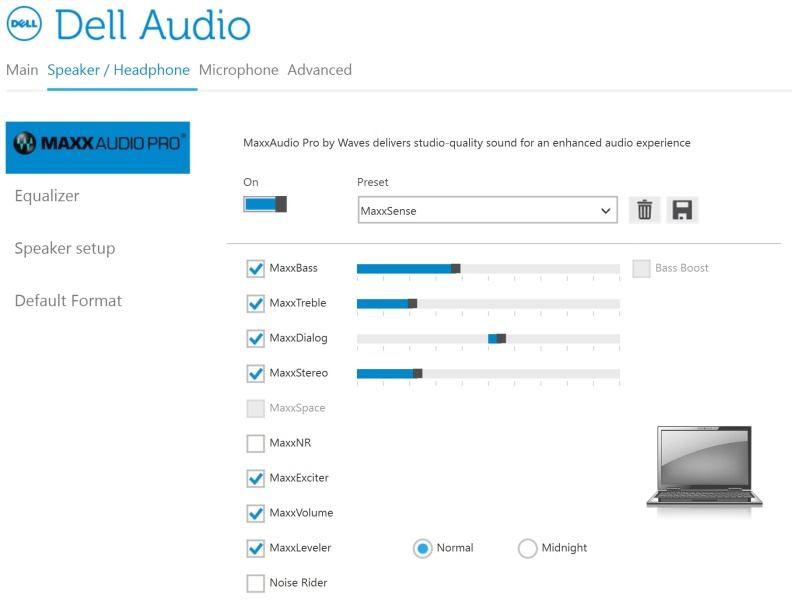 This Inspiron 15 has very good audio thanks to its 2.1 speakers, with stereo satellites firing from the front and a "sub-woofer" placed on the bottom. Together, they deliver good sound which isn't hollow or tinny. You can play around with the equaliser presets with the bundled Maxx Audio Pro software.
The laptop does well in benchmarks. We started with the synthetic tests. Cinebench R15 gave us an OpenGL score of 82fps and a CPU score of 673 and POVRay returned a trace time of 2 minutes and 56 seconds, which is a bit quicker than some of the other Skylake laptops we've tested in the past.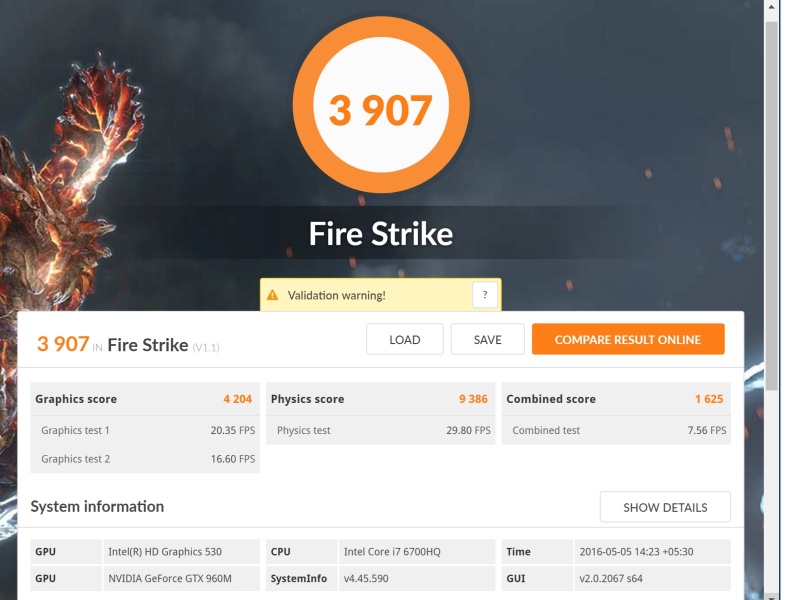 PCMark 8 returned scores of 2970, 4074 and 2641 for the Home, Creative and Work test suites respectively. Coming to the 3D benchmarks, we got 3907 in the standard 3DMark Fire Strike benchmark while the Ultra preset returned a score of 997.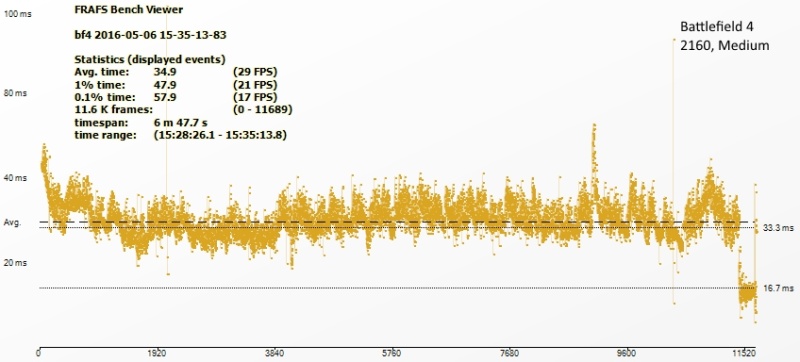 In real-world games, we began with Battlefield 4 which was very playable at the monitor's native resolution at the Medium setting without any anti-aliasing (AA). If you want more eye-candy, you'll have to drop the resolution by a couple of notches. We found that 1080p with most parameters set at High or Ultra worked out to be the best compromise.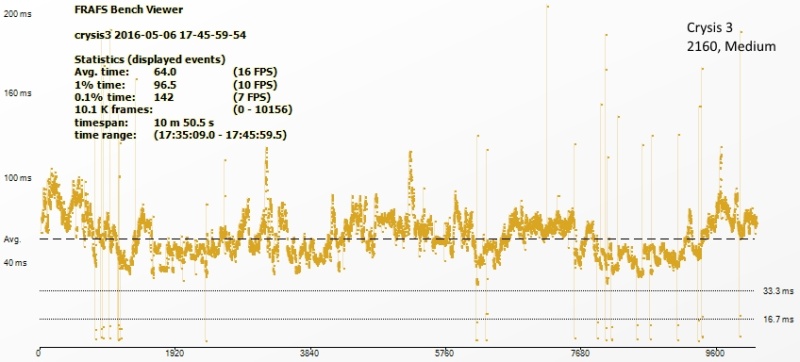 Crysis 3 wasn't playable at the native resolution, despite dialling down the quality settings to Medium. We left the texture quality at High for this test run but had to drop the resolution in order to get playable framerate.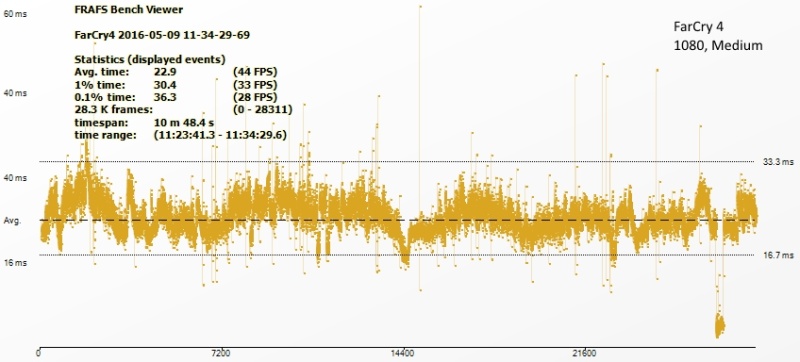 We got a consistently good frame rate in Far Cry 4 at 1080p, with the quality set at Medium. Even so, the game looks pretty stunning so it's not a total loss.
Tomb Raider (2013) gave us a playable 42fps at 1080p with the Ultra preset, and stepping up to the native resolution nearly halved that score. Finally, Metro: Last Light Redux, which is a very heavy game, managed only 16fps at 1080p with tessellation set to Normal.
Battery life
The Inspiron 15 lasted for only about 1 hour and 16 minutes under Battery Eater Pro, which is a bit too light for a 6-cell battery. We made sure that only the integrated Intel GPU was active, and not the discrete one. When used for everyday tasks like Web surfing, listening to music, watching videos and working with Office documents, we got a little more than three and a half hours of battery life.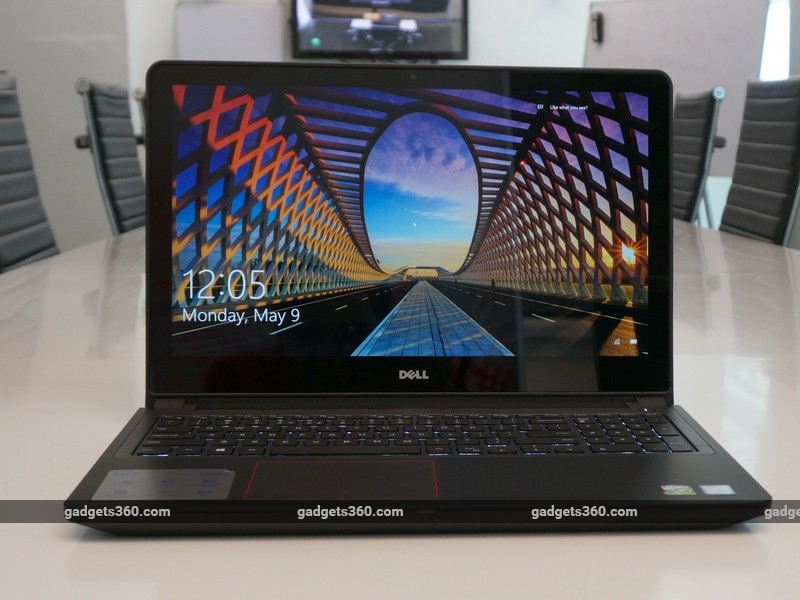 Verdict
The Inspiron 15 7559 is a very good premium multimedia laptop that you really can't go wrong with. Mind you, it is on the expensive side but we feel that the overall package should leave you satisfied. You get a great UHD display, beefy components, and a good set of speakers for all your multimedia needs. The laptop performs very well thanks to the included SSD, which has about enough capacity for the OS and one or two games. The laptop can handle most heavy games too, provided you don't play at the native resolution.
It's not perfect, and there are certain things we wish were different. For instance, given the laptop's size, we don't see why Dell ditched the optical drive. Granted, we can buy games and software online, but it really wouldn't have hurt to be able to use game DVDs. You also need to keep in mind that this laptop is quite heavy and bulky, making it more of a desktop replacement than a actual laptop.
Price (MRP): Rs. 1,20,990

Pros

Sharp UHD display
Good overall performance
Speakers are loud and clear
Cons
A bit expensive

No optical drive

Heavy and bulky

Battery life isn't great

Ratings (Out of 5)

Design: 4

Display: 4

Performance: 4

Software: 4

Value for Money: 3

Overall: 4