Dell really seems to be stepping it up as far as design is concerned. Its Inspiron laptops have so far been targeted at entry-level home users and students, with the primary focus being affordability. The Inspiron 7000 series laptops, however, have been designed for a much more premium audience.
We've already reviewed the 14-inch Inspiron 7000, and our impressions were quite mixed. We appreciated its style and portability, but weren't totally happy with the tradeoffs that were required to make it so. However, 15-inch laptops aren't that likely to be carried around everywhere, and so Dell has the opportunity to strike a different balance with the larger incarnation of the 7000 series. We have the Inspiron 15 7000 Series on our test bench today, so let's find out how it measures up.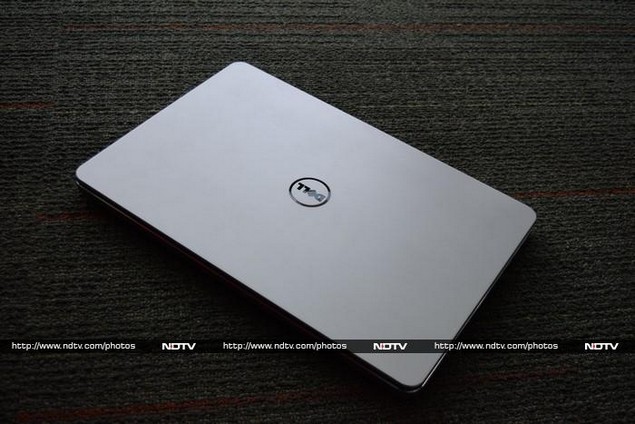 Look and feel
The Inspiron 15 7000 looks pretty similar to its smaller sibling, with the same flat rounded rectangular shape. The main difference between the two is that the 15 doesn't have a protruding hinge. This also means that it can't lie totally flat when unfolded, which should not be a huge loss for anyone. However, the entire lid wobbles whenever you tap the screen. Weighing in at 2.6Kg, the Inspiron 14 7000 is definitely not a machine you'd want to travel with every day, but it wouldn't be too much of a problem to carry it around now and then.
The Inspiron 15 7000 has quite a healthy array of ports - there are two USB 3.0 ports on the left, and two more on the right alongside an Ethernet port, HDMI video out, headset jack and SD card slot. The ports are a bit too close together, which might be a problem. The card slot can also handle MMC and MemoryStick cards, but isn't covered and doesn't use a dummy card to keep dust out. Anyone who needs to plug their laptop into an older projector at school or work should note that there is no old-style VGA video out.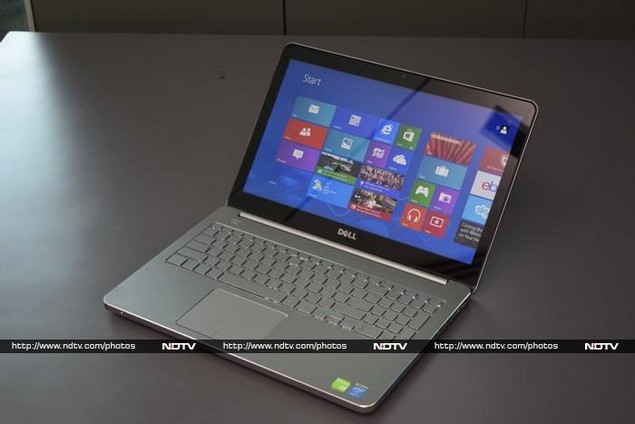 The diamond-cut bevels, which Dell proudly advertises on its website, form a ridge that makes it easy enough to open the laptop, although you still need to hold the base down with one hand. The hinge feels stiff and sturdy - Dell claims it can withstand over 20,000 uses. The screen is covered with edge-to-edge glass there's a full-sized backlit keyboard along with a number pad on the lower deck. The only things disrupting the premium metallic body's looks are the bright blue and green Intel and Nvidia stickers in the lower right corner. We wish these could have been left off or moved to the rear.
We've found plenty of reasons to criticise Dell's keyboards of late, and the one on the Insprion 15 7000 is no exception. Despite having room for an entire number pad, Dell still chose to squash the arrow keys and remove the Pause/Break, Insert and Windows menu keys. At least the 0 on the number pad doubles as an Insert key. For some reason there's no LED indicator on the Num Lock key and it's off by default unlike it usually is with pretty much every other computer. The secondary functions, such as Home, End and the arrows aren't printed on the key caps either. This could cause massive confusion, since people who aren't used to having a number pad close by could hit keys completely different to what they intended.
The trackpad is pretty spacious but isn't properly centred to the keyboard. Your right wrist will rest on the trackpad when typing, but luckily it's smart enough not to move the cursor around at the wrong time.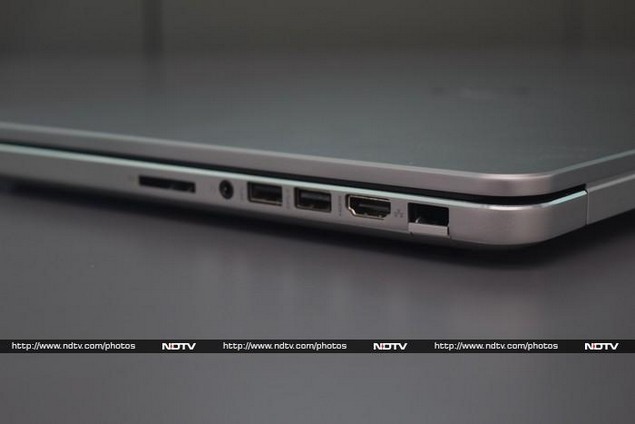 Features and specifications
The Inspiron 15 7000 is available in two models with very different specifications. The lower-priced one is based on an Intel Core i5-4200U and comes with 6GB of RAM, a 500GB hard drive, and 1366x768-pixel touchscreen. The higher-end one has a Core i7-4500U, 8GB of RAM, a 1TB hard drive and full-HD 1920x1080-pixel touchscreen. The hard drives are described as hybrid drives with 8GB flash memory caches. Both models also have discrete Nvidia GeForce GT 750M graphics processors with 2GB of dedicated GDDR5 video memory.
We received the lower-end configuration for review, and frankly, we can't get over its terrible 1366x768 screen resolution. This is just criminally inferior on a laptop of today's standards, especially one that costs this much and also looks and feels so premium otherwise. Given the pretty powerful graphics processor and the rest of the specifications, we think it's absolutely ridiculous of Dell to try passing off this screen on this laptop. Everything looks cartoonishly oversized Customers deserve better, but unfortunately they'll have to pay a whole lot more for the higher-specced model to get it.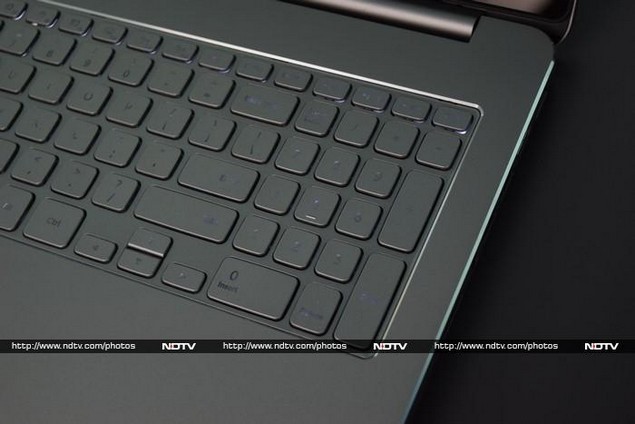 The rest of the features list is pretty standard - the Inspiron 15 7000 comes with Wi-Fi b/g/n and Bluetooth 4.0, plus a "HD" webcam. Dell uses Waves MaxxAudio Pro to enhance sound output, which is pretty loud and clear, but very thin. Dell lists the 58WHr battery as "removable", but if that's the case, you'll need to unscrew the bottom panel to get to it.
There are enough ports and wireless options for most needs, so at least the Inspiron 15 7000 doesn't feel limited like its 14-inch counterpart did. However, neither is clearly better than the other. The choice between the two isn't simply about screen size and overall portability - you'll have to think about which features are important to you and whether flexibility is more important than weight.
The Inspirons are all supposed to run Windows 8.1, but our review unit came with Windows 8. The general lack of preinstalled rubbish was a pleasant surprise. Dell does preload a Microsoft Office trial and McAfee Security Center with a 15-month subscription, but these are both genuinely useful. There are a few Intel and Dell tools that cause annoying popups every so often, but these can be dismissed.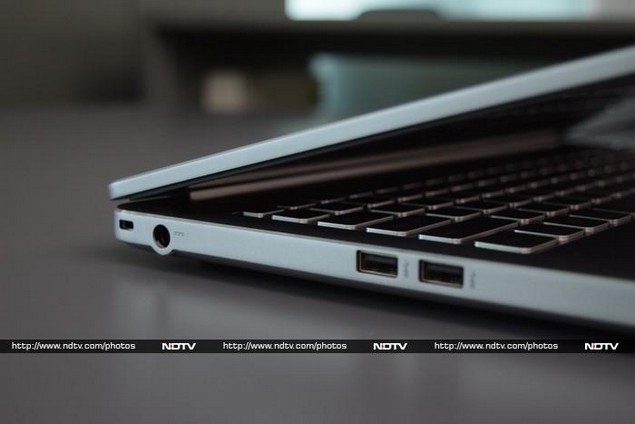 Performance
We ran into a bit of trouble when testing the Dell Inspiron 15 7000. It simply refused to use the discrete Nvidia GPU during benchmark runs, instead falling back to the integrated Intel processor graphics. We had to reset the laptop to its factory state twice and download fresh drivers. Nvidia's control panel, which was missing even after the factory resets, provides an option to make certain applications force the GPU to take over when running, which we finally used to get reliable results. The good news is that the GPU handover is completely seamless, but the bad news is that if users encounter the same problem, they might not even realise that they aren't tapping into the full power of the laptop they've paid for, and that things could be a whole lot better.
For the sake of comparison the initial 3DMark Ice Storm test result was 421 points overall, with a graphics subscrore of 463. These numbers rose to 1,783 and 1,934 respectively when the discrete GPU kicked in. CPU-bound tests were on par with those of the Inspiron 14 7000, which isn't surprising since the machines' configurations are nearly identical apart from the GPU. POVRay took 9 minutes and 3 seconds to run its built-in benchmark, and the Cinebench CPU test gave us a score of 192.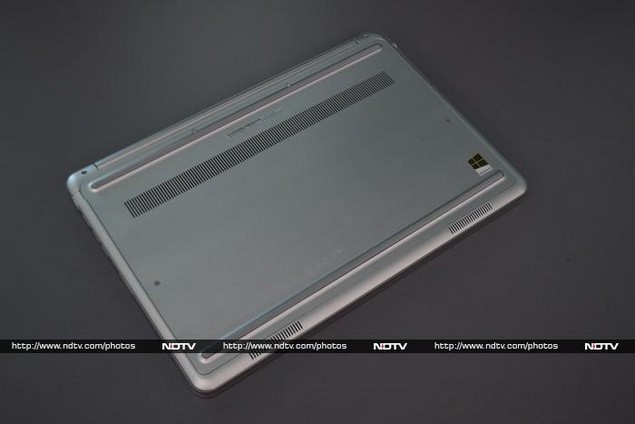 SiSoft SANDRA CPU test scores were also nearly identical between the two models, but the storage subsystem results were significantly different, most likely thanks to the use of a 32GB cache in the smaller model and a slower hybrid hard drive in the larger one.
The screen, as we've already said, is tragically low-resolution and so image quality takes a nosedive, but it is bright. Lateral viewing angles are good, but the problem is that the glass is incredibly reflective so it's really hard to see anything at an angle except in room without any lights shining near the device. The speakers, which are just under the front lip of the lower deck, sound pretty good. Music is tinny and lacks body in the low end, but this laptop can get reasonably loud and the sound doesn't distort at high volumes. The webcam is good enough for video chats but not for taking photos that you'd want to share or preserve.
Battery life was just about okay. We managed 2 hours, 35 minutes in our Battery Eater Pro test, with the screen set to 50 percent brightness. This test taxes the system, so more casual usage will yield much more runtime. The figure isn't too bad considering this laptop will mostly be deskbound. If you're a demanding road warrior, you'll want to look elsewhere.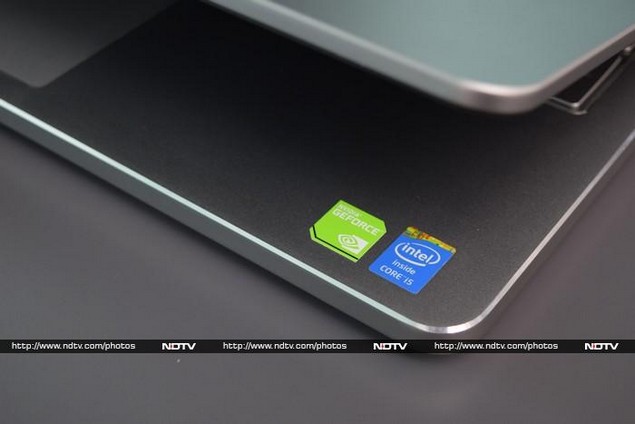 Verdict
The lower-end version of the Inspiron 15 7000 costs about as much as the lower-end Inspiron 14 7000, and the same goes for the higher-end versions of both as well. That leaves us with an interesting set of choices. As far as the lower-end ones go, it's a fairly simple toss-up between portability and drive speed on one hand and connectivity and graphics horsepower on the other. You're saddled with an unfortunate low-res screen either way, so the particular variant that we've tested today comes out looking a bit unappealing.
There's more of a gulf between the two higher-end models; we step up to a decent 1080p screen and 1TB of storage space in addition to the processor upgrade. This is the version of the Inspiron 15 7000 that looks much more interesting, but pricewise, it's in a totally different league.
We really do like what Dell has accomplished here, but we would have been far more enthusiastic about this specific version of the Inspiron 15 7000 Series if it had had even a halfway decent screen. We wouldn't even have minded the awkward keyboard. As it stands though, we can't whole-heartedly endorse such a premium device with such a glaring weakness. If you can spend enough to get the higher-spec model, then by all means, go ahead and consider it.
Price: Rs. 68,090
Pros:

Great looks and build quality

Discrete GPU

Decent battery life

Adequate connectivity

Cons:

Awful low-resolution screen

Poor value for money compared to other variants

Ratings (out of 5):

Design: 4
Display: 3
Performance: 4

Software: 3.5
Battery Life: 3.5
Value for Money: 3
Overall: 3.5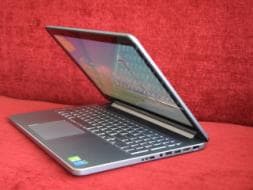 Dell Inspiron 15 7000 Series in pictures