Dell's laptops haven't always looked stylish. In fact, they've been considered mostly utilitarian despite a number of models over the years with increasingly wacky and ambitious designs. This time, Dell has managed to carve a block of aluminium that's sleek and minimalist while still packing a reasonable punch.
The new Inspiron 7000 series is available in 14-inch and 15-inch models. We're reviewing the smaller one today, which is also known as the Inspiron 7437. It's quite a departure from Dell's usual plasticky style, especially in the Inspiron range which has always been about affordability.
The 7000 series models aren't sold as ultrabooks, although they're certainly slim enough to qualify. They're also a little bit more affordable than most touchscreen-equipped ultrabooks on the market today. Read on to find out how Dell managed this, and what it means for you as a buyer.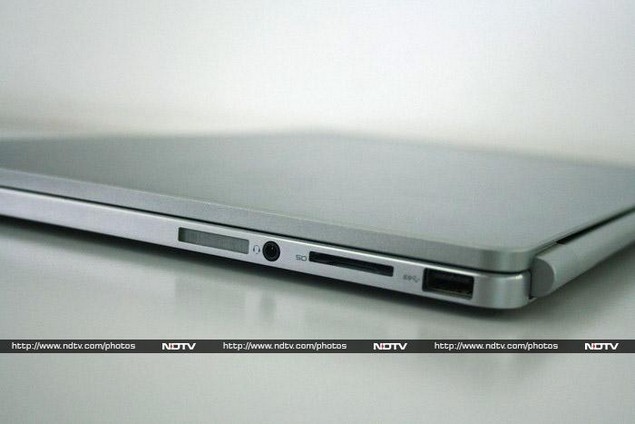 Look and feel
With its lid closed, the Inspiron 14 7000 is short and flat, like a rectangular gift box with rounded corners. It's as thin and light as Apple's current 15-inch MacBook Pro with Retina Display, but for some reason feels bulkier. The body is made of "forged aluminium", according to Dell, which is mostly a dull matte texture except for shiny silver bevelled edges. There isn't much to see on the outside - only a few ports along the back of each side along with the speakers, and two tiny LEDs on the front. Surprisingly, the lid is almost as thick as the base, and so you'll need to use both hands to open the laptop.
The first thing we thought when we opened the laptop was how minimal it looked. There's blank space everywhere, and no colours of materials have been used for relief. The only visual discrepancy is a bright blue Intel Inside sticker in the lower right corner. The keyboard sits in the middle of a sea of unused space, and even the screen seems to be surrounded by unnecessarily thick black glass borders. Both of these things make the laptop feel larger than it could have been.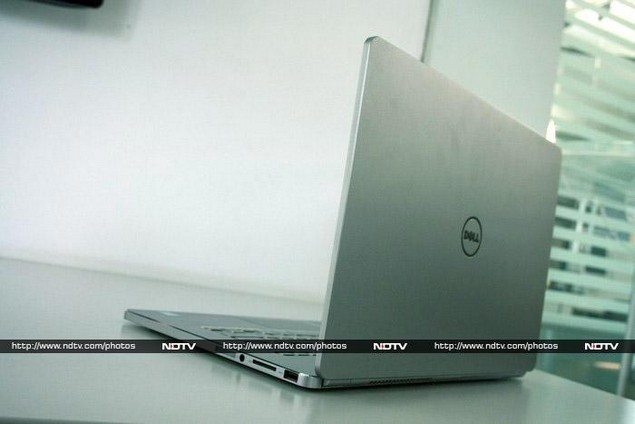 In terms of comfort, the keyboard should have been much further back, since its centred placement meant our wrists had to rest uncomfortably on the laptop's edge. The trackpad is quite large, which also reduces the space available for our wrists. We found that we were constantly moving the cursor around while trying to type, which was very annoying.
They keyboard is backlit, but thanks to the white-on-silver colour scheme, it can be hard to read key labels when the backlight is on during the day - the device doesn't seem to automatically sense when the backlight isn't needed. The keys don't travel much, but typing isn't a huge problem. The arrow keys are of course squashed up to fit into a neat rectangle, and Dell has dropped a few keys entirely - we've always hated the company's habit of leaving out the Pause/Break key, but for some reason the Insert key and Windows menu key have now bitten the dust as well. More form over function? It seems Dell wanted to make room for a dedicated Wi-Fi shortcut key and had already assigned shortcuts to all the Function keys. Dell really needs to understand that people who buy laptops today do expect to be able to type.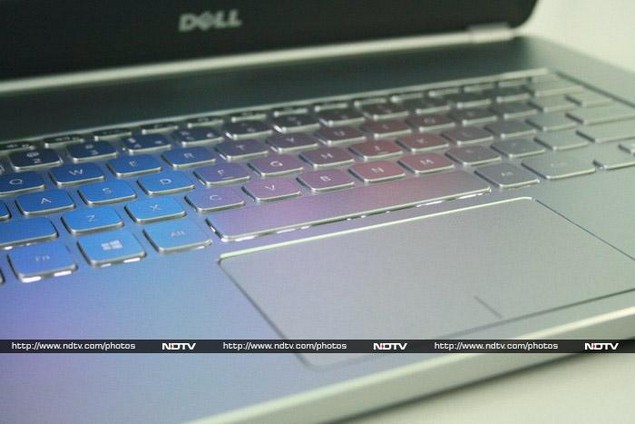 The Inspiron 14 7000's lid folds back 180 degrees, so you can get to the touchscreen more easily in some situations. The hinge is sturdy but there's no avoiding the fact that it wobbles when touched. We're happy with the overall construction quality of this laptop - it feels as though it could withstand some rough usage. Dell has even paid attention to the charger, which is a lot smaller and more rounded than its usual black bricks.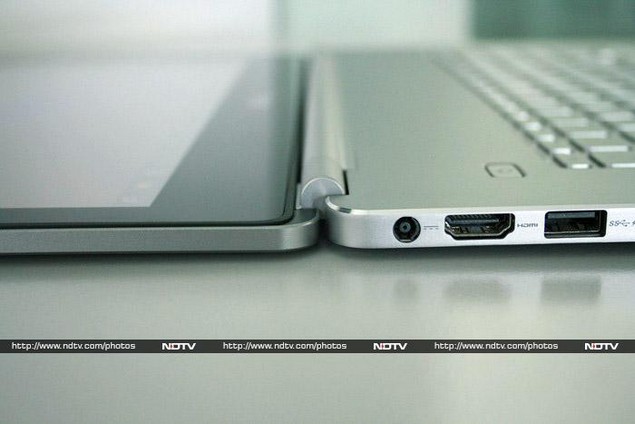 Features and specifications
Despite being slim and using a low-voltage Intel processor, the Inspiron 14 7000 is not being sold as an ultrabook. That might be because of an odd balance in the hardware; the Core i5-4200U and 6GB of RAM are paired with an old-school 500GB mechanical hard drive. (A more expensive version with a Core i7 CPU and 8GB of RAM is also available). Most premium notebooks today use much faster solid-state drives, but these also have lower capacities. Graphics processing is handled by an integrated Intel HD4400 GPU, which is decent enough for most apps and casual games.
The Inspiron 14 7000 does have a 32GB solid-state drive which is used for caching. This should result in a little bit of a speed boost when booting up, shutting down, and launching frequently used apps. It's a compromise, and if you're used to running Windows off an SSD, you'll know that it isn't quite as snappy.
It's always nice to have a touchscreen, but the Inspiron is not bendable or foldable in any way to make it easy to reach. The screen has a terribly disappointing resolution of 1366x768 - in a world of full-HD smartphones, this just looks tacky and is a huge waste of available space.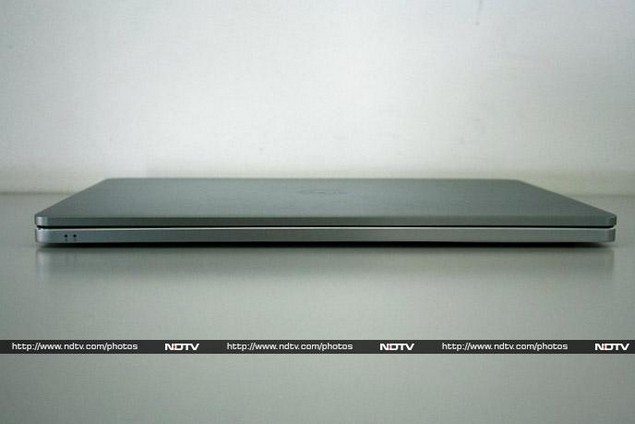 You also get Wi-Fi b/g/n, Bluetooth 4.0 and a 1-megapixel webcam. There's no optical drive but the SD card slot supports the SDXC standard which means you could potentially use cards up to 256GB in capacity.
Dell's minimalist design sense has clearly carried over to the selection of ports. There are only two USB ports on the Inspiron, but thankfully both are of the newer USB 3.0 variety (and the one on the left can be used to charge devices when the laptop itself is off). There's an HDMI port, an SD card slot and a standard headset socket, but nothing else beyond that. We would have liked at least an Ethernet port, but one wouldn't have fitted. Dell has missed a crucial opportunity to outdo Apple's MacBook Air and Pro, which it so clearly wants to compete with.
The Inspiron comes with Windows 8, which can be upgraded to 8.1 with all the latest updates for free via the Windows Store. Dell has thrown in a 15-month subscription to McAfee Security Centre, a trial version of Microsoft Office and a few in-house apps, but thankfully there isn't any other preinstalled software.
Performance
Benchmark test scores revealed a mixed bag of results: CPU-related tests did fairly well, matching competition such as Acer's super-svelte S7 ultrabook. We recorded scores of 231 in Cinebench's CPU test and an impressive 9 minutes, 9 seconds to render the POVRay benchmark scene. SiSoft Sandra's CPU Arithmetic, Cryptography and Multimedia tests produced impressive results, as did PCMark 8 in its Work and Home run-throughs.
Graphics scores were reasonable, but not very exciting. 658 overall in 3DMark should translate to decent performance for older 3D games and today's casual titles. Where things went south was in Sandra's storage subsystem tests: the overall drive score was abysmally low at about a tenth of what we might have seen from a modern SSD, and sequential read and write speeds were, on average, a fifth of what we would have liked.
These scores aren't bad on their own, but they reflect the massive performance gap between spinning drives and solid-state ones. Dell obviously chose a more budget-friendly option - the Inspiron 14 7000 costs just over half of what the Acer S7 costs and still looks fantastic - but buyers should know that there are much faster storage options available which do justice to the rest of the hardware.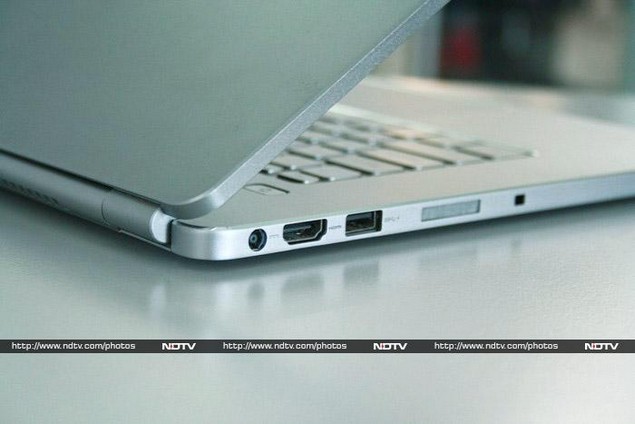 HD videos play just fine, but that isn't saying much considering the low-resolution screen. The screen is quite bright, but contrast seemed a bit too dark. Viewing angles aren't all that good, with major distortions becoming visible when the screen is tilted on its hinge. The glossy panel is also highly reflective.
The side-firing speakers are quite atrocious. Despite Dell's promise of "crystal clear sound" thanks to its Waves MaxxAudio software, the sound is way too thin and tinny, and there's massive distortion even at medium volume levels.
We also weren't too happy with the battery life. The Inspiron 14 7000 lasted only 2 hours, 38 minutes in our intensive Battery Eater Pro (Standard) test with the screen set to 50 percent brightness, which should translate to 8 hours or less of casual use on a single charge.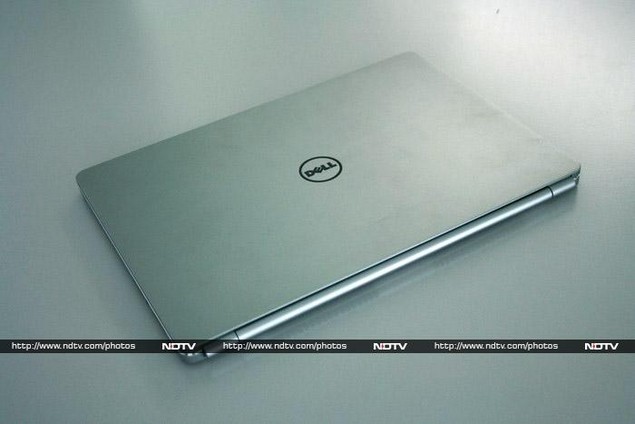 Verdict
We tested the Core i5 version of the Inspiron 14 7000 Series, which is surprisingly not as expensive as many of the laptops sold as ultrabooks today. It's very thin, relatively light, and decently powerful. Dell obviously made some choices with the hardware configuration to keep costs down, and unless you're absolutely militant about lightning-fast startup and shutdown times, you'll appreciate the cost savings more than you'll miss the SSD.
The main criticisms of this product apply to all thin-and-light laptops today: there aren't enough ports for expansion, the battery is sealed in, there's almost zero scope for upgrades and repairs, and form is prioritised over function just a bit too much. That said, we still think Dell could have done a much better job with the keyboard and trackpad - there are still plenty of people including students and home users who need to get serious work done, and this laptop does not do much for them.
The Inspiron 14 7000 is a fantastic choice for style-conscious buyers with a reasonable budget. Skip it if you need to do a lot of writing or if gaming performance is important to you, but give it serious consideration if you need a thin and light machine for anything else.
Price: Rs. 69,790
Pros:

Looks good

Decent CPU and graphics performance
Sturdy and lightweight

Good value for money

Cons:

Typing can be uncomfortable

Average battery life

Limited connectivity and expandability

Ratings (out of 5):

Design: 4
Display: 3.5
Performance: 3.5

Software: 3.5
Battery Life: 3.5
Value for Money: 4
Overall: 4

Dell Inspiron 14 7000 Series in pictures