Croma has been selling house-brand products for a while now, with varying degrees of success. There's definitely a risk involved when a company puts its brand on products sourced from outside; more so in categories that already have their fair share of cheap made-in-China OEM/ODM products.
The large-format retailer has now decided to put its stamp on tablets in addition to home appliances. Two models have been launched; the Croma 1179 with an 8-inch screen and the Croma 1177 with a 10.1-inch screen and a detachable keyboard case. We have the latter, which the company refers to as a "2-in-1", with us for review today.
While the device is sold exclusively by Croma, it does not carry the Croma brand in the same way that its appliances do. The box and device itself clearly state that it is manufactured for and imported by Datamini. If you were following the branded PC market in the late 90s and early 2000s, that name might ring a bell - the company was well-known for its Festiva range of desktop computers. Still, Croma advertises the products as its own (in collaboration with Intel).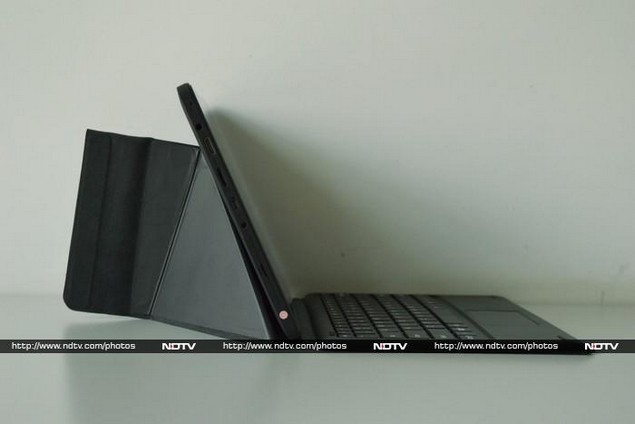 Look and feel
Intel came up with the moniker "2-in-1" to ease out the poorly received Ultrabook concept and give a new identity to touchscreen devices that work with or without a keyboard. 2-in-1s come in various shapes and sizes - some more like tablets and others more like laptops - leaving users with a variety of choices. We've seen detachable keyboard decks, lower halves that twist or swivel around completely, and many things in between.
The Croma 1177 is basically a tablet which comes with a case that doubles as a keyboard and stand. The keyboard feels more like an accessory than a detachable half of the device itself. The two work well together and chances are you'll rarely use the tablet without its keyboard cover.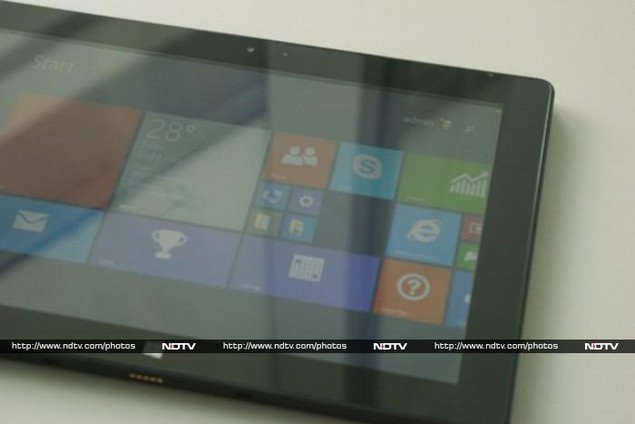 The tablet itself is just a black rectangle, made of rather ordinary plastic. The front is glossy just like any other tablet, and is so plain that the only things telling you which way is up are the Windows logo (which is actually a capacitive Home button) on the bottom and a webcam on the top. When held in this orientation, you'll find all the ports on the left edge, the power and volume buttons on the right end of the top, and a magnetic dock connector on the bottom.
The rear of the Croma 1177 has a soft velvety finish and is anything but minimal. It's covered with printing - a Datamini logo right in the centre, with Intel and Windows logos beneath it, with a Croma logo in one corner and regulatory information across from it. There are also twin stereo speakers on the lower rear. The quality of the printing is awful, and everything started chipping away in our hands as we used the device. Honestly, this is a huge part of what makes the tablet look as cheap as it does.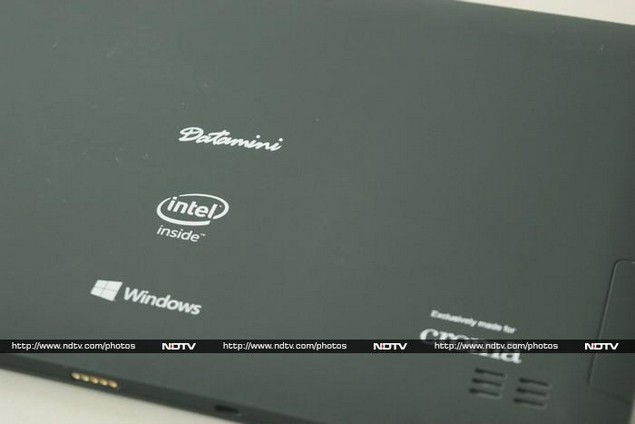 You get only a very limited selection of ports - one Micro-USB port, a Mini-HDMI video out, a headset jack, a microSD card slot, and a DC power input. This device does not charge via USB, and needs its own 9V charger. You won't find a full-sized USB host port, which is one of the things that can make a Windows 8 tablets as flexible as a laptop. You'll have to use a USB-OTG adapter which lets you plug devices in via the Micro-USB port, and thankfully one is included in the box.
The keyboard case snaps on magnetically and makes contact with the tablet using spring-loaded pins. It doesn't need to be paired with the tablet manually, which is a huge relief. From the outside, it looks like any other wraparound folio-style case, but you'll notice it adds significant heft to the tablet. The keyboard is surprisingly thick, which gives the keys a lot of room to travel. However its layout is very cramped, reminiscent of early netbook keyboards.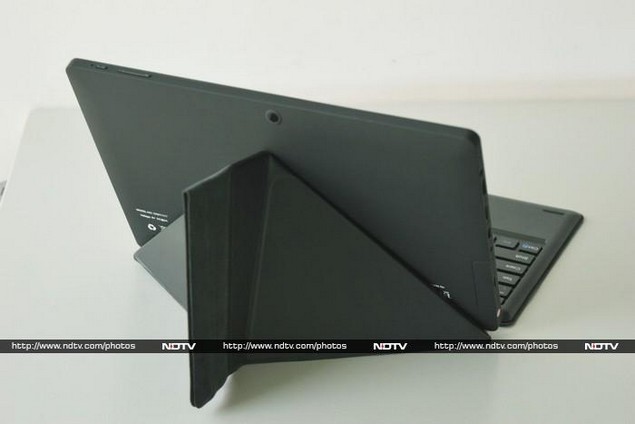 Annoyingly, even though there's enough space, the right Shift key is placed beyond the up arrow. The Fn keys double as shortcuts for Windows features and as Page Up, Page Down, Home and End keys, but space is wasted on dedicated asterisk, dash and slash keys in the upper right corner, like part of some non-existent number pad. Insert, Print Scrn and others are left out altogether.
The keys are a little too small and mushy, but the on the whole this keyboard is better than some of the very slim, expensive Bluetooth docks available today. It's also absolutely necessary for working with Windows - over half the screen would otherwise have been taken over by the on-screen keyboard. There's also a trackpad, which is not really accurate (but again, way, way better than nothing).
The case wraps around the entire tablet when folded, and the extra material at the back is creased in such a way that it can be bent into a stand for the tablet to rest against. We've seen this idea before and it's been done better. There are magnets to keep it from collapsing, but the whole thing is just unwieldy and there's no way to adjust its angle. You can't balance the whole contraption on your lap either.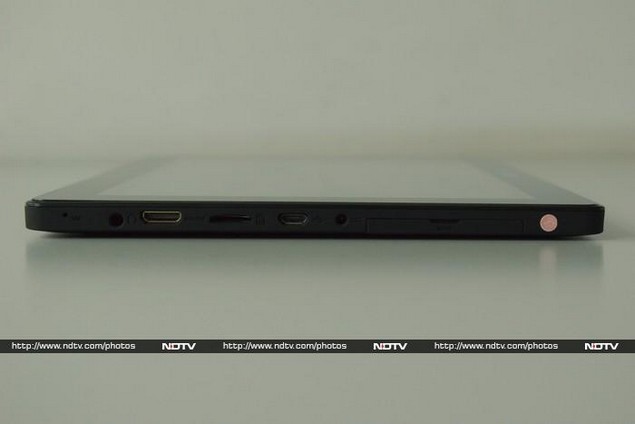 Specifications
There's a current-generation "Bay Trail" Atom Z3735D processor under the hood, with four cores running at 1.33GHz and integrated Intel HD graphics. This is a 64-bit capable CPU, yet Croma/Datamini has stuck to a 32-bit version of Windows - the cheaper-to-license "Windows 8.1 with Bing" version. There's 2GB of RAM (although Windows and various tools report that only 1.4GB is usable).
Internal storage is limited to a 32GB SSD, of which roughly 28.6GB is usable. You will definitely need to add a microSD card, and it's disappointing that 32GB is the highest capacity supported. USB devices work fine via a Micro-USB adapter, which you'll have to remember to carry everywhere - though at least flash drives with native Micro-USB connectors are now easily available in the market now.
You get Wi-Fi a/b/g/n and Bluetooth. Croma claims you can simply connect to any 3G or Wi-Fi network, and the tablet's online spec sheet simply says 3G is supported. When we checked for a SIM card slot underneath the plastic flap on the device's left edge, all we saw was empty space. It turns out that this is a slot for something called a "3G Ultra Stick", made by Huawei and not exactly widely available in India. In fact these seem to be available only in bulk from China - we don't know if Croma is planning to sell them as accessories and if so, at what price.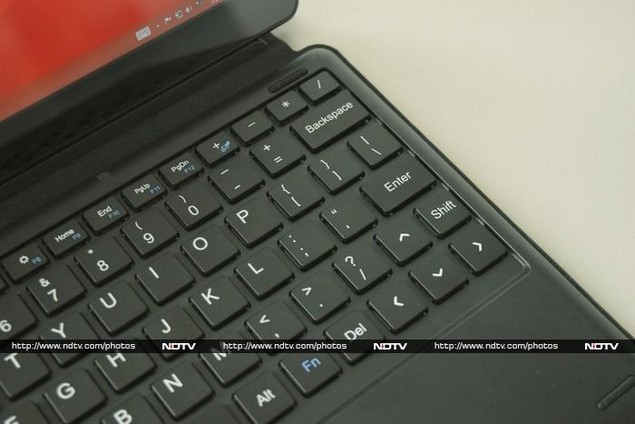 The 10.1-inch screen has a resolution of 1280x800 which is pretty comfortable to use in either portrait or landscape thanks to its taller 16:10 aspect ratio. The screen is a little grainy and is not the highest quality we've ever seen, though viewing angles are decent. A plastic protective film came pre-attached to our review unit, but there were air bubbles in spots and it was a bit too rough for our liking.
The rear camera is atrocious no matter how or where you use it, and there's almost no case in which it would make sense to use it. Photos and videos both are taken at 1920x1080 which works out to 2 megapixels.
Croma does not include any software with the tablet - you get the default Windows apps and anything you like from the Windows Store, along with the usual trial version of Microsoft Office.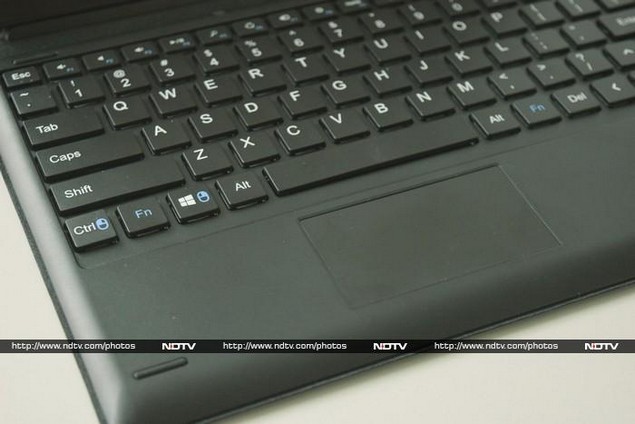 Performance
We found the Croma 1177 2-in-1 to be reasonably snappy during our time with it. We had no complaints about how quickly it booted up or navigation within Windows. We used it with plenty of Windows Store apps running, as well as a couple of browser windows with multiple tabs and light programs in the Windows 8.1 desktop. Again, we were reminded of the sort of usage and performance we used to expect from netbooks - no major work or content creation, but plenty of consumption of all types of things including games and videos.
Our main problems arose when trying to use the Windows 8 desktop by touch alone - this is more to do with the design of Windows and the screen size and resolution chosen. It's difficult, not impossible, but sadly unavoidable - even if you have the keyboard case with you all the time, it isn't practical to unfold it and prop up the tablet in every usage situation.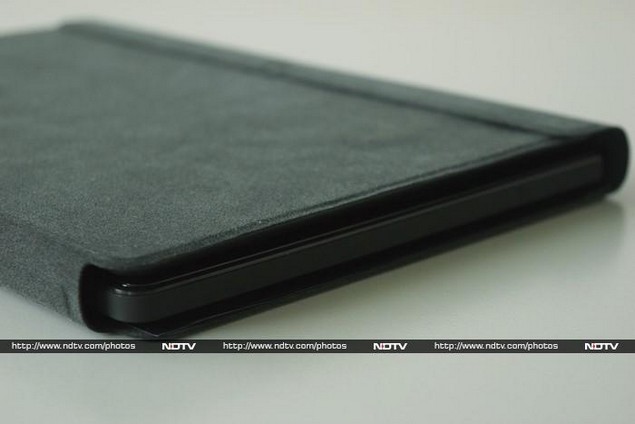 The keyboard is decent enough for typing out quick messages and comments, surfing the Web, and generally getting around Windows but you really wouldn't want to use it for any serious typing work. That's where this product loses out to 2-in-1s designed more like laptops (or like budget laptops themselves).
Benchmark performance was pretty solid, although some of our tests just did not run. PCMark couldn't be installed, 3DMark crashed repeatedly, and Cinebench is 64-bit only. The scores we did get were quite good though - 28 minutes and 55 seconds to render POVRay's built-in benchmark scene, 507.6ms in SunSpider, and 9996ms in Mozilla Kraken are all pretty decent. SiSoft SANDRA reported good CPU scores, though memory bandwidth suffered. The solid-state drive is not particularly fast - despite high sequential read scores, the write scores were no better than those of devices with mechanical drives.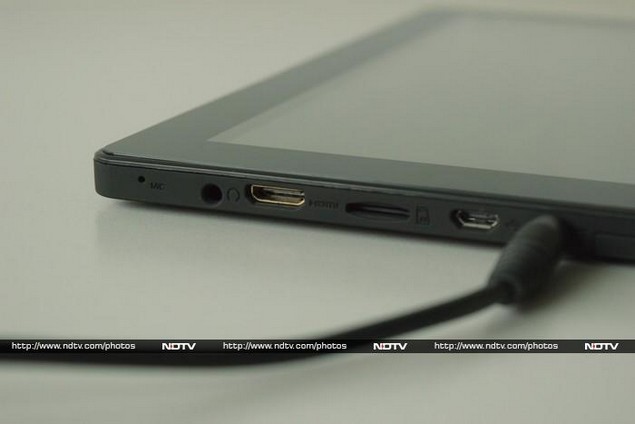 All our test videos played perfectly, with no skipping or artefacting. Sound was surprisingly loud and didn't distort much at high volumes but not everything sounds good. The sound is quite hollow and mids are lacking, which might be alright for games and movies, but leaves pop music sounding stifled.
The Croma 1177 exhibited extremely strange battery behaviour during our test period. First of all, it refuses to stay on even when explicitly set to not go to sleep when idle. When running the standard Battery Eater Pro benchmark, with all settings checked, the tablet seemed at first to have died in just 49 minutes. Upon restarting it, the test resumed automatically (as it is designed to do) even though the Windows battery icon showed 0% remaining - and then continued to run for over two hours more, showing zero percent all the way. The final total was 3 hours, 12 minutes - not very impressive, but it should equate to at least six hours of non-intensive usage.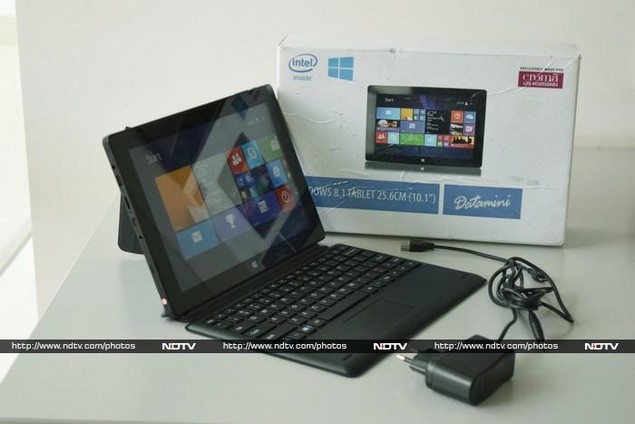 Verdict
Croma has taken a risk by rebadging a low-cost tablet, and this is definitely not a very polished product. However it does seem to work well and offers quite a bit of value. The company calls it the lowest-priced 2-in-1 in India, which is probably true, but doesn't mean it's the best possible device for your needs at this price point. Windows-based tablets still live in a grey area where native touch-friendly apps aren't that great or that plentiful, and non-touch devices offer better value.
If you're looking for a tablet for reading, surfing the Web and lounging around with, chances are an equivalently priced iPad or Android model will suit you better - and be lighter and easier to use as well. If you need something you can get work done on, you'll need a better keyboard and trackpad, plus the flexibility of a laptop. 2-in-1s are supposed to offer the best of both worlds but this particular implementation is in danger of being neither a great tablet nor a great laptop. Consider your requirements carefully before deciding to pick one up so that you don't end up disappointed.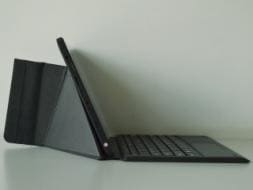 Croma 1177 in pictures