Gamers and enthusiasts in India don't have any really good-looking options when it comes to pre-built PCs. Sure, Alienware has been selling its beautiful designs for quite a while, but they're extraordinarily expensive and you don't have very much flexibility in terms of the hardware you get. Boutique assemblers have come and gone over the years, though none with a national footprint. Even then, products are priced to move and that means cutting corners on things like good-looking cabinets.
The best option for most is to assemble their own PCs (or hope that someone wants to do so for them). Luckily, there's no shortage of enthusiast-grade hardware, and so anyone with a bit of know-how can put together a machine that suits his or her budget and aesthetic senses.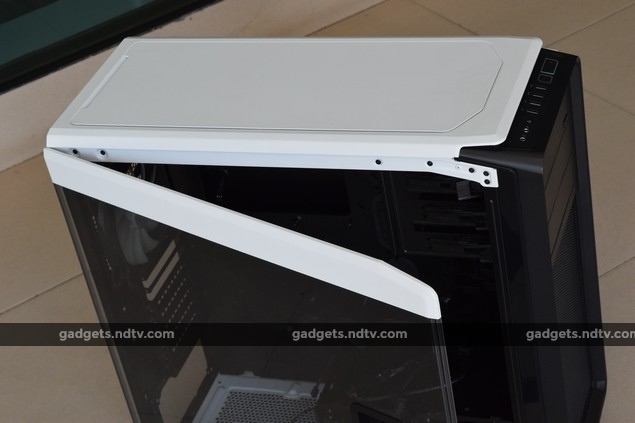 Corsair is happy to cater to this audience with its range of enthusiast-friendly cabinets. These are clearly not for buyers who just want to stick a box under their desks, or for whom every rupee counts. Looks are of course a high priority, but there are also plenty of features that ordinary bare-basic cabinets just don't offer. The Graphite Series is meant to combine serious business with edgy looks, and the 760T is no exception.
Look and feel
Ordinary PCs just don't look like this. The Graphite Series 760T is available in black and white, both with darkened translucent side panels. Our review unit was the white version, and it looks dramatic enough to make people stop and do a double-take. The 760T is actually quite subtle when seen head-on. It's when you see it from the side that you understand what it's all about - while most enthusiast cases have transparent windows, the entire side panel of this case is see-through.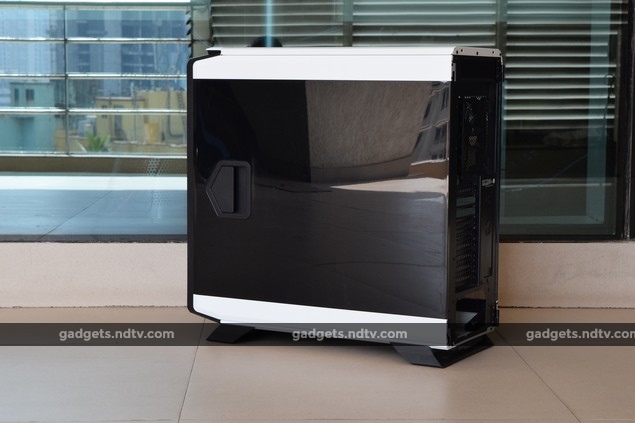 The smoky translucent side panel is made of acrylic rather than steel or aluminium. This means you can see every part of the inside, not just the area over the motherboard. The effect is undeniably dramatic, and makes things feel very spacious. It would be a criminal waste to build a high-end PC inside this cabinet and then place it in any way that obstructed this view.
Only the door on the left is translucent - the one on the right, behind which there's really nothing to see, is opaque but made of the same material. We know that users would have preferred metal at least on this side. The acrylic material is very, very susceptible to scratches and abrasions.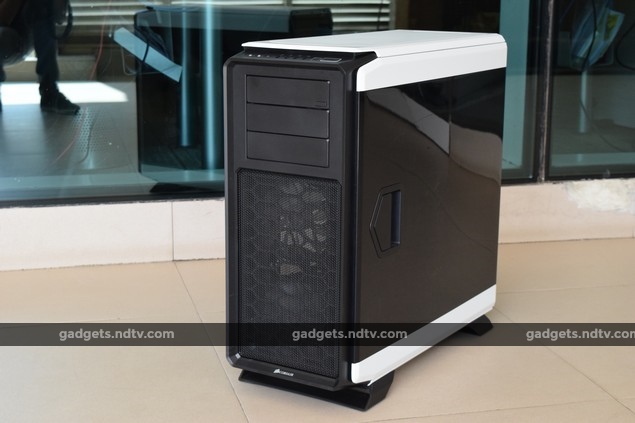 Both side panels are hinged at the back, which is again unusual. The doors open more than 180 degrees but there's no support to prop them open. We thought at first that this would make assembly difficult with this cabinet on its side, but closer inspection revealed that the doors can simply be lifted off their hinges.
There are magnets holding the doors closed in addition to a rather large clasp on each side. There's no lock, which could make it really easy for anyone to pop open the main door and make off with your components.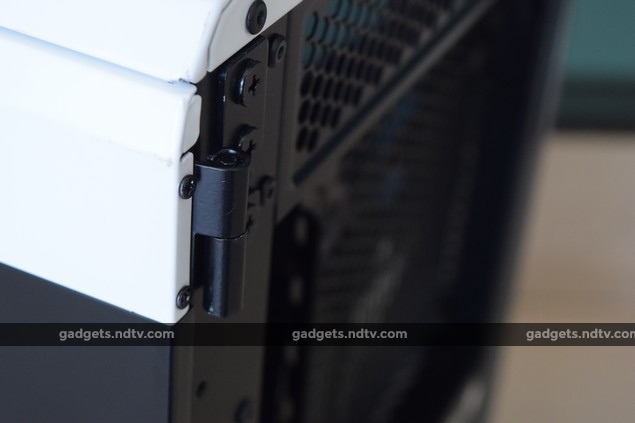 There are three 5.25-inch drive bays on the front, one of which can mask an optical drive. 3.5-inch drives are rare these days, but if you have an accessory designed to fit in one, you'll need to figure out your own adapter. Beneath the drives, there's nothing but a grille which covers the two factory-fitted Corsair AF140L fans. These are 140mm fans but there are also mounts for 120mm ones. Our white review unit came with white LED fans, and Corsair's materials show that the black version comes with red LED fans.
The front upper rim is home to the power and reset buttons along with a single fan speed control button, all of which are shallow but firm. There are two USB 2.0 ports, two USB 3.0 ports, and one 3.5mm socket each for audio in and out. All the usual cutouts can be found on the back, plus a Kensington lock slot which seems a bit funny considering the doors can be opened by anyone at any time.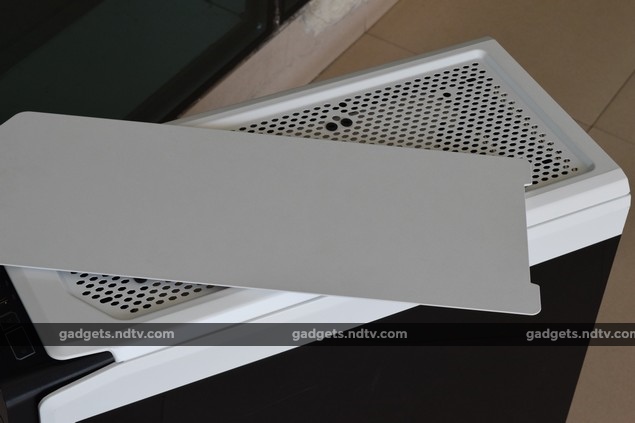 Nearly everything about the Graphite Series 760T looks slick and minimalist, with no sign of excessive design. At 11.2kg, its weight is also quite manageable.The only negative we'd put forth is that the front looks a bit too plasticky for a cabinet this expensive, and the printed Corsair logo does it no favours either.
Features and interior
The interior of the white Graphite Series 760T is all black except for the white top and bottom panels.
In addition to its external 5.25-inch bays, the Corsair Graphite Series 760T has six internal 3.5-inch bays and four dedicated 2.5-inch SSD mounts. All are toolless, and while the drive trays are a little flimsy, you should have more than enough space for all your needs. The 3.5-inch cages are spread out on the 760T's bottom, leaving the front intake fans unobstructed and also creating space for extra-long graphics cards. The SSD mounts are accessible only from the opposite door, but you can screw 2.5-inch drives into the 3.5-inch trays.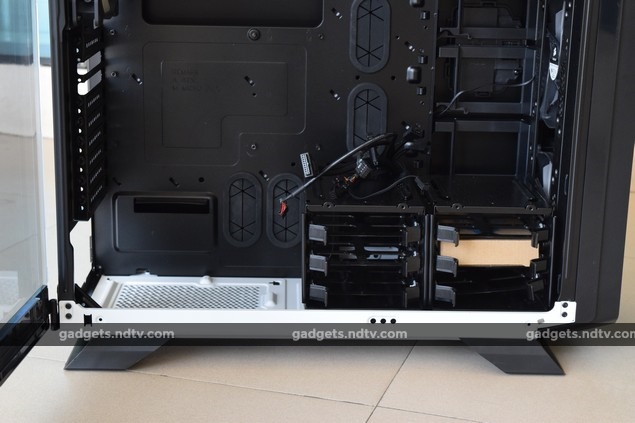 Cables can be routed behind the motherboard backplate - which you'll definitely want to do to make everything look good when it's on display. There's plenty of room, and all the cables for the front IO and case fans come neatly tied. The tray cutouts are all lined with rubber.
Ten motherboard standouts are preinstalled in locations suitable for ATX motherboards. Screw holes for Micro-ATX boards are labelled helpfully and it doesn't take much effort to relocate standoffs. One of the 3.5-inch bays is fitted with a cardboard box full of assorted screws and plastic cable ties - all black -which we thought was a nice touch.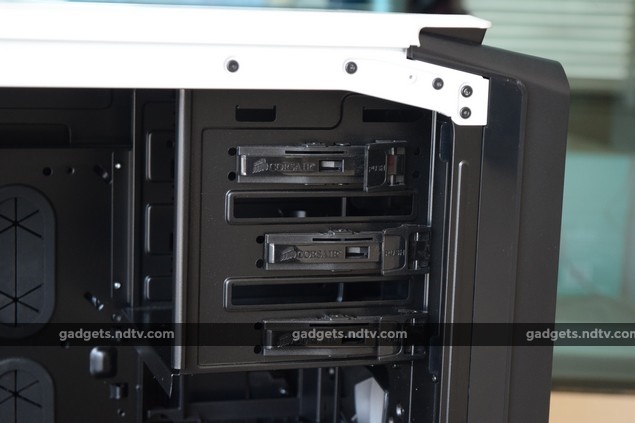 There's a 140mm fan on the rear (without lighting), and mounts for up to three more on the top as well as a cutout on the bottom for a power supply fan. The fan mounts on top will also accommodate radiators of up to 360mm. Corsair has covered the fan cutouts on the top with a magnetically attached metal plate which you'll have to remove if you want there to be any airflow. If you aren't using the top mounts at all, the 760T will look a lot better with the plate in place. There's an easily removable dust filter on the bottom, but the one in front will require you to pull off the entire front panel.
Installation and usage
There's loads of room to work inside the Graphite Series 760T. You'll need to lift the doors off their hinges or they'll just get in the way. Component installation is largely tool-free - you'll need a screwdriver for the motherboard and to pry the thumbscrews on the rear slot covers loose for the first time. Nothing is overly complicated and we were happy to note that there were no sharp edges inside.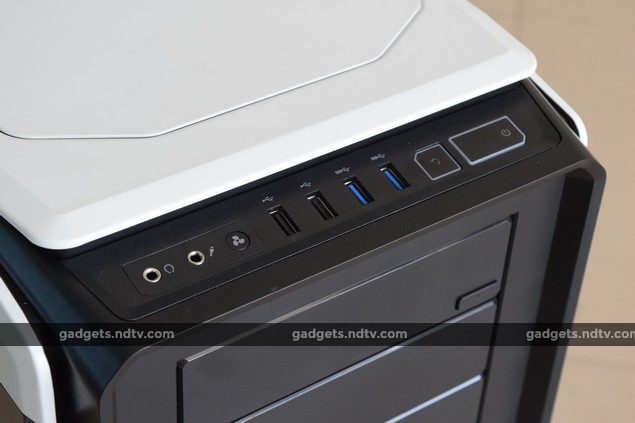 While Micro-ATX motherboards will certainly fit, this cabinet would be total overkill for anything smaller than ATX. We were happy to see that oversized graphics cards, such as the Gigabyte G1 Gaming GeForce GTX 970 we tested recently, will fit just fine. If you find aesthetics important, you'll want to use sleeved cables and tie them all carefully - and if not, this cabinet just won't be serving its purpose.
It should be obvious that the more elaborate your build is, the better it will look. The visual appeal of radiator tubes, LED lighting, fancy heatsinks and thick cable bundles will all be amplified inside the 760T. That said, dust buildup will also be that much more apparent.
While Corsair placed a simple fan controller on the front panel, there seems to be no way to turn off the lighting. There's also little you can do to reduce noise and vibrations - the 760T's magnets definitely help prevent the doors from rattling, but the overall design does not favour sound damping over aesthetics.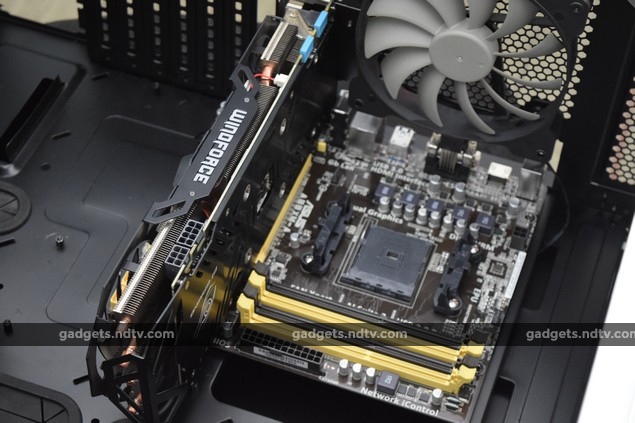 Verdict
The Corsair Graphite Series 760T is flat-out gorgeous. It doesn't have the excessive detailing that companies pandering to gamers often seem to overdose on, and in that sense, should appeal to a broad audience. Side windows have always been a desirable feature for those spending top dollar on their hardware, and this model takes the idea to a new extreme. If you like showing off your rig as much as actually using it, you will absolutely love what Corsair has pulled off.
This cabinet has loads of space for high-end components, including multiple closed-loop liquid coolers. We also like the clever, flexible storage mounts. Dust and noise will be of concern, so you'll have to choose what your priorities are.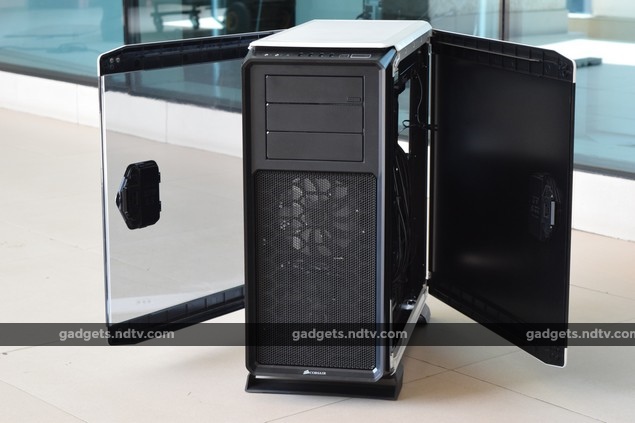 Rs. 15,499 is over five times more than most PC buyers would spend on just the cabinet of their PC, so it's apparent that only serious enthusiasts with cash to burn should be considering an indulgence like this.
On a final note, those who don't care about the transparent side can consider the slightly less expensive Corsair Graphite Series 730T which is identical apart from having opaque doors. It doesn't exude the same vibe and doesn't stand apart from cabinets from other brands in this price range. If you're spending so much on a cabinet anyway, you might as well get one that really makes you happy.
Price (MRP):
Rs. 15,499
Pros
Unique understated look with transparent side

Excellent construction quality

Tool-free design
Space for large components

Cons

Acrylic window is prone to scratches

Noise could become a problem

Expensive

Ratings (Out of 5)
Design: 4.5
Value for Money: 3
Overall: 4