PC builders fall into two broad categories: those who just want to keep things as cheap and simple as possible, and those who insist on a higher level of quality. For the former, there are hundreds of cheap cabinets made out of bent sheet metal, often sold with low-quality power supplies preinstalled for less than Rs. 2,000. These might hold all your components together, but there's no real thought that goes into their design, so you can't expect much in terms of quality.
For those who do care, we thankfully have a wide range of options from international brands, but cost does shoot up. You can expect to pay at least Rs. 3,500 each for a decent PC case and power supply. That's quite big difference, but you do get your money's worth. Apart from generally looking a lot better, enthusiast-class PC cases are mores sturdy, support high-end components, offer better cooling, and have lots of little touches that make installation and maintenance easier.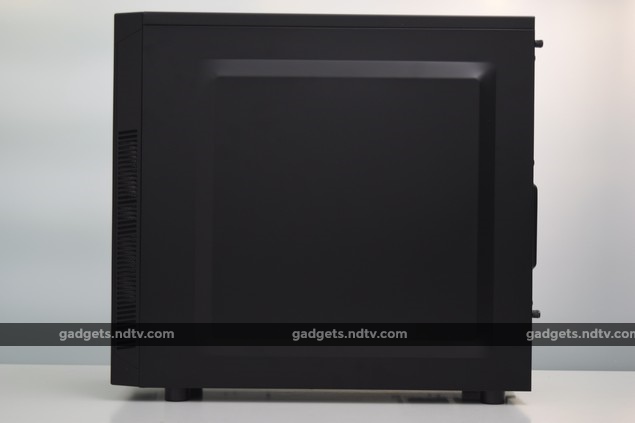 Corsair's products are held in high regard by gamers and enthusiasts, and the company has a variety of cases for those who are willing to pay. The Carbide 200R has been one of our favourites for a while, thanks mainly to its low price and extremely sedate look. Now, with the launch of the Carbide 100R and Carbide 100R Silent Edition, there are two new options that cost even less. Both bring enthusiast-class features to new low price points, but they have very different purposes and appeals. We've reviewed both side by side to help you decide whether one of them is right for your next build.
Look and feel
Both models, the Carbide 100R and Carbide 100R Silent Edition, have an understated, minimalist look. You won't find any colours, logos, lights, or decorations of any sort. Sometimes companies go overboard in catering to a stereotypical image of gamers, but thankfully Corsair has refrained from doing so. The only thing that diminishes the cases' appeal at first glance is the low-quality printing of the Corsair logo and front port labels.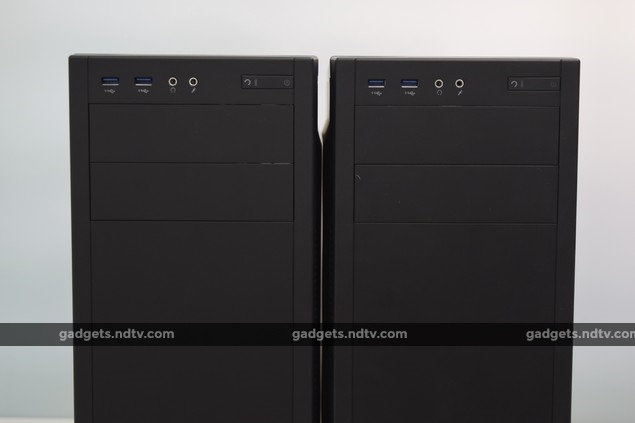 The primary difference between the twin models is that the Silent Edition, as its name suggests, has been designed to help reduce noise as far as possible. Corsair has achieved this primarily by using a foam padding all over the interior and sealing off extraneous openings. The Carbide 100R Silent Edition comes with two fans and a simple built-in fan speed controller, while the vanilla Carbide 100R comes with only one fan preinstalled. However, the Carbide 100R has the one feature that most enthusiasts love above all else - a transparent side panel that lets you show off all your components.
Both cases have two 5.25-inch drive bays on the front, whereas the Carbide 200R had three. It's almost a shame to install an optical drive in this cabinet and disrupt the absolutely flat monolithic front face. Above the bays you'll find two USB 3.0 ports, 3.5mm audio in and out sockets, and the power and reset buttons. The buttons are flush with the front face and are small and stiff enough to resist accidental presses. The power and hard drive activity LEDs are integrated into the button surface and are thankfully white, in keeping with the theme of unobtrusive design.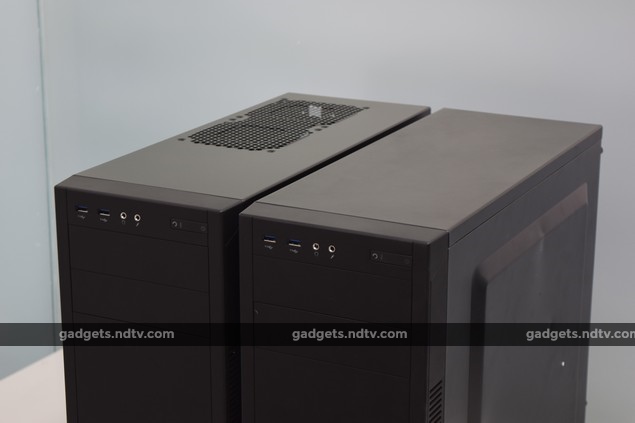 The rest of the front is entirely blank but there are vents for the front intake fan around the sides of the front panel. Both models have extruded side panels so they aren't as thin as they might seem head-on. We aren't really fans of this design - flat sides would have really made the blocky look complete - but it does allow for tall coolers and graphics cards on one side, and cable routing on the other.
The Carbide 100R has a grille on top where two additional fans can be mounted. There is no filter or cover and the holes are pretty huge which is great for airflow but could be terrible in dusty environments. The Silent Edition on the other hand is totally blank on top. Both variants have slide-out dust filters for the PSU intake fan on the bottom.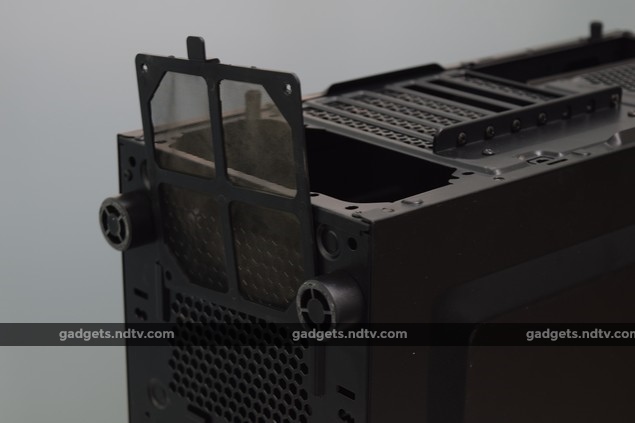 Around the back, you'll see a fairly standard ATX layout. The power supply mounts on the bottom, which helps keep cases stable. Expansion card backplates will peek through the rear of either cabinet and have to be screwed in from the outside. There are regular screws here, not thumbscrews. The Silent Edition's simple three-way fan speed switch can be found right on top, above the rear fan mount. The plain Carbide 100R has only an empty hole there.
Features and interior
The two side panels come off easily after you remove the thumbscrews holding them in place. The interior has been powder coated black, and looks great. The Silent Edition has liberal amounts of padding on both side panels, the top, the front, and even the insides of each 5.25-inch blanking plate. Both cases have rubber spacers where the power supplies will fit, hopefully reducing vibrations.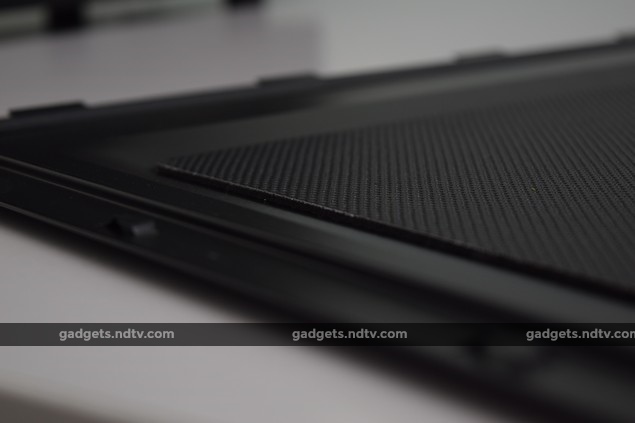 You'll find the four 3.5-inch hard drive bays on the bottom of the case, leaving space for large graphics cards and unobstructed airflow from the front intake fan position. Unlike in the Carbide 200R, neither of the Carbide 100R siblings has tool-free 2.5-inch SSD mounts - you can screw SSDs into the 3.5-inch tray caddies. Hard drives sit perpendicular to the cabinet so you can route cables from behind the motherboard backplate.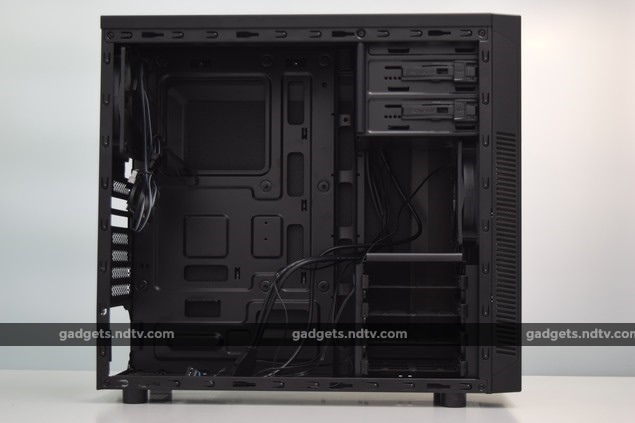 Corsair ships a cardboard box full of cable ties and screws with each cabinet, conveniently sized to fit in a spare drive caddy. Installation of 3.5-inch drives is entirely tool free, but the caddies don't have any vibration damping. The 5.25-inch bays also let you just slide drives in and lock them into place with built-in clips.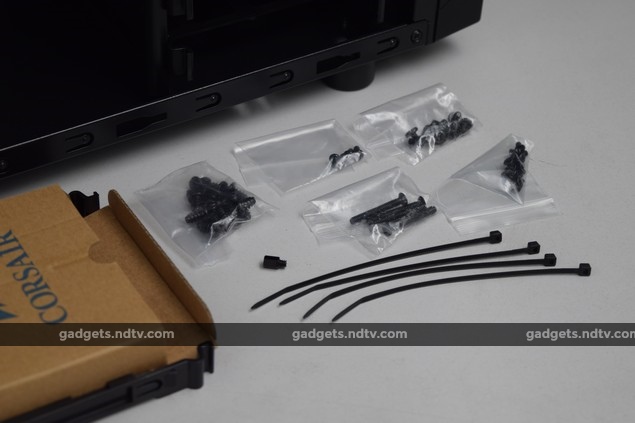 The motherboard area is exactly the size of an ATX board and you have absolutely no space above or below it. Motherboard standoffs are preinstalled. There's a generous cutout to help you deal with large cooler backplates, and holes in the metal frame alongside for cable routing. The holes are not rubber-lined, but you won't find any sharp edges either.
Installation and usage
One of the first things we noticed about the Carbide 100R cases is that they slid around on our work surface far too easily. The legs are made of brittle plastic and so there is very little friction. Thankfully, the weight of a power supply and other components mitigated this a little.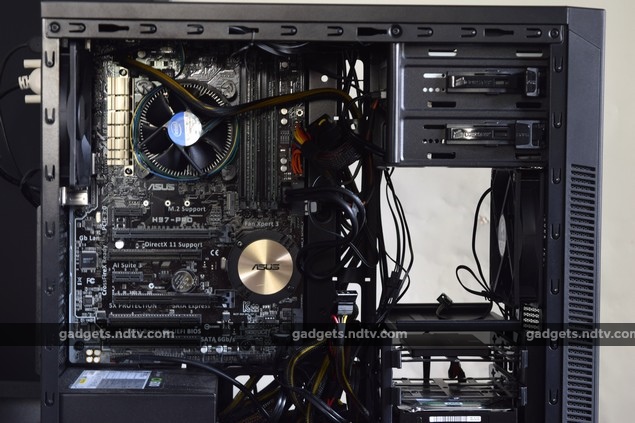 Component installation wasn't exactly easy thanks to the cramped interior. We had a tough time manoeuvring a full-sized ATX motherboard into place and routing cables from a standard power supply through the backplate and back around to where they were needed. We also found that the right side panel's extrusion didn't offer quite as much space for thick power supply cables as we thought we'd have.
There's no space for large radiators but if you're planning to use a closed-loop cooler, chances are you'd have a higher-end case anyway. The Silent Edition's fan controller can support three fans and is powered by a single SATA power lead from your power supply. Its wires are really long and unfortunately there's no way to tie or anchor them to the case interior. All other cables can be routed neatly, but these dangle.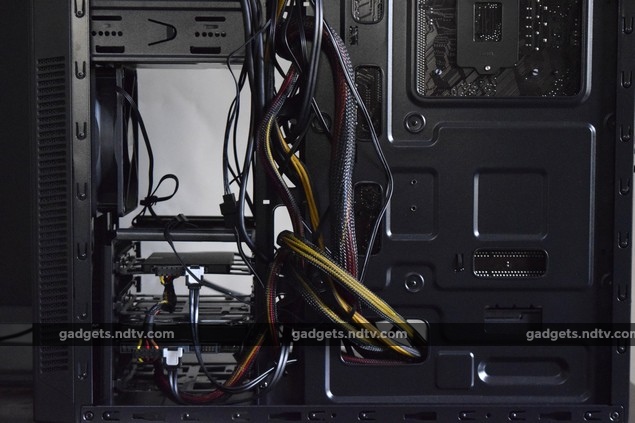 The fan controller has three positions but Corsair's preinstalled fans are pretty quiet even at full blast. Both have three-pin leads but you can still connect them directly to your motherboard (in which case the controller is left unused).
We built a full running system inside the Corsair Carbide 100R Silent Edition, which was the more interesting of the two variants. Interestingly, the bright white front panel LEDS proved more distracting than any noise. Our finished PC was blissfully quiet, though we do have to say that most components today are a lot less noisy than they used to be. Solid-state drives are entirely silent, hard drives don't sound like jet engines anymore, and even CPU fans and graphics cards are generally better behaved thanks to reduced power consumption and heat output.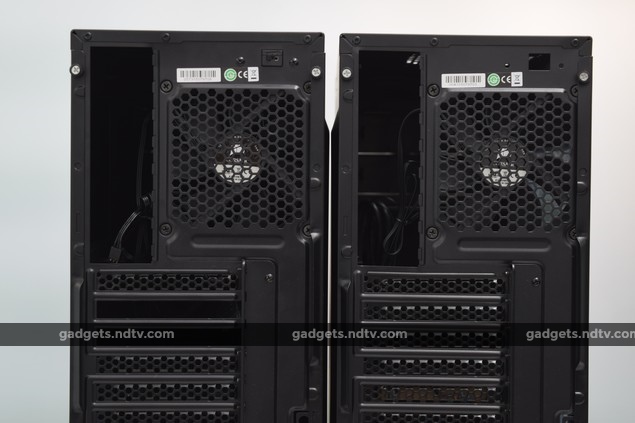 Even so, we appreciated the Silent Edition's padding. Temperatures stayed within control, and we eventually just left the fans set to full speed because there was no appreciable increase in noise and we didn't like the idea of forgetting to reach around the back each time we did anything that might cause temperatures to rise.
Verdict
Corsair has delivered two very attractive cases for casual enthusiasts and DIYers, each geared towards a different need. Those who have no problems with noise will really love the vanilla Carbide 100R for its huge transparent side panel - something that has till now been available only on much more expensive models. On the other hand, those who want a quiet desktop for their bedrooms or any other such situation will love the Silent Edition.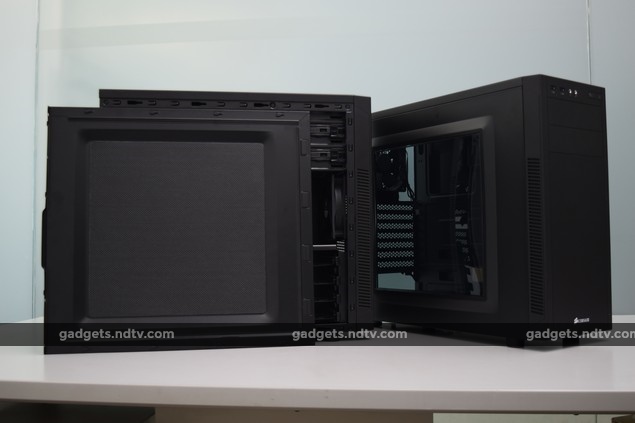 If dust is a problem where you live, you'd be better off with the Silent Edition which has fewer holes. Either way, it would be a good idea to clean the foam panels every so often because dust will build up.
These cases aren't suitable for those who swap components very often or need to have huge power supplies and coolers or lots of hard drives and SSDs. You'll need to spend a bit more for that kind of flexibility. However, for those with more ordinary needs who want to do better than bargain-basement cabinets, these two are well worth the money - and it certainly doesn't hurt that they look great too.
Price (MRP):
Rs. 3,999 (Carbide 100R); Rs. 4,499 (Carbide 100R Silent Edition)
Pros
Choice between noise-reducing padding and side window

Minimalist good looks

Good construction quality
Excellent value for money

Cons

Slightly cramped

Limited space for cooling, drives, cable management

Ratings (Out of 5)
Design: 4.0
Value for Money: 5.0
Overall: 4.5