Asus might not be the first brand on anyone's mind when it comes to buying a laptop, but the Taiwanese giant has been pretty steady and innovative for the past few years despite its low profile. Best known for PC components, Asus began pivoted towards fully-built devices quite some time ago and has been cranking out interesting products ever since.
Asus likes making big splashes with crazy multi-purpose devices such as the Padfone and Transformer series (and takes especial pleasure in one-upping Apple) but there are also more sedate offerings in its lineup, such as today's review product. The ZenBook UX305F is rather unassuming, but its looks, spec sheet and price tag have us very interested.
There's no doubt at all in our minds about this device's reason for existing - it's the latest in a long line of wannabe MacBook Air killers. There is no shortage of such laptops in the market - pretty much every company on the planet has been trying to beat Apple at its own game since the day the original was launched, but to varying degrees of success.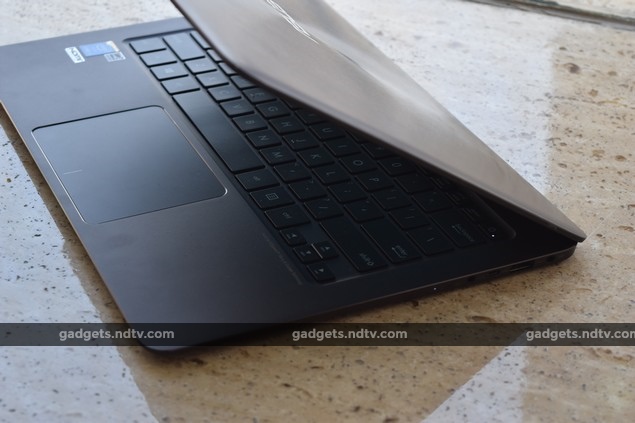 Look and feel
The ZenBook UX305F is available in two colours, white and what Asus calls Obsidian Stone. We received the latter, and it's an unusual purplish-brown colour that looks different under different types of light. Asus's trademark concentric circle pattern is brushed into the lid and is actually very subtle this time, thanks to the dull matte finish. The body is smooth and because it's mostly metal, it can feel really cold to the touch when used in air-conditioned environments.
The UX305F is remarkably thin at 12.3mm and weighs just 1.2kg, making it very easy to carry around in one hand. Even the charger that ships with it is small and convenient, barely any larger than a tablet charger. You'll find two USB 3.0 ports and a full-sized SD card slot on the left, with another USB 3.0 port, Micro-HDMI video out, headset socket, LED status indicators and charger inlet on the right. The last USB 3.0 port supports fast charging and will let other devices pull power even when the UX305F itself is asleep.
We love the fact that the lid can be raised with just one finger - you don't have to hold the base down. However, the hinge pivots such that the rear of the laptop rests on the bottom of the lid when it's raised - the lower half's rear legs are lifted slightly off whatever surface the laptop is resting on. Without those rubber legs making contact, the UX305F slid around on our desk at the slightest touch, which is not how it should behave.
With it open, you'll see more of the same Obsidian Stone finish around the screen and keyboard deck. Only the keys themselves are black. The screen stands out because of its non-glossy finish, which is increasingly rare these days, and something that a lot of people appreciate - though this is only possible because touch is not an option. There's a bright silver Asus logo beneath the screen which is sometimes a little distracting.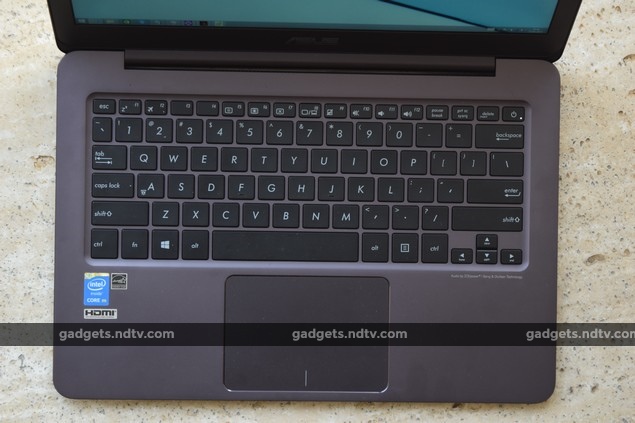 The keyboard is nicely sized and spaced, and we're happy to note that pretty much every key is in its rightful position and none have been dropped. Even the arrow key cluster, though cramped, is not too difficult to deal with. We were worried that we might accidentally hit the power button when reaching for the Backspace key, but Asus has very cleverly made it a lot stiffer than the other buttons so you'll feel some resistance and can stop yourself in time - we absolutely love this tiny little design detail. A backlight would have made this keyboard perfect.

The trackpad has integrated buttons and a nice smooth texture - oddly though, sliding a finger across it produces a very audible sound. We also noted with pleasure that two-finger swipe scrolling was set to the classic non-inverted direction by default.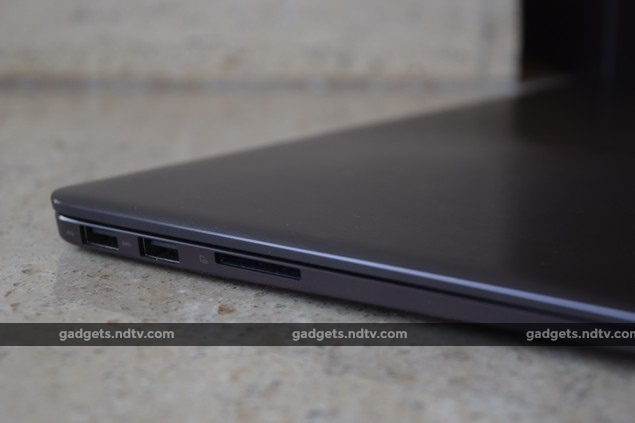 We wish Asus had been able to ditch the brightly coloured stickers on the wrist rest, which really do detract from the UX305F's staid look. Also, while we really like the ZenBook UX305F in terms of appearances, we have concerns about how long it will stay looking good. The finish, especially on the wrist rests, picks up a lot of smudges. It's likely to get discoloured and patchy with regular use. Scuffs also began appearing around the corners and edges of the lid after just a day of handling it like any other laptop. You'll definitely want to find a protective sleeve to carry this laptop around in.
Specifications and software
At the heart of the ZenBook UX305F is a Core M-5Y10 processor, part of Intel's new line of ultra-low-power devices for exactly this kind of thin-and-light laptop. It has two CPU cores with Hyper-Threading and can scale its speed from 800MHz to 2.0GHz in order to balance power requirements. It also stays under a 4.5W TDP, which allows the UX305 to dispense with a cooling fan.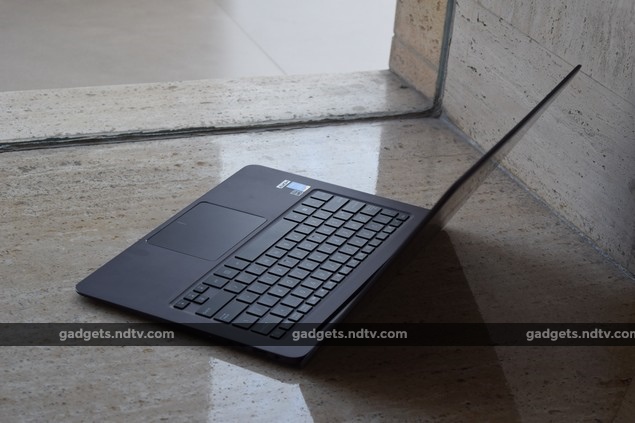 The laptop comes with 4GB of RAM which cannot be upgraded, and a 256GB M.2 SSD module. Graphics are handled by the integrated Intel HD 5300 GPU. The 13.3-inch screen has a resolution of 1920x1080 and there's also Wi-Fi g/n and Bluetooth 4.0. Asus advertises superior sound thanks to a tie-up with Bang & Olufsen. No other configuration options are available in India at this time, though more RAM, larger SSDs and higher-resolution screen options might come in later.
You get a 64-bit edition of Windows 8.1 and thankfully, preinstalled software has been kept to a minimum. You get McAfee LiveSafe, the standard Microsoft Office trial, TripAdvisor, Twitter, Line, Skype, Zinio, Music Maker Jam, and Fresh Paint. There are a bunch of Asus utilities for managing the powered USB port, trackpad gestures, screen calibration, Web storage, BIOS updates, and the B&O ICEpower audio enhancements.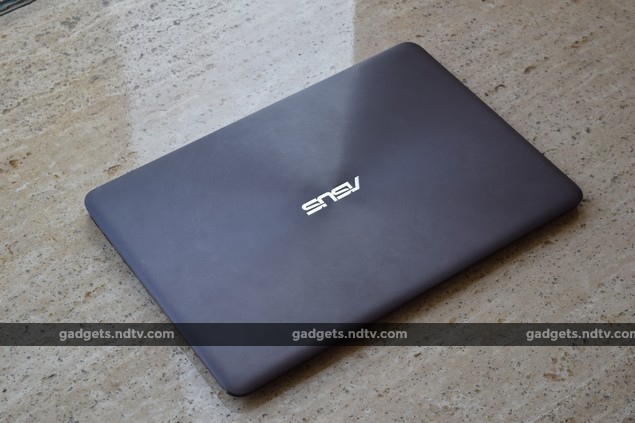 Performance
The ZenBook UX305F is a pleasure to work with. We appreciated how quickly it booted and how responsive it felt when loading and switching between programs. It's also completely silent thanks to the lack of fans and moving parts, which subtly gives this laptop an even more premium feel. The keyboard is crisp and comfortable. We sometimes found ourselves missing a touchscreen, but this was never a real annoyance.
With that said, the Core M processor definitely isn't a powerhouse. You'll be quite happy with it for most productivity and entertainment needs but we wouldn't try anything mission-critical on this laptop - and you can pretty much forget about playing 3D games at high quality settings.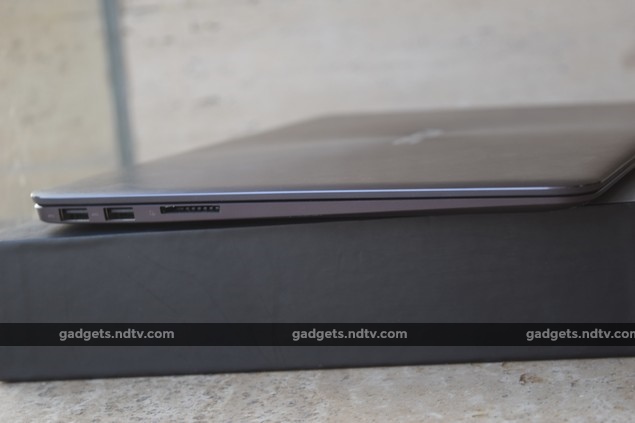 We scored 2,383 and 4,013 points in PCMark 8's Home and Work tests, respectively, which were pretty much at par with the Lenovo Yoga 3 Pro we tested recently, also built around a Core M processor. The similarities continued through Cinebench R15, with a score of 146 points, as well as POVray, with a trace time of 14 minutes, 20 seconds. Graphics tests came out a little better, most likely due to the fact that the UX305F has a lower-resolution screen to drive: we managed 372 points overall in 3DMark's Fire Strike run.
SiSoft SANDRA gave us decent CPU and multimedia aggregate scores, including good performance in encryption thanks to the CPU's ability to accelerate such tasks. It also revealed one of the UX305F's best strengths; its fast SSD. We recorded sequential read and write scores of 534.88Mbps and 480.08Mbps respectively.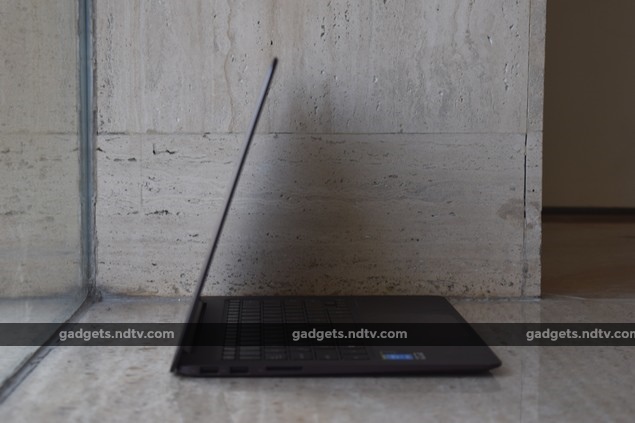 Battery life was also reasonably good, with the UX305F lasting 4 hours, 22 minutes in the standard Battery Eater Pro test. We found that with Wi-Fi enabled and the screen set to 50 percent brightness, we could easily make it through an ordinary work day with this laptop.
The non-reflective screen was a pleasure to work with, though we had to undo the aggressive default Windows 8.1 scaling which made everything look crisp but bloated by reducing our effective working space to that of a 960x540 resolution screen. Native 1920x1080 is very comfortable on a 13-inch screen, but you might prefer the medium 1280x720 setting.
Not all our 1080p video samples ran smoothly, though. We also felt the bottom right of the UX305F become quite warm when trying to play high-res movies. Sound was particularly weak despite the claimed B&O enhancements - not only was volume weak, but sound distorted at even medium levels and had no real warmth. The speakers fire downwards and sideways from the bottom of the laptop, which means you only get decent sound if it's placed on a flat surface.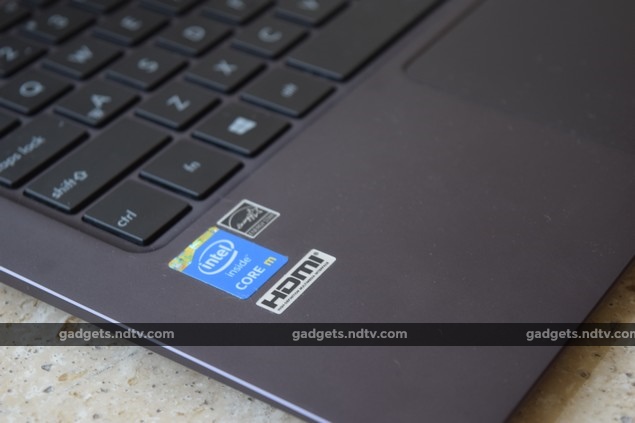 Verdict
There's a lot to like about the Asus ZenBook UX305F. In fact, it's very nearly a power user's dream come true. It looks great and is extremely easy to carry around. There are clever elements of design throughout, but no extraneous fluff that seems to have come at the cost of features or usability. The screen, keyboard, trackpad and software are all attuned to the needs of a focused PC user. Battery life hasn't been compromised and neither has connectivity.
Sure, a touchscreen would have been nice and some upgradeability wouldn't have hurt. A little more CPU grunt and a backlit keyboard wouldn't be amiss either. But all things considered, the UX305F really stands out for us as a well-rounded, well-designed device.
And with all that praise, what really seals the deal for us is its price. At just a hair under Rs. 50,000, we have no hesitation whatsoever about recommending this laptop. If there was any doubt left about whether or not it's a legitimate MacBook Air killer, the price alone should put that to rest.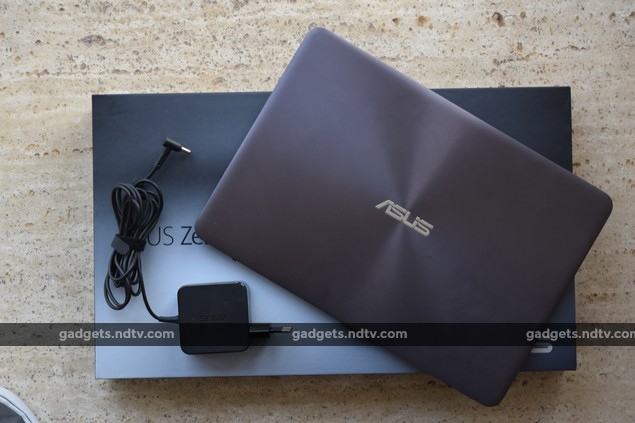 Compared to Apple's now-ageing offering, you get a better screen, better connectivity, more storage, and no disadvantages other than perhaps slightly less battery life at a significantly lower cost. In fact, we would really love for Asus to launch the 8GB RAM/512GB SSD model here, since that would still not exceed the cost of an entry-level 13-inch MacBook Air.
Overall, Asus deserves a higher profile in the Indian laptop market. If the company is smart about promotion, this could be a very successful product. It has taken long enough for someone to come up with a product like this, and we hope to see even better things from Asus in the future.
Price (MRP):
Rs. 49,999
Pros
Study, slim and light

Very good keyboard, trackpad and screen

Good battery life
Excellent value for money

Cons

Middling CPU and graphics performance

No touchscreen or keyboard backlight

Ratings (Out of 5)
Design: 4
Display: 4

Performance: 4

Software: 4
Battery life: 4

Value for Money: 5
Overall: 4.5