Asus is underrated as a laptop manufacturer, but it has some of the most interesting models available right now. We absolutely loved the Asus ZenBook UX305F ultrabook last year, mostly for its slimness and power, but also for its low price. It seemed as though Asus had made some fairly intelligent choices, cutting flab where necessary but ultimately delivering a solid product with a clear target audience.
While the UX305 series was designed to be slim above all else, its sibling, the UX303 series offers a little more power in a slightly thicker body. Both models have just received refreshes with Intel's sixth-generation Core i and Core m processors, and the UX303 also gets Nvidia's current-gen graphics.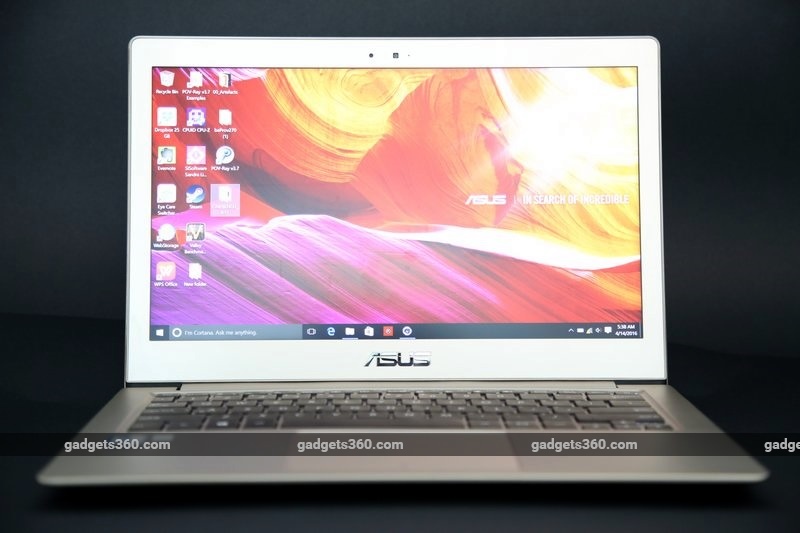 More choice is always a good thing, so we spent some time with the recently launched ZenBook UX303UB to see if it matches up to its sibling's pedigree, and if this different balance of design and power makes a huge difference.
Look and feel
While not as slim as its "MacBook Air killer" sibling, this is still a very portable laptop. It's just under 20mm thick and weighs 1.45kg. It's available in Smoky Brown and Icicle Gold, and we have the latter for review, which we found just a little gaudy. The lid has Asus' trademark concentric ring pattern, but the finish is totally smooth and not textured.
As far as build quality goes, we're happy with what we see. You can lift the lid with one finger and the base stays put. The screen doesn't flex and the hinge feels pretty solid. The screen frame is the only part of the UX303UB that feels less than perfectly solid, and there are minor ripples when it is pressed hard.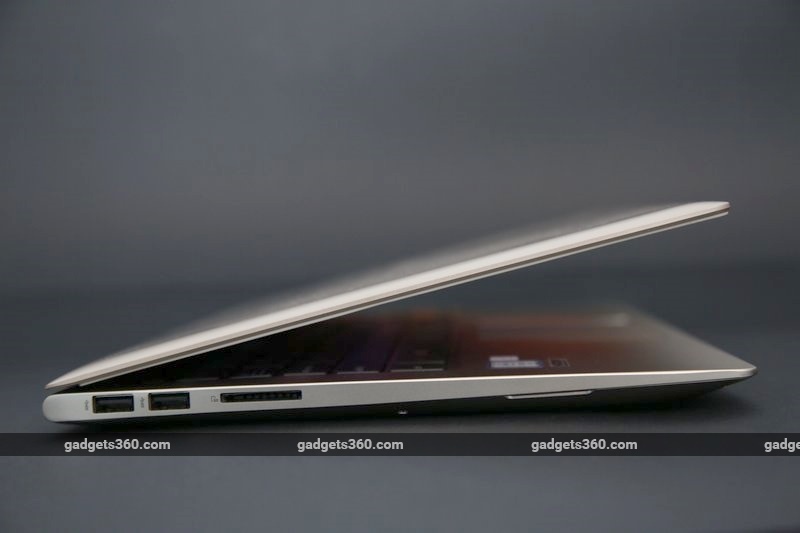 There are two USB 3.0 ports and an exposed SD card slot on the left, and another USB 3.0 port on the right along with a full-sized HDMI port, a Mini-DisplayPort, a 3.5mm audio socket, and the DC power inlet - pretty impressive for a slim laptop. Even better, Asus throws in one USB-to-Ethernet adapter, and one Mini-DP-to-VGA adapter. The speakers are on the bottom overhang, firing downwards, so they sound better when there's a flat surface to reflect off.
Opening the lid reveals a fairly spacious keyboard and trackpad. The keyboard layout is the same as what we saw on the UX305FA, and we quite liked it when we used it then. It feels a little mushier, and the power button in the upper right corner is easier to hit accidentally, but on the other hand there's a backlight this time which is always welcome.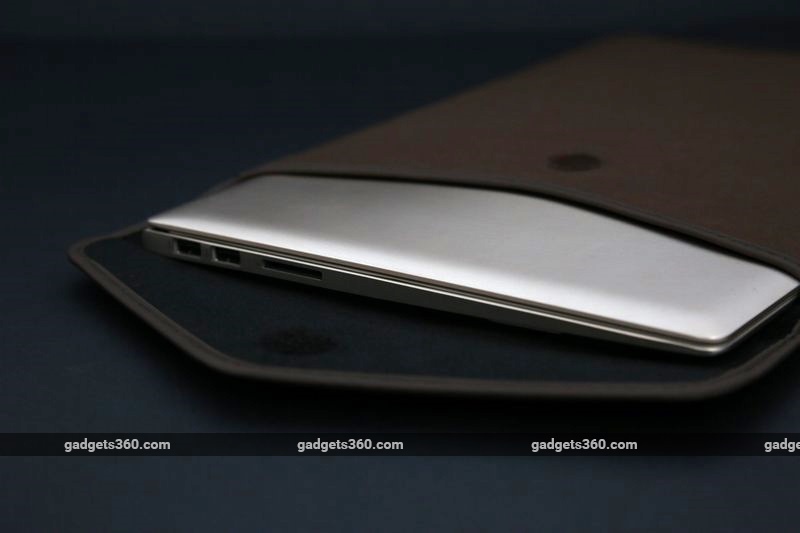 You get a pretty nice cloth sleeve in the box, along with a Velcro cable tie, a microfibre cloth, and the aforementioned dongles. The sleeve doesn't have room for the laptop's charger, which isn't too big but is a slightly awkward shape.
Specifications and software
It's important to note that Asus sells notebooks in India which have the same names and model numbers as those in other regions, but with vastly different specifications. The company has trimmed features here and there, most likely in order to keep prices down, but the side effect is that a lot of noteworthy hardware has been stripped from the version of the UX303UB that sells here. The 3200x1800-pixel touchscreen common across variants selling in other markets has been downgraded, the SSD has been replaced by mechanical storage, and there's only a single variant with a single CPU option.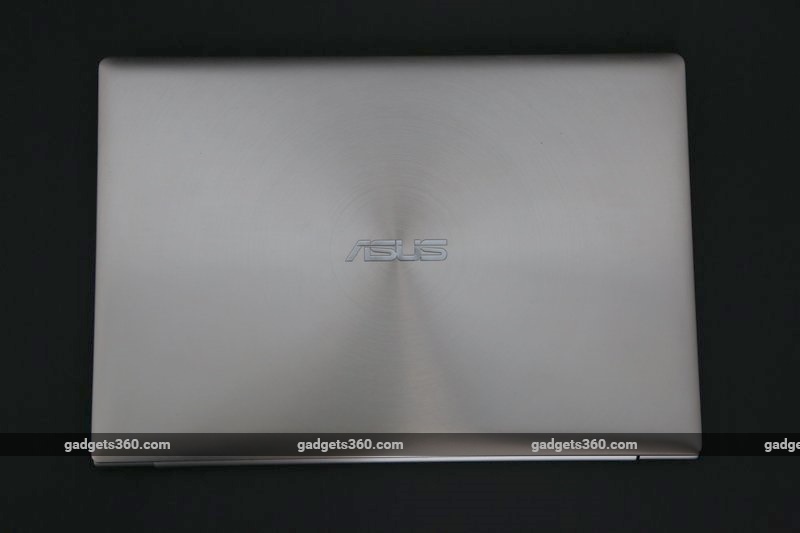 While it isn't quite what you'd get elsewhere, the Indian UX303B is not a huge disappointment, especially considering its price. The processor is a sixth-generation Intel Core-i5 6200U, which has two physical cores running at up to 2.8GHz. There's 8GB of RAM and it appears that 4GB is soldered to the motherboard but the other 4GB is a standard SODIMM module that can be replaced. Asus has done this with a few other models as well, and while it does impose limitations if you're trying to upgrade, at least it isn't impossible.
There's only mechanical storage, which is a bit of a disappointment in terms of speed but at least you get 1TB of drive space. The display resolution is 1920x1080 which is decent for a 13-inch laptop, but not as crisp as other high-end laptops with high-DPI panels. There's no touch input, though not everyone will miss that - the benefit is a matte screen which doesn't reflect all kinds of light. Wireless connectivity comes in the form of Wi-Fi b/g/n/ac and Bluetooth 4.0.
Software
Asus ships the UX303UB with a 64-bit edition of Windows 10 Home, and quite a few pre-installed programs in addition to the obligatory Microsoft Office trial. McAfee LiveSafe and Dropbox both throw up enormous pop-ups demanding that you register, and there's also Asus's own Webstorage and Live Update tools which display alerts from time to time. Asus' Splendid is a utility that offers three presets and a manual slider to control screen colour temperature, and Smart Gesture replicates the entire Windows control panel for touchpad controls and also lets you hook up to an Android app which lets you use your smartphone as a wireless trackpad.
There's also WPS Office, Evernote, Flipboard, Twitter, TripAdvisor, Cyberlink PowerDirector and PhotoDirector, Gameloft Games Store, WildTangent Games, and Asus' Giftbox storefront. If all that wasn't enough, there are also Start menu tiles for Photoshop Express, Minecraft and Candy Crush Soda Saga, which are actually links to their respective entries in the Windows Store.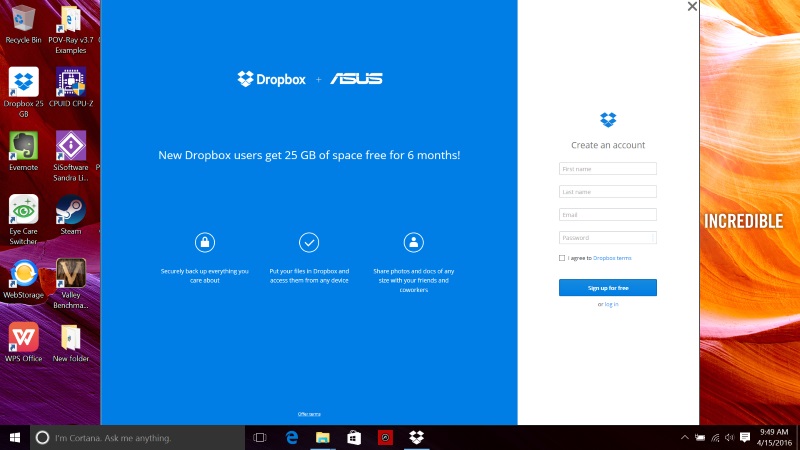 Windows 10 is set up with 150 percent UI scaling by default. This might help when you have a touchscreen, but it also makes everything look a bit cartoonish. Not only does this result in less usable screen space, but it also causes older software (including quite a few legacy Windows tools) to look stretched and distorted. We were happy to scale back to 100 percent which looked fine to us considering the screen size and resolution, but you might also be happy with 125 percent.
Performance
We had no major complaints with the UX303UB other than the intrusive software popups. The screen is bright and evenly lit, and sound from the speakers was usually good enough. The keyboard is a bit mushier than we would have liked but the layout is superb and nothing has been left off to favour design over usability. We also found the trackpad more than spacious enough, with decent sensitivity.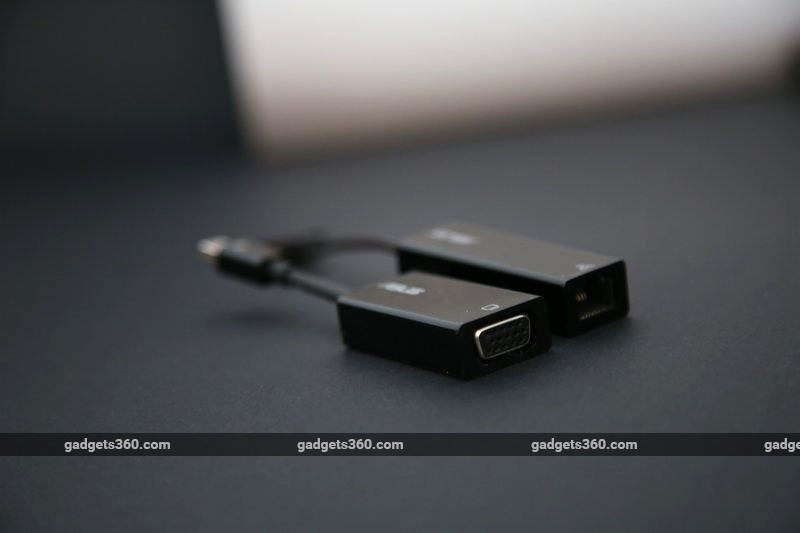 In terms of hardware, the Asus ZenBook UX303UB is certainly on the premium side, though it doesn't quite cut it as a high-performance machine. It has the same GPU as the gaming-oriented HP Omen and more mainstream Acer Aspire V3-574G-77X8, and its CPU falls between the Core i7 and Core i3 in those two models respectively. We still ran some of our more demanding tests to see just how much performance can be squeezed out of this sleek laptop.
PCMark's Home and Work tests gave us 2,589 and 2,592 points respectively, which seemed a little on the low side compared to the Core M powered UX305FA. However, the POVRay trace time of 7 minutes, 27 seconds and the Cinebench score of 287 made up for that nicely, showing strong CPU performance. SiSoft SANDRA showed us quite plainly that the mechanical hard drive was less than one fifth as fast as the UX305FA's SSD, but on the other hand memory bandwidth and general multimedia performance was much better.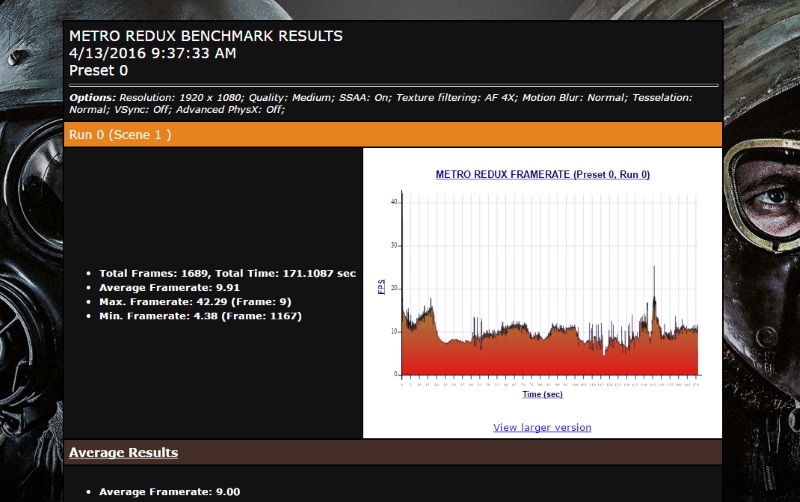 Of course, the primary difference between the two siblings is the fact that the new UX303UB has a discrete GPU. 3DMark Fire Strike gave us 1,379 points overall and Fire Strike Extreme managed a score of 698. Unigine Valley ran at an average of 16.7fps at 1920x1080 with the settings at High and AA turned off, which means slightly older games should do quite well without too many compromises.
We tried Tomb Raider (2013) which isn't a very demanding game, and were able to have a pleasant experience with the settings turned down. The internal benchmark showed an average of 19.9fps with the minimum dropping only to 15.5fps, which is fairly consistent, with the resolution set to 1080 and the quality set to High. Gameplay was much smoother with this turned down, but the game was still enjoyable. Similarly, Metro: Last Light Redux's average frame rate was 9.91 at 1080 using the Medium quality preset and most effects set to Normal. You'll have to lose some of them for a playable framerate.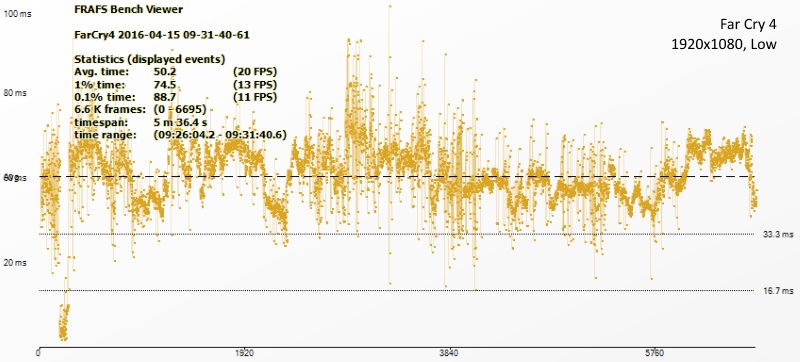 We also did a free run through Far Cry 4 with everything set to Low. The average framerate of 20fps was obviously less than ideal, but the main problem was the uneven frame pacing which could be seen as choppiness as we ran across the landscape. It's obvious that while the Asus ZenBook UX303UB has a reasonably powerful GPU, this alone does not make it a hardcore gaming machine. You will have to have low expectations in terms of the kind of games you can run and the quality you'll experience. We'd suggest sticking to much more casual titles.
The UX303UB's fans spin up audibly when the laptop is being stressed, and the lower half of the keyboard deck under our wrists did get fairly warm. However, we found that it was cool and unobtrusive most of the time. Battery Eater Pro ran for 2 hours, 10 minutes before the UX303UB shut itself down automatically, which isn't really impressive. We'd expect that casual work and Web surfing wouldn't hurt battery life too much, but you'll need to be plugged in for anything else.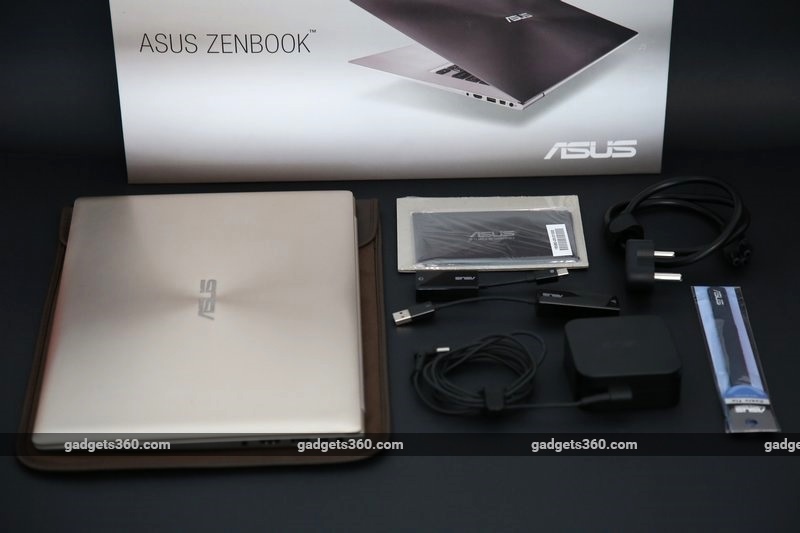 Verdict
Asus gives us two options here: the UX305 series is portable at the cost of all else, but it does a fantastic job of what it's meant to. On the other hand, the UX303 tries to give buyers both portability and power, but balanced out at the most reasonable cost possible. That kind of compromise might work for a lot of people, and it doesn't hurt at all that the UX303UB looks and feels fantastic. If you're the adventurous type, you could also swap out the UX303UB's hard drive for an SSD and bump up the RAM - even if you only think you might want an upgrade a few years down the line, at least it's possible.
If you're looking to spend around Rs. 70,000 on a laptop, you'll find that both siblings are excellent options. It ultimately comes down to what you prioritise the most. We do wish that Asus would at least offer options for the kind of hardware it sells outside India, even if the price is high.
Price (MRP):
Rs. 71,490
Pros
Thin and light

Lots of connectivity options

Good overall performance

Non-reflective screen

Cons

No SSD
Too much bloatware

Mediocre battery life

Ratings (Out of 5)
Design: 4
Display: 4

Performance: 3.5

Software: 4
Battery life: 3

Value for Money: 4.5
Overall: 4