We've said before that the days of hulking desktop towers are pretty much over. Most people will never need space for add-on cards, huge power supplies and multiple hard drives. With even reasonable specifications, cooling does not require huge fans anymore. Optical drives are dead, wireless connectivity is good enough for most purposes, and everything else can be plugged in via USB or done online. Unless you are a gamer or creative professional with specific needs, you can be happy with a PC like this, which is only a little bigger than the average restaurant takeaway box.
Asus is getting serious about its own line of miniature desktop PCs. Boxes this size used to come with early Intel Atom processors which were only good enough for basic productivity. They were considered weak and sub-par compared to full-sized desktops. Those days are gone - in fact with laptops displacing desktops everywhere, it should be no surprise that companies are taking the same parts designed for small spaces and coming up with boxes without their own screens and keyboards that are even smaller and lighter.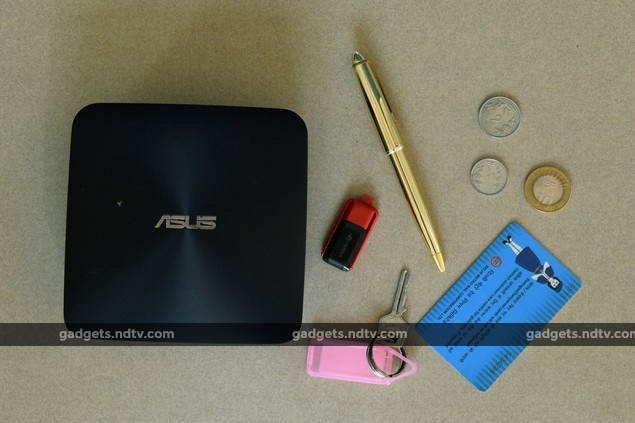 Look and feel
The VivoMini UN62 is understated yet good looking. At 131mm square and 42mm tall, it's similar in size to Zotac's Zbox mini-PCs. It's smaller (but taller) than even the current-generation Mac Mini. In fact, it's only just a little bigger than a standard internal DVD-RW drive and looks more like a router or external hard drive than a fully functional PC. At 1kg, you can pretty much carry it around anywhere.
The VivoMini made of dark plastic and will look at home on any desk or even next to your living room TV. It's slightly bowl-shaped; tapering towards the bottom, with rubber legs that allow it to take air in without obstruction. There are also mounting points for the included VESA bracket on the bottom, so you can hang the VivoMini off the back of an LCD monitor.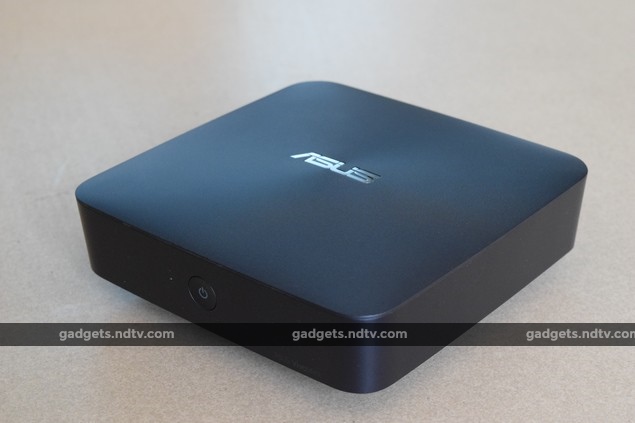 The top has a silver Asus logo right in the centre of a pattern of fine concentric rings, very similar to what we've seen on the company's ZenFone range. It looks great when it catches the light at an angle. There's a power button right in the middle of the front panel, with an integrated white power LED that thankfully isn't distractingly bright. There's also a second indicator slightly to its left, for some reason.
The right edge is blank but there are ports all around the other sides. On the rear panel, there's a DC power inlet, full-sized HDMI and DisplayPort video outputs, two USB 3.0 ports, a Gigabit Ethernet jack, and a 3.5mm headset socket. Hot air is exhausted out through a vent running above all the ports. There are two more USB 3.0 ports on the left in addition to an SD card slot and a Kensington security lock slot.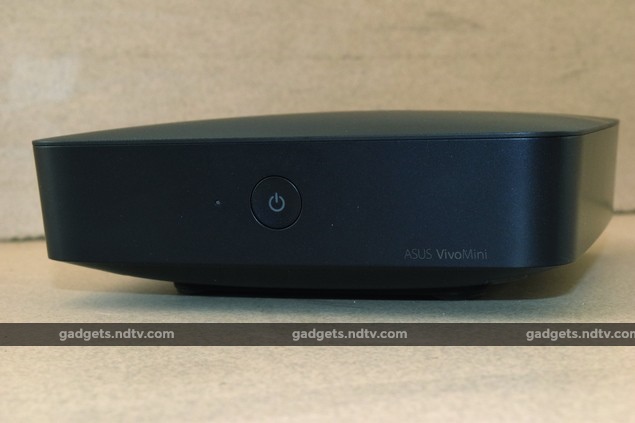 The modern display outputs allow you to run three screens simultaneously (using a DisplayPort daisy-chain). The two USB ports on the left allow fast charging. In short, there's more than enough for most connectivity needs. We'd suggest going with wireless peripherals as far as possible to keep things looking good.
Specifications and software
The VivoMini UN62 is fairly configurable and there are plenty of things you can customise. Our review unit came with a low-voltage Intel Core i3-4030U processor, which is a fourth-generation Haswell part with two cores running at 1.9GHz and integrated Intel HD 4400 graphics. It also had 4GB of DDR3-1600 RAM, a 128GB SSD, and an 802.11ac Wi-Fi module with Bluetooth 4.0.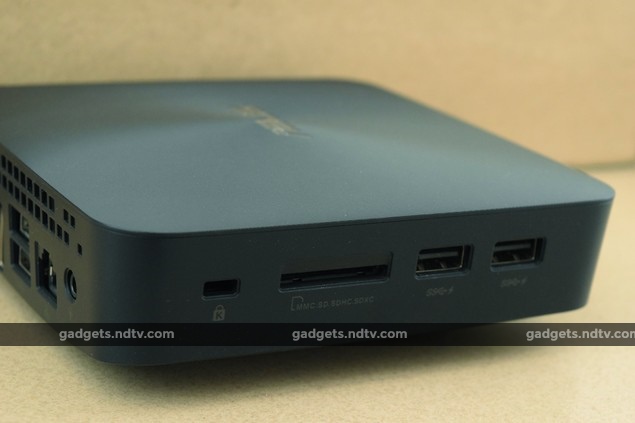 You can choose to order yours with a Core i5-4210U instead, up to 16GB of RAM and up to 256GB of storage. There's also a VivoMini UN42 model based around a Celeron 2957U which is probably more suitable for corporate desktops or embedded situations such as running digital signage or kiosks. Barebones versions of both models, which don't include the RAM, SSD or OS, are also available.
The included 65W power supply is pretty bulky even by laptop standards, and is designed to plug directly into a wall socket. Other than that and a VESA mounting plate, there isn't much in the box. Asus also offers a wired or wireless keyboard and mouse, though our review unit did not come with any.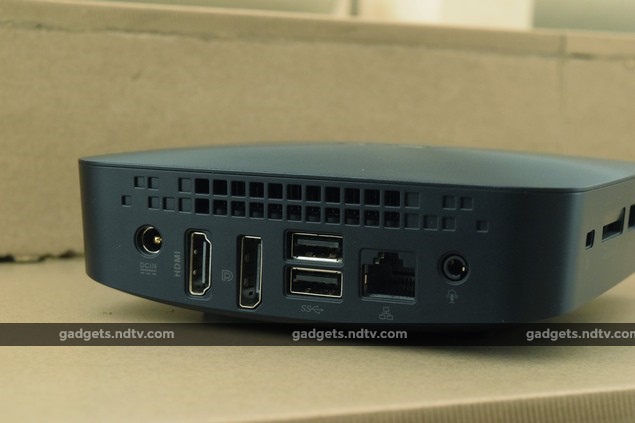 The VivoMini UN62 comes with Windows 8.1 and a plethora of preloaded utilities, many of which are not all that useful. There's a 60-day Norton Internet Security trial, the standard Microsoft Office trial, Adobe Reader, WinZip and Intel Small Business Advantage. Asus also preloads its own AI Suite, AI Security, Homecloud Server, Media Streamer, Wi-Fi Go, EZ update, Remote Management Tool, WebStorage, Secure Delete, and Product Registration Tool.
Some of these throw up popups asking you to agree to terms and conditions. Most of the Asus Web-related tools require an ID so you can sign in and stream media. Asus gives customers 100GB of online storage space for a year and there's also 100GB of Microsoft OneDrive space for a year.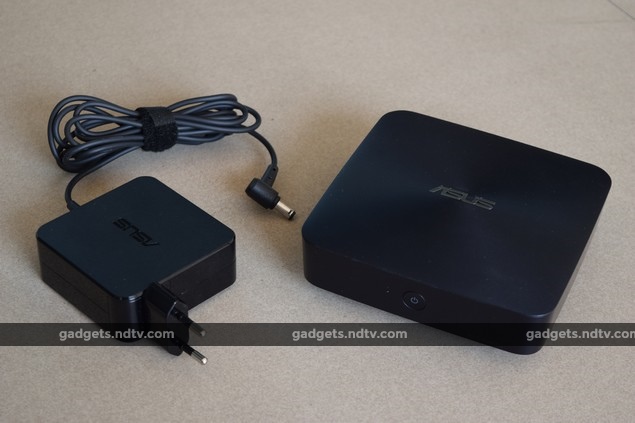 Performance
The components inside the Asus VivoMini UN62 were all essentially intended for thin and light notebooks, and have been rearranged to fit into a small square box. With that in mind, we were still quite happy with how the whole package came together. One of the main advantages of a low-voltage CPU is its ability to run without generating heat, which in turn means a loud fan is not required. There definitely still is a fan, but we never heard it in action. The VivoMini is almost entirely silent, which is truly remarkable.
Day-to-day usage didn't throw up any problems. We hooked our test unit up to our own monitor, keyboard and mouse. It ran quite happily at 1440p, though for the purposes of testing, we took the resolution down to a more standard 1080p.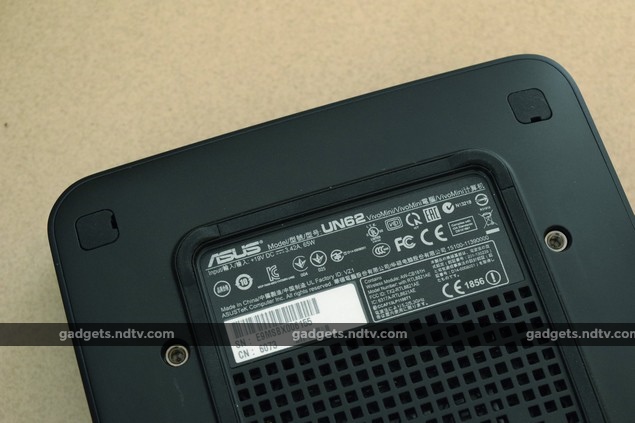 Benchmark scores were pretty good in most cases; at par with or better than similarly configured notebooks. PCMark gave us scores of 2488, 2539 and 3596 in the Home, Creative, and Work runs respectively. 3DMark Fire Strike gave us 497 overall which is decent considering the integrated Intel HD graphics. CineBench R15's CPU test came in at 181 points, while POVRay finished tracing its internal benchmark in 11 minutes, 27 seconds.
One area in which the VivoMini UN62 stood out was SSD performance. The SATA 600 module managed 528.84 MBps sequential reads and 308.9MBps sequential writes in SiSoft SANDRA's File System Bandwidth module, which are both excellent scores compared to similar products with miniature SSDs. The only problem is the low capacity - only about 102GB is available to the user, and that's not counting space taken up by Windows and the all the preloaded software.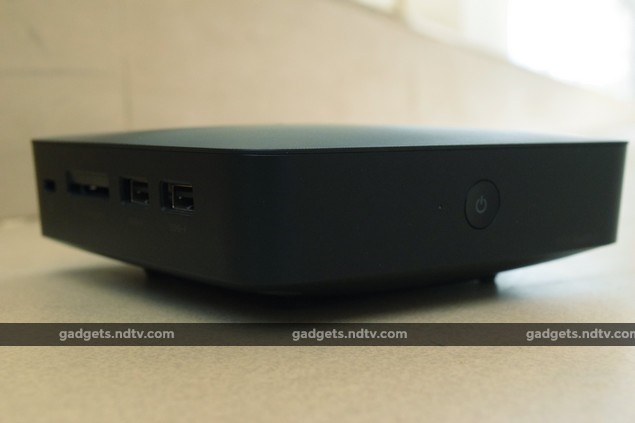 The VivoMini UN62 was capable of handling all the media files we threw at it. We could feel the hot air coming out of the vents at the rear when it was under heavy loads, but it still didn't get loud. One strange but minor thing was that the power LED in front started flashing rapidly when the device went to sleep, which we found very distracting. This disturbed us more than any sound even when it was just sitting on our office desks, so it would easily become a problem in a dark bedroom at home.
The fact that a barebones version is offered indicates that at least some parts are modular and that there is potential for upgrades and replacements down the line. It should also be easy for users to open the VivoMini's chassis themselves in order to install parts. Sure enough, we found four simple screws beneath pop-out rubber stoppers on the bottom, and opening the chassis was no problem. We found two standard SO-DIMM RAM slots, an mSATA slot occupied by the SSD, and a mini-PCIe slot occupied by the Wi-Fi/Bluetooth module. All of these can be swapped out by anyone with a screwdriver and basic knowledge of PC components.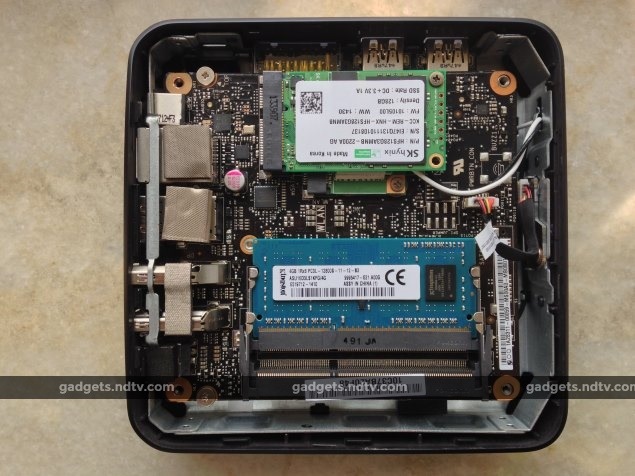 Verdict
Asus has done a pretty good job with the VivoMini UN62. We really like its size and overall look, which make it well suited for any situation. The hardware is also pretty up-to-date and you can expect to get pretty much everything done that you would expect to do on a modern laptop - that is to say office productivity, media playback, surfing the Web, and playing light games. With a wireless keyboard and mouse, this could be a very neat home theatre PC.
We particularly like the fact that Asus offers so many customisation options.The use of an SSD rather than spinning drive does restrict space, but performance is better by far and noise and power consumption are reduced as well.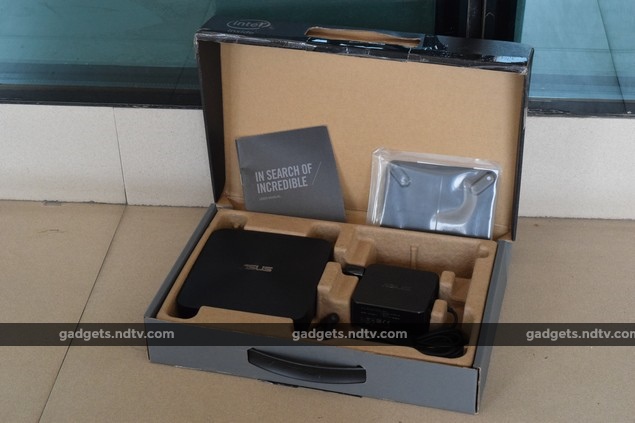 The test unit we received with the Core i3 processor, 4GB of RAM, a 128GB SSD and Wi-Fi b/g/n/ac module is priced at Rs. 39,500. The same unit barebones would start at Rs. 26,500 whereas the barebones Celeron-based UN42 model starts at Rs. 13,500.

Compared to Zotac's Zbox products, such as the Zbox Sphere which we reviewed a little while ago, the Asus VivoMini UN62 is a bit more expensive, with a lower-spec processor but SSD rather than spinning drive. The barebones versions of both are priced at around the same level, which means the Zbox Sphere still comes with a better processor at that price. Of course you could also get a pretty beefy standard desktop tower for this amount of money. You'll have to decide if the looks, flexibility and connectivity are worth it.
Price (MRP):
Rs. 39,500
Pros
Compact and reasonably powerful

Low noise and power consumption

Up-to-date wired and wireless connectivity standards
User-serviceable with some upgradable parts

Cons

Ratings (Out of 5)
Performance: 4
Value for Money: 4
Overall: 4