It's really unfortunate that netbooks, as a category, died out. Even though they were only ever powerful enough to handle the absolute basics, loads of people loved them for their portability and low cost. Today, if you're looking for something really small and light, you're going to have to choose between tablets and slim laptops, many of which are quite expensive.
The closest things to classic netbooks today are the hybrid tablets that a lot of companies are putting out. Some try to hit low price points by using flimsy keyboards, and while you can get some work done with those, they're generally uncomfortable and difficult to use on the go.
Asus has taken a slightly different approach with its Transformer Book series over the years. The device is still essentially a tablet with a keyboard accessory, but it's a lot more solid and functionally similar to a clamshell netbook. All the components are behind the screen, which makes the upper half thicker than the lower half. When detached, you have a fully functional touchscreen Windows tablet.
The T100HA is the first in the series to come with Windows 10 preloaded, and another bonus feature is a USB Type-C port. With these modern touches in a throwback size and shape, let's see if the T100HA is the portable computer you've been waiting for.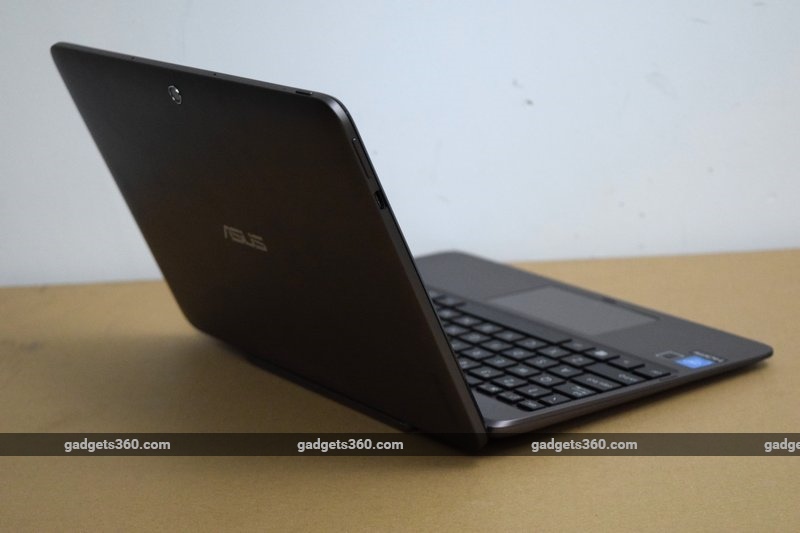 Look and feel
When closed, the Asus T100HA looks fairly ordinary. You'd have to look closely at the hinge to see that it isn't just a small laptop. The most unusual things you'll see are the twin speaker grilles and the outward-facing camera on the lid, which is the back of the tablet part.
Asus has designed the T100HA's hinge and clasp cleverly to disguise the fact that the two halves of the device can be pulled apart. When open, the bottom rear is slightly raised off a table's surface which gives the keyboard a slight incline, but also lifts it off its rubber feet, which leads to the whole thing sliding around when nudged.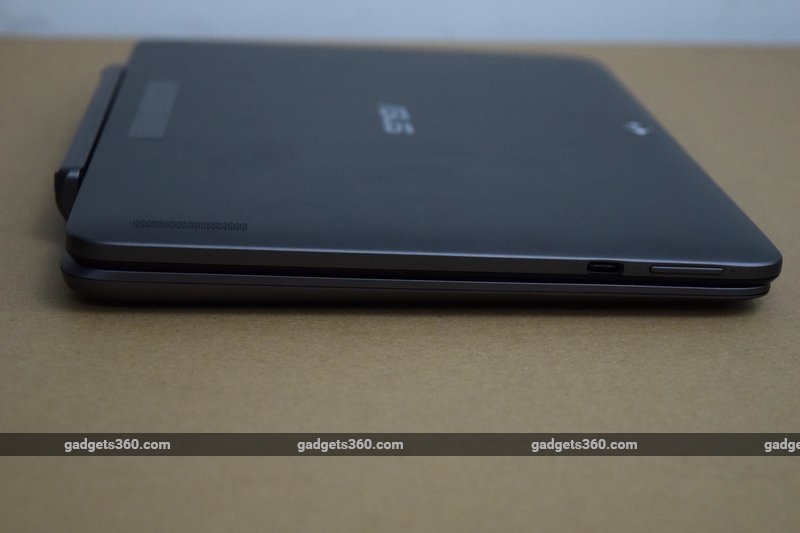 The 10-inch screen seems small thanks to the enormous black borders around it on all sides. There's a shiny, somewhat distracting Asus logo to one side right above the screen, and a front camera that's also a bit offset from the centre for some reason.
With the lid open, you'll find the power button on the top, and the volume buttons just around the corner on the upper left side. There's one microSD card slot, a Micro-HDMI video output, a 3.5mm audio socket and a Micro-USB port on the right, whereas the Type-C port is on the left. All the ports are positioned fairly high, and so wires will dangle. There's also one full-sized USB port on the keyboard base, which is good to have.
The keyboard looks like it was lifted right off a netbook, with its smaller-than-usual keys and cramped layout. There's a trackpad below, but don't expect it to be very comfortable thanks to the size of the base and the wrist rests.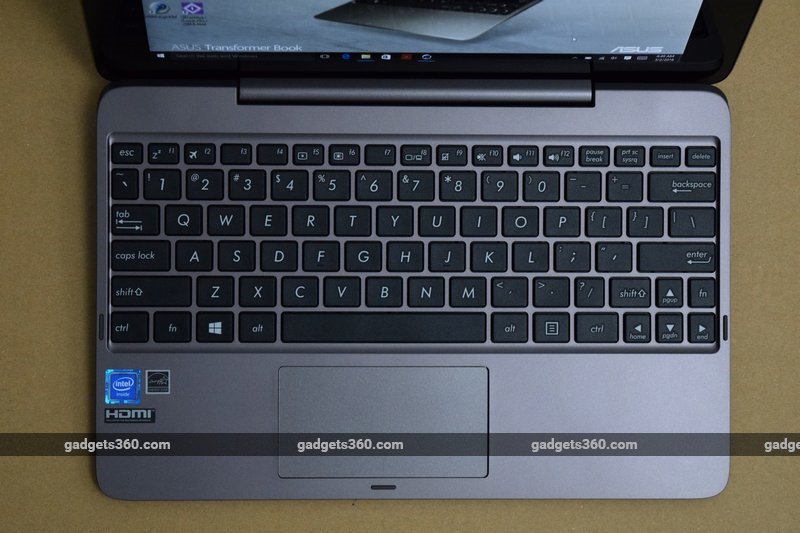 Specifications and software
Low-end doesn't mean old, and we have Intel's latest Atom x5-Z8500 CPU powering this device. The chip in question is based on the company's 14nm Cherry Trail platform, and has four cores running at up to 2.24GHz in bursts. It sips only 2W of power, which is the primary reason thin tablets like this without cooling fans can exist. Low-end Intel HD Graphics capabilites are handled by the same chip.
Asus has matched it with 2GB of RAM and 64GB of solid-state storage, neither of which is upgradable. We would have liked to see at least double those numbers on both counts, but you can at least use external and online storage.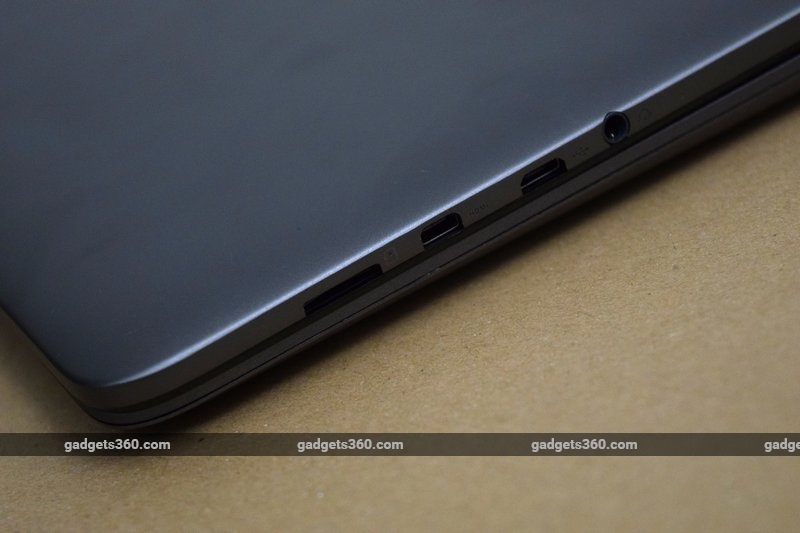 The screen has a resolution of 1280x800 which is painfully low by today's tablet and smartphone standards, but on par with low-cost laptops. At least the 16:10 ratio makes it more usable in portrait as well as landscape.
The camera on the rear has a 5-megapixel sensor while the front-facing one is just 2 megapixels, making both only really suitable for video chatting. You also get Wi-Fi a/g/n, Bluetooth 4.0, and a 30Whr battery. The sole USB Type-C port is labelled USB 3.1, but that doesn't mean speed is necessarily better than USB 3.0 thanks to odd naming conventions.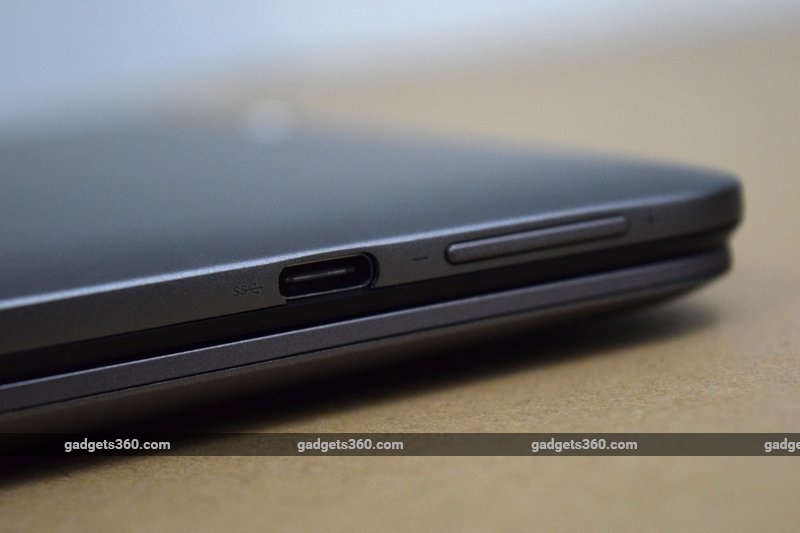 Windows 10 comes preloaded, and thankfully it's a 64-bit installation - most low-cost devices tend to come with 32-bit hardware and software, which can sometimes pose limitations. Of course you get Cortana, Continuum and other standard Windows 10 features, but not things like Windows Hello which requires specialised hardware. Mobile versions of Word, Excel, and PowerPoint are included but they're free anyway.
Asus has unfortunately loaded up quite a bit of its own bloatware - on first boot we were bombarded with popups asking us to register the product and sign up for its cloud storage service (Asus' website says it's unlimited for a year, but the popup says 1000GB). There's also Giftbox, an app store with only eight offerings, some of which free anyway.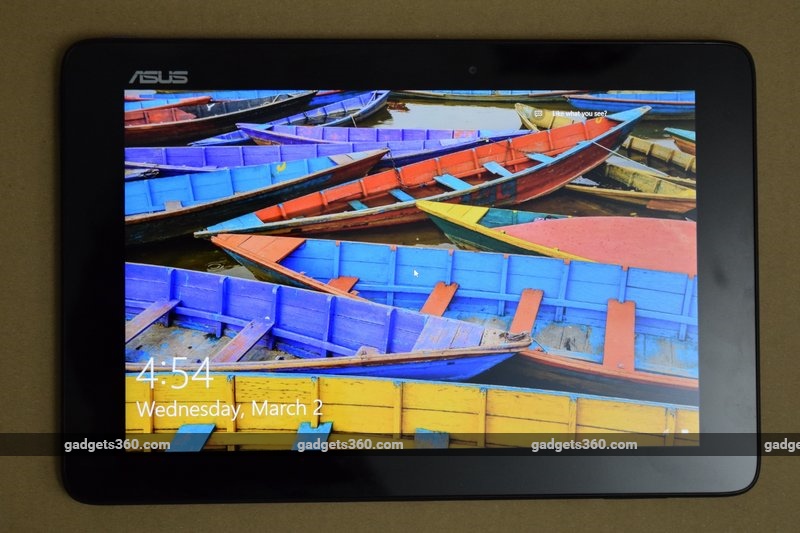 Usability
Unlike other twisting and folding 2-in-1s which don't come apart, you can only use the T100HA as a tablet if you remove the base completely. This doesn't impact performance since there isn't any additional storage, cooling or battery capacity in the base. It also means that the tablet is easier to hold and use, and you can ditch the base entirely and avoid carrying some weight around from time to time. "Transforming" the Transformer Book is seamless; there's no stuttering or readjustment when docking or undocking the two halves.

Also unlike most budget tablets, the base is not just an accessory. It's fully recognised by Windows 10, so for example, you'll never have to deal with the on-screen keyboard popping up when the physical one is right in front of you. You can choose whether or not the device automatically switches between Windows 10's desktop and tablet modes when the two halves are joined and pulled apart. Tablet mode might be easier to navigate around in some cases, but with the T100HA's screen size and resolution, we had no trouble without it.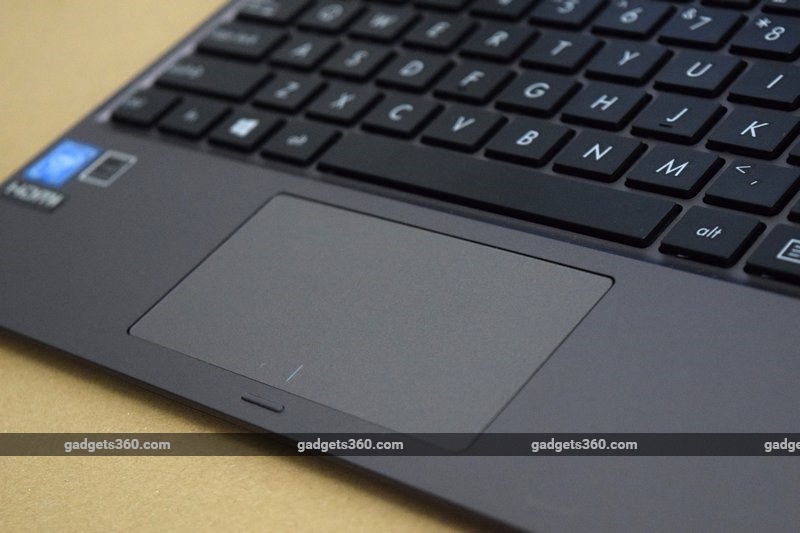 Honestly though, there really aren't that many use cases for Windows 10 tablets. In our time with the device, we used the touchscreen on occasion, but we'd rarely see much reason to detach the base. The Windows Store has a bunch of fun touch-based games and Edge works fairly well with fingers only, there aren't any particularly habit-forming apps or experiences.
The keyboard and trackpad are definitely not on par even with those you'd get on budget laptops. It's possible to peck out quick emails and things like that, but you wouldn't want this to be your primary work machine. The arrow cluster is cramped, but thankfully no important keys are missing or in frustrating places. The trackpad is surprisingly awful, with a surface that doesn't quite seem to understand where you're touching it.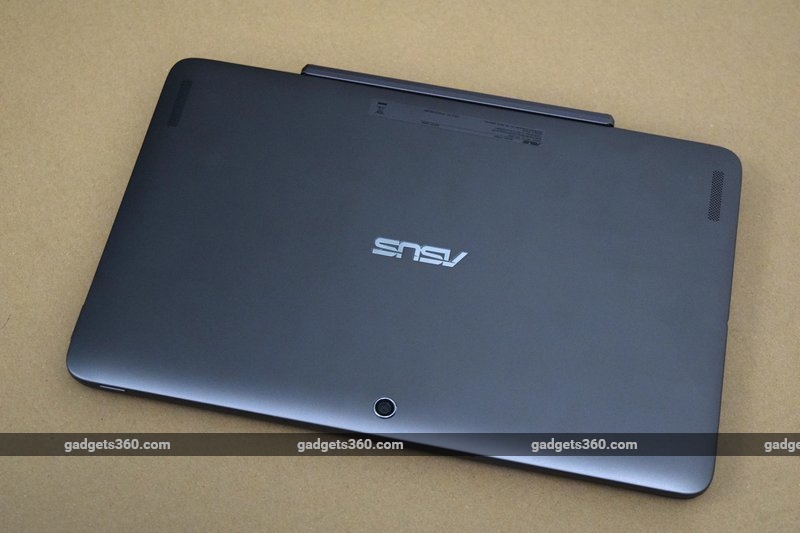 The tablet half weighs 0.58kg while the dock weighs an additional 0.46kg for a combined 1.04kg, which is just a hair lighter than an 11-inch MacBook Air. You could of course leave the base behind when you travel, but the tradeoffs wouldn't be worth it.
Performance
We were mostly happy with the T100HA's performance, keeping in mind that it is an entry-level Atom-based PC. General day-to-day usage was smooth enough, though of course we wouldn't throw anything particularly heavy at this kind of device. The display looked grainy and text was especially jarring now that we're used to high-density screens on even low-cost devices. Viewing angles weren't that great and reflections were a problem especially because of the thick black borders, but the screen is decent in terms of colour reproduction and brightness. The speakers are tinny and awful, and their placement on the rear does nothing for immersion.
Performance in benchmarks was just about okay - PCMark's Home and Work tests returned scores of 1,515 and 1,619 respectively, while 3DMark's Fire Strike was less impressive at only 218 points. This indicates that most everyday tasks will run well, but games and anything with heavy graphics can't be expected to do the same. These tests don't even run on most Atom-based tablets, so it's a good sign overall.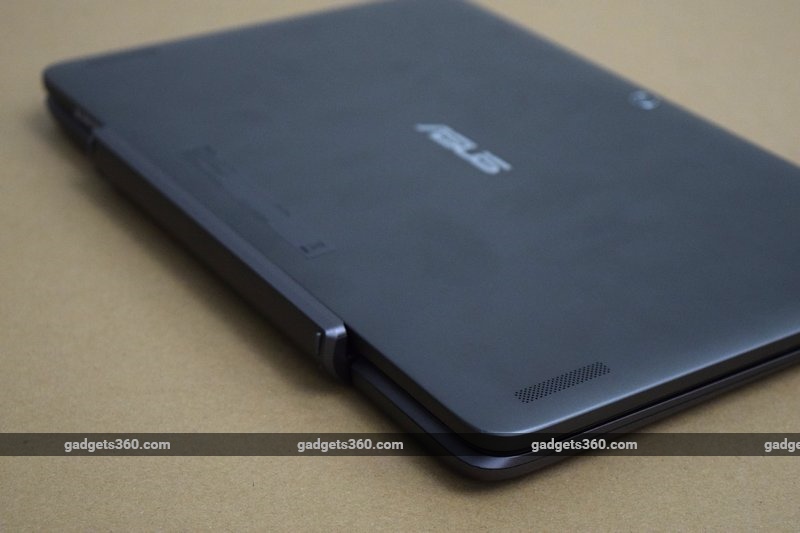 Subsystem tests such as SiSoft SANDRA showed memory and storage on par with a variety of Atom-based tablets and even the iBall Splendo compute stick. However, the new Atom in the T100HA showed an advantage in pure CPU tasks such as ray tracing and 3D rendering.
The battery lasted 3 hours, 58 minutes in Battery Eater Pro, with the brightness set to 50 percent. We were able to use the T100HA for basic Web surfing and YouTube streaming over Wi-Fi for 5-6 hours, which isn't all that great. We did feel a bit of heat on the rear in the upper right corner when holding the tablet in our hands.
Verdict
The Asus Transformer Book T100HA is lighter and easier to carry around than similarly priced entry-level laptops, and offers a touchscreen experience that you wouldn't otherwise get. The specifications are mostly low-end but up-to-date. You'll also have to live with limited storage, zero upgradability, and a keyboard and trackpad that simply aren't very good.
It isn't really clear who this class of device is aimed at. It's nice to have, but we suspect that a lot of people would be fine giving up the detachable tablet and touchscreen features in favour of a cost reduction. If you're looking for a portable, versatile device mainly for entertainment with a little productivity on the side, the Asus T100HA will meet those requirements.
Price:
Rs. 23,990
Pros
Versatile and portable

Easy docking and undocking

USB Type-C

Cons

Entry-level performance

Limited storage and RAM

Screen and speakers are just about okay

Ratings (Out of 5)
Design: 4
Performance: 3
Value for Money: 3
Overall: 3