We've tested pretty much every Nvidia GPU release for this past year, but AMD has been absent from the scene. That's because the Red Team hasn't had a decent new GPU to talk about in all that time. Its last major wave of releases, the Radeon 200 series, consisted mostly of rebadged Radeon 7xxx cards with minor tweaks.
The brand new Radeon 300 series continues in that tradition with what are essentially rebadges of rebadges. AMD had been rumoured to be working on crazy new 3D stacked memory and various other major technology leaps, but as we now know, those have only made it to one new top-tier card and its variants, the new Radeon R9 Fury series. Mid-range buyers will have to make do with warmed-over GPUs from years ago.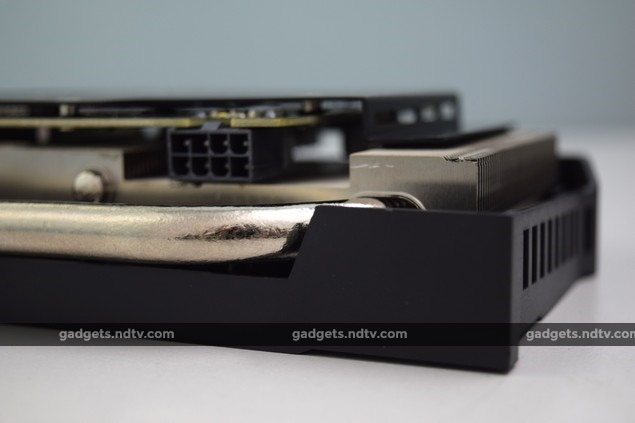 Even so, AMD has some tricks up its sleeve. Continual refinements have helped the company squeeze out more performance from the same silicon, and additional features offer more value. Plus, prices tend to go down. Nvidia has gotten a lot of praise for cutting power consumption and reducing size and cost, so we're eager to see how AMD plans to match its only competitor with recycled GPUs.
We got the chance to review AMD's new mid-range offering, the Radeon R9-380, in the form of Asus's Strix Radeon R9-380. This is a 2GB card with a custom cooler and slight factory overclocking, giving it a modest bump over and above the performance characteristics of a stock card. With a price nearly equal to that of Nvidia's GeForce GTX 960 offerings, this card is aimed at mainstream gamers who aren't likely to go above 1080p or won't be demanding if they do.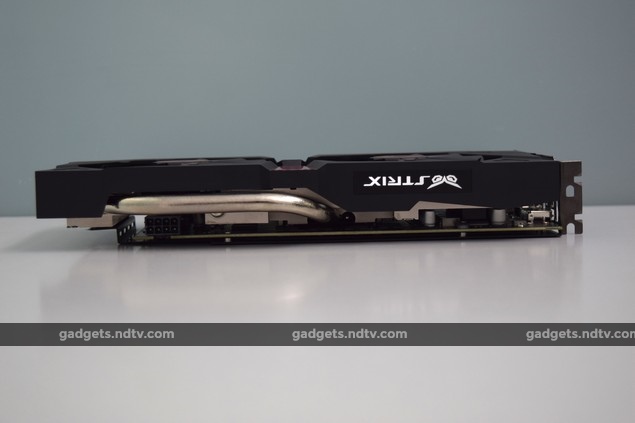 Look and feel
The first thing we noticed about the Strix Radeon R9-380 was how huge it is. Asus's trademark red and black DirectCU II cooler seems to have been stretched in all directions - the card is significantly larger than the company's own Strix GeForce GTX 960, which it is positioned against. It's also a lot more imposing than the XFX Radeon R9-285 card we used for comparison. The cooler stretches well beyond the card itself, and sticks out about an inch on top and two inches on the rear. This means the Strix Radeon R9-380 will be a tough fit in compact tower cabinets and a bad choice for small-form-factor or mini-ITX builds.
Asus promises that the DirectCU II cooler is 20 percent cooler and three times quieter than AMD's stock design, but we can't verify this as we haven't had a chance to test a stock card. Regardless, we found that it was quiet enough in operation to be almost unnoticeable. The fans don't spin up unless really needed so the card is actually completely silent when you aren't gaming or are running non-intensive titles. Asus says the fans are designed to maximise airflow so they can spin more quietly.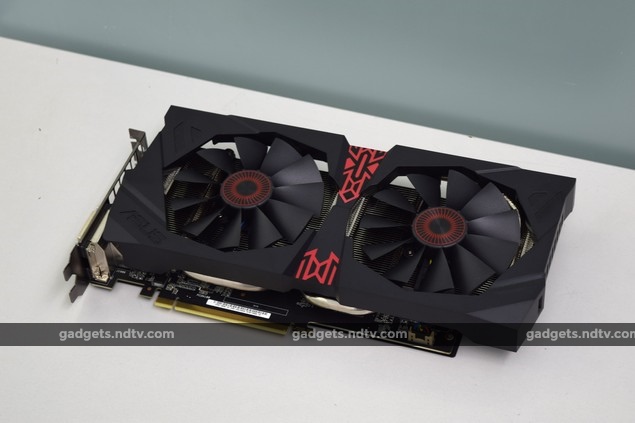 The card needs a single 8-pin PCIe power connector, and a handy LED near the socket will light up in red if it isn't inserted completely. Asus also claims 15 percent better power efficiency and 30 percent more stable overclocking thanks to its use of high-grade components and manufacturing processes.
You'll find two DVI ports but only one HDMI and one DisplayPort on the rear. One of the DVI ports will allow a VGA adapter to be used, but you won't find one in the box and this is really not a good idea for modern LCD screens anyway.
Specifications
The Radeon R9-380 GPU is a barely-disguised reincarnation of last year's Radeon R9-285, codenamed Tonga. While most of the Radeon 200 series consisted of rebadged Radeon 7xxx parts from the previous year, the R9-285 was a minor mid-cycle refresh and so the R9-380 isn't as old as its 300-series siblings.
Stock R9-380 cards will run at 970MHz, which Asus has bumped up to 1010MHz. Our test unit was the 2GB model, but a 4GB model will also be available, both on a 256-bit memory bus. Thankfully there is support for DirectX 12 along with AMD's own Mantle and Vulkan APIs.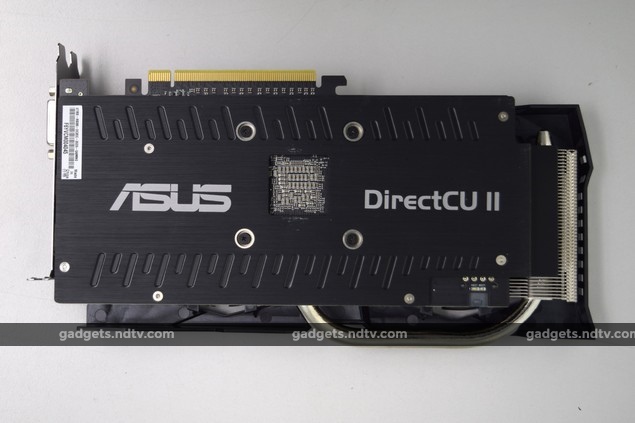 The GPU supports a number of AMD's enhancements. FreeSync variable refresh rate technology helps overcome microstutters and tearing on screen caused by unevenly paced frames. Virtual Super Resolution renders frames at 4K even if you have a lower-resolution monitor and then downscales them to its native resolution to remove jaggies. There are also assorted power-saving schemes including ZeroCore and Frame Rate Targeting.
Even so, it definitely is old wine in a new bottle. Nvidia has consistently been churning out new products based on new architectures, and there have been tangible benefits in terms of performance and power consumption - just look at the coolers on Radeon R9-380 cards and GeForce GTX 960 cards to understand the difference between the two companies' approaches.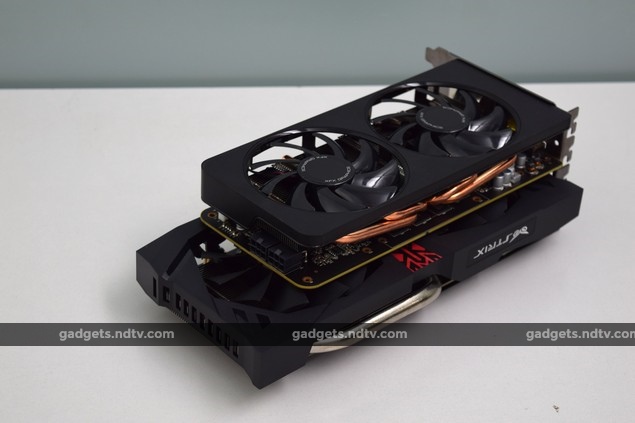 Performance
We tested the Asus Strix Radeon R9-380 on a test bench consisting of the following components:
- Intel Core i7-4770K CPU at stock speeds
- Asus Z97-Pro (Wi-Fi ac) motherboard
- 16GB of Adata 1600MHz RAM
- 120GB Kingston HyperX Fury SSD
- Cooler Master Hyper 212X CPU cooler
- Corsair RM650 power supply
- Asus PB279 4K monitor and Dell U2711 1440p monitor
We compared test results with those of an XFX Radeon R9-285 card as well as the Asus Strix GTX960-DC2OC and Zotac GTX960 Amp Edition using a number of synthetic benchmarks as well as real-world game playthrough sessions. The driver used was AMD's Catalyst 15.200 release.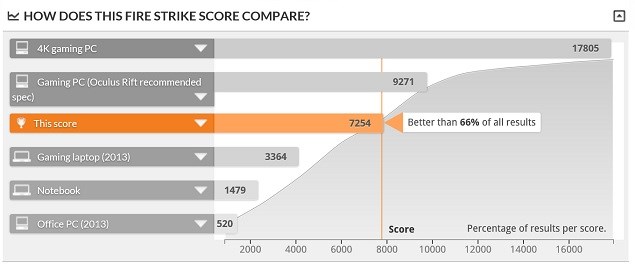 First off was the trusty 3DMark Fire Strike run, which is well suited to mid-range cards and tests 3D performance at 1080p. We recorded 7,254 points overall which is for all practical purposes identical to the R9-285's score of 7,227 and slightly higher than the GTX 960s' scores of 6,841 and 6,729. All four cards posted nearly identical scores in Unigine Valley: 37.5 fps average for the R9-380, 36.4fps for the R9-285, and 36.1fps and 35.4fps for the two GTX 960s. Even the highest and lowest fps values illustrated no practical differences.
Star Swarm is a pretty intensive test involving hundreds of 3D objects in motion, and we were able to run it in Direct3D as well as in Mantle modes. AMD's low-level Mantle API allowed the score to rise from 28.77fps to 34.94fps, which is a significant increase.
We also measured the impact of AMD's TressFX enhancement for hair motion effects using Tomb Raider. This game is capped at 60fps but it is easy to reach that limit at high settings on even mid-range hardware. With the rest of the settings constant at 1440p, Ultra quality and 16xAF, we recorded an average of 43.2fps using the built-in benchmark. That number plummeted to 19.4fps with TressFX enabled. While it looks really nice, you'll have to scale down every other setting to compensate for the impact when using this card.
GTA V is one of today's most popular games, and our budget PC building guide for this game suggested a Radeon R9-285 GPU because of the balance of cost and features it offered. As its drop-in replacement, the R9-380 should perform quite well. We ran the built-in benchmark at a variety of settings and settled at a comfortable average of 42.628fps at 1440p and 60Hz with 2xMSAA and a most of the advanced quality settings cranked up to reasonable levels.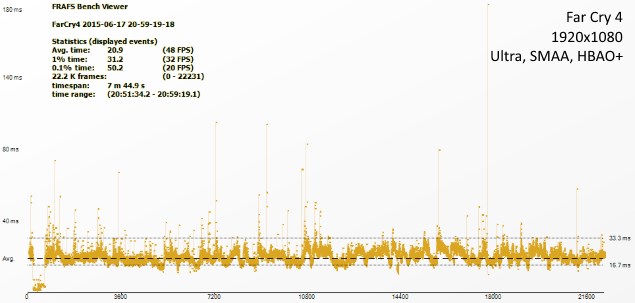 Far Cry 4 is one of the more demanding games released in recent times. We ran through parts of the game manually and recorded frame rates and frame times with FRAPS. We were able to play at 1080p with graphics quality set to Ultra, and with SMAA and HBAO+ enabled. We recorded an average frame rate of 48fps but the variance between average and 99th percentile frame times showed that there were frame drops but these were not too severe. In order to make the game playable at 1440p, we had to drop the quality to Very High and dispense with HBAO+. Our average then came to 43fps, but frame times were more erratic and tearing was more noticeable.
We also ran through Battlefield 4 and Crysis 3 with FRAPS. Battlefield 4 presented a challenge at 1440p. With the settings on High and 4xMSAA enabled, we got an average of 41fps but frame times varied between 24.5ms on average and 43.2 for the 99th percentile. Still, the experience was fairly enjoyable and there weren't any major slowdowns even with major firefights going on.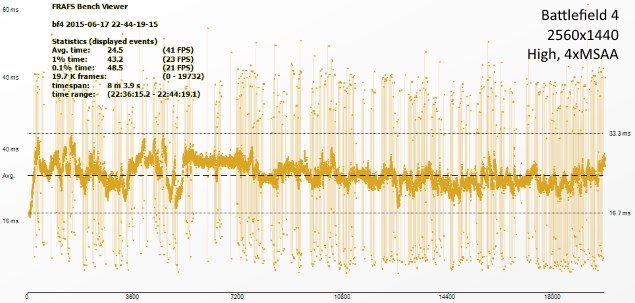 Crysis 3 did fairly well, with an average of 47fps at 1080p with 4xMSAA and graphical quality set to High. The average dipped to 23fps at 1440p, Very High quality and 8xMSAA. Interestingly, while the Radeon R9-380 was running almost completely evenly with our GeForce GTX 960 samples at 1080p, it exhibited a significant advantage at 1440p.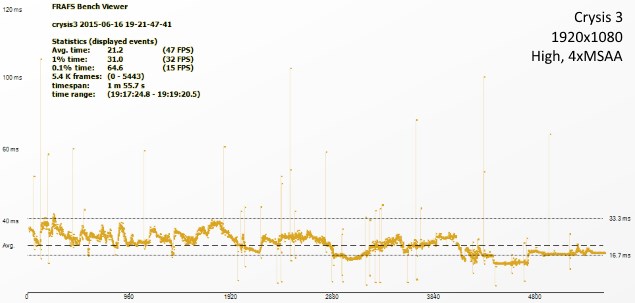 Verdict
Although we still can't get over the sheer size of its cooler, we love the fact that the Asus Strix Radeon R9-380 stayed unobtrusively quiet throughout our time with it. Even in the thick of battle, the fans didn't rise above a dull murmur. Asus seems to have pulled off an impressive feat of engineering in this regard. Even so, Nvidia has the edge when it comes to low power consumption and heat generation, both of which are valuable parameters for those who like compact, fuss-free builds.
The performance of the R9-380 GPU is at par with that of Nvidia's GeForce GTX 960, which means it's more than enough for high-quality 1080p or medium-quality 1440p gaming today, and should do well for at least a year or two. The overclocking possibilities of Asus' particular card might give it a tiny advantage.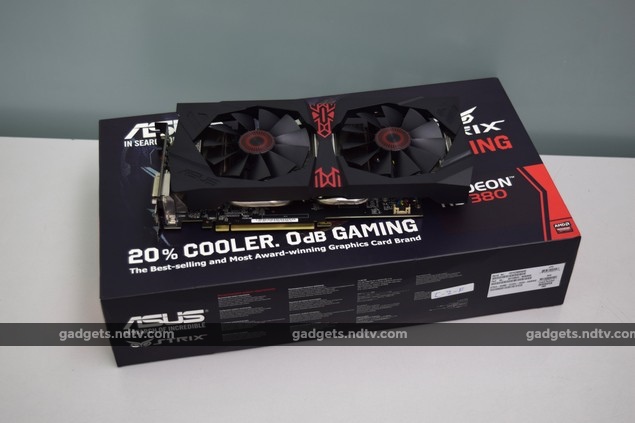 Cards based on either GPU should sell within the same range once street prices settle down. The R9-380 is pretty much a lower priced R9-285. However, with only 2GB of video memory, R9-380 cards at this price will face the same potential future bottlenecks as the GTX 960. 4GB models should be available later, but might not be as appealing in terms of value if 4GB versions of the GTX 960 are anything to go by.
The Asus Strix Radeon R9-380 we tested comes factory overclocked and includes software for tweaking and overclocking. There's also a one-year subscription to X-Split Gamecaster which will appeal to some people. On the other hand, Nvidia bundles at least one popular game at any given time.
There's little doubt that the Radeon R9-380 is good value for money right now, especially if you're going to play games that take advantage of AMD's optimisations. However Nvidia has an equally competent alternative which is more power efficient. The decision will come down to whether size and power consumption matter to you, and which way prices are fluctuating when you're making your purchase decision. Hopefully, the genuinely exciting innovations AMD has made with the new Fury series will trickle down to the mid-range by this time next year.

Price (MRP):
Rs. 18,540
Pros
Good performance

Low noise and manageable heat dissipation
Cons

Enormous cooler

Only 2GB of VRAM

No bundled games

Ratings (Out of 5)
Performance: 4
Value for Money: 3.5
Overall: 3.5