Nvidia caused quite a stir when it unveiled the GeForce GTX 1080 GPU last month by promising better performance from one of these cards than from a pair of GeForce GTX 980s or a single GeForce GTX Titan X, and that too at a lower cost with lower power consumption. Graphics cards based on Nvidia's "Founders' Edition" reference design were the first to launch, followed by cards from partner companies that have their own custom-designed coolers and assorted other tweaks to help them stand out.
We've already reviewed both the Founders' Edition version and a custom-cooled version of the GeForce GTX 1070 GPU, which slots in below this one in terms of price and performance. Today, we have the pleasure of reviewing a similar pair of GeForce GTX 1080 graphics cards. Judging by the awesome performance and overall refinement of the smaller of the two GPUs, we can't wait to unleash the full power of these absolute top-of-the-line cards.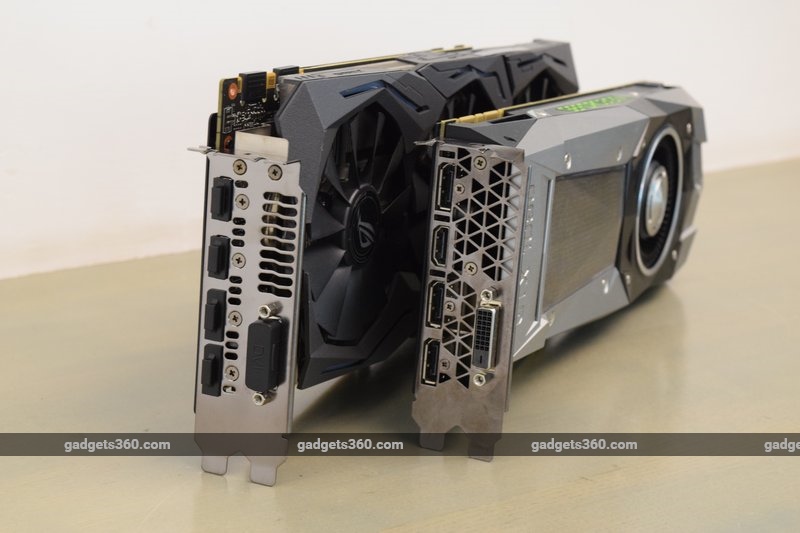 The GeForce GTX 1080 GPU
The GTX 1080 and 1070 are essentially the same GPU, codenamed GP104 and based on Nvidia's latest architecture which is called Pascal. While the GTX 1070 is a GP104 with roughly a quarter of its guts disabled, the GTX 1080 has no such constraints. All 7.2 billion transistors, in the form of 2560 processing units and 160 texture units, are active. The base clock speed is 1607MHz but it can go up to 1733MHz on demand. Total throughput measures in at an eye-watering 8.8 Teraflops. Nvidia describes this as the fastest gaming GPU in the world, and it's hard to dispute that.
(Also see: Nvidia on Indian Gamers, the GeForce GTX 1070 and 1080, Pricing, and Availability)
Nvidia can also boast of being the first GPU vendor to ship with support for the brand new GDDR5X RAM standard, which improves performance tremendously. Nvidia's implementation runs at 10Gbps on a 256-bit memory bus for a claimed 43 percent improvement over last year's GTX 980. There are also refinements to the GPU's manufacturing process, which finally jumps to 16nm and contributes a great deal to the claimed 1.5x increase in power efficiency.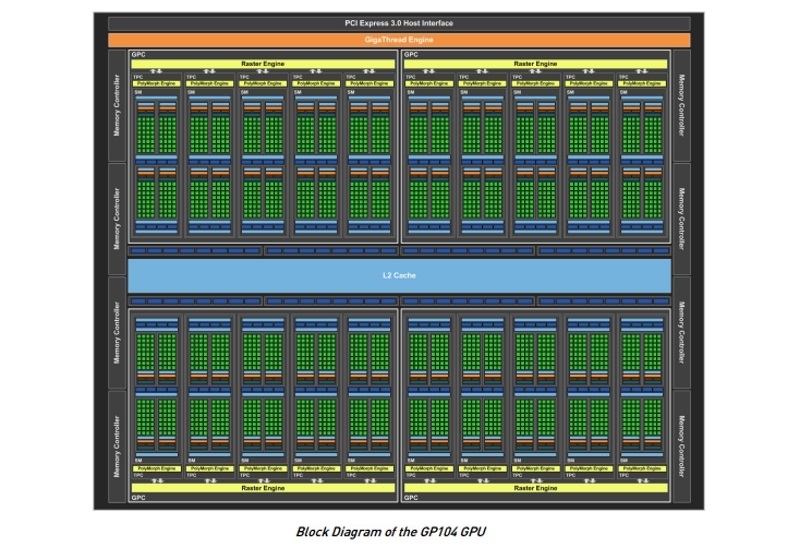 Beyond speed, Nvidia says it has developed new graphics rendering techniques to keep up with new kinds of displays, such as high-resolution and high-framerate monitors, multiple monitor implementations, 3D, curved displays and VR headsets. A new logic block called the Simultaneous Multi-Projection Engine allows GPU output to be split and subtly altered, so that multiple perspectives of a scene can be generated in a single pass rather than requiring individual rendering processes for each viewpoint. One example of where this could come in handy is displaying accurate perspectives across multiple monitors which are physically arranged at angles to each other, while another is stereoscopic frame pairs for VR headsets.
Pascal's capabilities extend to the GTX 1070, though GDDR5X is exclusive to the GTX 1080. With even the smaller of the two pumping out more than enough pixels to fill up a 4K screen smoothly at high settings, the GTX 1080 is definitely being positioned as the foundation for displays and experiences that go beyond the typical gamer's single monitor.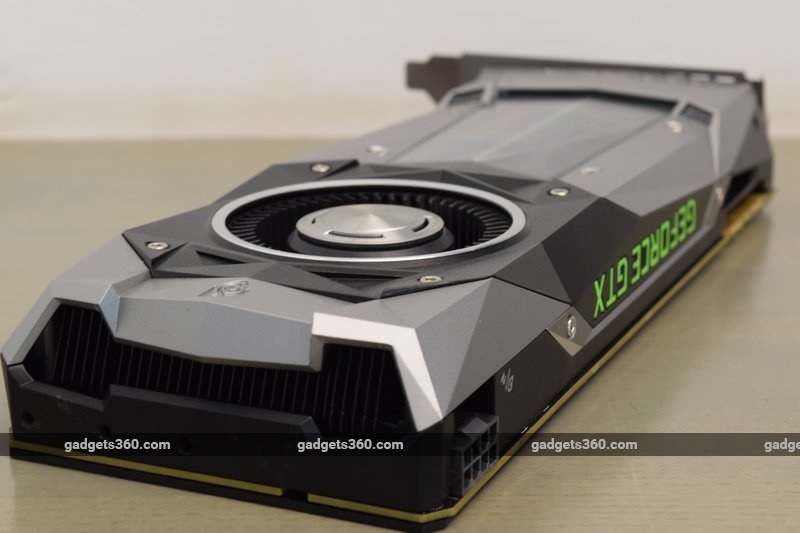 All of this comes in a package that's no different from previous flagship-class graphics cards. Total power draw is rated at 180W, down from 250W on the Titan X and GTX 980Ti. Nvidia's Founders' Edition design looks identical to that of the GTX 1070 we reviewed recently, but the cooler is beefier with a vapour chamber rather than just passive heatpipes and fins with air blowing across them. You get three DisplayPort, one HDMI and one dual-link DVI-D ports for video output to as many as four simultaneous displays.
The Asus Strix GeForce GTX 1080
The first custom-designed GTX 1080 card to land in our hands is Asus' Strix GeForce GTX 1080. The first thing you'll notice is its size - this card is taller and longer than the Founders' Edition, and looks quite imposing with its all-black shroud and sharp angles. RGB LED slits are clearly visible above and below each fan. Like most high-end graphics cards today, the Strix GeForce GTX 1080 ships with plastic covers over the rear panel ports, SLI contacts, and PCIe interface.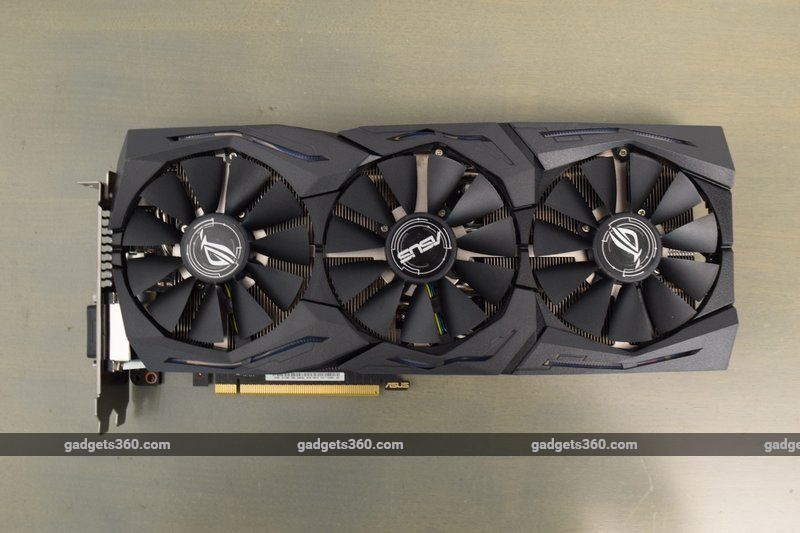 Unlike the Founders' Edition, Asus has gone with a rear cluster with two HDMI and two DisplayPort connectors so that you can plug in an HDMI display and VR headset at the same time. Also of note, this card is outfitted with a secondary 6-pin PCIe power connector in addition to the standard 8-pin one, which means more headroom for overclocking. The power connectors are a little recessed, which makes for neater cabling but also makes it a bit difficult to install and remove this card - especially with sharp heatsink fins right there to snag a finger on. White LEDs on the rear let you know that the connectors are inserted properly.
The Strix GeForce GTX 1080 is clocked at 1759MHz with a 1898MHz boost value by default, while the software-enabled OC mode takes that up to 1784MHz and 1936MHz respectively. That's a nice bump over stock speeds - memory gets a much more modest 10MHz step up. Asus ships software called GPU Tweak II with this card, and you can use it to tweak the boost clock, memory clock, voltage, and fan speed. The controls aren't very intuitive and you can't see how each variable affects the others. It's best to leave those controls alone unless you know what you're doing.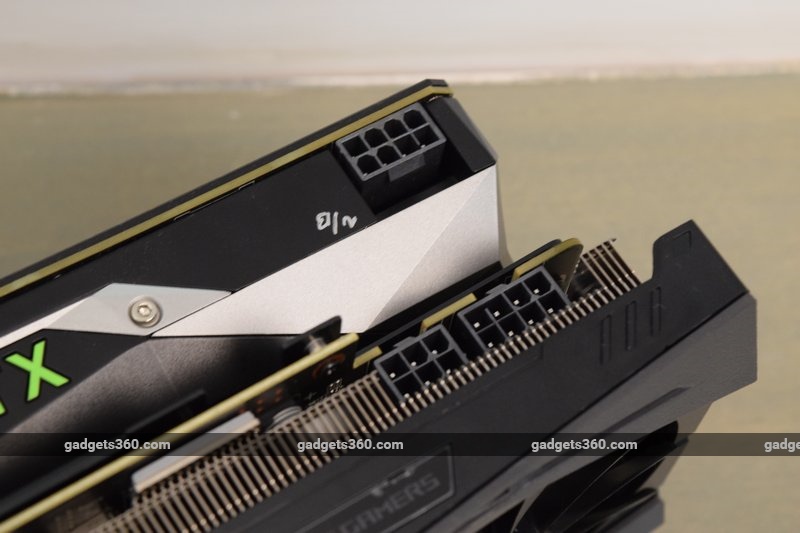 One interesting feature that we've never seen before is the incorporation of two four-pin chassis fan headers - instead of plugging your PC's fans into the motherboard or a dedicated controller, you can use the graphics card to control their speed. Asus says the GPU gets hotter quicker than the CPU while gaming, so letting the GPU dictate fan speed is better for cooling.
We first saw Asus's Aura LED lighting on the B150 Pro Gaming/ Aura motherboard which we recently reviewed. It works pretty much the same here. There are six strips on the front, a Republic of Gamers logo on the top, and a logo cutout on the backplate which all have RGB LED lighting. You can also see the lights leak out from the bottom and sides of the card, and we have to say that the exposed heatsink fins look especially cool when the LEDs are pulsing.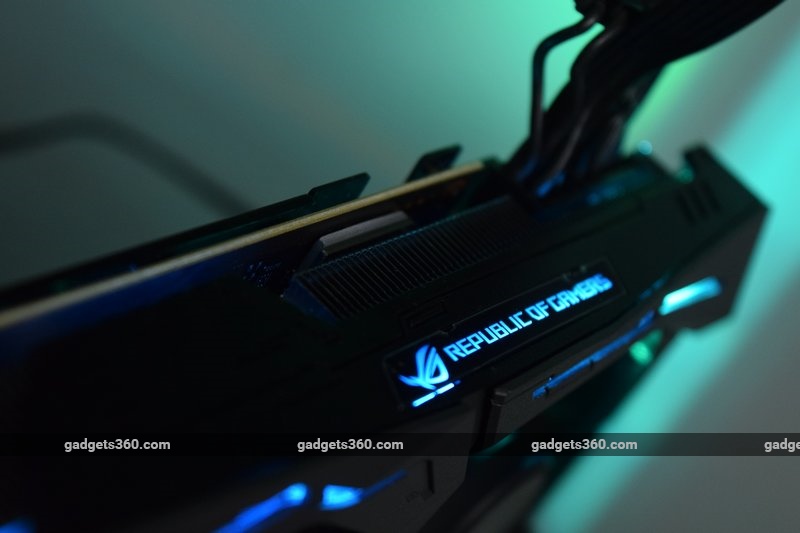 The various lighted elements are not individually controlled; you choose one static colour or effect and it applies to them all. You get breathing, flashing and colour cycling effects, plus a mode that reacts to music and one that reacts to temperature. Strangely, you have to use separate Windows utilities for Asus' motherboards and graphics cards - the company really should unify controls to make buyers want to stick with one brand and execute system-wide lighting effects.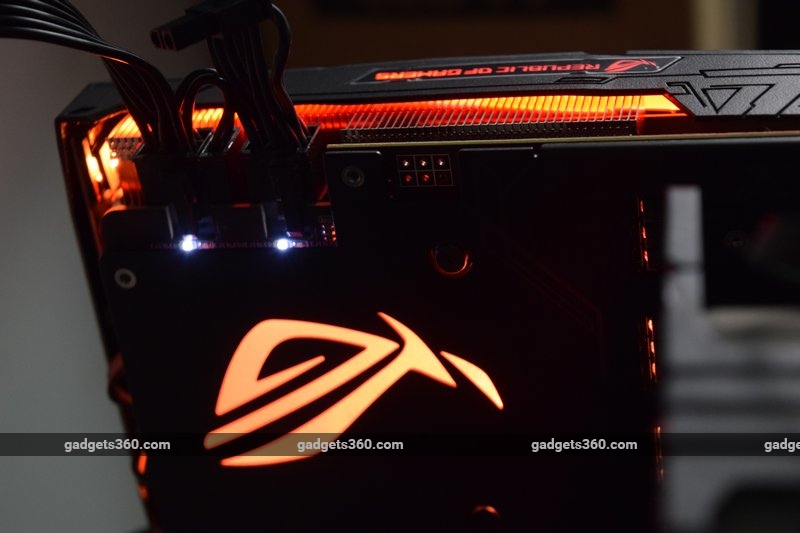 Performance
We tested Nvidia's GTX 1080 Founders' Edition sample and Asus' Strix card on the same hardware that we used for our GTX 1070 reviews in order to generate comparable results. Nvidia's latest driver, version 368.39, was used for all tests across GTX 1070 and GTX 1080 cards.
Intel Core i7-6700K CPU
Gigabyte GA-Z170X-UD5-TH motherboard

2x8 GB Kingston HyperX DDR4-2666 RAM
256GB Samsung SSD 950 Pro
Cooler Master Hyper 212X cooler

Corsair RM650 power supply
Asus PB287Q 4K monitor
Windows 10

As with MSI's GTX 1070 card, the Asus model we were sent for review was set to run at its highest possible clock speed. Since this mode is officially supported and there are no conditions as to when or for how long it may be used, we went ahead with testing at these speeds to show the best possible results. Asus has publicly responded to allegations of manipulation by claiming it was only trying to help reviewers save time, but that pushes the limits of our credulity and we would have preferred advance notice.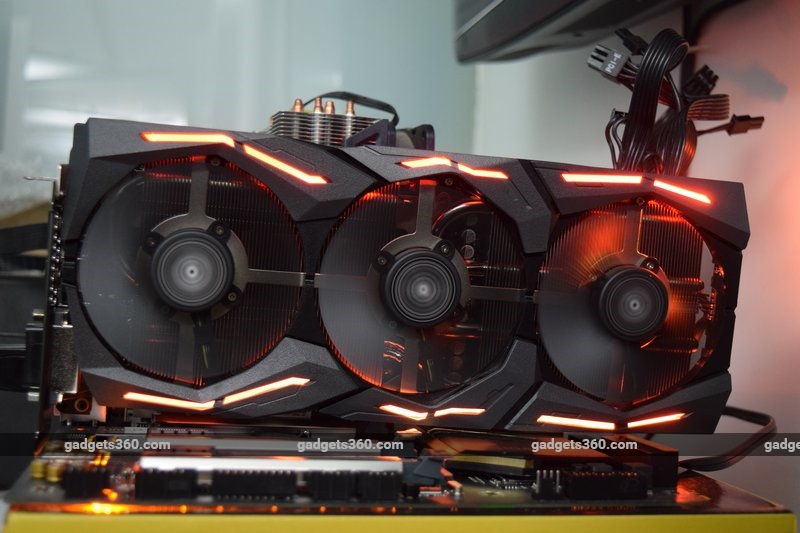 Of course we began with 3DMark, a stalwart of GPU benchmark suites the world over. Our highest score with a GTX 1070 in the 4K-friendly Fire Strike Ultra run was 4,523 points, and the GTX 1080s blew past it with 5,075 from the Founders' Edition and a whopping 5,200 from the Strix. That's also significantly more than our in-house overclocked Galax GTX 980Ti sample, which scored 4492 points. We didn't have a GTX Titan X sample to run the same tests on under the exact same conditions, but even adjusting for conditions when we tested it a year ago, it would seem that today's Rs. 60,000 graphics card handily outperforms last year's Rs. 85,000 flagship.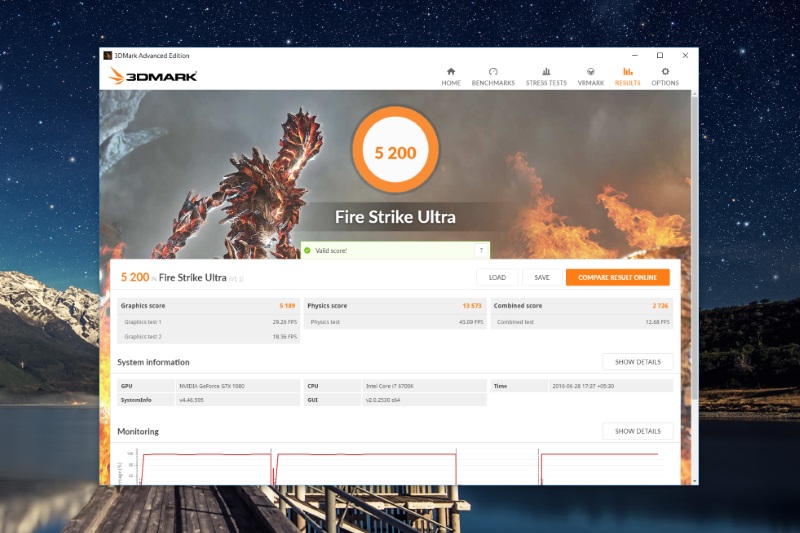 The GTX 1080 Founders' Edition gave us an average of 105.4fps in the Unigine Valley benchmark at 1920x1080 with Extreme quality settings, and it seems as though we hit a ceiling because the Strix GeForce GTX 1080 didn't do any better, at 106fps. Interestingly, the Star Swarm space battle simulation showed that the overclocked GTX 1070 from MSI can outperform the stock GTX 1080 Founders' Edition - scores were 99.37fps and 92.73fps respectively - but of course the overclocked Strix GTX 1080 pulled ahead of them both with 104.73fps.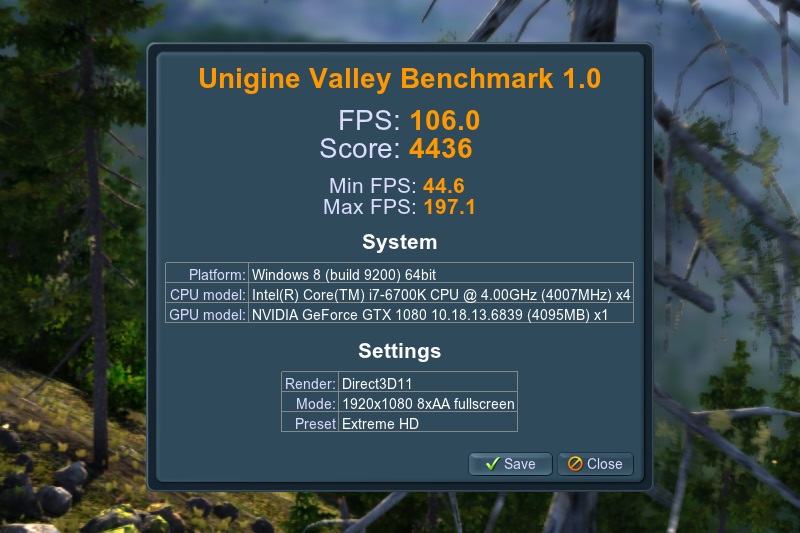 We ran all our game tests at 4K with the settings turned up as high as possible. We first ran through games with built-in benchmark runs which really help show the differences between hardware components by generating consistent simulations every time they are run. Ashes of the Singularity runs in DirectX 12, which gives us an idea of what we can expect as more game developers adopt newer standards and tap into new hardware capabilities. We ran it at 4K at the Extreme preset, and got 51.5fps with the Founders' Edition and 53.6fps with the Strix.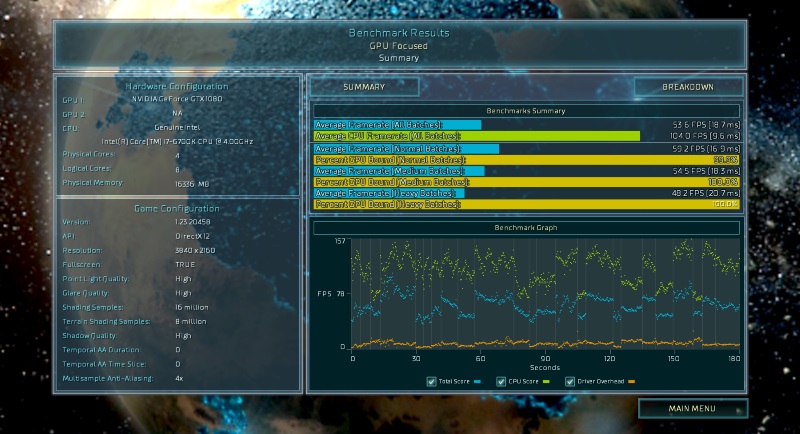 GTA V also has a demanding in-game benchmark. We maxed out every single option in the advanced settings panel and the Strix GeForce GTX 1080 still managed to average 30.58fps with a frame time of 32.69ms which was visible as mild stuttering throoughout. We then turned down a few of the most demanding ones such as MSAA from 8X to 2X, and shadows and grass quality from Very High to High. Our average frame rate shot up to a nearly flawlessly rendered 56.35 with an average frame time of just 17.75ms, with any perceptible drop in image quality more than made up for by overall smoothness.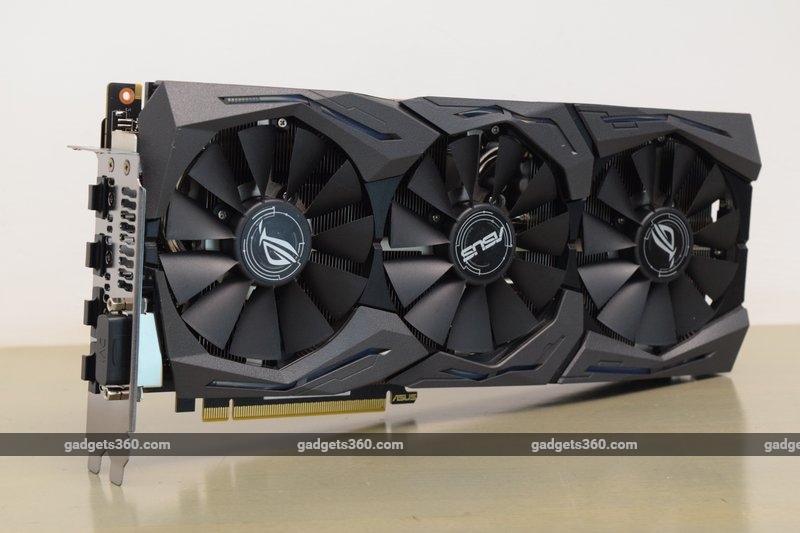 Manual game runs help us understand how far we can push each graphics card, in terms of the experience delivered at each resolution and with different combinations of quality settings. We measure the frame rate and pacing with FRAPS and plot the results to study not just how many frames a GPU can push out, but how consistently it can do so. A single average fps number might seem impressive, but it doesn't necessarily show how far deviations from the average can stretch, and how many there are. Plotting frame times on a graph lets us see this kind of consistency - thinner, tighter lines indicate timings which don't deviate from the average, while irregular peaks and valleys show that there was a lot of inconsistency between frames.
Far Cry 4 looked absolutely gorgeous at 4K, with quality pushed up to the Ultra preset. We recorded an average of 56fps with frame timings averaging an impressive 17.9ms. There were very few frames that skipped beyond 33.3ms, which is when they become noticeable. We felt no need to dial down quality settings to improve the gameplay experience.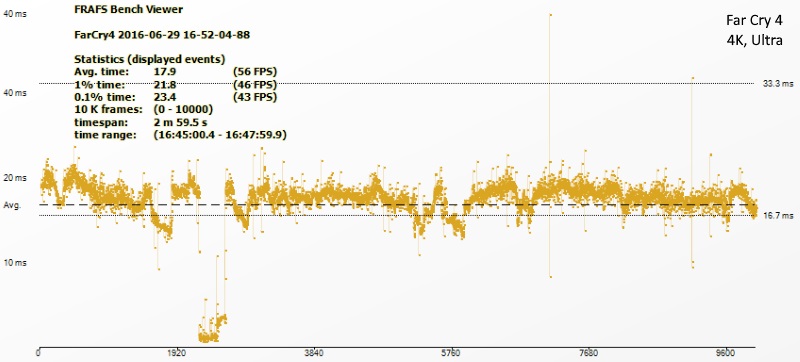 Rise of the Tomb Raider (Review) is a recent game which can push even today's best PCs quite hard. At 4K with the Very High preset selected, we experienced extremely smooth visuals. The framerate averaged 46fps and timings were 22ms average and 28.2ms at the 99th percentile. The low gap between these numbers shows that there were very few outliers on the graph.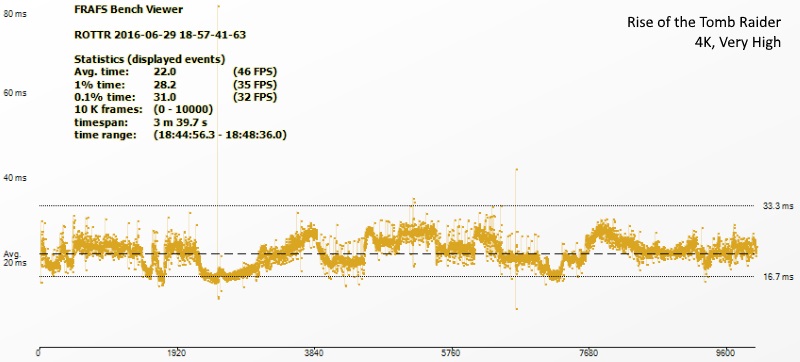 The new Doom (Review) is one of the most fun games we've played in a long time, and you really do need to keep running and jumping if you want to stay alive long enough to collect a decent sample of frames. We thoroughly enjoyed blasting demons at 4K and Ultra quality. There were no skips or stutters at all, and the frame rate averaged an impressive 67fps. Frames were paced superbly, with an average time of 14.8ms and 99 percent of all frames making it in under 17.7ms. You can see that there's a lot of action and things jump around a lot, but even then, the extremes were not too high or low compared to the average.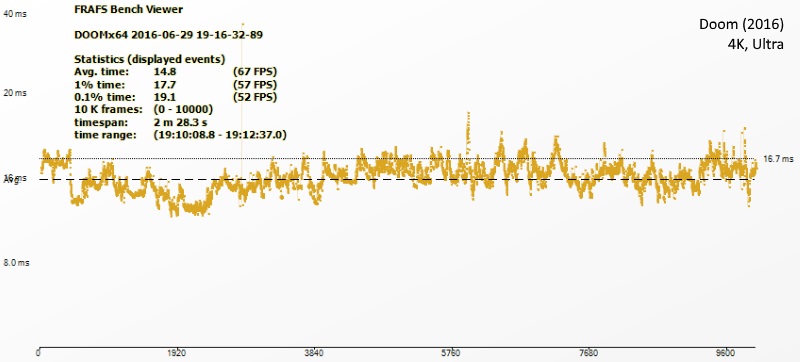 Crysis 3 might be a few years old, but it is still punishing top-of-the-line hardware. We were able to play at 4K at the Very High preset, but there were clearly times when the Strix GeForce GTX 1080 stuttered. The average frame rate was 25fps, and you'll have to reduce either the resolution or some of the quality settings for a more enjoyable experience. That said, frame times were still tight at 40.5ms on average and 57.3ms at the 99th percentile.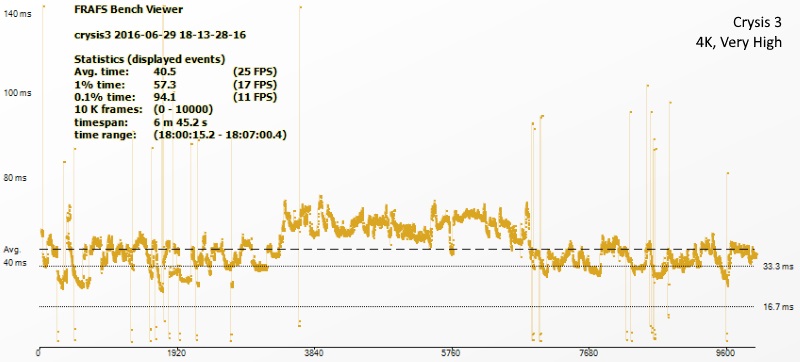 Finally, we ran Battlefield 4 which posed no problem whatsoever even at 4K and Ultra settings. We breezed through a mission at a comfortable 62fps. The average frame time was 16.2ms with 21.4ms at the 99th percentile mark.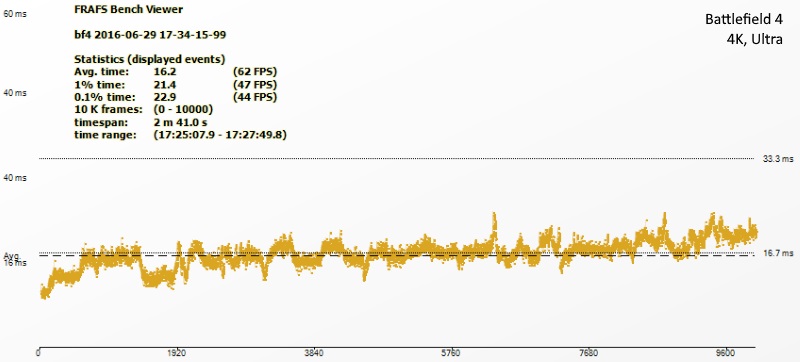 At no point during testing did we feel that either the Founders' Edition or the Strix GeForce GTX 1080 were struggling. Heat and noise were also never any problem. The Strix's fans in fact spent a lot of time completely stationary - Asus calls this feature 0dB Fan and it can be disabled in the overclocking utility if you want the fans to spin constantly for any reason.
We did try some simple overclocking using Asus' bundled app. By just dragging the Boost speed slider all the way to the end, we were able to run the card at up to 1959MHz. However, this resulted in instability, and our test bench froze when trying to run benchmarks. There was no indication that we needed to raise the voltage to compensate. With a little trial and error, we were able to run smoothly, and recorded a new high score of 5,478 in 3DMark's Fire Strike Ultra test.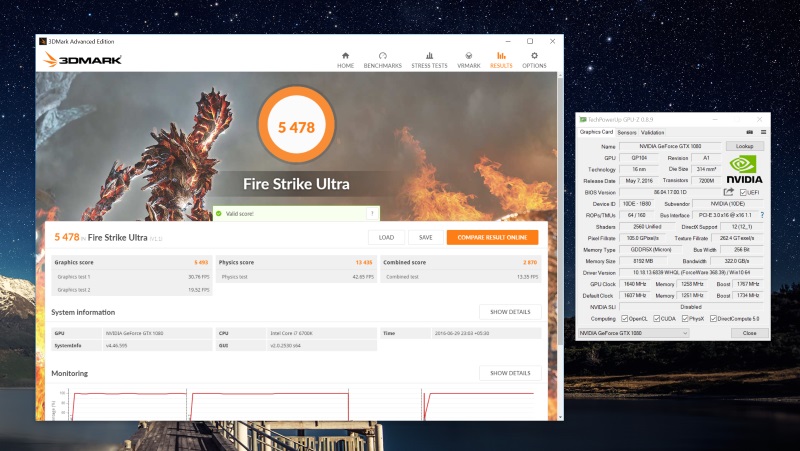 Verdict
This is what luxury feels like, and it's glorious. Nvidia has a triumph on its hands with the GeForce GTX 1080. Playing the latest games on a 27-inch 4K monitor at the highest quality settings without stutters is an absolute joy. There are still a few titles that seem to challenge Nvidia's latest and greatest GPU, but a few tweaks to the image quality settings will take care of that.
In fact this GPU is so powerful that it would be a complete waste on a standard 1920x1080 monitor - even 2560x1440 isn't a challenge. The amount of power at your disposal is just staggering, and you should be thinking along the lines of multiple large monitors, high-refresh-rate panels, VR headsets, and even 5K displays as and when those become available.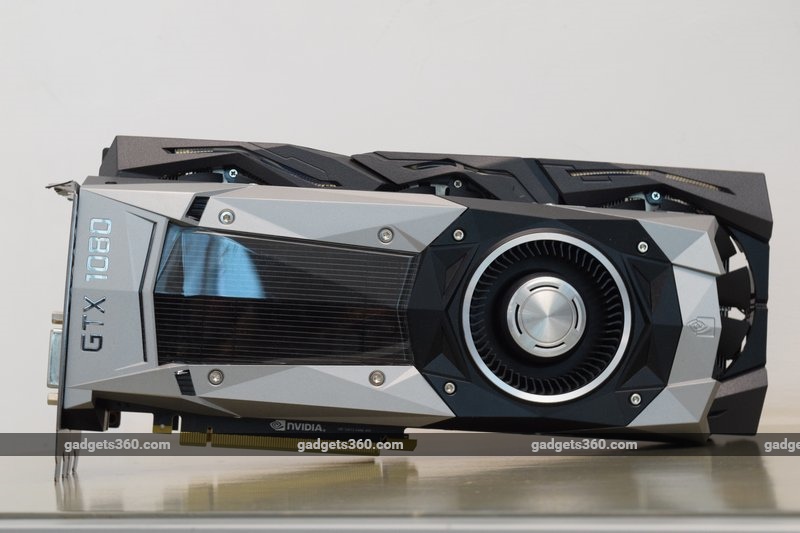 As we saw in our review of the GTX 1070, most gamers who are targeting resolutions beyond 1920x1080 could easily step down to the more affordable of these two GPUs without any real loss, except perhaps bragging rights. What this also means is that the cost of high-quality gaming is now considerably lower than before. There is no need whatsoever to spend Rs. 90,000 on a GeForce GTX Titan X card because you can now get equal or better performance for two-thirds that price.
The prices of custom cards are inflated across the board right now because they're all very new and stocks are selling out fast, so Founders' Edition models might seem tempting. However, while they certainly look phenomenal and work without a hitch, there's no doubt that custom-built cards are superior, and many will settle at prices lower than that of the Founders' Edition. We'd advise interested buyers to check at physical shops as well as online before making a decision.
Asus's custom cooler and PCB design make the Strix GeForce GTX 1080 a lot larger than the Founders' Edition, but if you're shopping around at this level, you definitely have a PC case that can hold it. The clock speed boost is appreciated, and the extra power connector means more overclocking potential for those who want it. The Aura lighting is pretty cool too, even if it is gimmicky. Of course the most important things are performance and cooling, which Asus has gotten totally right.
There's no telling whether Nvidia will release a GTX 1080 Ti or a Titan-branded Pascal card with even more power this generation, and the GTX 1080 is clearly being billed as a new flagship. This GPU is an absolute beast in all current games and is pretty much guaranteed to be more than enough for everything releasing over the next few years.
Asus Strix GeForce GTX 1080
Price:
Rs. 60,000
Pros
Phenomenal 4K gaming performance
RGB LED lighting effects

Low noise and power consumption

Second HDMI port for VR headsets
Virtually future-proof

Cons
Ratings (Out of 5)
Performance: 5
Value for Money: 5
Overall: 5