Asus's Republic of Gamers division has been on a bit of a streak this year, launching a number of gaming laptops at different price points as well as keyboards, mice, monitors, and audio products. The company as a whole is doing a good job of diversifying away from motherboards and PC components, and today has one of the most diverse product portfolios in the entire industry. The focus on gaming in particular is great news for consumers, since most other companies seem focused only on pushing out low-cost or ultra-slim laptops which aren't really suited for power users.
Those who want serious power for gaming and choose a laptop usually do so because they are compact and easier to buy than a full-sized desktop tower. That's also part of what makes consoles so popular. However, gamers lose out on the flexibility, upgradability, and sheer power of a gaming desktop. Asus is trying to bridge these worlds with the new ROG G20CB, a relatively compact desktop with absurd amounts of power. Read on to find out all about it, and if it's worth the rather steep asking price.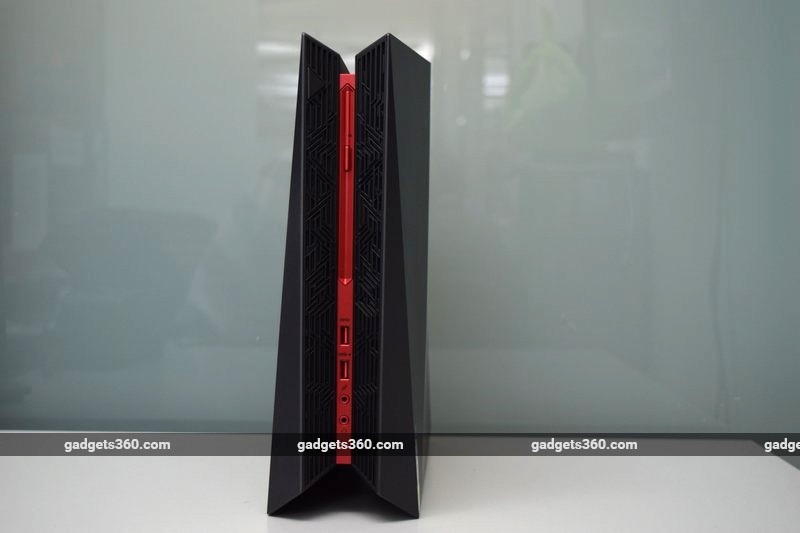 Look and feel
The ROG G20CB is certainly unique in terms of its shape and size. It doesn't use any standard PC form factor, and Asus is one of the very few companies that can fabricate all the parts it needs to pull this off. It isn't quite small-form-factor either; Asus says the total volume is 9.5 litres, whereas mini-ITX PCs tend to be between 14 and 28 litres, but the shape is highly irregular. Its design is angular and bold, stopping just short of being aggressive. It can only be stood up vertically, which might be a problem for those looking for an unobtrusive living room PC.
The first thing you'll notice about it is the tribal pattern on the front and top. It's all plastic, and serves the dual purposes of ventilation and looks. There's RGB LED lighting which shines through when the unit is switched on. The ROG G20CB is sure to be noticed no matter how or where you place it.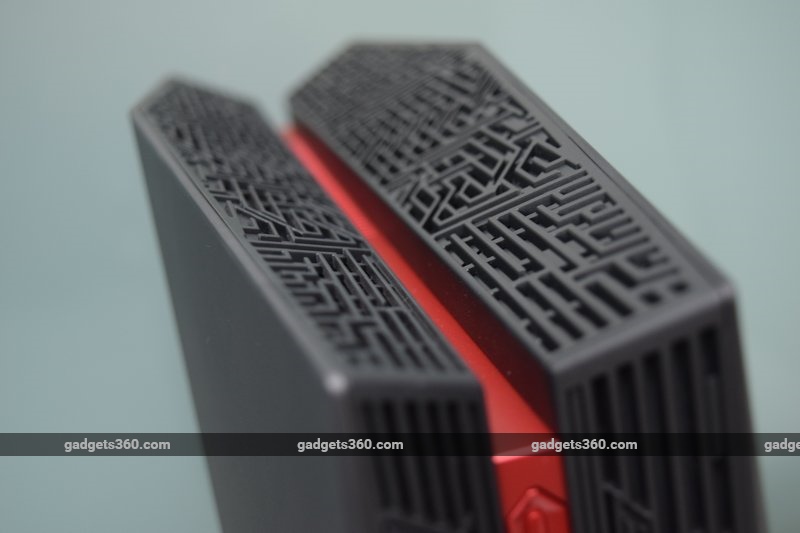 The main body looks like it's made of two halves, with a red spine down the centre of the front joining them together. This is where you'll find the laptop-style pop-out optical drive, two USB 3.0 ports, and independent 3.5mm mic and headphones sockets. The power button is integrated into the design on the inside left.
You'll notice that light is cast out from the base of the ROG G20CB, through hidden cutouts matching the pattern on the front. There are three independent lighting zones in all, which can be controlled with Asus's bundled software. The back of the unit has all the ports - there's a cluster with two USB 3.1 ports, two USB 3.0 ports, two more USB 2.0 ports (all Type-A only), Gigabit Ethernet, six 3.5mm audio sockets, and an HDMI port. You can tether the G20CB to prevent theft thanks to the Kensington lock slot. We would have liked to have seen USB Type-C and S/ PDIF audio ports.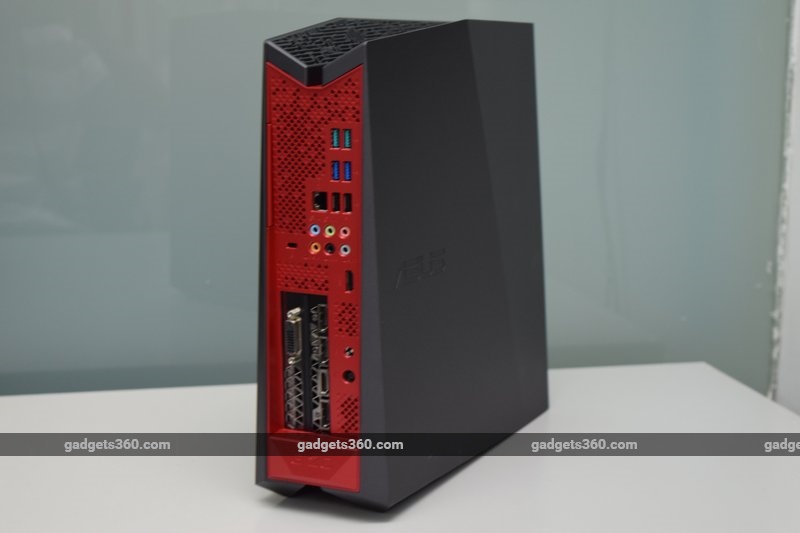 There's also a cutout with what is clearly the back of a discrete graphics card, with its own two DVI-D ports, one HDMI port, and one DisplayPort, plus its own vents. We aren't sure why Asus bothered exposing the motherboard's integrated HDMI port at all - on a purpose-built PC like this it's completely redundant and anyone who uses it by mistake won't be harnessing the power of the graphics card.
Similarly, there's another completely inexplicable design touch: the ROG G20CB has two separate DC power inlets right next to each other, and two separate external power bricks. The two come physically joined together in a plastic caddy, but you'll still need two power sockets and two wires running to the back of the PC. The combined unit makes for a massive and inconvenient extra box that has to be dealt with. What's worse, the two mains cords supplied with the ROG G20CB are of different lengths with the shorter one unusually stubby at just over two feet long.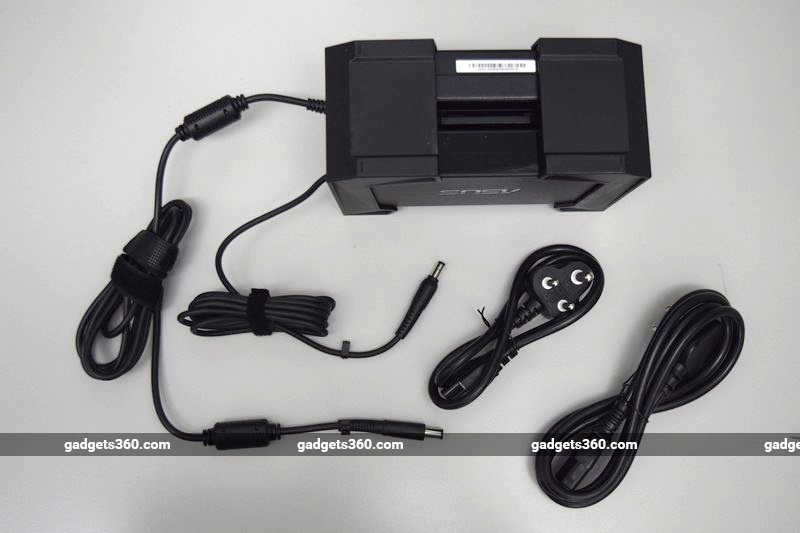 One of the power bricks supplies 230W and another supplies 180W, which just happens to be exactly as much as the graphics card requires on its own. It seems as though Asus was either trying to recycle laptop parts, or is planning to offer a variant without a discrete graphics card and therefore needed to keep its subsystems completely independent. Either way, this is terrible design, and console users are not likely to be impressed. We did not try to see what might happen if one of the power supplies was connected without the other.
Asus bundles a keyboard and mouse with this PC, and while the company sells some fairly fancy input devices under its Strix brand, these are not of that calibre. The keyboard is most notable for its orangish-pink backlighting and pseudo-mechanical look, but it's actually quite mediocre. You can't customise the backlight; the only options are on and off, and the right Windows key has been sacrificed for this purpose. There are no extra shortcut or media keys, even with a Fn modifier. There's only one rotary volume control which doesn't even have an accompanying mute button.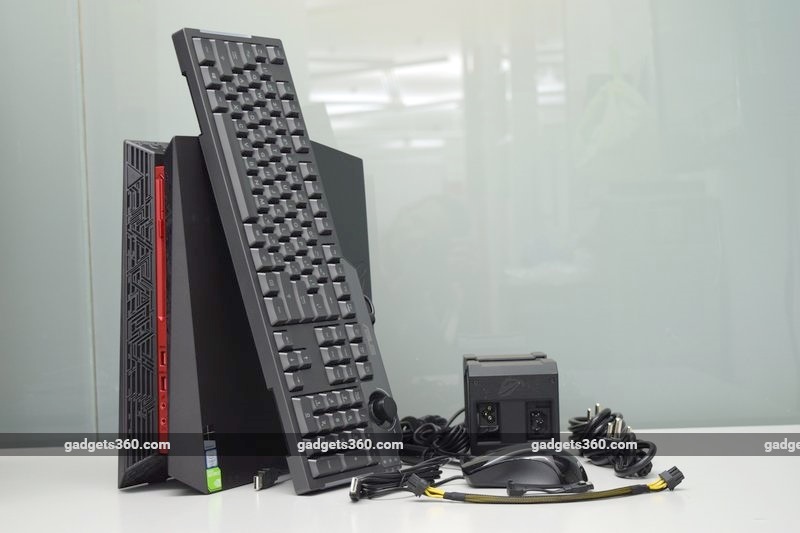 The mouse is also extremely basic. It's a shiny black, while the ROG G20CB itself and keyboard are more grey, and it has only the standard two buttons and a wheel. It feels just like any barebones office mouse. It's comfortable enough, but the buttons are loud and clacky. We don't think Asus should have bothered bundling these peripherals with a PC aimed at serious gamers, but at least they let you get started.
Finally, we found one very short SATA cable and one modular power supply cable with a 6-pin PCIe plug on the end. The specific use cases of these aren't clear, but they bode well for upgradability and expandability going forward.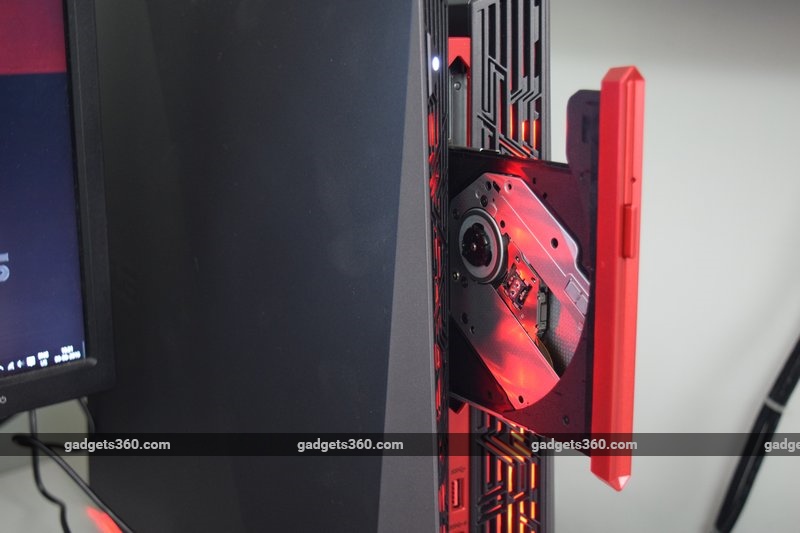 Specifications and software
Asus clearly wanted to outfit the ROG G20CB with only the best possible parts. There's a desktop-class Intel Core i7-6700 CPU that has four cores running at up to 4GHz depending on the workload at hand, plus Hyper-Threading support. There's also a surprisingly generous 32GB of 2133MHz DDR4 RAM. For storage, you get a 256GB PCIe SSD as well as a 3TB hard drive, which together should be more than enough for all the games you want to install plus a healthy collection of music and movies.
In addition to the physical connectivity described above, the G20CB has built-in Wi-Fi 802.11ac and Bluetooth 4.0. That discrete graphics card is a desktop-class model with one of Nvidia's spanking new GeForce GTX 1080 GPUs. You could run multiple 4K monitors or a high-end VR headset.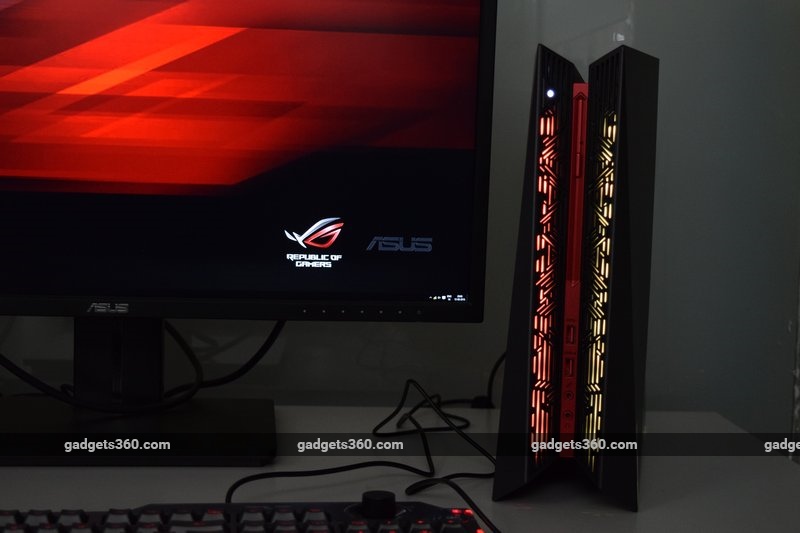 All this power in such a small package requires a custom cooling solution, and Asus promises that it has engineered the G20CB to run cool and quiet, incorporating copper heatpipes multiple fans, and natural convection. Hot air is blown out the top, so there are no vents on the sides.
The G20CB has a ton of pre-installed software, which was all a little overwhelming at first. There's the main Asus Aegis desktop app which is sort of an overlay that can run on top of other apps. It has modules for monitoring resource usage and basic overclocking controls, which you can't do much with given the locked CPU and platform controller. This is also where you'll find the RGB lighting controls. Another section lets you change screen resolutions on the fly and record stills or video of gameplay. On top of all of that, for no reason at all, there's a world clock.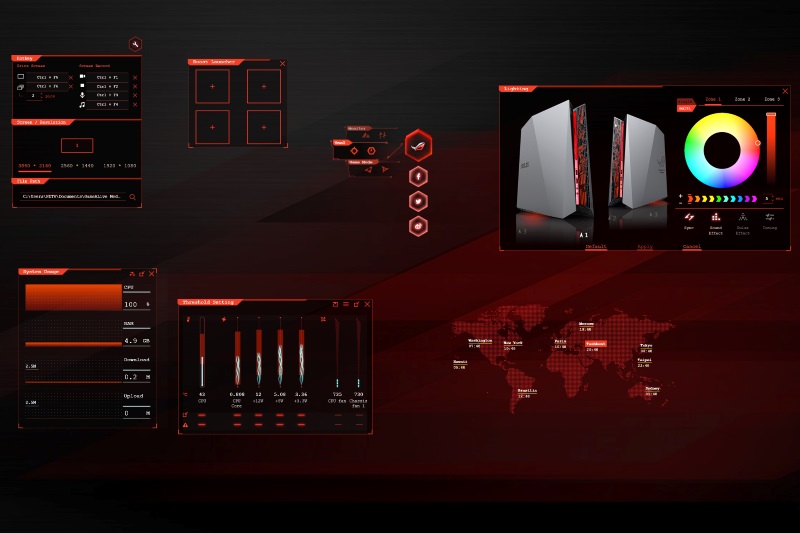 When we reviewed Asus' RGB-infused B150 Pro Gaming/Aura motherboard and Strix GeForce GTX 1080 graphics card, we were surprised to see disparate lighting controls. The ROG G20CB introduces a third, completely different UI. The LEDs are arranged in three zones - the left and right lips of the front panel are independent, and the bottom-rear lights are together considered the third zone. You can assign a static colour to each zone, or enable effects that apply to all zones. Effects include colour cycling, pulsing, or changing to match your PC's volume. Asus says that eight million colour combinations are possible, but you can't really tell the difference between points that are close together on the on-screen colour wheel.
There's also Asus App Box, which is like an app store pointing to a few programs you can download, AI Charger II which triggers a high power delivery mode for the front USB ports, Asus Web Storage, an update tool, Asus Command for quick shortcuts, PC Cleaner, Ai Booting, Audio Wizard, Backup & Recovery, support links, and manuals. That's in addition to McAfee Internet Security, assorted Windows Store apps, and a control utility for Asus' ROG GX900 gaming mouse for no apparent reason.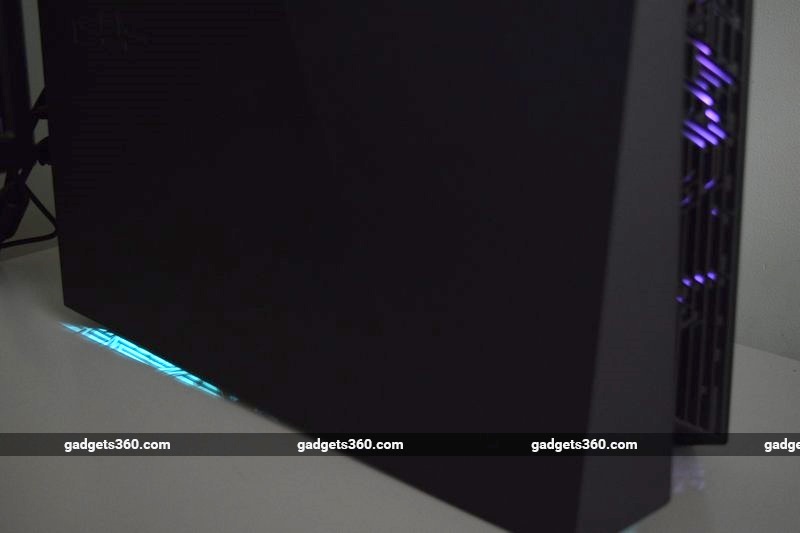 Performance and usage
Setting up the ROG G20CB wasn't much of a problem, except for the awkward power brick situation. We tested it with our Asus PB287Q 4K monitor, which is all that was needed apart from the box contents. It boots quickly and users don't really need to do anything other than the initial Windows 10 personalisation routine.
We immediately noticed a high-pitched whine coming from the pair of power bricks. This was annoying, and it persisted throughout our review period. The PC itself runs silently except when under heavy loads. Interestingly, the CPU cooler is much louder than the graphics card's blower - we could tell by the whooshing noise whenever CPU-specific tests were running. We also ultimately settled on dimming or disabling the LED lights, were too distracting for a PC placed right next to the monitor on our desk, though your mileage may vary.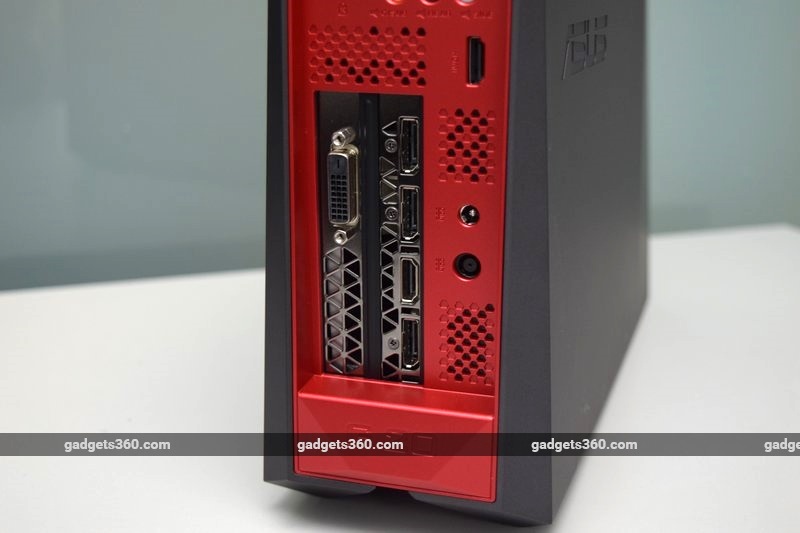 General usage is pleasant, and one of the first things we noticed was how fast data could be copied off an external storage device to the SSD - PCIe SSDs are still extremely new and uncommon. Our observations were confirmed with CrystalDiskMark, which reported 2222Mbps sequential reads and 1243Mbps sequential writes.
We ran a variety of other tests targeting overall performance as well as specific subsystems. PCMARK 8's home, work, and creative runs threw up scores of 3862, 3291 and 7967 respectively, while Cinebench R15 showed 137fps in its OpenGL graphics test and 786cb points in its CPU-bound test. POVRay ran its ray-tracing benchmark in 2 minutes 46 seconds, and HyperPi took only 13.812 seconds to calculate the value of Pi to a million decimal places across all eight CPU threads.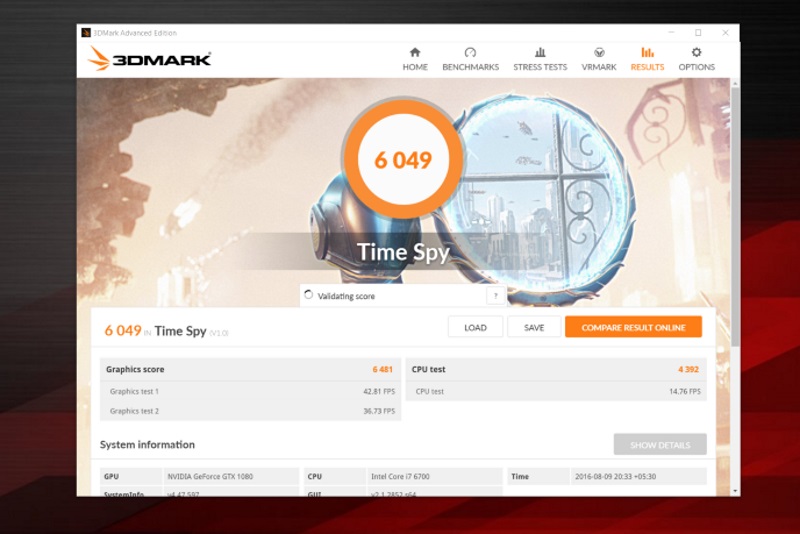 As far as gaming and graphics go, we ran the standard 3DMark Fire Strike Ultra test that is designed to stress the highest-end GPUs, and got 4,854 points. For the sake of comparison, Asus's own Strix GeForce GTX 1080 running on a standard test bench with similar components gave us 5,200 points. We also ran the brand new Time Spy test that uses the DirectX 12 capabilities of new graphics cards and Windows 10, and got a score of 6,049. Unigine Valley and Star Swarm gave us averages of 97.2fps and 85.74fps, again below the values of 105.4fps and 104.73fps respectively. This definitely shows that the ROG G20CB's performance is dependent on more factors than specifications alone.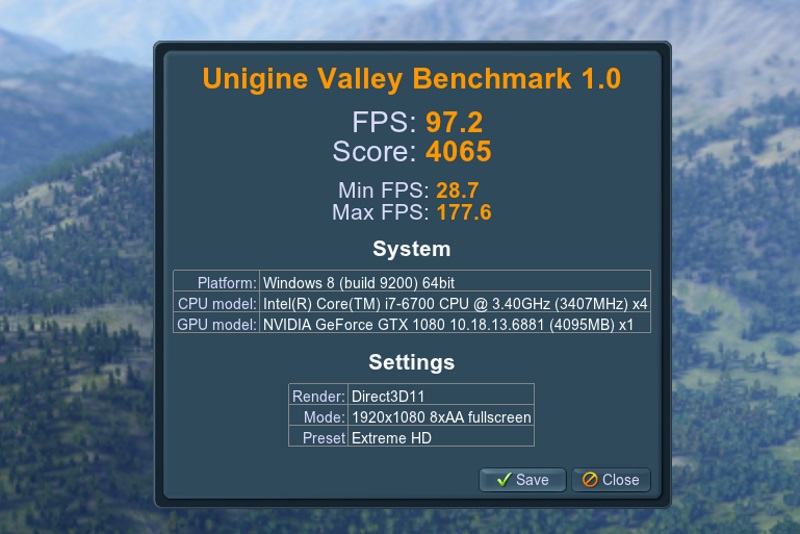 We then moved on to simulated game runs using the built-in benchmarks in some of today's most demanding games, which allows us to compare scores against other hardware. Metro: Last Light Redux ran at averages of 21.55fps at 4K and 52.7fps at 2560x1440, which is pretty impressive. We ran Ashes of the Singularity in DX12 mode, and got 49.8fps at 4K and 62.2fps at 2560x1440.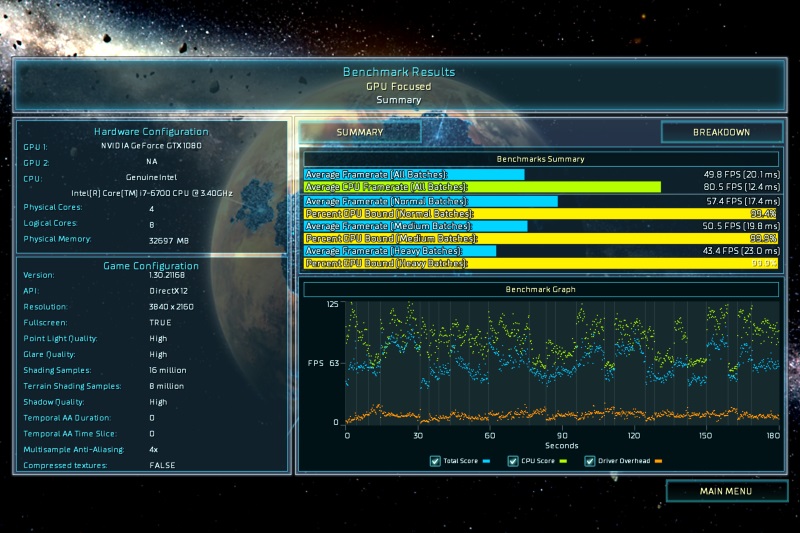 Finally, we recorded a few organic game runs with FRAPS in order to determine frame pacing, which shows how far the minimum and maximum fps scores deviate from the average. Smoother graphs with tightly packed dots indicate less variance, whereas more scattered dots represent those frames which skipped or lagged and caused visible tearing on-screen. Battlefield 4 ran beautifully at 4K with Ultra quality settings, at an average frame rate of 65fps, average frame timing of 15.4ms, and 99 percent of all frames coming in under 19.5ms indicating no significant problems.
Rise of the Tomb Raider is a bit more demanding. At 4K, using the Very High preset, we saw an average frame rate of 39fps, average frame time of 25.7ms, and 99 percent of all frames coming in at 30.6ms. This is still good enough for most people, though settings will have to be dropped a little if you want butter-smooth 60fps quality.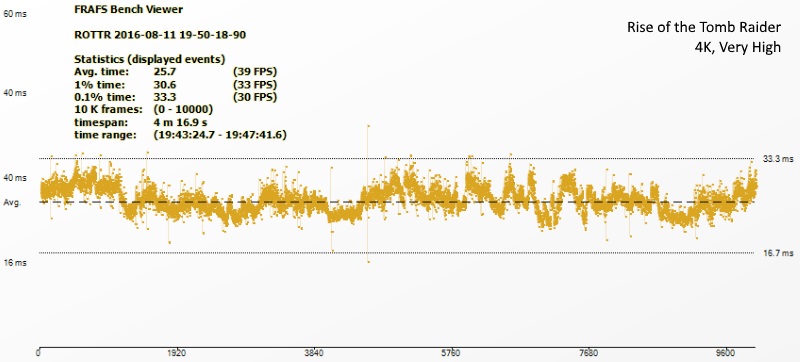 Far Cry 4 also did well at 4K and with the Ultra preset. We got an average frame rate of 49fps, average frame time of 20.3ms, and 99 percent of all frames coming in under 25.3ms. There was more variation, as evidenced by the jagged line and relatively greater number of outlying dots, though everything still stayed well above the 30fps threshold.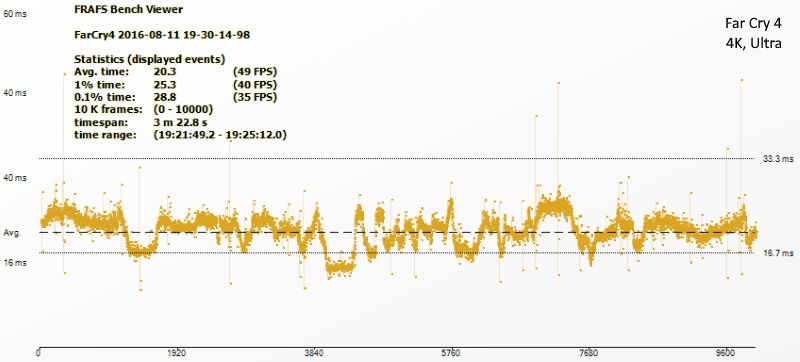 If you're thinking of buying a gaming desktop, chances are you're at least somewhat interested in the prospect of upgrading it down the line. Cracking open the ROG G20CB proved to be difficult, and we would not recommend that users do so themselves, even though it is possible to do so without damaging the warranty void sticker on the bottom. A service professional should be able to swap out the hard drive, SSD and RAM, but finding a replacement graphics card that works with this device's space, airflow and thermal constraints could be more difficult.
Verdict
Asus definitely knows how to build PCs, and it's clear that the company has drawn on the strengths of its various divisions in creating the ROG G20CB. The idea of a compact, stylish desktop aimed at gamers is definitely good, and on paper, there are no mistakes of the sort that many companies make when prioritising cost or style. However, the overall package still didn't come out perfectly baked, in our opinion. This is clear in the ridiculous dual-power-supply arrangement, the amount of unnecessary software, and the comically mismatched keyboard and mouse. Performance, while fantastic, is measurably lower than that of a similar set of standard PC components.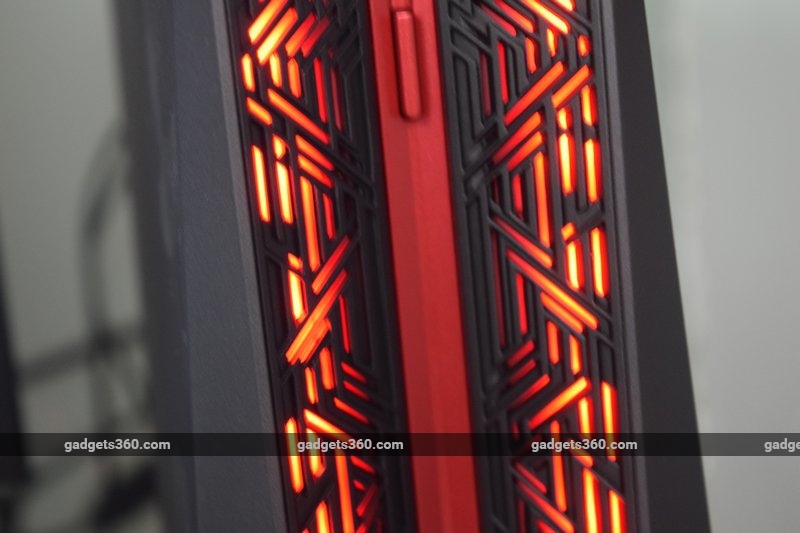 You could consider buying the ROG G20CB if you're looking for the latest and greatest hardware, and don't have any budget constraints. In fact, there aren't many other branded choices when it comes to high-end PCs in India. You could also pick one up if you just want to show off - its looks and the RGB lighting will certainly serve that purpose.
On the other hand, it really isn't that compact all things considered, and it won't replace your living-room game console. You can build a regular desktop PC capable of playing all current games for far less money. Plus, bear in mind that anything less than a 4K monitor is a waste of this hardware's potential - and those don't come cheap either.
Price (for configuration reviewed):
Rs. 1,85,000
Pros
Compact and good-looking

Top-end components

Great for 4K gaming

Cons
Requires two power bricks
Mediocre bundled keyboard and mouse

Expensive

Ratings (Out of 5)
Design: 4.0

Performance: 4.0
Value for Money: 3.0
Overall: 3.5