High-definition is old-school - at least if you have a bottomless bank account. The PC and entertainment industries have both taken a leap to the next big thing, 4K, which doubles the number of pixels along both the height and width of 1080p HD for a picture that's four times as sharp and can scale up in size much further before any loss of quality can be perceived. 4K content is hardly common yet, but you'll know how good it is when you see it.
There aren't many movies or TV shows to watch on 4K TVs yet, and there aren't any ways to get your hands on them if you don't have a very fast broadband Internet connection with very generous data limits. On the other hand, any relatively modern PC game should be able to run at 4K if you have the right hardware. It will be expensive - you're looking at today's flagship-class GPUs such as the Nvidia GeForce GTX 980 Ti and above, or AMD's Radeon R9-390 and above - but it will look great, and you can get up and running today.
4K monitors will of course let you do a lot more than just gaming. Artists and content creation professionals will love the extended canvas and ability to have tools and guides on screen without losing work area. Serial multitaskers and those who just need tokeep an eye on information feeds can have loads of things available at a glance. And if you don't care about any of that, you can still do everything else you do on a PC; it will just look a whole lot better.
Asus has been making great professional-quality monitors for a long time, and now the 4K Asus PB279Q has arrived in our market. It's big and expensive, and we've been able to test it with games, movies, and all kinds of other tasks.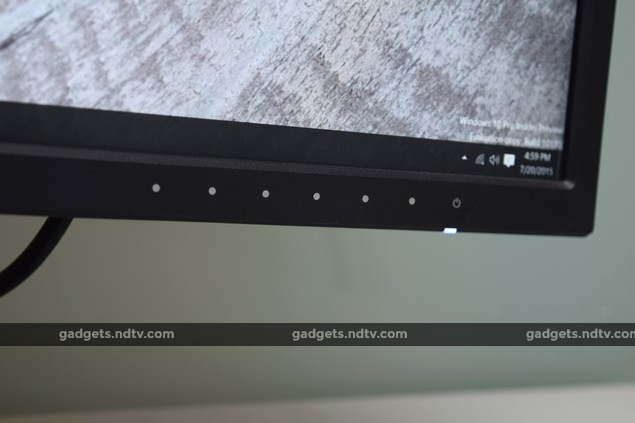 Look and feel
There isn't much that a manufacturer can do to make a monitor stand out, and in most cases people want to focus on what's on screen, not what's around it. Asus has done well in that regrard - the PB279Q is fairly unobtrusive. Despite its size, it doesn't feel bulky. The simple black frame is just over 10mm thick, allowing you to place multiple monitors side by side. The only thing we didn't like was the printed DisplayPort, HDMI and MHL logos on the bottom left of the frame, which we thought were too prominent and distracting.
The stand feels really solid, and allows for a plenty of motion. You can raise or lower the screen within a range of 150mm, swivel it 60 degrees to either side, and tilt it by up to 20 degrees upwards or 5 degrees downwards. Like most professional monitors, you can also rotate the panel 90 degrees for use in portrait orientation.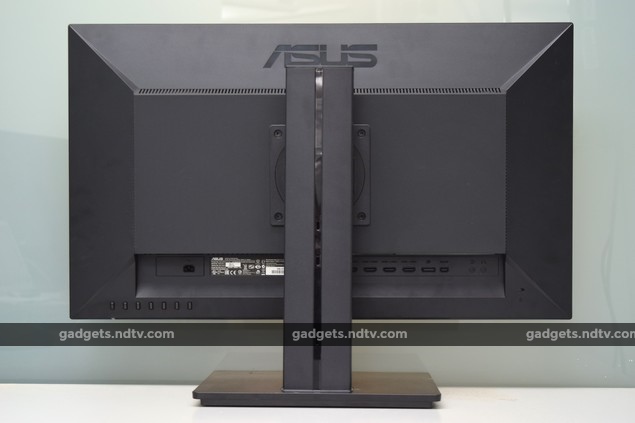 There isn't much to see on the back; Asus has given the monitor an interesting texture with diagonal stripes. There's an open grille facing upwards from which the 2W stereo speakers fire, and this could become a massive dust trap over time.
We don't much care for the way Asus has implemented the PB279Q's menu and controls. There's a row of seven buttons on the rear, just behind the bottom lip of the monitor, corresponding to icons displayed on the bottom of the on-screen menu. You have to reach around with your fingers and hope that you've got the right one for what you intend to do.
The bright white power LED shines downwards from the bottom of the frame and was very distracting when the stand was raised, but we found that it could be disabled from within the settings menu.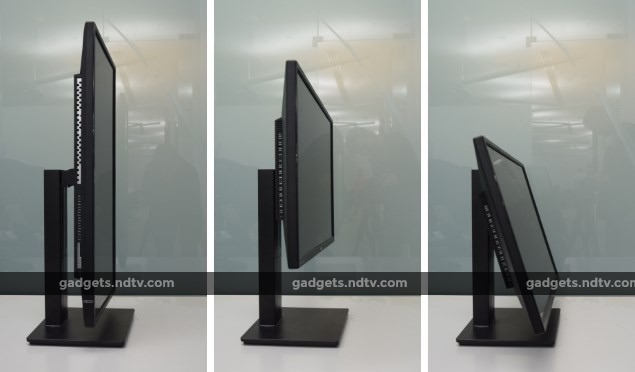 Specifications
The panel measures 27 inches diagonally and conforms to the now-standard 16:9 aspect ratio. 4K actually encompasses a number of possible resolutions, but we have the most common implementation here which is a straight-up quadrupling of 1920x1080 to 3840x2160. Asus lists the panel type as IPS, which is generally much better in terms of colour accuracy and vibrancy than common TN panels.
Asus also claims 178-degree viewing angles and 100 percent reproduction of the sRGB colour spectrum, which are both impressive. There are also Asus's own innovations: SplendidPlus colour presets which let you adjust settings for different situations, EyeCare flicker reduction, and VividPixel image enhancement.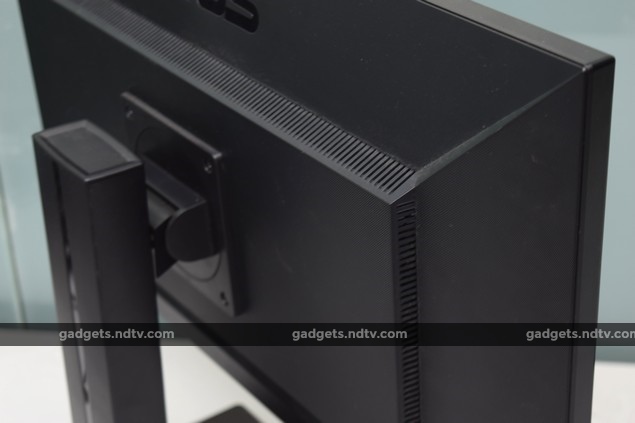 Asus has gone with an interesting selection of inputs - you get no fewer than four HDMI ports, all of which support MHL (Mobile High-definition Link) so you can plug in a smartphone or other portable device and mirror its screen or watch videos without killing its battery. There are also two DisplayPort inputs; one regular-sized and one mini-DP, for versatility with notebooks and desktop PCs. There are no legacy inputs; not even DVI. There's a 3.5mm audio passthrough for better speakers as well as an independent 3.5mm input, in case your source doesn't pass audio through HDMI or DisplayPort. There is no USB hub or card reader.
You can tell that Asus has thought about the kinds of devices people own and want to play media from. However, note that the HDMI ports all use version 1.4 of the standard and cannot support 4K video at more than 30fps. They are much more suitable for 1080p sources such as game consoles. You should use DisplayPort for connecting PCs for 60fps performance, or you're wasting both the monitor and the PC's potential.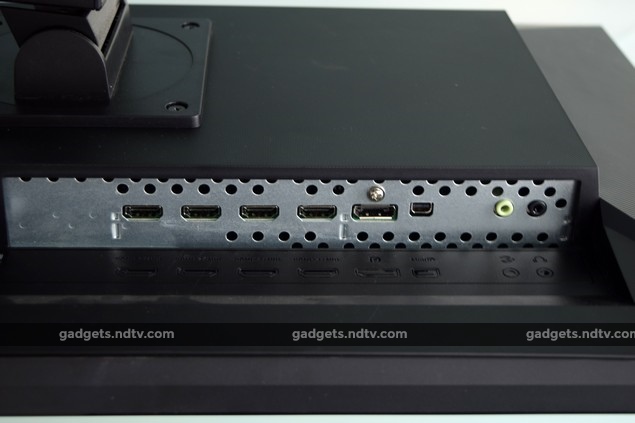 Usage
We had no trouble setting up the Asus PB279Q using the included DisplayPort cable. The on-screen menu proved to be difficult to navigate, so we had to force ourselves to try out Asus's assorted features. The SplendidPlus modes did certainly make a difference to the picture, and we particularly liked the Reading and Darkroom modes that worked a bit like eye-strain reduction software such as F.lux. We would have liked to be able to save our own presets as well.
Another interesting tool is Asus QuickFit, which lets you superimpose 1:1 frames of common paper and photo sizes, letting you get an idea of what your creative work should look like when printed. If you have multiple input devices connected, you can run one in a small PiP frame in one corner of the screen, or tile up to four at the same time.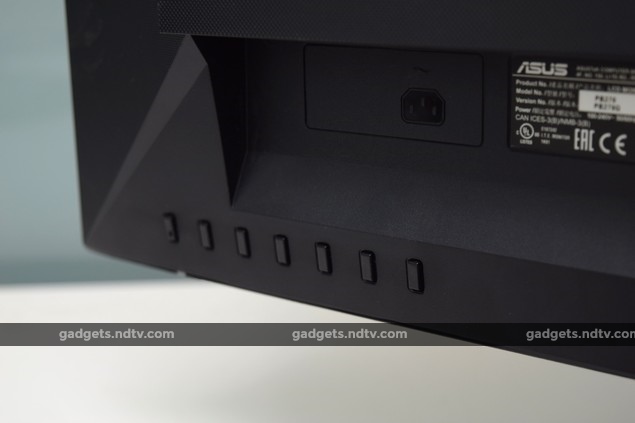 Our main problems with using the 4K screen were caused by Windows and the lack of an effective scaling mechanism for older software. Some programs recognise the command to quadruple themselves and do so by simple magnification which makes them look blurry. Others don't, and as a result are so tiny that you'll have to lean forward and squint to use them. Windows' scaling logic doesn't work well in all situations and while things might look sharp, you end up not being able to use all the available space all the time. Still, multitasking on such a huge screen is a joy; you can see massive spreadsheets without scrolling, tile multiple documents or programs, and have full-length Web pages open for reference while working.
Performance
We had the Asus PB279Q hooked up to our test PC, a high-performance gaming rig with plenty of powerful hardware. Driving the display was an Nvidia GeForce GTX Titan X graphics card. We used a variety of content, including SD, full-HD and 4K UHD video clips, and a handful of high-quality games.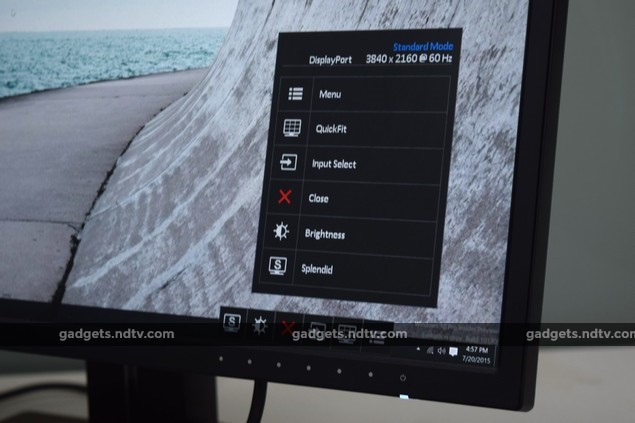 We started with our 2160p video clips, and we found performance to be below expectations. Video artefacts appeared, and there were colour flaws visible all over the monitor. Portions of the video where there is heavy motion tended to appear blocky, and zones where one colour changed to another were also affected. While the sheer sharpness of the image makes it look much better than it would at lower resolutions, there are still evident flaws in video handling. Image quality reduces drastically as the brightness is increased, so the only way to keep video quality acceptable is to tone down the brightness.
Standard definition and full-HD content is sub-standard as well. The monitor itself cannot upscale low-resolution sources, but if you're playing videos through a computer, your software should do some of that work. Non-4K videos tended to have their flaws particularly highlighted, with motion appearing shaky and full of judder. Some of these observations can be attributed to the fact that viewing distance for a computer monitor is much less than for a conventional TV.
Gaming is where the Asus PB279Q 4K monitor came to life. Gaming in 4K on the Asus PB279Q offered some of the sharpest graphics we've ever seen, with stunning detail in textures and lighting. Gaming in 4K will entail a performance hit if you don't have all the right hardware, but we found motion to be decent on our high-end test bench. While driving around in The Crew and GTA V, the surroundings and the other vehicles were rendered beautifully despite our quick motions.
Reducing the resolution to 2560x1440 vastly improved frame rates and made motion even smoother, but the sheer detail and rendering at 2160p was hard to let go of despite the tradeoff. The monitor itself is thus clearly capable of rendering smooth, flowing and flawless motion with native content. Moving on to Far Cry 4, we were most impressed with colour and lighting, as well as water and grass textures. The Asus 4K monitor did a stellar job of bringing games to life, although there were a few rare occasions when too much brightness showed flaws in the picture.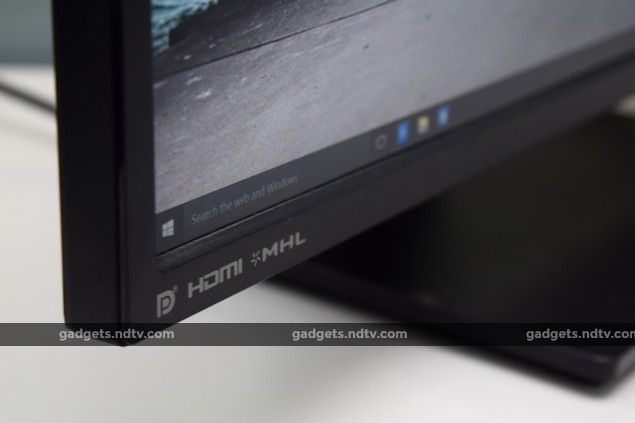 Verdict
Using a 4K computer monitor is a revelation. The sheer luxury of space will make you reconsider how you do everything you've become used to doing (and how long it takes you), especially if you've become used to poky laptop screens. A few teething troubles aside, most parts of Windows and most programs look sharp and give you immense freedom. For gamers and graphics artists in particular, this is well worth the investment.
Asus has thrown in plenty of features, but not the best user interface. Many of the tools are difficult to discover and use, and might be ignored as a result. On the other hand, the multiple HDMI ports with MHL are definite value additions.
On the whole, we can safely say that this monitor is an easy recommendation if you're a serious gamer, and does a decent job with most computer functions. The only flaw was its handling of video.
Price (MRP): Rs. 66,340
Pros
4K resolution and good specifications

Sturdy stand with full range of motion

Versatile inputs

Cons

Weak video performance
Expensive

Ratings (Out of 5)
Design: 4

Performance: 4
Value for Money: 3
Overall: 3.5