In principle, Chrome OS should solve a lot of problems for a lot of people. Chrome OS devices should be lightweight, affordable, easy to use and easy to maintain. Considering that a lot of what people use their computers for is achievable inside a browser, it makes a lot of sense to strip out all the unnecessary underlying hardware and software.
Chromebooks have been around for a while, and at least in some parts of the world, live up to all those promises. They're small, cheap, portable, and good enough for all the little things you might want to do now and then. They've really caught on in schools and with entry-level users. They don't require much learning and they just work.
Of course there are caveats - you need to be online pretty much all the time in order to actually do anything, you need to be happy to let Google dictate the terms of your digital life, and you have to be okay with missing out on a lot of the things regular PCs do that you take for granted.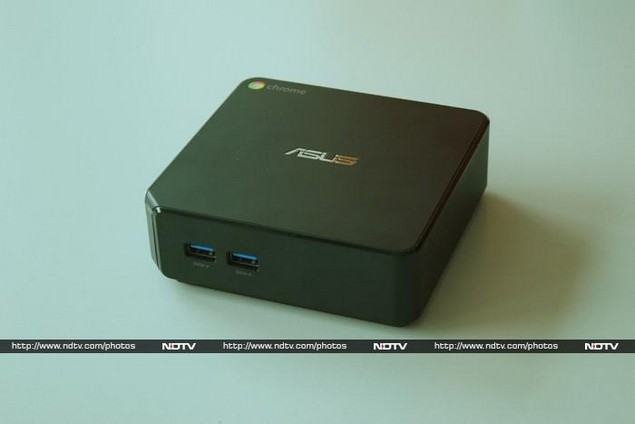 That first point is a huge sticking point in India. Internet access is slow, expensive and unreliable. Furthermore, taxes and import duties erase pretty much all the cost savings associated with these devices. At least Chromebooks are still portable - but where does that leave a Chromebox? What are the advantages and disadvantages of such a product in our context? We aim to answer these questions in our review.
Look and feel
The Asus Chromebox CN60 is just as small as once-popular Atom-based nettops were. It measures just 124x124x42mm, which is smaller than an external desktop hard drive or around the same size as a Wi-Fi router. It looks great, in black matte plastic with a notch in one corner. The only splash of colour is a bright Chrome logo in one corner, which slightly takes away from the device's demure look.
You'll see two USB 3.0 ports in front, and a slot for SD cards and a Kensington lock port on the side. Most of the action is on the rear panel, where you'll find the DC power inlet, two more USB 3.0 ports, a Gigabit Ethernet jack, HDMI and DisplayPort video outputs, and a 3.5mm headset socket. The notch conceals a power button and white LED.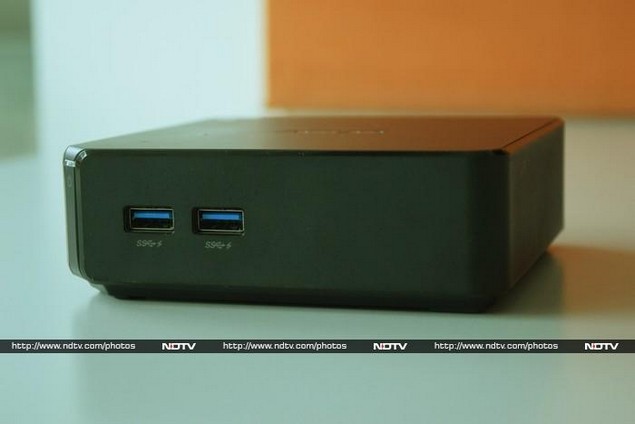 The Chromebox's tiny frame can sit anywhere on a desk or even on your TV cabinet, but you also get a bracket and screws in the box that let you mount it on the back of any VESA-compliant monitor. This might actually be the best option, since cable clutter is a very significant problem. In fact, you'll want to use wireless peripherals and connectivity as much as possible.
The Chromebox CN60 is light and portable - its AC adapter is nearly a quarter the size of the device itself! More interestingly, Asus claims it is fanless (though we believe this applies only to the base model). This makes it very suitable for use in a living room or bedroom.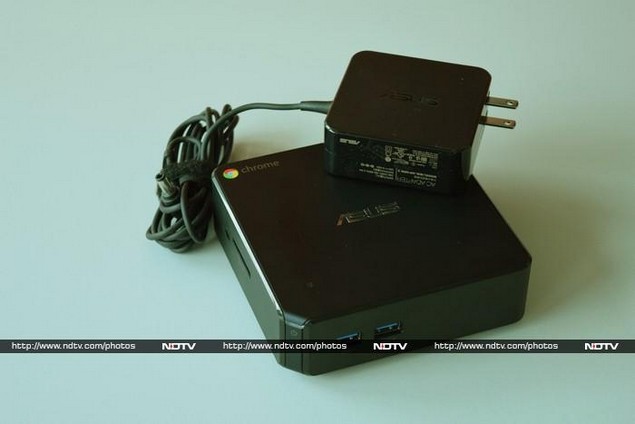 Specifications
Asus sells three versions of the Chromebox CN60: one with a Celeron processor and 2GB of RAM; one with a Core i3 processor and 4GB of RAM; and one with a Core i7 processor and 4GB of RAM. All other specifications are the same across the three variants. Most Chrome OS products that have launched before now have used low-power parts. The Core i3 and Core i7 models are said to be capable of playing 4K video, but the i7 model is for the most part aimed at corporate customers for its ability to run multi-party videoconferences.
Our review unit was the i3 variant. The particular CPU it uses is the i3-4010U, a fourth-generation "Haswell" part with two cores running at 1.7GHz with Hyper-Threading enabled. It's a low-voltage version, and its rated heat dissipation tops out at a modest 15W.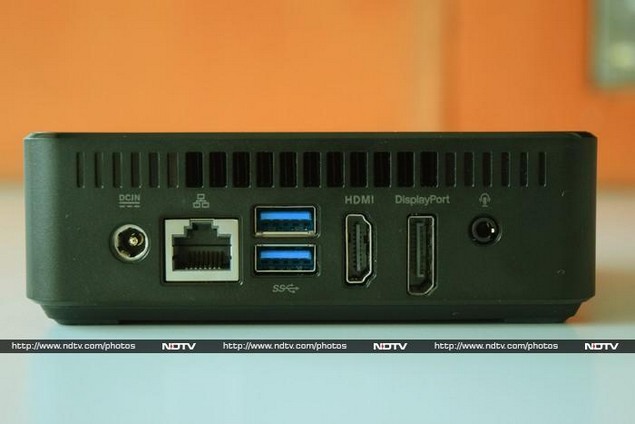 Storage is limited to 16GB in the form of a M.2 SSD. You should be able to swap this out on your own, but cracking open the Chromebox's body will void your warranty. You also get Bluetooth 4.0 and Wi-Fi b/g/n.
Asus will sell its Chromeboxes with your choice of wired or wireless keyboard and mouse. We received just the device on its own for review, and it worked perfectly well with a variety of commodity input devices. Keyboards designed for Chrome OS have a few quirks such as a Search key where Caps Lock is usually found, and a Fn row that is mapped to system-wide shortcuts by default.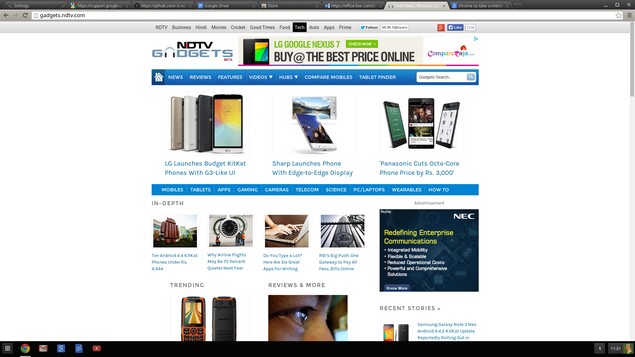 Software
Most of the Chromebox C60's features are inherent to its software. For starters, nearly all your data will have to live in the cloud, since there's really no useful amount of built-in storage. You'll get 100GB of space added to your Google Drive account for two years which is handy, but the actual practicality of using it all will depend on the quality of your Internet connection. Luckily, you can just plug in pretty much any USB drive.
The Chrome OS interface is a little disconcerting. The desktop is mostly blank, with a row of icons in the lower left corner and a status indicator across from it. There is what looks like a Start menu, followed by the familiar icons of Chrome, Gmail, Google Search, Google Docs and YouTube. While the Chrome icon fires up an ordinary-looking browser window, the rest of them open their respective websites as new tabs in a browser - they don't behave like the app icons you might be used to on a tablet or smartphone.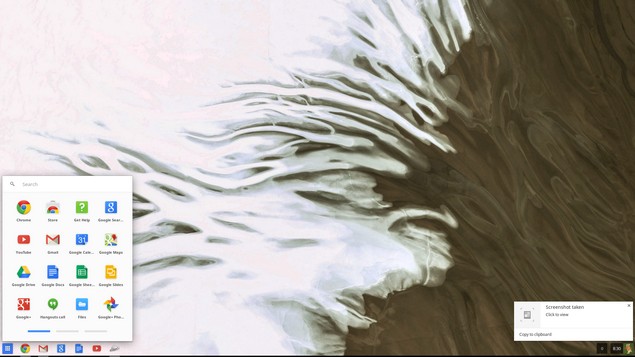 This behaviour holds true for most Chrome OS apps, whether preinstalled or downloaded from the Chrome app store. Very few apps behave like actual apps or live in their own windows. It is entirely possible to spend all your time inside the browser - and you begin to realise that there is no reason not to, especially when it can run full-screen quite comfortably. You can open multiple Chrome windows (including Incognito ones).
Notable exceptions include the Files app; a basic file manager which shows you only the contents of your Google Drive and one 'Downloads' folder - which is just about the only equivalent of a file system you're going to see. If you've plugged in any USB drives, they'll show up here too. There doesn't appear to be a way to browse network shares (or any non-Google cloud storage service, which is less of a surprise).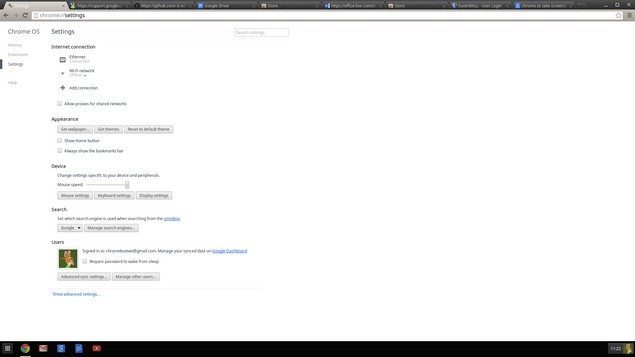 If you do have multiple windows open, you'll appreciate an OS X Expose-style feature (triggered by the F5 key) that lets you see them all. Desktop management is not on par with mainstream OSes though, and it can be difficult to move between windows. There's also no direct way to get to frequently opened documents.

Google's Play Store in India offers books and movies, but not music, making that icon useless. At first, it appears that there's no way to play media other than streaming it from a website. There are no apps to play media or open image and PDF files with, but the OS is capable of playing music and video if you double-click their icons in the Files app. Most common formats are supported, including FLAC.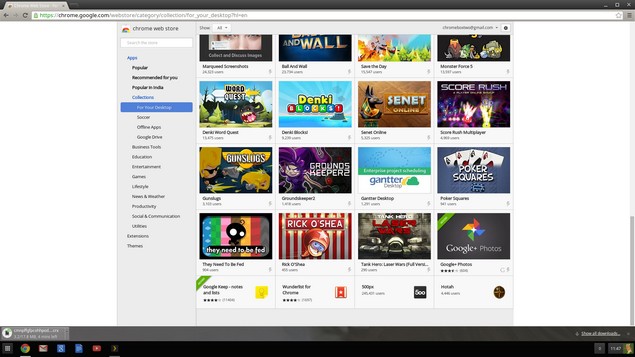 Chrome OS also includes hooks to Google Maps, Calendar, Keep, Google+, Hangouts, and Google+ Photos (rather than Picasa). Non-web apps include a camera, calculator, and Chrome Remote Desktop (which lets you use a Windows machine via RDP).
We found a number of interesting free apps in the Chrome store, but quality varied wildly. Some, such as the popular Duolingo and even Microsoft Word, are nothing but shortcuts to their respective websites. Others, especially the free games, were also links and their sites were jam packed with annoying ads. There were a few good native apps, such as the Reddit client Reditr, a puzzle game called Entanglement, and the Plex media server, which work (to some extent) offline.

Luckily, Chrome OS will soon gain the ability to run Android apps natively, which will be a huge boost to the utility and usability of devices such as the Asus Chromebox.
Asus promises near-instant boot times, which we found to be true. The company also points out the Chrome OS keeps itself updated automatically and is not susceptible to the huge number of viruses and other forms of malware that Windows users are all too familiar with.
Multiple people can use a Chrome OS device, but will need their own Google accounts. You'll find that everything, including your apps, bookmarks, history, passwords, settings, themes and open tabs can be synchronised between Chrome OS and Chrome on Android, Windows or OS X.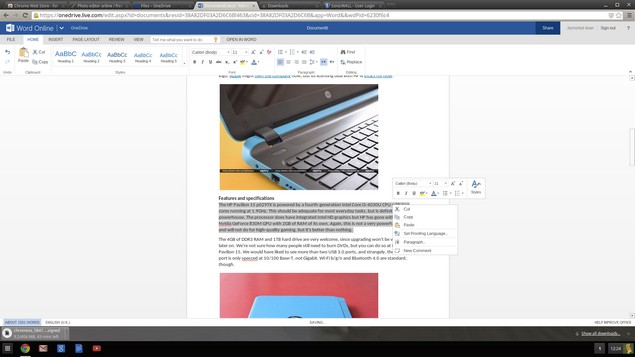 Performance
We found the Asus Chromebox CN60 to be consistently snappy in our time with it. We tested it with an Asus VX238 monitor which has a resolution of 1920x1080. We never noticed any slowdowns or lags even with dozens of tabs open, but it was clear that several apps had not been designed with high resolutions in mind. Asus says the Chromebox can handle running two screens at a time, which we weren't able to test.
At the time of our review, the Chromebox was running Chrome version 36.0.1985.143, though the software is updated so often that numbers are somewhat meaningless. We ran our usual suite of cross-platform browser tests and were impressed with the scores. SunSpider completed in just 280.9 milliseconds, while Mozilla Kraken took 2160.6 milliseconds. These scores are on par with the fastest Windows notebooks we've tested. BrowserMark 2.1 returned a score of 3606. Clearly, Intel's Core i3 processor can handle the load of heavy Web browsing.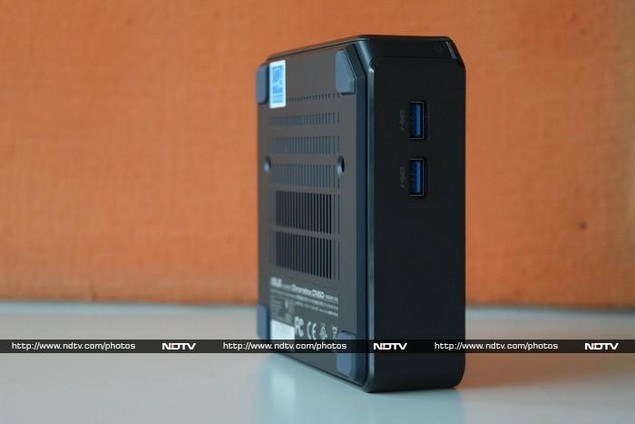 Not all our test video clips played well - we saw heavy artefacting in our heavier 1080p files. We tried to test Asus' claim of 4K video support with a few YouTube clips and were left disappointed by severe stuttering even though they were fully buffered. We then tried to play 4K videos recorded with an LG G3, which played perfectly fine.
We didn't feel the Chromebox heating up at all, but there was the unmistakable feel of hot air being forced out through the vents at the rear, which means there is a fan inside the chassis after all. It's still totally silent, unless you press your ear right up to the plastic lid, but you should know that dust will eventually settle on it and affect performance and noise levels.
The Asus Chromebox CN60 is very good at what it does, so you'll have to be very sure that you understand the benefits and limitations of Chrome OS if you're considering buying this device.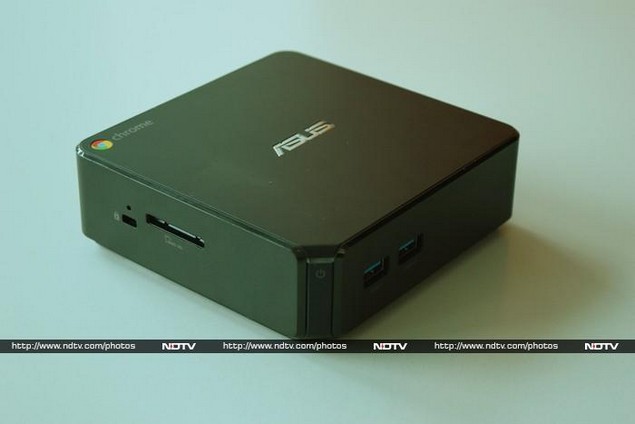 Verdict
Those benefits and limitations are absolutely everything when it comes to this device. You really do need a stable high-speed Internet connection to be able to make the most of it, and it really isn't that difficult to get used to.

The Asus Chromebox hardware is clearly up to the task of running Chrome OS and its apps, but there is the matter of whether it's worth buying when there are far more capable laptops and desktop PCs that cost the same.
The base Celeron model starts at $179 abroad, which could convert directly to Rs. 10,850. However, it costs a whopping Rs. 21,000 (without a monitor) in India, which is only slightly less than what the Acer C720 chromebook costs. The Chromebook option also has the obvious advantage of being portable and usable on the move. The Core i3 model we reviewed costs Rs. 36,500, which would otherwise buy a very capable laptop or iPad. Unbelievably, the Core i7 model comes in at an eye-wateringly ridiculous price of Rs. 58,000 -we really cannot imagine what anyone might be able to achieve with a Core i7 CPU on Chrome OS, and would much rather spend that amount on a fully equipped gaming PC.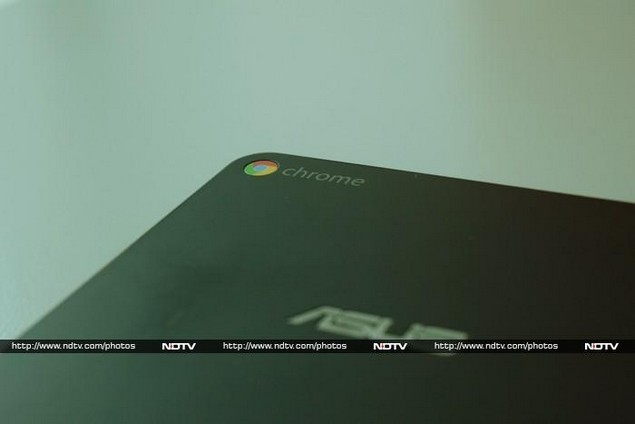 Whatever the reasons for the high pricing, the fact is that all three models are effectively dead in the water no matter how good they are. You would really, really have to be a fan of Chrome OS and Google's ecosystem in order to justify buying an Asus Chromebox. It is perhaps suitable for those with very limited needs or who might be uncomfortable with a Windows PC, such as young students and the elderly. Schools or offices that want to restrict users might also get some mileage out of it. Even in these cases, Chromebooks and tablets generally hold more appeal.
If you feel like getting your hands dirty, it is rumoured to be possible to install Windows or XBMC on a Chromebox. The hardware could work well as a home theatre PC, given its small size and ability to run quietly. Still, this is a very niche application.

Ultimately, the Asus Chromebox CN60 is a very expensive toy with no readily apparent purpose. You could buy it if you really want something new to show off, or if you feel like giving your parents a particularly extravagant gift.
Price: Rs. 36,500 (Core i3)

Pros:

Small, quiet and good-looking

Powerful enough for Chrome OS and apps

Easy to use, easy to set up
Good wired and wireless connectivity options
Software updates will add new capabilities over time

Cons:

Limited local storage space
Tightly integrated with Google services at the cost of others

Requires a stable broadband connection for most apps

Extremely expensive for limited utility

Ratings (out of 5):

Design: 4
Performance: 4

Software: 3.5
Value for Money: 2.5
Overall: 3.5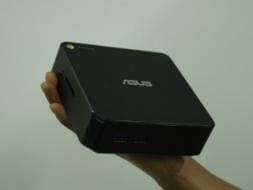 Asus Chromebox CN60 in pictures