When we think of Acer, our minds immediately run to budget laptops, simply because that's what we're used to seeing around us. The company has had a diverse range of products in India for a while though, the Aspire S7 being the most notable in the high-end Ultrabook space. Acer has also had its gaming range of devices sold under the Predator moniker but it hasn't been pushing them too aggressively in India, up until now.
Last month, Acer India announced a slew of gaming laptops, monitors and projector in India. These products are part of the new lineup which Acer first announced globally last year. It's evident that the company is aware of how it is perceived in India, and wants to shed that budget image by catering to growing segments such as gaming.
The Predator 15 (G9-592) is a balls-to-the-wall, tricked out gaming laptop that doesn't pretend to be anything else. It's heavy, looks aggressive, and lights up like a Christmas tree - everything a typical gamer would want in a portable PC. But can it tame even the most demanding games and prove to be worthy of its Rs. 1,79,000 price tag? Let's find out.
Look and feel
We approve of the stealthy look of the Predator 15, which is really slick with the rubber cladding on the body. The chassis is mostly plastic but the base is as sturdy as they come. The design could have used a touch of refinement though, especially the edges near the hinge which feel misshapen. The lid has the Predator name and logo and two acrylic slits on either side, which light up when the laptop is powered on. There is some flex in the middle of the lid which is not good for the display so you might want to be careful when you travel with it.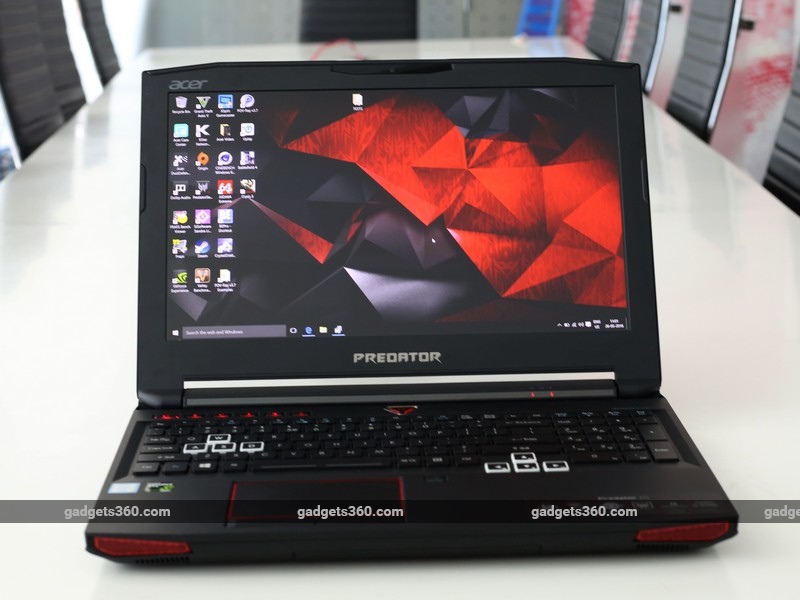 The rubber cladding continues throughout the palm rest area and around the keyboard. Speaking of which, we have a full-sized keyboard with a numpad. The chiclet-style keys are fairly big and have good spacing. The WASD and direction keys have white borders to help them stand out, and they're all backlit with customisable colours. The keys have good travel and tactile feedback is not bad for typing.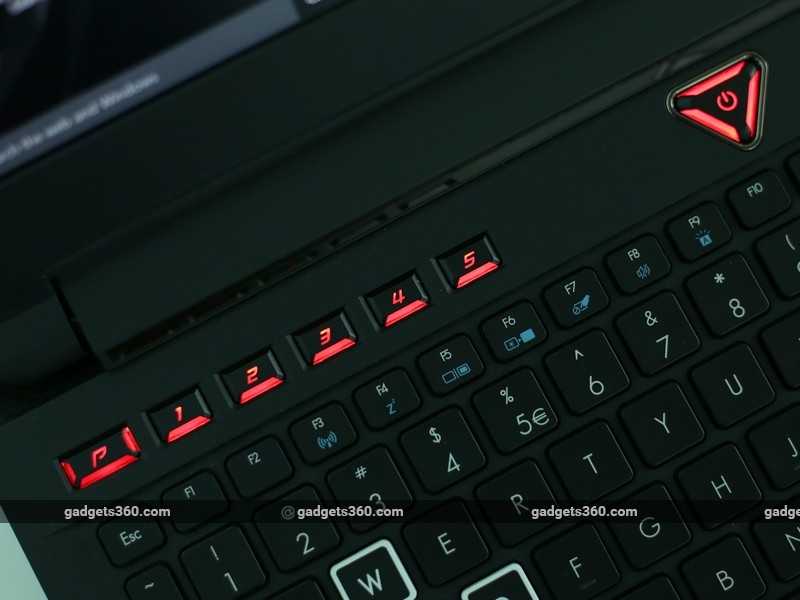 There's a 'P' hotkey on the top, accompanied by five individual buttons which can be programmed to do various functions like activate a macro, force the discrete graphics to activate, etc. If a function is assigned, the button will light up. Pressing the 'P' button again changes the colour of the strip, signifying a second bank for programming. You get a total of three banks that you can cycle between.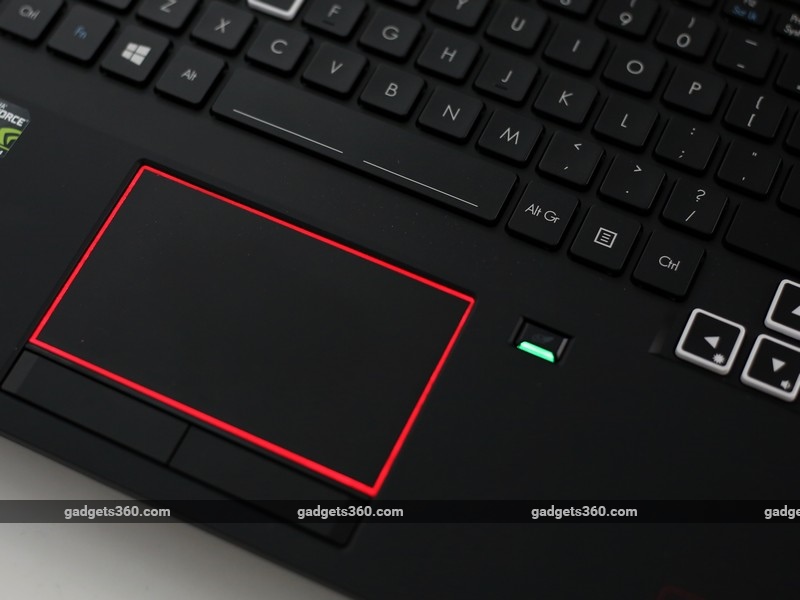 The trackpad works very well with smooth tracking, which is hard to find on a Windows laptop. You even get individual left and right mouse buttons so you could think of gaming on the go. Tactile feedback is once again very good. Acer offers a dedicated button for disabling the trackpad and Windows key while gaming.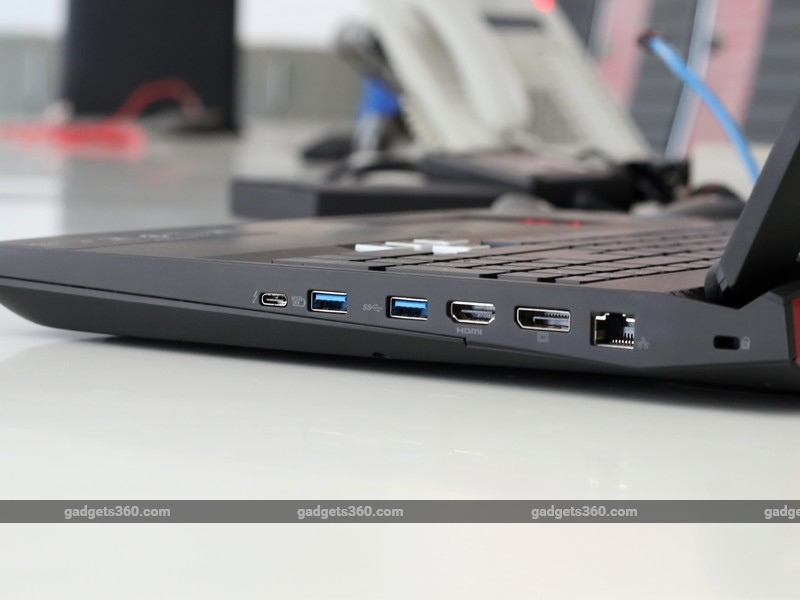 The 15.6-inch IPS display has a full-HD resolution which means you get crisp visuals and good colours. Viewing angles are also quite good, and thanks to the matte finish of the screen, reflections aren't much of an issue. In terms of connectivity, we have a total of four USB 3.0 ports, an SD card slot, individual headphones and microphone sockets, HDMI, DisplayPort, one USB Type-C port (which supports Thunderbolt 3), and Gigabit Ethernet from Killer Networking. There's also a Blu-ray writer. The laptop has a built-in headphone amplifier which is capable of driving even high impedance headphones of up to 600Ohms.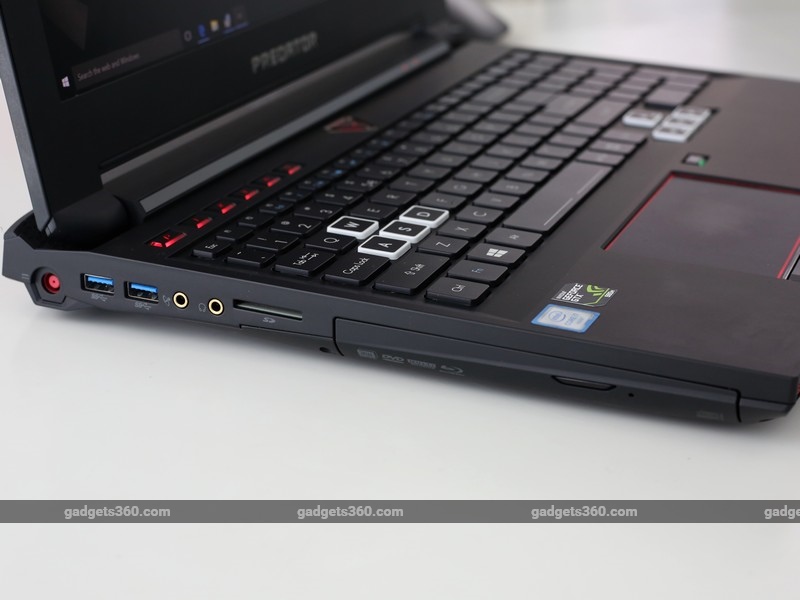 The Predator 15 has a Dolby certified 2.1 speaker system, with the satellites firing from the front and the woofer placed on the bottom. The back of the laptop is reserved for large exhaust vents. There are more vents on the bottom, which you can see when you flip the Predator 15 over, along with four thick rubber feet to keep it stable and raised.
Acer has done well with the build of the Predator 15. The design is good too, but in our opinion certain areas could have been designed better. It's quite big and heavy, weighing in at 3.6kg so it's not going to be easy to carry around. Then again, such systems are meant to stay put on your desk so that shouldn't be an issue.
Specifications and software
The specifications of the Predator 15 are what will excite enthusiasts the most. We have an Intel Core i7-6700HQ CPU running at 2.6GHz, based on the company's current Skylake platform. Then, there's 32GB of DDR4 RAM (2x 16GB sticks), a 256GB NVMe SSD, a 1TB 2.5-inch hard disk, and an Nvidia GTX 980M with 8GB of dedicated GDDR5 memory. Other specifications include Killer Networking's Wi-Fi ac module and Bluetooth 4.0. One thing to note is that although the laptop bears a sticker for Nvidia G-sync, the integrated display cannot actually support it. It will work only if you use an external G-sync capable monitor.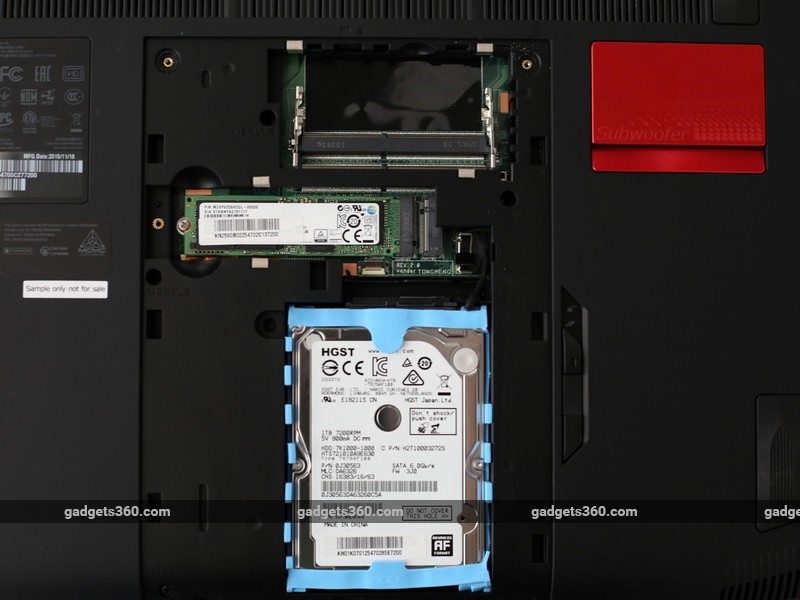 There's a removable panel on the bottom of the laptop which gives you access to two additional empty RAM slots, the SSD, and the hard drive. You can potentially add two more 16GB RAM sticks to take the memory all the way up to 64GB.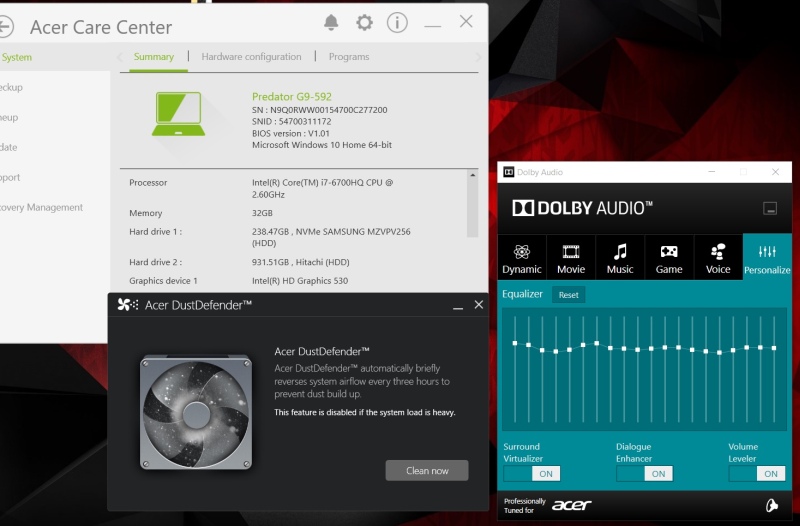 The Predator 15 runs Windows 10 Home 64-bit and comes with some of Acer's pre-installed utilities. Acer Care Centre keeps your drivers up to date and runs routine checks; DustDefender will automatically reverse the airflow of the fans to expel built-up dust; and Dolby Audio lets you customise the sound based on the type of activity being performed.
Acer's PredatorSense is your go-to program for customising the lights on the keyboard, setting macros, etc. The backlighting is divided into zones, which can have different colours or simply be switched off. You can choose from basic colours or from an RGB spectrum. There's no way to change the intensity though, as the keyboard shortcut simply toggles the lights on or off.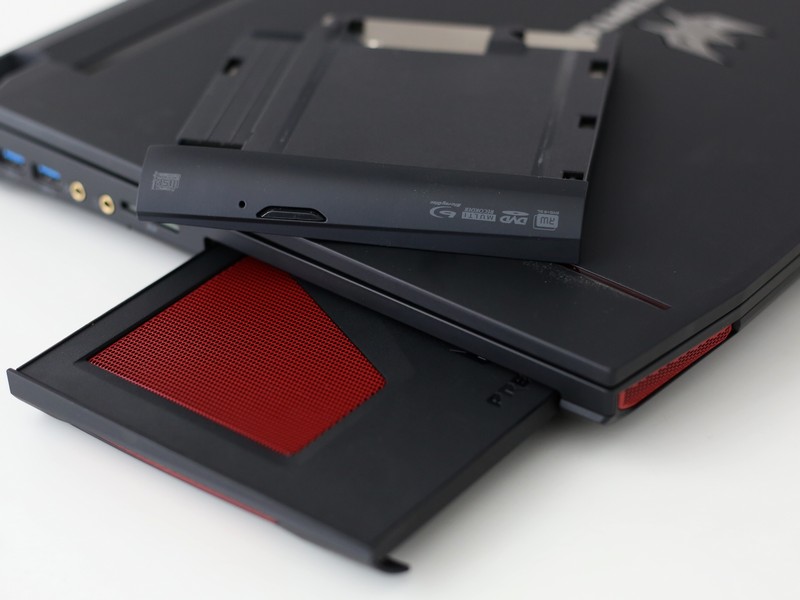 Last but not least, we have an interesting addition to the Predator 15, called Acer FrostCore. It's essentially an additional cooling fan, designed to slide into the optical drive's bay. The Blu-ray writer is hot-swappable with the help of a latch on the bottom of the laptop. The cooler is designed by CoolerMaster specifically for the Predator series.
Performance
Acer doesn't install much bloatware on the Predator 15 so there's nothing slowing it down when you first start it up. Plus, using the SSD as a boot drive really helps too. The exhaust fans run at full blast when you first start it up but you can disable this through the PredatorSense software. The laptop runs cool for general tasks and the ample palm rest area makes typing comfortable. While the display produces crisp pictures, Windows' scaling tends to muddy text and menus in some programs.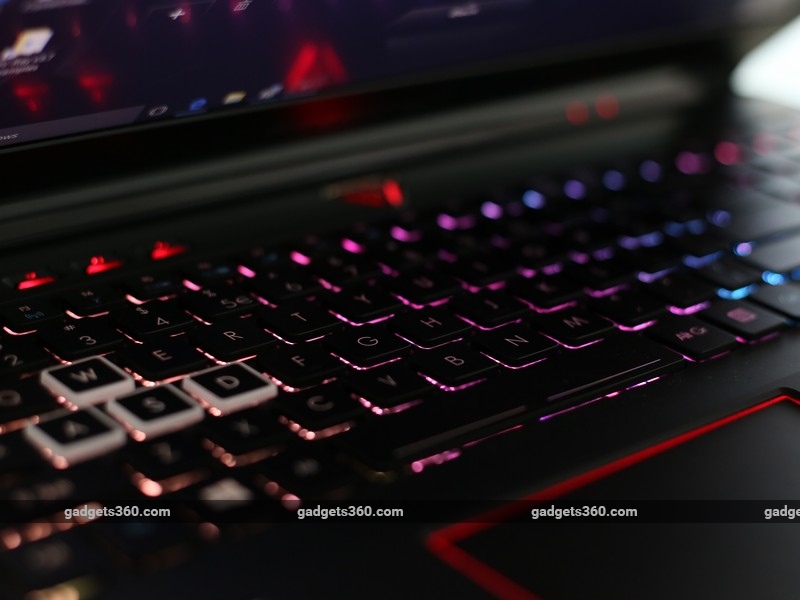 The speakers are fairly soft when the Dolby enhancement is disabled, but turn it on and it feels like you have a good set of desktop speakers in front of you. The volume level is greatly boosted for a room-filling sound. The audio starts tearing a bit at very high volumes but even at about 60-70 percent, the sound is very immersive. You can also get decent positional audio in games, which we really liked. While we didn't expect much from the woofer (as is the case with any laptop with a woofer), the overall sound was very satisfying.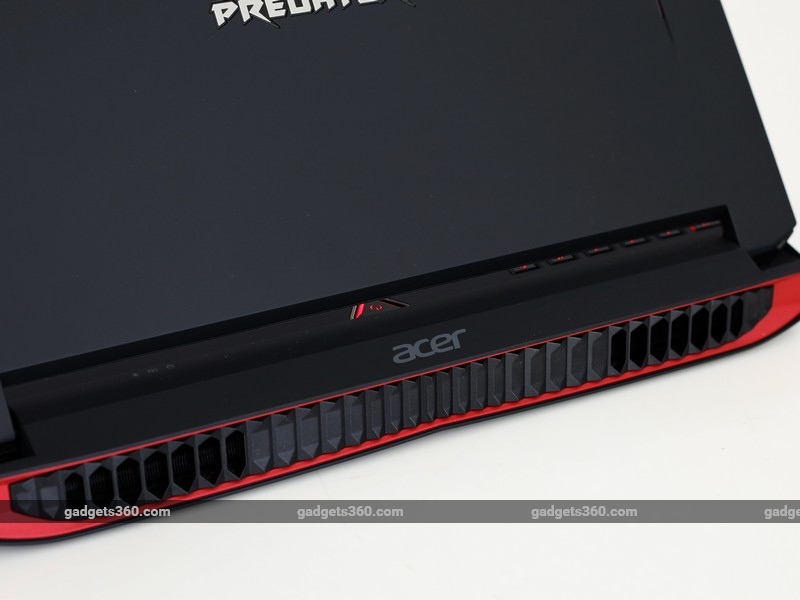 We put Acer's FrostCore cooling system to the test with the laptop outdoors, with ambient temperatures in the mid-thirties (C). We fired up MSI's Kombustor stress test and monitored the CPU and GPU temperatures using SpeedFan. As it turns out, FrostCore didn't seem to have much of an impact on either the CPU or GPU temperatures. Instead, setting the exhaust fans to full blast without FrostCore actually showed some results as the CPU temperatures reduced by a couple of degrees. We believe the size of the fan and the speed at which it rotates isn't enough to actually make a significant difference in temperatures.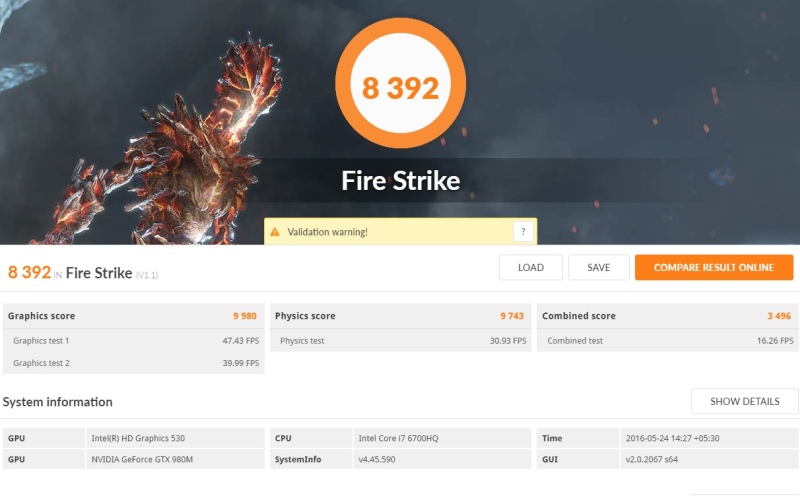 Turning our attention to benchmarks, the Predator 15 performs exceedingly well in synthetic tests. Cinebench gave us a score of 99fps in the OpenGL test and 672 points in the CPU test. The GPU score was of course higher than other Skylake laptops we've tested thus far. 3DMark Fire Strike returned 8392 points in the standard run, which is very good. The laptop also achieves very good read and write speeds thanks to the SSD. The file system benchmark in SiSoft Sandra 2016 gave us a sequential bandwidth of 1.2GB/s and write bandwidth of 1.32GB/s.
Coming to real-world gaming, the laptop simply tramples everything in its path. Tomb Raider (2013) gave us an average benchmark score of 83fps with everything maxed out and at the native resolution. During actual gameplay, we got closer to 60fps, which is still very good.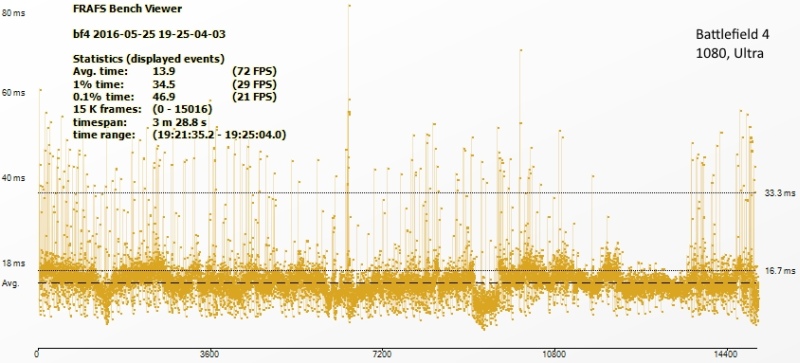 We got similar results in Battlefield 4 too, averaging around 72fps with all the settings bumped up to Ultra. Gameplay was smooth without any noticeable stutter.
Metro: Last Light Redux is a very taxing game, even with hardware this good. We averaged 29fps with all the settings turned up to the highest level. Advanced PhysX was turned off here since it was causing some artifacting during the run.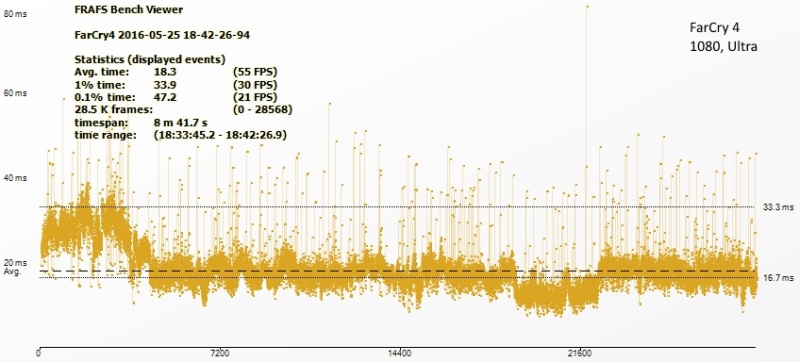 FarCry 4 looked absolutely gorgeous with everything pushed to the limit. Even at the Ultra preset, we managed to get a healthy 54fps on average.
No gaming test is complete without Grand Theft Auto V and here, in the fifth pass of the benchmark, we averaged around 48fps. This is with nearly everything pushed to the highest settings. The advantage of having 8GB of video RAM is that you can exploit memory intensive in-game features such as draw distances and higher resolution textures without throttling the GPU.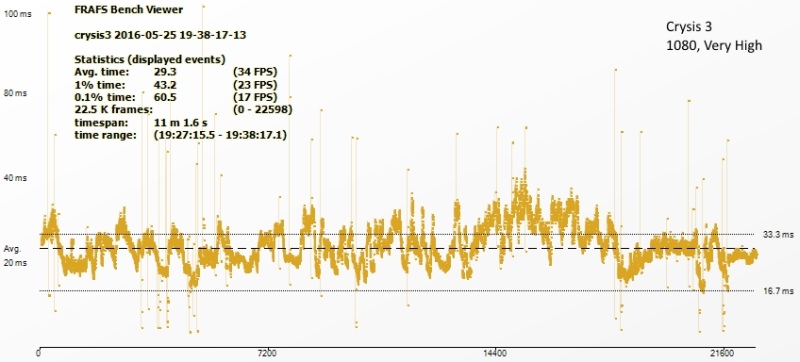 We end with Crysis 3, where we averaged 34fps with 8x MSAA and textures and system spec set to Very High. Although this seem a bit low compared to the others, it doesn't impact actual gameplay too much.
Battery life
Gaming laptops aren't known for their battery life, but the Predator 15 does a pretty decent job of it. We managed 1 hour and 51 minutes in Battery Eater Pro, and with real-world mixed usage we managed about 4-5 hours on a full charge.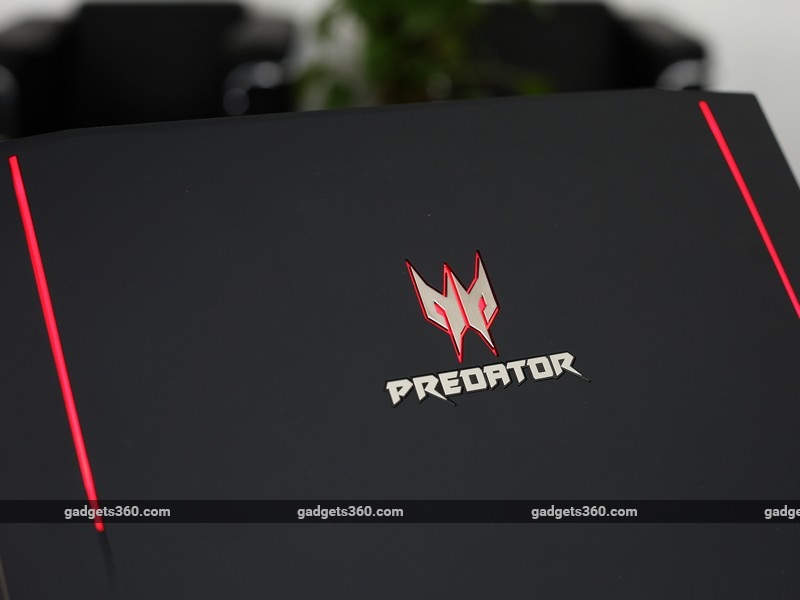 Verdict
The Acer Predator 15 is an incredibly powerful gaming laptop that aces nearly any current game you could throw at it. The highlight here is of course the GeForce GTX 980M, which should give you enough headroom for gaming for the new couple of years. You can also easily upgrade the storage and RAM if needed. We like Acer's primary cooling system too, which works well. FrostCore on the other hand feels a bit gimmicky. Overall, the laptop is well-built, and has a good display, very good audio and a well-rounded set of ports. In fact, when compared to something like the MSI GT72 6QD Dominator G, which is in the same ballpark, the Acer gives you better value as you get a more powerful configuration for a bit more money.

Certain design aspects of the laptop could have been better, and it would be too heavy to carry around often if that's what you need a laptop for. It would have been nice to have had G-sync support on the laptop's own screen, but we're guessing that would have driven the cost up even more. Other than this, the Acer Predator 15 is a solid gaming laptop if you can afford it.


Price (MRP): Rs. 1,79,000
Pros

Immersive sound

Good build

Sharp anti-glare display

Upgradable

Excellent performance
Cons

Bulky and heavy

FrostCore isn't effective
Ratings (Out of 5)
Design: 4

Display: 4

Performance: 4.5

Software: 4

Value for Money: 3.5

Overall: 4