Traditionally associated with the budget end of the market, Acer is making a concerted push into the premium PC space, with a focus on gaming and design. One of the company's most recent launches in India is the Aspire V3 series of premium laptops, which come with some pretty impressive specifications. This is Acer's entertainment and performance series, so there's none of the usual race to the bottom in terms of shaving every rupee off the price tag.
When trying to understand the laptop market, it's easy to visualise a spectrum with thin-and-light ultraportables at one extreme and desktop-class powerhouses at the other. While the former sacrifice power for style and convenience, the latter are never really going to leave their desks and so designers are free to go overboard. The Acer Aspire V3 series is right in the middle - not really ultraportable, but not outrageously powerful either. It will be interesting to see whether Acer has found the right balance and can give us the best of both worlds.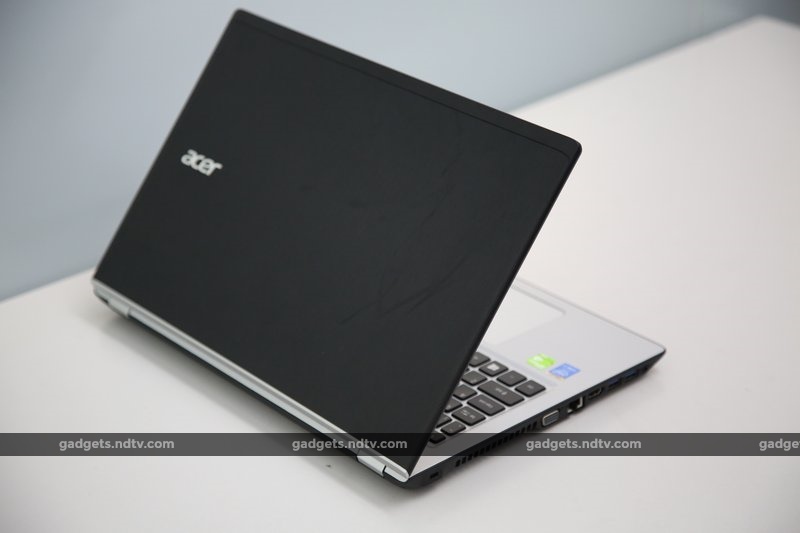 Look and feel
Acer's idea of premium is to use metallic accents. The body is still largely plastic, but both the lid and the keyboard deck have been accessorised with aluminium panels. The lid is dark with an interesting dashed textile-like pattern, while the inner deck has a more common brushed finish. The silver notched hinge is a nice touch too. The look is pretty good, but doesn't exactly scream high-end indulgence.
Where the Aspire V3 does win points is in its sturdiness. The hinge is reassuringly stiff and unlike many other laptops today, the entire upper half doesn't shake when you're doing your work. There's very little flex to the lid and the screen doesn't ripple badly when pressure is applied to the frame from the sides or rear.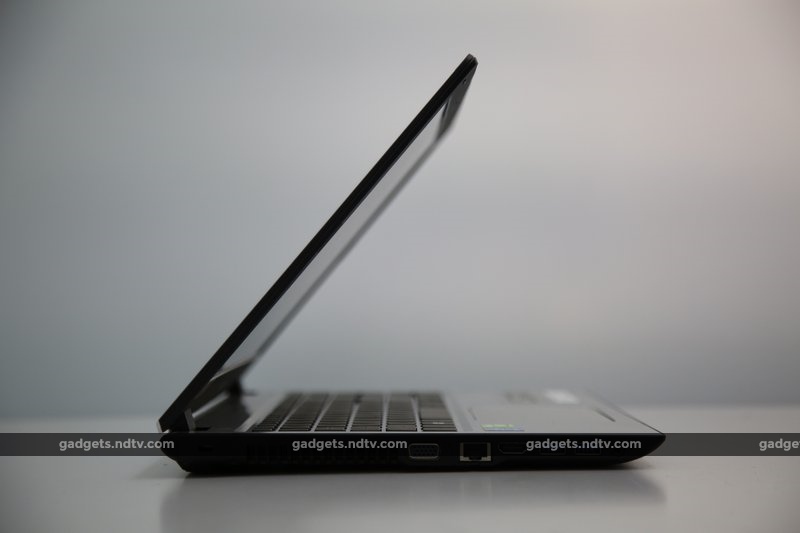 We also like the fact that the screen isn't glossy. You don't get touch capability, but that really isn't important for everyone. At 2.4kg and nearly an inch thick, this laptop is also still convenient enough to carry around every day. On the other hand, we aren't a fan of all the stickers around the screen and wrist rests.
Most of the ports are on the left - going from front to back there's a single 3.5mm headset socket, two USB 3.0 ports (one of which will charge devices when the laptop's off), an HDMI output, Gigabit Ethernet, old-school VGA, and a Kensington lock slot. On the right, there's only a single USB 2.0 port and the power inlet, along with the 8X DVD-RW drive. There's also an SD card slot on the front, nearly hidden under the laptop's lip. We would have liked a few more USB ports, or at least for all of them to be USB 3.0.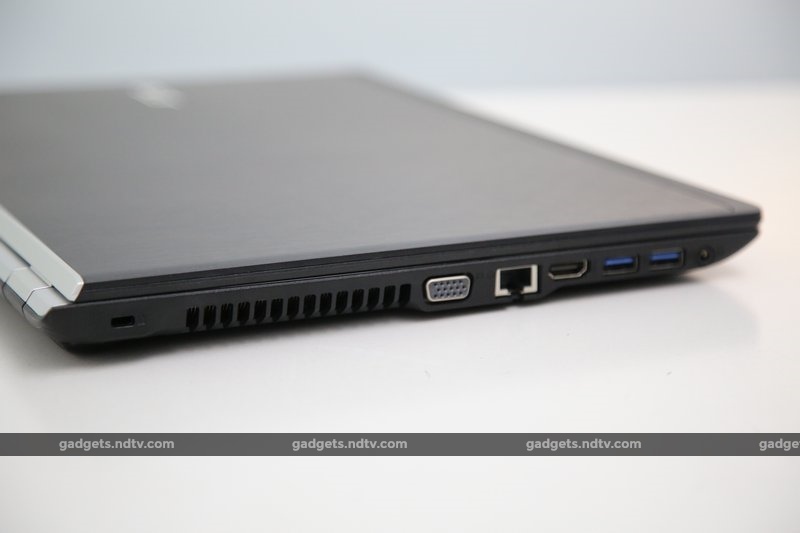 Keyboard and trackpad quality are areas where lots of budget laptops trip up, and while Acer has done a good enough job with this premium model, they are by no means perfect. The keyboard keys are crisp and travel well, but the layout is cramped, especially the bottom row and the arrow cluster. It's nice to have a backlight but there are only two settings - on and off. The power button is way too easy to hit, but as a safety mechanism it doesn't do anything unless you hold it down for a few seconds. The trackpad is a bit wobbly and imprecise, though it does support Windows 10 gestures.
Specifications and software
Acer sells the Aspire V3 in a number of configurations, starting with an Intel Core i3-5005U processor and 4GB of RAM. Our review unit had a much more powerful Core i7-5500U with 16GB of RAM. Most of the other hardware is common across the lineup, including the Nvidia GeForce 940M graphics, a 15.6-inch full-HD screen, and a 1TB hybrid hard drive with 8GB of flash. Acer refers to this as an SSD, but honestly 8GB isn't even enough to hold the OS or flush the RAM and let the laptop hibernate quickly, so it's really more of a cache.
You also get Bluetooth 4.0, Wi-Fi ac, a 2500mAh 4-cell battery, HD webcam, and Dolby Digital Plus Home Theater sound enhancement. The DVD-RW drive supports M-Disc media for long-term archival, which is a nice little bonus.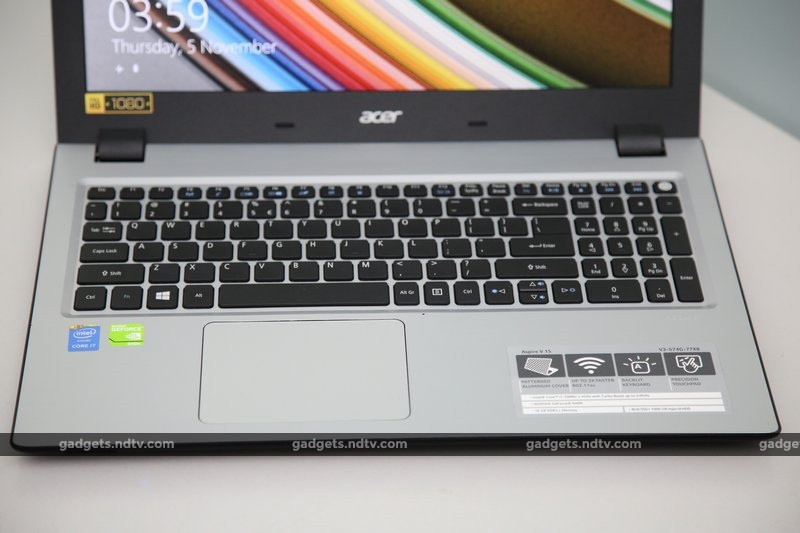 Acer says its products ship with Windows 10 but our review unit came with Windows 8.1. You're eligible for a free update to Windows 10, but at this point you shouldn't have to do it yourself. Acer also ships a whole ton of pre-loaded software, very little of which is useful. There are ads for a few Web services in the form of links right on the desktop. Spotify, for example, will be of no use to most people in India. Of course the Microsoft's Office and Intel's McAfee LiveSafe trials are also preinstalled.
Skype, Foxit Phantom PDF and the CyberLink trio of PowerDirector, PowerDVD and PhotoDirector are at least potentially useful for some. Then there's Acer's own Help and Care Centre apps, plus a suite of apps called Acer Portal, abDocs, abFiles, abPhoto and abMedia which all require you to sign up for an Acer ID.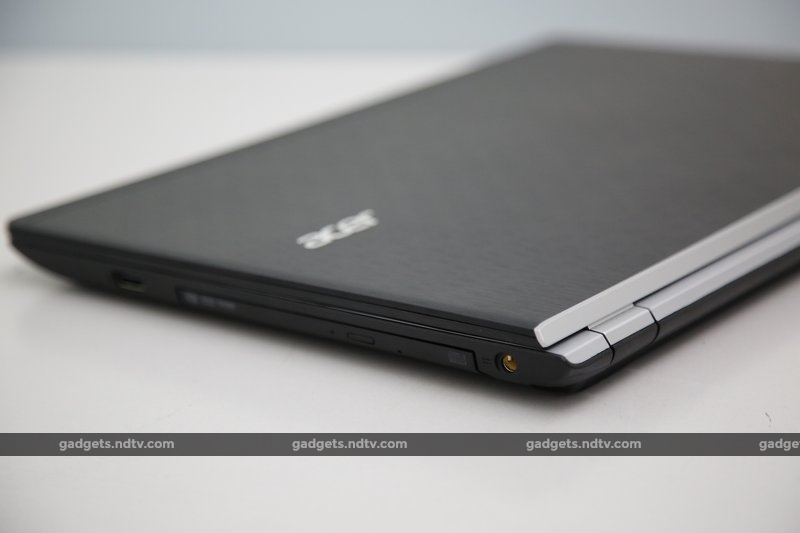 Performance
The Acer Aspire V3 is a solid machine with no major usability problems. The screen is not as crisp as some of the high-res ones we've seen recently, and if you can see the pixel grid even at normal viewing distances which results in a somewhat grainy texture. Viewing angles are good but colours aren't very rich and blacks aren't very deep. That might be the tradeoff for a screen that isn't glossy.
HD videos were smooth and so were most of our 4K samples. On the other hand Aspire V3's sound reproduction was underwhelming. The stereo speakers are on the bottom of the laptop, firing down so sound bounces off flat tables, but they just weren't very loud or engaging.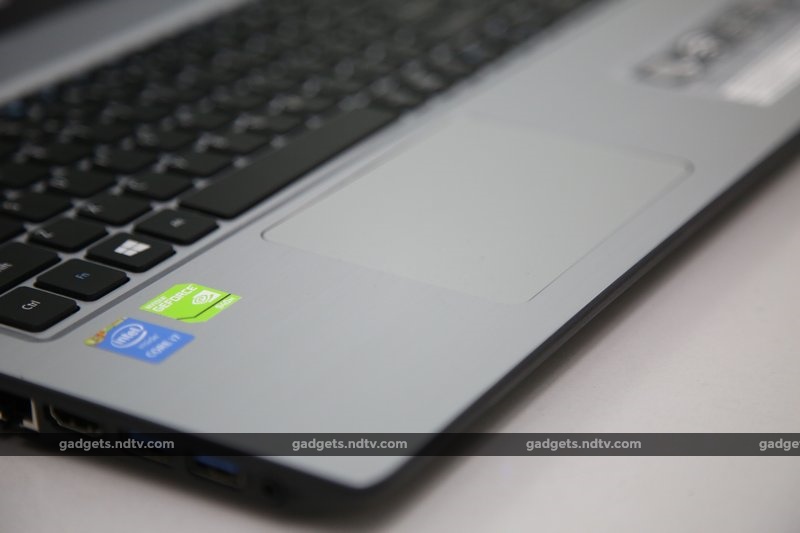 Benchmark scores for our review unit indicate hardware capabilities that are well above the mainstream mark but not quite at the level of purpose-built gaming laptops. We were happy to see a CPU score of 269 in Cinebench R15, and POVRay's internal benchmark rendered in just 7 minutes, 50 seconds. These can be attributed to the fifth-generation Core i7 CPU.
PCMark's scores for the Home, Creative and Work run-throughs were 3,260, 3,663, and 2,913 respectively. The Nvidia GeForce 940M isn't quite a gaming-grade GPU, but should suffice for older titles or new ones at low settings. We managed to get 1,429 points out of 3DMark's Fire Strike test which is less than half of what the HP Omen with a GeForce GTX 960M managed. This indicates that the Acer Aspire V3 delivers enough power for entertainment and work that involves heavy processing and multitasking, but not games.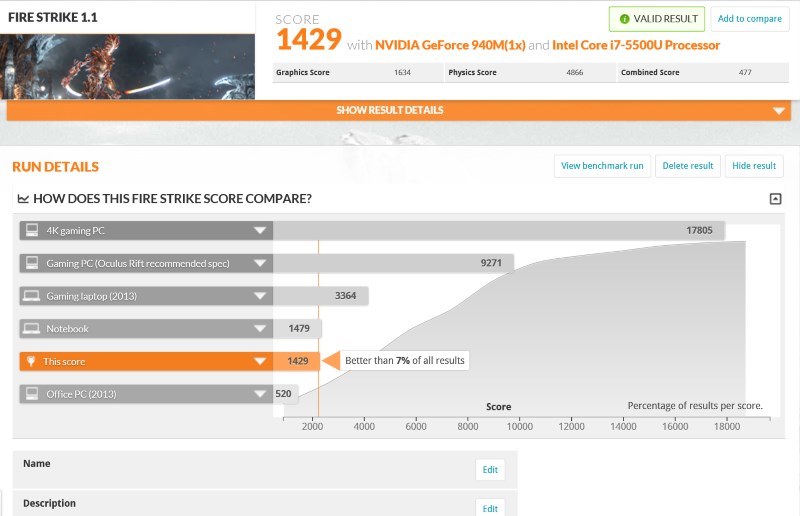 Sure enough, game tests didn't go very well. The Unigine Valley showcase ran at an average of 6.3fps with a maximum of only 11.5fps at 1920x1080 with 8xAA and Ultra quality settings. Turning AA off gave us an average of 14.7fps and a maximum of 26fps, and it was still quite jerky. Similarly, Star Swarm at default settings ran at a very inconsistent rate with an average of 17.64fps.
Tomb Raider scales well to mid-range hardware, and we found it just about playable at the Normal quality preset at 1080p. The frame rate averaged 36.5fps and didn't dip below 26.4fps when using the internal benchmark.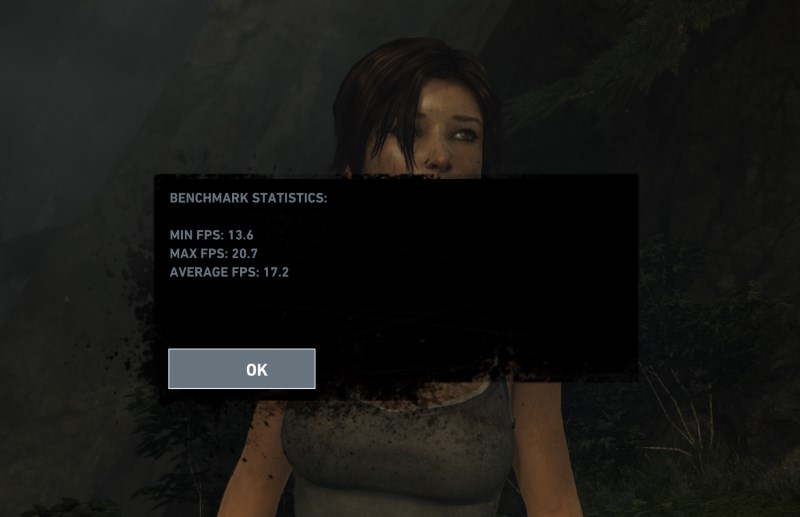 We also tried Far Cry 4 at its low preset with pretty much every enhancement turned off. The Aspire V3 gave us an average of 21fps which definitely dipped during heavy action sequences. Frame times were irregular, with the average of 47.3ms dipping to 62ms at the 99th percentile. Crysis 3 also needed settings turned down to the Low preset, and we still averaged only 18fps.
Battery life was a little disappointing - the Aspire V3 lasted only 1 hour, 6 minutes in Battery Eater Pro's standard test. In ordinary usage (not including gaming) with Wi-Fi on and brightness set to 50 percent, we got four to five hours on each charge.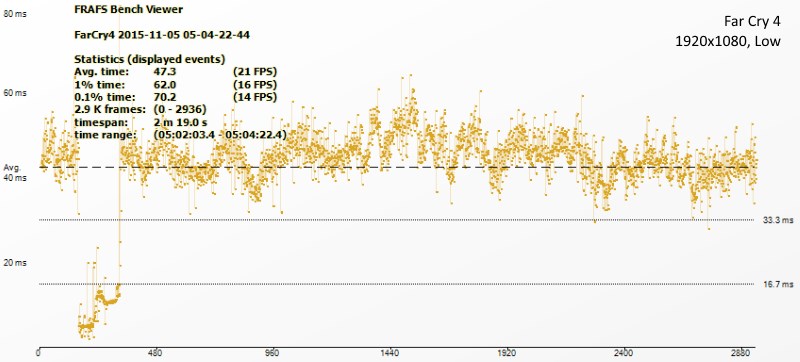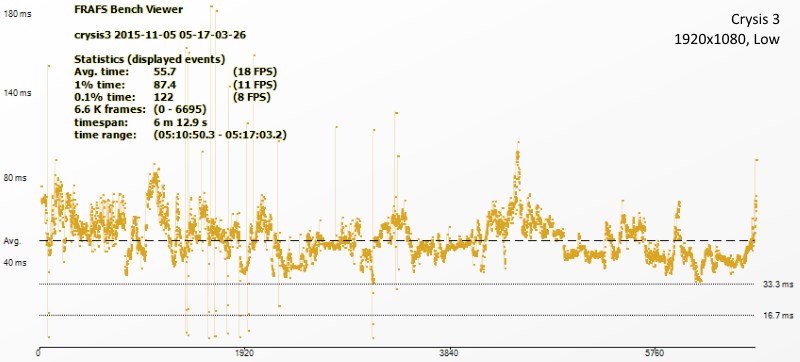 While the fans never got louder than a dull thrum, we were surprised to feel uncomfortably hot air at up to a foot away from the vents on the left of the laptop. The centre of the keyboard got a bit warm but not uncomfortable, and the wrist rests stayed reasonably cool to the touch throughout.
Verdict
The specific version of the Acer Aspire V3 we tested is not available in India just yet. A variant with all specifications the same, except for a step down to 8GB of RAM, is priced at Rs. 71,999 (MRP). We expect the one we tested to be priced approximately Rs. 5,000 higher. If you're sure that you don't require high-end graphics capabilities, this laptop offers quite a bit of value. It's versatile and powerful, without cutting corners in the name of style and without going overboard either.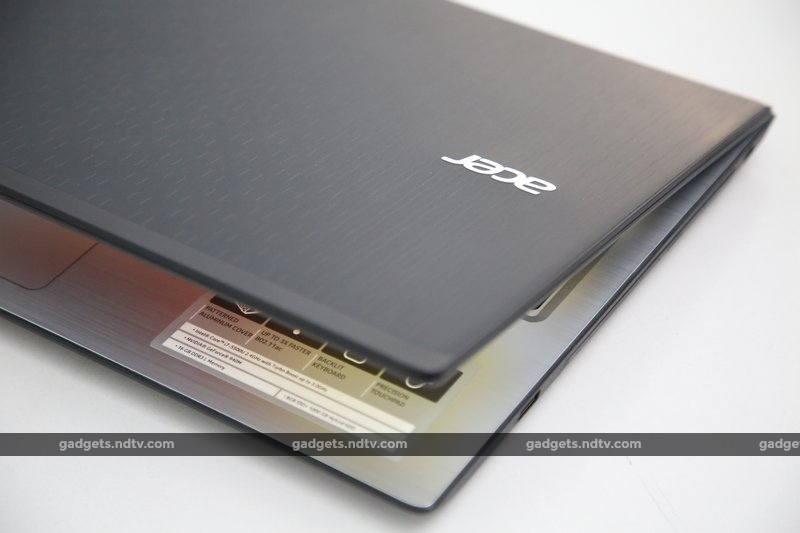 If you can't spend so much money, you might consider the Core i3 or i5 versions of this laptop. Acer says the RAM is upgradeable to 16GB no matter which one you buy, so you can upgrade somewhere down the line. It will involve opening the body and most likely voiding your warranty since there's no access flap, but at least it can be done. For Rs. 45,490 (MRP), the lowest-end model will have a Core i3 and only 4GB of RAM, but you still get the discrete GPU, 1080p screen and great build quality, which makes it a great option to step up from entry-level models.
The Acer Aspire V3 is a workhorse which has all the bases covered. It isn't the prettiest and won't turn heads for any reason, but it has more than enough power, flexibility and headroom to serve buyers well for at least a few years.
Price (MRP): 8GB RAM: Rs. 71,999; 16GB RAM: TBA

Pros
Good materials and construction quality

High-end specifications at a reasonable price

Good overall performance

Cons

Not enough USB 3.0 ports

Keyboard and trackpad could be improved

Ratings (Out of 5)
Design: 3.5
Display: 3.5

Performance: 3
Software: 3.5

Value for Money: 4
Overall: 3.5