Low-cost compact laptops running Windows 10 are steadily gaining ground as they tend to offer a good balance of portability and basic computing power. Similar to Google's Chromebooks, these laptops pack in the bare essentials to run Windows but unlike Chrome OS, you get more offline flexibility and productivity which Google's OS currently lacks.
Some examples of these budget compact laptops include the HP Stream 11 which we reviewed last year and more recently, we have the Lenovo IdeaPad 100S and Asus' new EeeBook E402 and EeeBook X205 laptops. However, today we'll be testing Acer's version of such a laptop called the Aspire One Cloudbook 11 (AO1-131-C5Y5). As you've probably guessed from the name, Acer is pitching the device as an "online-oriented" Windows laptop by offering free cloud storage. Priced similarly to other offerings from Lenovo and Asus, let's see if the Cloudbook 11 can perform the daily duties we expect from a Windows machine.

Look and feel
The Cloudbook 11 doesn't have the most eye-catching of designs, which makes it rather dull in our opinion. The grey colour doesn't help much either. Aesthetics aside, the plastic body feels fairly durable and well put-together. The dotted texture on the outer body lends it some level of grip for carrying it around. We did notice that the outer body is prone to light scuffs and easily picks up fingerprints from everyday use.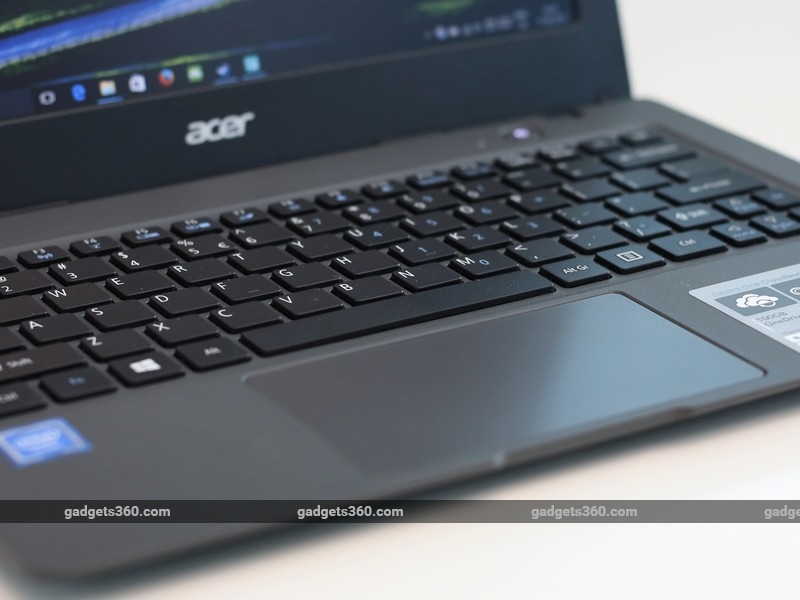 The laptop is incredibly portable, measuring 17.9mm when closed and weighing just 1.15kg. You can easily slip it into a backpack or even a large handbag without feeling the weight. The charger is equally compact. The lid has a small degree of flex but otherwise, offers good protection for the display. Speaking of which, the 11.6-inch HD panel (1366x768) produces good colours and brightness levels are good too. The matte-finished display helps minimise reflections. Vertical viewing angles are pretty poor, which restricts your working posture when you have the Cloudbook on your lap. The display also tends to warp with even the lightest touch, which isn't good.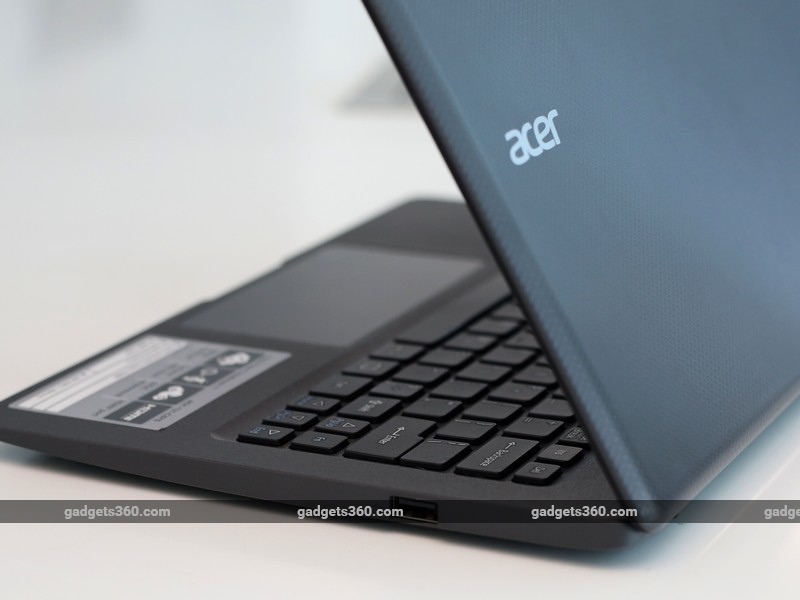 In terms of connectivity, you get an HDMI output, an SD card slot, a headphone and microphone combo socket, one USB 3.0 port and one USB 2.0 port. That's a decent selection if you ask us. A LAN port would have been nice too but it shouldn't be missed much. The trackpad is generously wide and works very well. Tracking is smooth and we didn't face much trouble using the supported gestures. The mouse buttons are responsive and don't take much of an effort to use.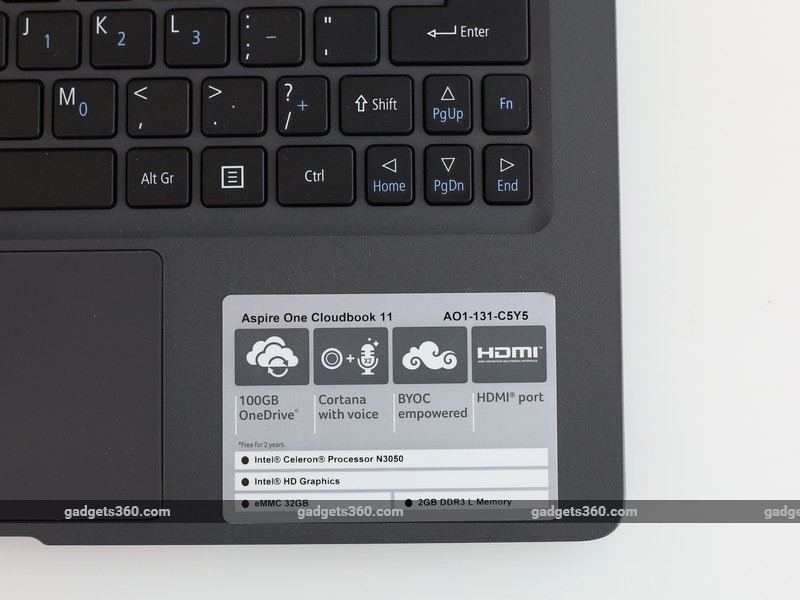 The chiclet keyboard on the other hand feels a bit cramped. While the keys themselves are spaced well, the size is bit smaller than what we would have liked. There's a bit of wasted space on either side of the keyboard which could have been put to better use. There are four rubber feet on the bottom which help prop up the laptop up. The stereo speakers fire downwards and reflect sound off flat surfaces.
Specifications and software
The Acer Cloudbook 11 is powered by an Intel Celeron N3050 SoC, which is based on the 14nm Braswell platform. This is a dual-core CPU running at 1.6GHz with the ability to turbo up to 2.1GHz. It also features 64-bit support, Intel HD Graphics, and a TDP of just 6W so you don't need active cooling. You get 2GB of DDR3 RAM, 32GB of flash storage, Wi-Fi, Bluetooth 4.0, and a VGA webcam. Acer has also fitted a dual microphone setup in the Cloudbook for use with Cortana and voice or video apps. It's a bit of a hit or miss in our experience as you have to be fairly loud in order for it to work.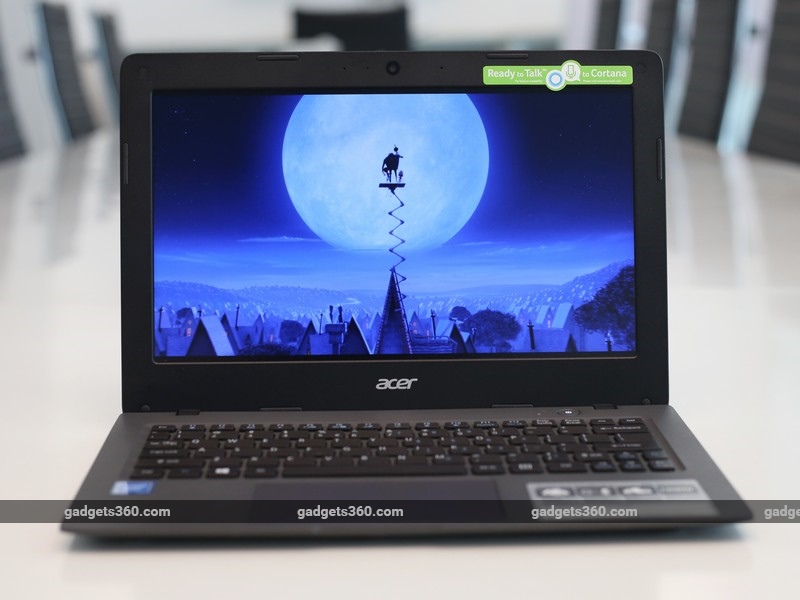 For software, the laptop ships with Windows 10 Home 64-bit along with a fair bit of bloatware that we could have done without. Given the fact that you have only 32GB of storage, out of which roughly 14GB is actually usable, the first thing you'll want to do is get rid of the programs that are eating up space. For security, you get a trial version of McAfee LiveSafe, and Avast SecureLine. There's also Microsoft Office 365 and a couple of universal apps such as Twitter, Kindle and Candy Crush. Acer also bundles some of its own programs including Acer Explorer, Care Centre, Recovery Management, and a few BYOC (Build Your Own Cloud) apps called abFiles and abPhoto.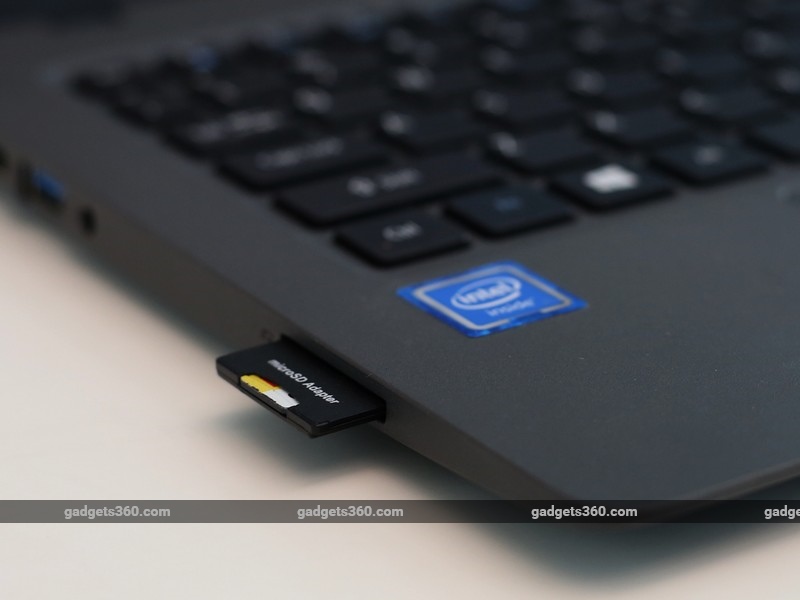 Being a cloud-first device, Acer is bundling a one year subscription of Office 365 which includes 1TB of cloud storage. Our review unit had a sticker which said 100GB of OneDrive space for two years, but we've confirmed with Acer that the retail units will indeed offer 1TB storage for one year.
If you need more space, you can pay for a higher OneDrive tier, but Acer is also pitching its own BYOC service where you essentially have a private server running at home from which you can access all your files through the Cloudbook.
Performance
With just the bare essentials under the hood, performance isn't what we would call snappy. The laptop handles multitasking fairly well but there's always a slight delay before actions are performed, whether it is firing up a browser or simply opening Windows Explorer. Thanks to its passive cooling, the laptop runs silently and only gets a little warm while charging.
CPU utilisation is pretty low during HD and 4K video playback

If you need additional offline storage you can use an SD card for storing all your media files. However, this isn't ideal as the standard-sized cards will stick out from the Cloudbook's body and also don't click securely into place. We tested the laptop with a 64GB card, which worked fine.
The Cloudbook can hold its own when it comes to multimedia playback. The volume level of the speakers is decently loud although audio sounds a bit tinny and hollow. The onboard GPU does a decent job at accelerating playback of HD and 4K videos so you can have something playing in the background while performing other tasks.
Coming to some of the benchmarks, we got 12.7fps and 62 points in Cinebench R15's OpenGL and CPU tests. We couldn't get 3DMark to run as it kept throwing up a "low memory" warning. PCMark 8 gave us pretty low scores of 1417, 1517 and 1465 in the Home, Creative and Work test suites. The flash storage scored slightly better than your typical 5400rpm laptop drive: we got a sequential read bandwidth of 156.8MB/s and a write bandwidth of 79MB/s.
Battery life
The built-in 2-cell battery managed 4 hours and 44 minutes in Battery Eater Pro, which is not bad. We managed close to 8 hours of uptime with mix of Web surfing and watching videos.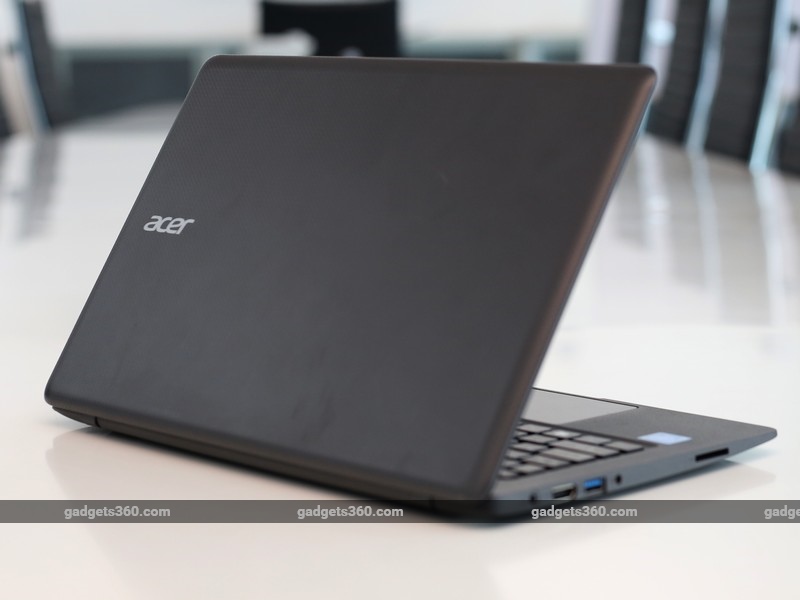 Verdict
The Acer Aspire One Cloudbook 11 has an official price of Rs. 20,999 but you can find it at online stores for Rs. 14,990. At this price, the Cloudbook 11 is a good option for someone looking for a highly portable or affordable Windows 10 machine. It offers similar functionality to what netbooks used to. It's lightweight, relatively well built, has a good trackpad, handles 4K video playback, and you get free cloud storage (for a limited time). The screen is good enough for working on office documents, catching up on a movie or surfing the Web. Do keep in mind that local storage is extremely limited so you can't treat this like any other laptop. Performance is also a bit sluggish, so as long as you stick to the basics, you should be fine.
Price (MRP): Rs. 20,999

Pros

Compact and lightweight

Good battery life

Runs cool and quiet
Handles 4K video playback

Cons

Display has poor viewing angles

Keyboard feels cramped

Boring aesthetics

Sluggish performance
Ratings (Out of 5)
Design: 3

Display: 3

Performance: 2.5

Software: 3.5

Value for Money: 3.5

Overall: 3