The Acer Aspire E3-111 reminds us a little bit of the small, colourful netbooks that used to be so common in the market. It has been quite a while since Acer stopped manufacturing netbooks, which were originally intended for extremely price-conscious markets but ended up appealing to customers all over the world regardless of economic status. The entire product category might have been supplanted by tablets, but that doesn't mean there aren't still people who need affordable PCs.
With an 11.6-inch screen, the E3-111 is larger than most netbooks ever were, but it seems to be aimed at the same entry-level audience. It has very basic specifications and isn't going to be winning any performance prizes, but that's not what it's about. It's meant to be sturdy, with a balance of price and performance that will work for students, home users on a budget, and even those who need a cheap secondary PC for occasional use.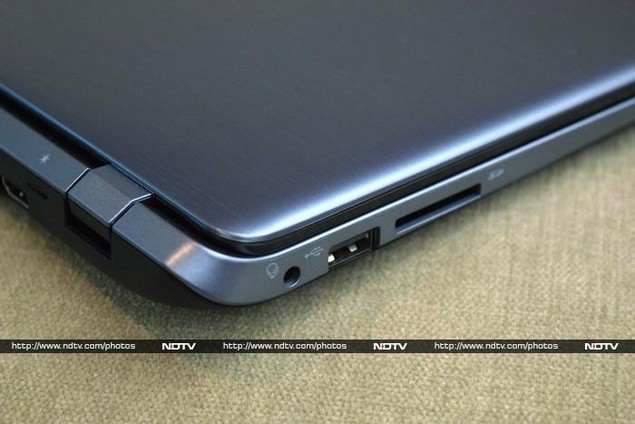 Look and feel
The Acer Aspire E3-111 is not super-slim but it does feel quite sleek and streamlined. The plastic body has smooth curves and is designed so that full-sized ports can fit on the back while the front tapers a bit. The whole thing looks great, and we could have been fooled into thinking we had a far more expensive device in our hands. Even the hinges are nicely sculpted into the body and don't stick out. When closed, the device fitted nicely into our hands and we had no problem carrying it around.
When open, you can see that there's enough room for a full-sized keyboard, though some of the keys are cramped. The layout is fairly standard, but we have to mention that a cluster of the alphabetical keys on the right side can double up as a numeric keypad if used with the Fn modifier - a quite useful feature, but one that's rare nowadays.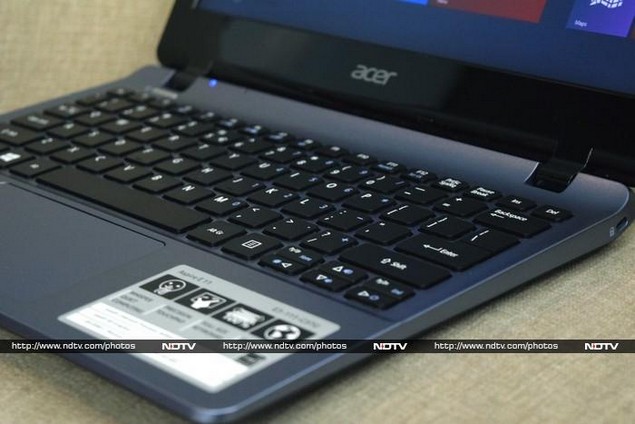 The Aspire E3-111 weighs approximately 1.3kg and so you won't be too bothered by its weight in a bag. Our review unit had a pale blue body which stands out in comparison most other products in its class. The lid is a thin sheet of aluminium, though everything else is plastic. There are speakers on the bottom, angled outwards, and a webcam centred right above the screen.
If you're looking for fancy frills such as a backlit keyboard or a touchscreen, you'll have to keep on looking. Acer has covered all the basics, but there definitely are tradeoffs for such low prices.
The thing that surprised us most about the Aspire E3-111 was the lack of vents on the sides and rear of the chassis. Not many people will even notice this at first glance, but according to Acer, the device runs without any fans. That's a pretty great step forward - small tablets can get away with it, but we have higher expectations of a laptop such as this. Let's hope performance isn't too limited by components that don't require active cooling.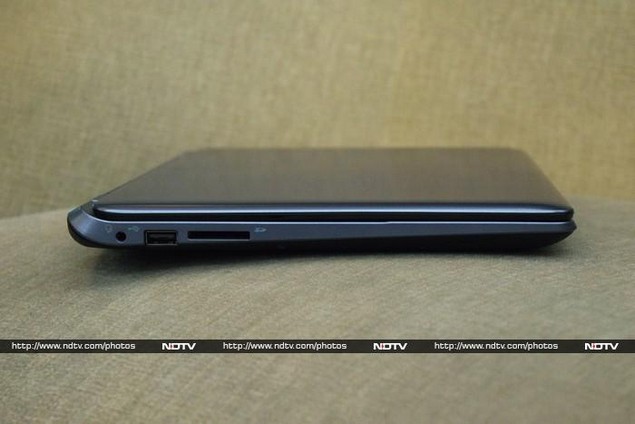 Specifications
The various models in the Aspire E3-111 series are based on rather anaemic Intel Celeron and Pentium processors, based on the Bay Trail-M architecture which is derived from the same basic design that powers today's Atom CPUs. Our review unit, which was the Aspire E3-111-C37U model to be exact, was based on a Celeron N2840, which has a peak speed of 2.58GHz but will usually run closer to its base clock speed of 2.16GHz. It has two CPU cores without Hyper-Threading. The integrated Intel HD Graphics component is equally sedate, running at a top speed of 792MHz in bursts.
There's 2GB of RAM which is of the low-power DDR3L variety, but to keep costs low without compromising storage space, there's a traditional 500GB spinning hard drive. A solid-state drive would have been more consistent with the rest of the configuration and would have helped boost speeds quite a bit.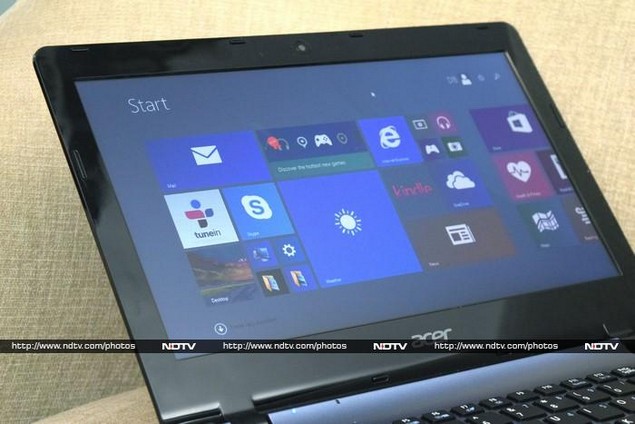 The screen is a simple 1366x768-pixel non-touch panel. Its glass does not have a glossy finish, which really stands out in the market today. Glossy, reflective surfaces often make colours appear more vibrant but are also often annoying because they reflect everything around them including light sources, and are impossible to keep free of smudges.
Wi-Fi b/g/n and Bluetooth 4.0 are supported, which is no surprise. The Aspire E3-111 also has more ports than some other slim laptops offer, though most of them are located on the rear, which is unusual. You might not mind that the Gigabit Ethernet and HDMI ports are tucked out of the way, but the sole USB 3.0 port and one of the two USB 2.0 ports are also consigned here, which can become annoying. The second USB 2.0 port is right at the back of the left edge, along with a single 3.5mm headset socket and an SD card reader. There's only a Kensington lock slot on the right. Students and BYOD office workers should note that there is no VGA port, which is often required to hook up laptops to projectors.

The Aspire E3-111 runs Windows 8.1, though without a touchscreen to make it easier to navigate, some people will be a little unhappy. Acer preloads quite a bit of software including its own media and cloud storage utilities, a few third-party apps, and limited-time versions of Microsoft Office and McAfee LiveSafe Internet Security.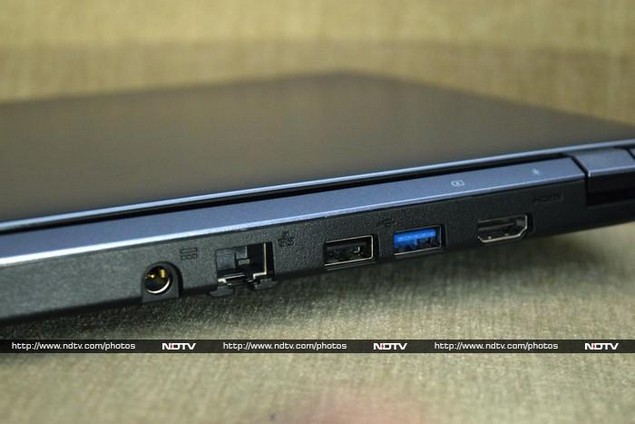 Performance
We weren't expecting much from the Celeron processor at the heart of this laptop, but we were still a little disappointed when the benchmark scores came in. Despite setting low expectations, the Acer Aspire E3-111 managed to surprise us with scores that barely kept up with other entry-level products. In some cases, the laptop performed worse than Atom-based tablets such as the Notion Ink Cain, although in other cases it did manage to match the far more expensive HP Pavilion 11 x360 with its Pentium processor.
PCMark 8 gave us 1633 and 2769 points in the Home (Accelerated) and Work test scenarios, which were both within a hair's breadth of the HP Pavilion 11 x360's scores. However, POVRay took 29 minutes, 23 seconds to render its test scene, compared to 16 minutes, 50 seconds and Cinebench R15's CPU test (multithreaded) gave us a score of 66 as opposed to 146. SiSoft SANDRA's CPU-intensive subtests also revealed a considerable gulf between the raw number-crunching abilities of the Celeron and Pentium processors. Considering the Pavilion 11 x360's swivel-touchscreen feature and much higher cost, we think Acer's approach is a little more balanced.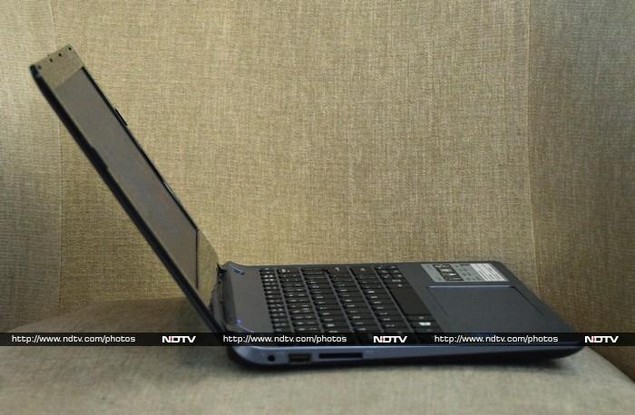 Thanks to its reliance on mechanical storage, the Aspire E3-111 falls behind even tablets with solid-state storage, such as the Notion Ink Cain. 3DMark failed to run, but browser-based tests including SunSpider and Browsermark were quite snappy.
Outside of formal benchmarks, there was quite a bit of lag and even occasional freezes which lasted about five seconds at a time when switching between windows. We weren't comfortable with more than a few programs and we definitely wouldn't want to rely on this device for even reasonably heavy task, such as editing images, while other things are also running.
We were happy to note that all our HD test videos except the heaviest MKV file played without stuttering. Audio quality was reasonably good, but there definitely was distortion at higher volumes.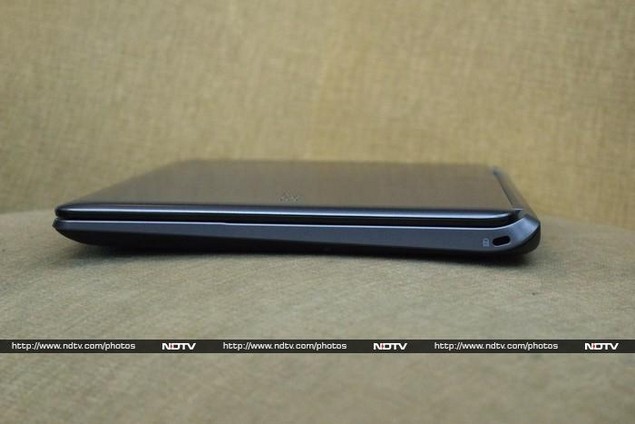 The battery lasted an impressive 4 hours, 8 minutes in our Battery Eater Pro run. This is a fair bit higher than even some mainstream laptops can last, and is very impressive. We'd easily expect to get through a full working day on this laptop, which might just be its secret weapon - well worth the performance impact for many people.

The keyboard is comfortable, though a little stiff. The trackpad is almost a little too smooth, and we found our fingers slipping on it now and then. Still, it didn't take long to get used to both of them and we were comfortable within a day. The arrow keys are squashed together in an awkward rectangle, but that seems to be something all manufacturers are doing these days.
The non-reflective screen was a pleasure to work with. It's very unusual now to come across a device without shiny glass all over it, and the difference was immediately apparent to us. While some people will find it a little dull, we were happy with the tradeoff considering we didn't have to reposition the laptop dozens of times a day just to avoid reflections. Only the hinge doesn't go back as far as we would have liked.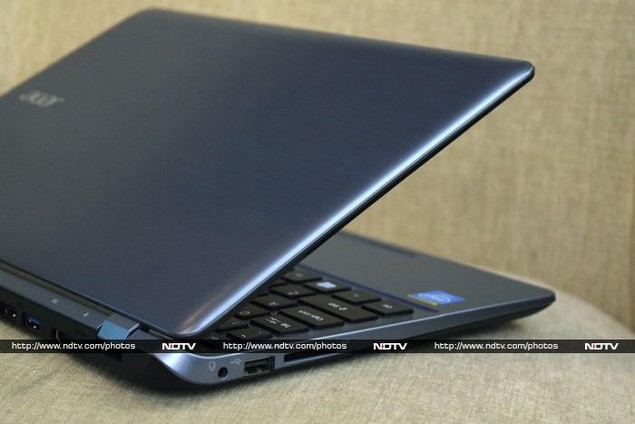 We were also really curious to see how the Aspire E3-111 held up under heavy loads in terms of heat. We couldn't tell if the CPU was bring throttled very aggressively, but we did feel the bottom get warm when running intensive tests. It was enough to feel uncomfortable on our laps, but the good news is you're rarely, if ever, going to be doing things with this laptop that push it to such levels.
While the fanless design is nice and quiet, there's still a fair bit of vibration, most likely thanks to the spinning hard drive. All in all, we wouldn't have minded a few vents if had been possible to trade looks for better performance.
Verdict
It isn't just a simple matter of performance anymore - customers have loads of choices at the entry-level now, and no single type of product is necessarily better than any other. The Acer Aspire E3-111 is a good example of an entry-level laptop with no support for touch input, but a fairly good keyboard and a large hard drive for getting work done with. On the other hand, "2-in-1" tablets such as the Notion Ink Cain (Review | Photos), which we just reviewed, also cost just about the same amount of money, but have very different advantages and disadvantages. If portability is the main concern, it's also seriously worth considering whether an iPad or Android tablet would serve your needs better.
We aren't thrilled with Acer's latest product here. The stutters and freezes concern us and will definitely be frustrating to users, especially those who buy this device thinking it's as good as any conventional entry-level laptop. However, we do think that there will be plenty of people who really like the balance this device strikes between productivity and entertainment without raising costs.
If you're sure a tablet doesn't appeal to you, and if your needs don't go beyond the basics, you should be fine with the Aspire E3-111. You can type or edit Microsoft Office documents, read and respond to email messages, browsing the Web and social media, and watch a few movies - but remember that this is a netbook-class device, so don't try any gaming, heavy content editing, or any serious productive work.
Price (MRP):
Rs. 22,999
Pros
Good looks and construction quality
Impressive battery life
Portable and affordable

Cons

Below-average performance
Ratings (Out of 5)
Design: 3.5
Display: 3.5

Performance: 2.5
Software: 3
Battery life: 4

Value for Money: 3
Overall: 3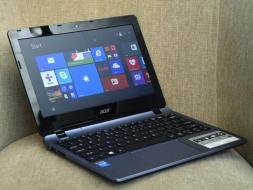 Acer Aspire E3-111 in pictures