Microsoft has released the Windows 10 Insider Preview Build 10565 for Windows Insider users that features several new functionalities including inking for Cortana, new messaging and calling system integration with Skype, and more.
In the latest preview build, Microsoft has made its Skype application more tightly integrated with the OS. The Skype messaging, calling, and video capabilities would now be included into Windows 10 via the Messaging, Phone and Skype video universal Windows apps. As per the company, these apps would let you call and send messages quickly and easily over 3G/4G and Wi-Fi tablets and to PCs Wi-Fi. Microsoft says these features would also be available for mobile devices with the next Windows 10 Mobile Insider Preview Build. Another addition made in the build is the ability to 'Quick Reply' notifications from Action Centre.
Microsoft Edge has also got an update. The browser in build 10565 would let you hover over already opened tabs (seen below) and preview the content of the webpage without fully opening it. A 'new syncing feature' also debuts in this build that lets you sync your Favorites and Reading list items. The company says it is still working on it.

As for Cortana, Microsoft has given an under-the-hood upgrade to let the voice-based virtual assistant better understand your inked notes, which includes information on setting reminders based on locations, times, and numbers. In addition, Microsoft is also rolling out new features to let you monitor your leisure time, including movie and event reminders. The virtual assistant would also be able to keep track of your bookings for movies and ticketed events through your email confirmations, similar to Google Now. You can also receive a reminder two hours before the scheduled event. Cortana, while giving a reminder would include the option to book and track an Uber ride as well.
Based on the user feedback, the latest Windows 10 Insider Preview Build would feature more customisation for title bars. You would be able to adjust the colour intensity of the title bar that matches the rest of the theme. The title bar colours can be adjusted by going to Settings > Personalization > Colors. Users would have to enable the "Show color on Start, Taskbar, Action Center, and Title bars" option to view the coloured bars.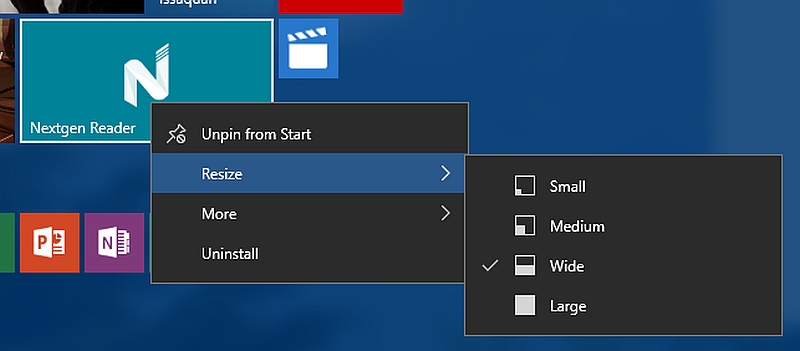 The build also includes improved context menus (see above) on Start with new icons for tile adjustments, new icons, including that for Registry Editor, device activation improvements, and a new mode that makes your default printer the last printer you used.
Microsoft says it would now let you activate Windows 10 on devices by entering the product key from Windows 7, Windows 8, or Windows 8.1, used to activate the prior Windows version. The activation can be done by going to Settings > Update & security > Activation and selecting Change Product Key. "If you do a clean install of Windows 10 by booting off the media, you can also enter the product key from prior Windows versions on qualifying devices during setup," says the Microsoft Windows blog post. The company has fixed a number of bugs and issues dealing with background audio playback, contact pinning on start menu, hiding desktop icons via context menu, and more. It has also given a list of issues that is yet to be rectified.