Microsoft ahead of the scheduled summer release of the Windows 10 (for PCs), has revealed the various editions of the new OS. The company on Wednesday via its official blog announced the editions:
Windows 10
Home, Windows 10 Mobile, Windows 10 Pro, Windows 10 Enterprise, Windows 10 Education, and Windows 10 Mobile Enterprise.
Joe Belfiore, Corporate Vice President, Operating Systems Group at Microsoft, recently confirmedthat Microsoft was "on track" for a summer release of Windows 10 for PCs, followed by versions for mobiles and tablets. Unfortunately, the company is yet to reveal an exact time frame for the Windows 10 release. The Redmond giant as of now has revealed that its new OS will be available in summer in 190 countries and 111 languages.
(Also see: Microsoft Explains Why Windows 10 Will Be the Last Version of the OS)
Microsoft says that the different Windows editions are tailored for various device families and uses. Windows 10 Home will be the consumer-focused desktop edition and will be available for PCs, tablets and 2-in-1 devices. It will feature Microsoft's personal digital assistant, Cortana alongside the Microsoft Edge browser; Continuum tablet mode (for touch-capable devices); Windows Hello face-recognition, iris and fingerprint login, and will come preloaded with a range of universal Windows apps such as Photos, Maps, Mail, Calendar, Music and Video.
For complementing Windows 10 Home, Microsoft has the Windows 10 Pro edition, which is a desktop edition for PCs, tablets and 2-in-1 devices. It will come with same features as Windows 10 Home; though it will include additional features for the needs of small businesses. The company touts that Windows 10 Pro will be ideal for organisations supporting Choose Your Own Device (CYOD) programs.
Windows 10 Mobile, the new official name of the Windows Phone platform, has been designed to cater touch-based devices like smartphones and small tablets. Similar to Windows 10 Home, it will feature various universal Windows apps as well as touch-optimised version of Office.
Microsoft, as promised earlier, has announced that the full versions of Windows 10 Home, Windows 10 Mobile and Windows 10 Pro will be available as a free upgrade to qualifying Windows 7, Windows 8.1 and Windows Phone 8.1 devices. It's worth noting that the free upgrade is only available in the first year after launch.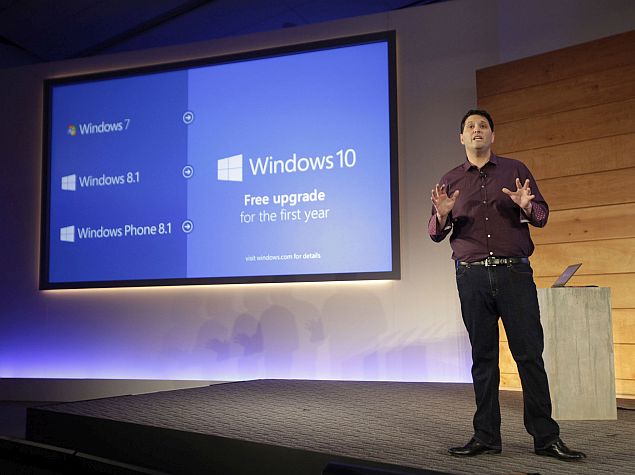 Windows 10 Enterprise in addition to Windows 10 Pro offerings adds advanced features targeting medium and large sized organisations.
"Windows 10 Enterprise also supports the broadest range of options for operating system deployment and comprehensive device and app management. It will be available to our Volume Licensing customers, so they can take advantage of the latest innovation and security updates on an ongoing basis. With Windows 10, Enterprise customers will also have access to the Long Term Servicing Branch as a deployment option for their mission critical devices and environments," notes Microsoft's Tony Prophet, Corporate Vice President, Windows and Search Marketing.
Other Windows 10 versions include Windows 10 Education targeted to schools (including staff, administrators, teachers and students) and Windows 10 Mobile Enterprise, which will be a complete solution from Microsoft for business customers. There will be a Windows 10 IoT Core edition as well.
"There will also be versions of Windows 10 Enterprise and Windows 10 Mobile Enterprise for industry devices like ATMs, retail point of sale, handheld terminals and industrial robotics and Windows 10 IoT Core for small footprint, low cost devices like gateways... We are making strong progress with Windows 10, and we are on track to make it available this summer. And because we have built Windows 10 to be delivered as a service, this milestone is just the beginning of the new generation of Windows. Starting this fall, customers can expect ongoing innovation and security updates for their Windows 10 devices, including more advanced security and management capabilities for businesses," Prophet added.