Toshiba announced several new Satellite laptops, ultrabooks and PC desktops on Tuesday. These Windows 8.1 devices include Toshiba's Satellite S40, Tecra Z40-A, and L-Series laptops, as well as the Portege Z30-A ultrabook and the Tecra W50 workstation. The firm has however not given any specific details on the availability of any of the products.
The 2014 model of the Toshiba Satellite S40 laptop comes with a price tag of Rs. 50,790, flaunting a sleek profile at 19.3mm with a brushed aluminium design. The Toshiba Satellite S40 laptop is powered by a fourth generation Intel Core i5-4200U clocked at 1.6GHz and paired with Turbo Boost Technology 2.0 up to 2.6GHz. The laptop features 4GB of DDR3L RAM (1600MHz ), which can be expanded up to 16GB. Running on the Windows 8.1 OS, the laptop houses a 1TB 5400RPM HDD. The connectivity options include HDMI output for 4K resolution along with dual USB 3.0 ports.
Besides the Harman Kardon audio system, the Toshiba Satellite S40 features a USB Sleep & Charge technology that lets users charge USB-powered devices even when the laptop is switched off. The laptop weighs 1.87kg.
Toshiba also introduced the new Tecra Z40-A laptop, but failed to give any price details for the same. The laptop sports a 14-inch anti-glare HD display and is runs the latest Windows 8.1 OS. Tecra Z40-A however is powered by a fourth generation Intel Core i7-4600U vPro processor clocked at 2.1GHz. Weighing 1.47kg, the Toshiba Tecra Z40-A laptop features a ClickPad which supports functions like scrolling, zooming, and performing actions.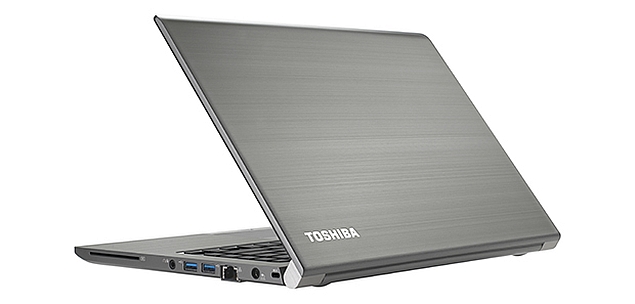 The Toshiba's Satellite L-Series laptops are focused on stylish design laptops mainly used for work and entertainment purposes. Priced between Rs. 25,785 and Rs. 51,340, the Satellite L-Series laptops feature a 15.6-inch HD Clear SuperView LED-backlit screen along with a Resolution+ display technology.
Users can choose between the 1.5GHz AMD A4-5000 quad-core APU with Radeon HD 8330 for graphics; quad-core Intel Pentium N3520 processor clocked at 2.17GHz; fourth generation Intel Core i3-4005U processor clocked at 1.70GHz; and fourth generation Intel Core i5-4200U processor clocked at 1.6GHz (with Turbo Boost up to 2.6GHz), for the 14 models within the Satellite L-Series. Users would also have option to choose between the Premium Glossy Black, Luxury White and Satin Gold colour variants.
The Toshiba Satellite L-Series laptops' audio system also come powered by Onkyo and DTS speakers tuned by SkullCandy .
Toshiba also announced a new ultrabook, the Portege Z30-A, which sports a 13.3-inch HD display. It runs on the fourth generation Intel Core i7-4600U vPro processor clocked at 2.1GHz, and is capable of speeds up to 3.3GHz with Turbo Boost.
Along with improved cooling technology, the Portege Z30-A also features a high-performance SSD and Intel Rapid Start Technology to perform fast launch of applications on the system. The sleek design laptop at 17.9mm weighs 1.2kg and comes with a light magnesium case to make it light weight.
A PC desktop workstation, Tecra W50 has also been introduced by Toshiba without any price or availability details. Not all the specifications of the Tecra W50 - we know it is powered by Intel Core i7-4800MQ vPro processor clocked at 2.7GHz (Turbo Boost up to 3.70GHz). The system also features a Nvidia Quadro graphics card for a high performance graphic intensive applications. The Tecra W50 also comes with a fingerprint sensor for quick and secure sign-in.
It has been additionally stated that Tecra W50, Portege Z30-A and Tecra Z40-A systems have passed the High Accelerated Life Tests (HALT) which makes them highly durable.