More than a decade ago, at a vintage computer fair in Silicon Valley, Dag Spicer had an opportunity to buy an original Apple-1 for $2,000. He passed. Any regrets? Not really, he said.
"Of course," Spicer added, "I could have paid off my mortgage now with what it would be worth."
Perhaps so. Last November, an Apple-1 sold for $640,000 at an auction in Germany. That sale surpassed the previous record of $374,500 set only five months earlier at Sotheby's in New York.
The astronomical run-up in the price of the original Apple-1 machines - made in 1976 and priced at $666.66 (about $2,700 in current dollars) - is a story of the economics of scarcity and techno-fetishism, magnified by the mystique surrounding Apple and its founders, as the company has become one of the largest, most profitable corporations in the world.
The next test of the Apple-1 market comes Saturday, at the same auction house in Cologne, Germany, where the record sale took place last November.
Even the auctioneer, Uwe Breker, expressed some surprise at the price reached last fall. For this week's auction, the reserve price - the minimum sale price - is $116,000, and Breker conservatively estimated the likely range from $260,000 to $400,000. "But we will see," he said.
The auction market for the vintage machines, experts say, is thin and uncertain. For example, a nonworking Apple-1 failed to attract its reserve price of just over $75,000 at an auction last year in London. The record-setting auctions last year were of working originals, as is the Apple-1 going under the gavel Saturday.
The sky-high prices suggest irrational exuberance. But technology historians say there is a rational appeal to possessing an Apple-1. "It is Apple's creation story, the physical artifact that traces this incredible success to its origins," said Spicer, a senior curator at the Computer History Museum in Mountain View, Calif.
The Apple-1, Spicer added, was instrumental in the early transition in personal computing from its hobbyist roots to becoming a huge commercial business. Others were there too, notably the MITS Altair, which was introduced before the Apple-1, and was the first personal computer that Microsoft's founders, Bill Gates and Paul Allen, wrote software for.
But Apple proved to be the enduring computer maker. And its founders embodied the hobbyist-commercial shift. Stephen G. Wozniak was the hardware-hacking engineer and Steve Jobs, who died in 2011 after a battle with cancer, was the business visionary.
Apple-1's are scarce. An estimated 175 to 200 were produced in the Jobs family garage in Los Altos, Calif. Mike Willegal, who maintains an online registry of Apple-1's, has verified the existence of 46 of them. A software manager at Cisco, Willegal observed that there was a technical nostalgia to the Apple-1, recalling a simpler time in computing.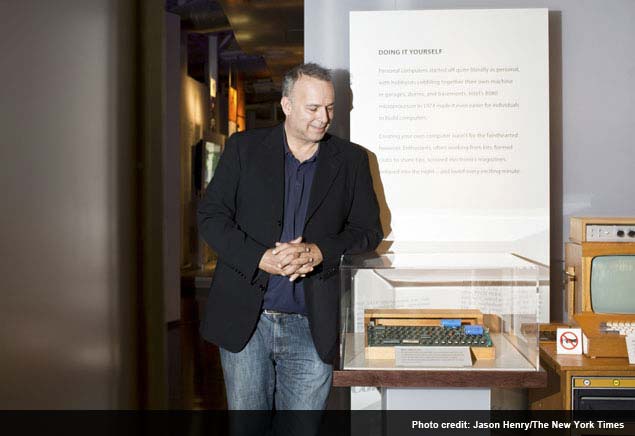 "No one understands a whole computer system anymore," Willegal said. "But Woz" - Wozniak's nickname - "knew that board inside and out, and some people do today."
A computer motherboard with clusters of chips was all that the bare-bones Apple-1 offered. Users had to supply their own keyboards, monitors and power supplies. It had 4 kilobytes of memory; a basic MacBook Air has more than a million times that. It could be used to run primitive computer games and write simple programs.
The Apple-1 was a reputation-building entry, but it was the Apple II, introduced a year later in 1977, that would sell in the millions and establish the company's business. When Wozniak was designing the Apple II, he was also handling customer service for the Apple-1, a distracting time drain.
After the Apple II went on sale, the company began an aggressive trade-in program, offering Apple II's and sometimes cash incentives in exchange for Apple-1's, said Bob Luther, who is writing a book on the vintage machines, "The First Apple," which he plans to self-publish, with help from a Kickstarter crowdfunding campaign.
In his book research, Luther called Michael Scott, Apple's president from 1977 to 1981, and interviewed him about the trade-in program. As Luther recalled, Scott told him, "If we had done a better job, you and I wouldn't be having this phone call."
"They just wanted the Apple-1 to go away," said Luther, who bought an Apple-1 for $7,600 in 2004. ("Mine's not for sale.")
Auction prices for Apple-1's have not yet settled on firm standards. But according to Richard Austin, head of books and manuscripts at Sotheby's, who handled the auction of the Apple-1 for $374,500 last year, working machines in pristine condition with documentation command the highest prices. "And a story behind it helps," Austin added.
The Apple-1 being auctioned Saturday has a story. Its original owner was Fred Hatfield, a former baseball player in the major leagues, an infielder who played from 1950 to 1958 for five teams including the Boston Red Sox and the Cincinnati Redlegs. His nickname was "Scrap Iron." He died in 1998 at age 73.
The documentation with the machine includes a letter to Hatfield, signed by Steve Jobs, offering him a new Apple II and a check for $400 for his Apple-1, said Breker, the German auctioneer. Hatfield declined the offer, for whatever reason.
Breker is irritatingly discreet about the identity of the seller, saying only that he is a young American who works for a software company. "He brought it over here in a blanket," Breker said.
© 2013, The New York Times News Service