Razer, a popular gaming hardware brand, has launched a refreshed version of its last year's Razer Blade gaming laptop. The latest iteration features some bumped-up specifications while maintaining the same sleek design profile.
Starting at $2,199 (roughly Rs. 1,35,700), the same as the last year's model, the new Razer Blade sports a 14-inch 3200x1800 pixel multi-touch IGZO (Indium Gallium Zinc Oxide) touchscreen with pixel density of 262ppi. A model with a 1920x1080 pixel IPS LED-backlit display also available, without touch. Razer has bumped up the Blade's processor, memory, and GPU with the refresh.
The 2015 Razer Blade laptop now boasts of a fourth generation 64-bit Intel Core i7-4720HQ processor (6MB cache, 4 cores, 8 threads, 2.6GHz base frequency, 3.6GHz burst frequency) coupled with 16GB of DDRL3 RAM (1600MHz) instead of last year's 8GB. Nividia's GeForce GTX 970M GPU with 3GB GDDR5 VRAM will be taking care of the graphic intensive applications on the gaming laptop. Details can be found on the laptop's dedicated website.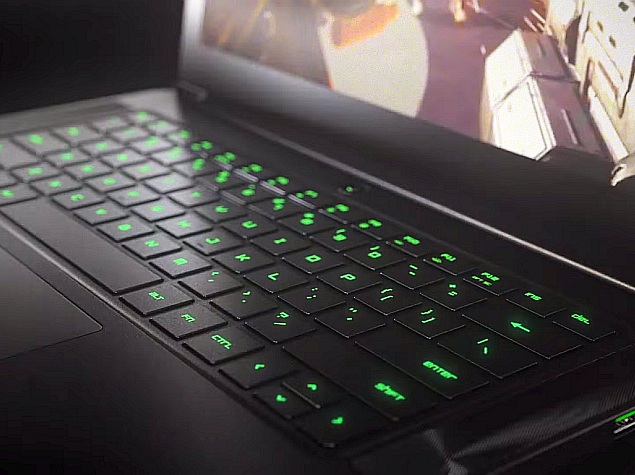 The Nvidia GeForce GTX 970M is build on the firm's Maxwell architecture, and features the Optimus technology to allow the laptop to switch between integrated and dedicated graphics depending on the application being used. This smart switching also results in longer battery life for the gaming laptop.
As for the storage, the new Razer Blade gaming laptop comes in three storage variants - 128GB SSD, 256GB SSD and 512GB SSD. The laptop measures the same at 345x253x17.9mm and weighs 2.03 kgs.
Razer, besides concentrating on its gaming laptops, is also focusing on its wearables, as it launched the Razer Nabu X wristband at CES 2015 last month. Retail units will be shipping in the US spring for general public at $49.99 (approximately Rs. 3,100). The wristband comes as a successor to the Razer Nabu, which was first seen in CES 2014.