Alongside
iOS 8.1.1 update
that brings bug fixes to iOS devices,
Apple
on Monday released the first minor update to
OS X Yosemite
for Macintosh computers.
OS X Yosemite v10.10.1 comes with improved Wi-Fi reliability, and other miscellaneous fixes and improvements including improved reliability in the following scenarios: when connecting to a Microsoft Exchange server, when sending Mail messages using "certain email service providers", and when connecting to remote computers using Back to My Mac.
You can install the update by going to the Updates tab of the Mac App Store. We recommend backing up your Mac using Time Machine or any other application before installing any system update.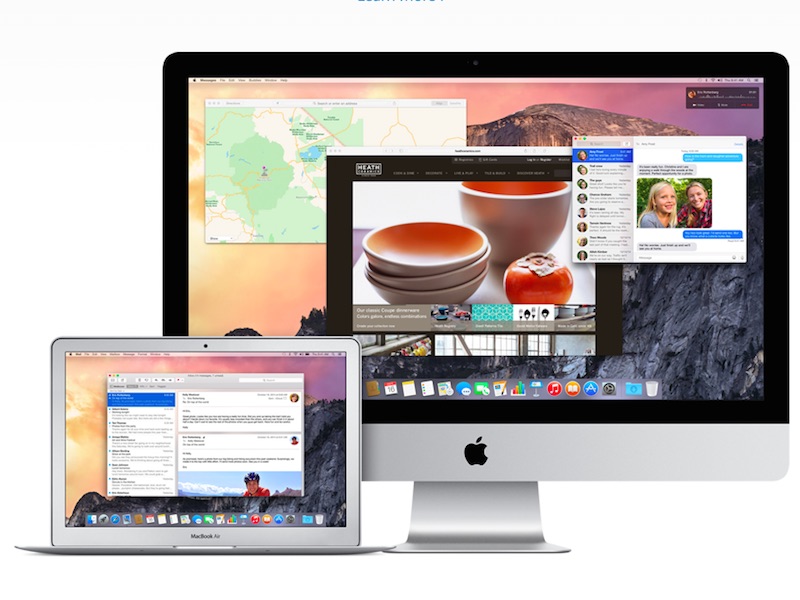 Here are the release notes of the OS X Yosemite v10.10.1 update in full:
The OS X Yosemite v10.10.1 Update improves the stability, compatibility, and security of your Mac. This update:

Improves Wi-Fi reliability
Improves reliability when connecting to a Microsoft Exchange server
Resolves an issue that may prevent Mail from sending messages through certain email service providers
Addresses an issue prevents connecting to remote computers using Back to My Mac
Resolves an issue where sharing services, Notification Center widgets and Actions may not be available
Addresses an issue that could cause Notiication Center settings to not be retained after a restart
Addresses an issue that might prevent the Mac App Store from displaying certain updates
Addresses an issue that could prevent some Mac mini computers from waking from sleep
Resolves an issue that might prevent Time Machine from displaying older backups
Addresses an issue that might prevent entering text in Japanese

Enterprise content

For enterprise customers, this update:

Allows you to append search domains for partially qualified domain names when performing DNS lookups (consult the discoveryd man page for more information)
Addresses an issue where the Mac App Store might offer an update to Apple Remote Desktop when the latest version is already installed

Security Content

CFNetwork
Available for: OS X Yosemite v10.10

Impact: Website cache may not be fully cleared after leaving private browsing

Description: A privacy issue existed where browsing data could remain in the cache after leaving private browsing. This issue was addressed through a change in caching behavior.

CVE-ID

CVE-2014-4460

Spotlight
Available for: OS X Yosemite v10.10

Impact: Unnecessary information is included as part of the initial connection between Spotlight or Safari and the Spotlight Suggestions servers

Description: The initial connection made by Spotlight or Safari to the Spotlight Suggestions servers included a user's approximate location before a user entered a query. This issue was addressed by removing this information from the initial connection and only sending the user's approximate location as part of queries.

CVE-ID

CVE-2014-4453 : Ashkan Soltani

System Profiler About This Mac
Available for: OS X Yosemite v10.10

Impact: Unnecessary information is included as part of a connection to Apple to determine the system model

Description: The request made by About This Mac to determine the model of the system and direct users to the correct help resources included unnecessary cookies. This issue was addressed by removing cookies from the connection.

CVE-ID

CVE-2014-4458 : Landon Fuller of Plausible Labs

WebKit
Available for: OS X Yosemite v10.10

Impact: Visiting a maliciously crafted website may lead to an unexpected application termination or arbitrary code execution

Description: A use after free issue existed in the handling of page objects. This issue was addressed through improved memory management.

CVE-ID

CVE-2014-4459