Nvidia kicked off its annual GPU Technology Conference in San Jose, California, with a slew of announcements and updates to its roadmaps across business segments. Many of the products and innovations will improve gaming performance, but the primary targets are big data and GPU-accelerated processing, which represent a growing focus for the graphics company.
For gaming enthusiasts, the most significant announcement was NVLink, a new standard for interconnecting GPUs and CPUs that would complement the current PCI Express bus. PCIe 3.0 currently operates at 3 gigatransfers per second (per lane), but Nvidia promises 5-12 times that bandwidth, which would bring CPU-GPU and inter-GPU transfers up to par with the much faster interface between a CPU and the system's RAM. This is an important step towards enabling a unified memory architecture which either processor can access, as per the needs of each task at hand.
Keeping in mind today's race for power efficiency and potential mobile applications, NVLink is touted to be more than twice as energy efficient as PCIe 3.0.
NVLink will help improve GPU-GPU peer-to-peer communications, eliminating the need to transfer data via the PCIe bus. It would also allow one or more GPUs to access the system RAM much quicker. The new protocol will debut in 2016 with Pascal, which was revealed to be Nvidia's next GPU architecture.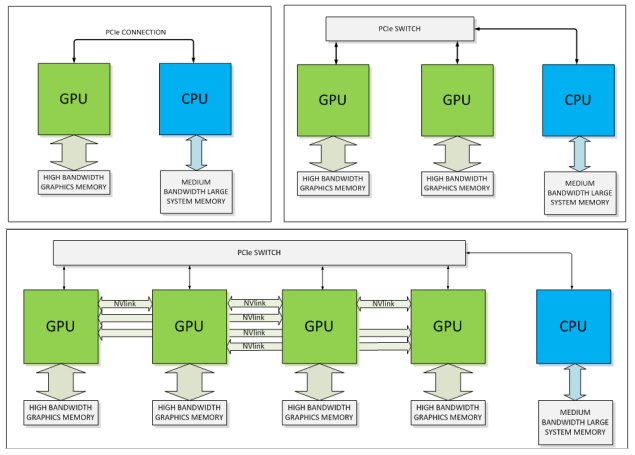 The other major innovation is stacked memory. In order to improve density and interconnection speed, Nvidia will begin using 3D-layered DRAM chips, which can be integrated directly onto the GPU die. Current GDDR5 RAM modules are soldered onto the graphics card, but on-die integration will be possible thanks to technology and manufacturing process improvements. Much like CPUs have absorbed many of their supporting chips' functions, Nvidia's future GPUs will reduce the need for additional components on the graphics card.
Intel already uses an on-die cache for its Iris Pro integrated graphics. It is not known whether Nvidia's design will be a small intermediary cache or large enough to displace GDDR5 RAM altogether. The company also showed how a Pascal GPU with stacked memory could fit onto a card just one third the size of today's conventional PCIe graphics cards, allowing for smaller form factors and mobile applications.
Both NVlink and stacked memory could have significant implications for GPU-accelerated computing, by eliminating bottlenecks and speeding up operations that cause latency in transactions between the GPU, system memory, and other components.
Pascal, which is due in 2016 (potentially timed with the final release of DirectX 12) will feature NVlink and stacked memory, as well as unified memory.
Nvidia also unveiled a dual-GPU GK110 Kepler graphics card, dubbed Titan Z. This card will cost a whopping $3,000, and is only relevant for gamers who expect top-end performance at 4K or higher resolutions. Both GPUs are full-featured GK110s, like the ones in the recently announced Titan Black, with all 15 SMX units running, for a grand total of 5,760 stream processor cores. Exact speeds aren't known yet.
Titan Z cards will have 12GB of GDDR5 RAM and require a triple-slot cooler, which uses a single fan but blows hot air out both the front and back. Nvidia claims the card runs cool and quiet, thanks to various tweaks to the physical design.
Nvidia's Titan range is noted for being able to execute double-precision floating point operations, making it well suited for GPU-accelerated workloads such as weather pattern modelling, oil and gas industry simulations, medical test simulations, and other data-intensive tasks. Nvidia CEO Jen-Hsun Huang described the Titan Z as a supercomputer that can fit under a desk.
In other news that will make gamers happy, Nvidia also announced a price cut and updates to the SHIELD gaming console. Now priced at $199, the SHIELD will soon receive an update to Android 4.4, as well as new GameStream features that allow remote streaming over the Internet, support for laptop GPUs, and support for Bluetooth keyboards and mice for games that don't work as well with a console-style controller.