Mozilla has rolled out Firefox 23, the new iteration of its web browser for Windows, Mac, and Linux.
The new version of the browser is now available through the Firefox.com website. Existing desktop users will also be able to get the update through the browser.
The browser now sports a new logo and
features
a share button that lets users share a web page through a browser based dialog box, without the need to go to another web page. The sharing feature is enabled for Facebook. This is similar to Safari's sharing features, though it supports multiple services. The Firefox feature is based on Mozilla's Social API that makes it easier for web browsers to integrate with social media services.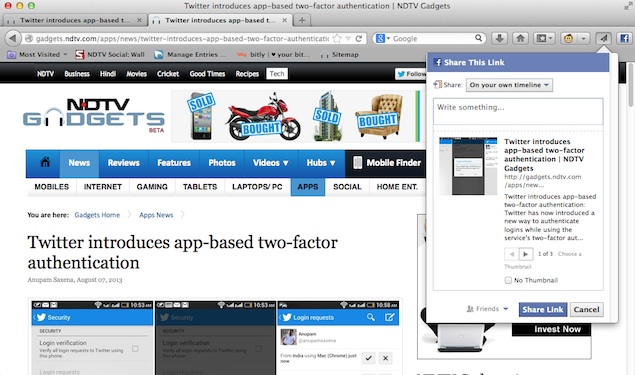 The update also brings a Mixed Content Blocker. According to Mozilla, when secure HTTPS pages load additional content insecurely over HTTP (also known as Mixed Content), users are vulnerable to man-in-the-middle and eavesdropping attacks. The Mixed Content Blocker blocks insecure active content by default, protecting users from these attacks. Firefox automatically blocks mixed content and displays a shield icon in the address bar.
Firefox 23 also ships with a Network Monitor tool that allows users to track how long it takes for individual components of a webpage to load.
Change Log for Firefox 22 for Windows, Mac and Linux:
- NEW: Mixed content blocking enabled to protects users from man-in-the-middle attacks and eavesdroppers on HTTPS pages
- NEW: Options panel created for Web Developer Toolbox
- CHANGED: "Enable JavaScript" preference checkbox has been removed and user-set values will be reset to the default
- CHANGED: Updated Firefox Logo
- CHANGED: Improved about:memory's functional UI
- CHANGED: Simplified interface for notifications of plugin installation
- CHANGED: Enabled DXVA2 on Windows Vista+ to accelerate H.264 video decoding
- CHANGED: Users can now switch to a new search provider across the entire browser
- CHANGED: CSP policies using the standard syntax and semantics will now be enforced
- CHANGED: <input type='file'> rendering improvements
- CHANGED: Replace fixed-ratio audio resampler in webrtc.org capture code with Speex resampler and eliminate pseudo-44000Hz rate
- CHANGED: "Load images automatically" and Always show the tab bar" checkboxes removed from preferences and reset to defaults
- DEVELOPER: HTML5 <input type="range"> form control implemented
- DEVELOPER: Write more accessible pages on touch interfaces with new ARIA role for key buttons
- DEVELOPER: Social share functionality
- DEVELOPER: Added unprefixed requestAnimationFrame
- DEVELOPER: Implemented a global browser console
- DEVELOPER: Dropped blink effect from text-decoration: blink; and completely removed <blink> element
- DEVELOPER: New feature in toolbox: Network Monitor
- FIXED: Various security fixes