Microsoft at its Build 2016 developer conference on Wednesday announced the Windows 10 Anniversary Update, which will be coming not only to Windows 10 PCs, but also to Windows 10 tablets, smartphones, Microsoft HoloLens, IoT devices, and Xbox One console as well.
Microsoft plans to roll out the Windows 10 Anniversary Update "this summer," however as usual, the Windows Insider Preview users will receive the build much sooner.
As a part of the update, both Windows Apps and Microsoft Edge will support Windows Hello, letting 270 million Windows 10 users log in to apps and websites in Microsoft Edge using the Face Lock biometric technology instead of inserting passwords.
Bryan Roper, Product Manager of Microsoft at the conference, added that the Windows 10 Anniversary Update would additionally bring Windows Ink. Windows Ink is the Redmond-based tech giant's new platform developed for Windows 10 apps that support a pen or stylus. The feature will work on Microsoft Office, Bing Maps, Edge and even Sticky Notes among others. Developers will also be able to include the support for this feature in their own apps by inserting a short 2-line code.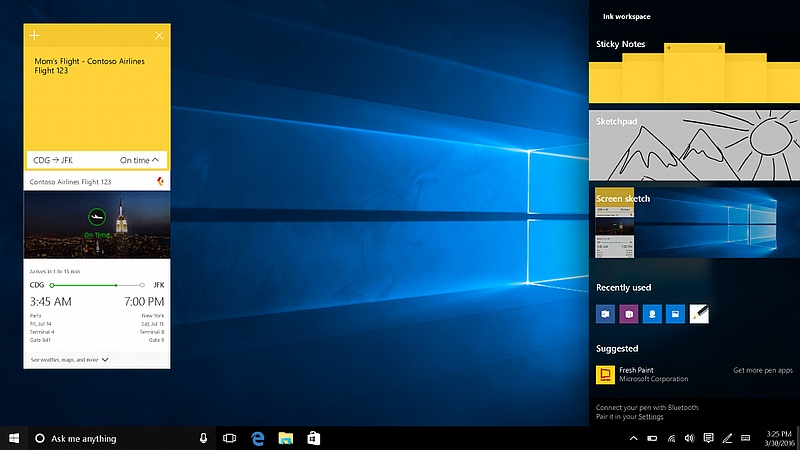 As demoed at the Build Developer Conference 2016, tapping the top of the pen on a Surface Pro will show a new panel with pen-related apps. It will also show up an on-screen ruler to work on Sketchpad, PowerPoint and other apps. The panel will also suggest other apps that support the stylus or pen.
Windows 10 users can also expect better and deeper Cortana integration. For example, people soon will be able to use sticky notes to feed reminders in to Cortana. Upcoming third party integrations will allow the assistant to make hotel and restaurant reservations, book tickets, and more.
As for the gamers, Universal Windows Platform (UWP) apps will arrive on Xbox One through a Unified Windows Store. "With the Anniversary Update, any Xbox One can be a developer kit with Xbox Dev Mode, enabling anyone to develop for the living room. And, the Windows Store will offer a unified store experience for all developers, creating new opportunities to reach millions of new customers," said Microsoft.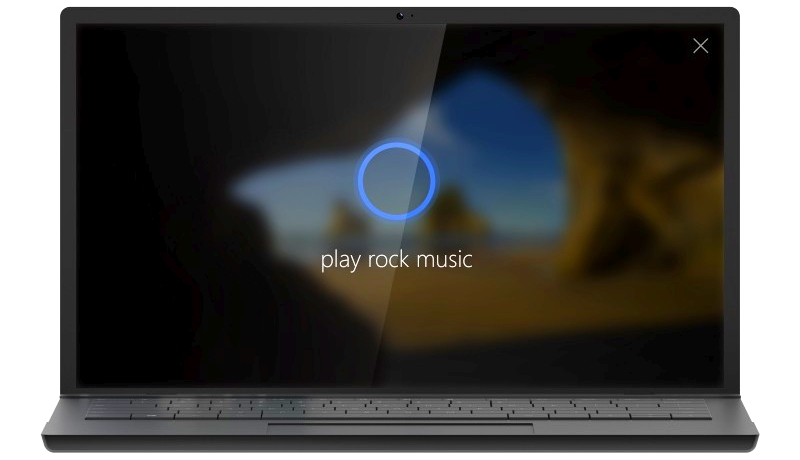 The company also in a blog post detailed the Windows 10 Anniversary SDK, the features and APIs it will include for developers.
Some of the highlights of the Windows 10 Anniversary SDK feature improvements in Background Execution, App Extensions, Action Center, and Windows Store and Dev Center.
The Background execution would let the Windows 10 device run an application in the background without the need for two different processes. Writing applications that will run when required will also become simpler and powerful for developers.
Under App Extensions, Microsoft said the Universal Windows Platform now supports app extensibility letting developers to build an ecosystem based on their application. "Microsoft Edge uses this technology for its own extensions," said the company's blog post.
Action Center in the cloud will enable developer's app to engage with users on all Windows 10 devices. This will let users dismiss notifications on one device to dismiss it from other connected devices as well.
Windows Store and Dev Center now features new tools that include user roles in Dev Center, app flighting, improved analytics, an analytics API, user segmentation and targeting, A/B testing, app subscriptions, advertising improvements, and more.
In addition, Microsoft has now made Windows Holographic SDK and emulator available for download. It has started shipping Microsoft HoloLens Development Edition to developers as well.