After two years, Apple last week
announced the refreshed Mac mini
, alongside the
new iPad
and
iMac
models at an event in California. Those who had been waiting for Apple to unveil the new Mac mini were ecstatic, however, much of that excitement may die down after a teardown revealed the decisions Apple had taken about the innards of the small form factor PC.
Repair and teardown specialist iFixit on Monday published a full teardown of the new Mac mini revealing that Apple has soldered two components to the PC's logic board, ensuring that users are not able to replace them themselves. iFixit tore down the Mac mini 1.4GHz Core i5 and 4GB of RAM variant, and found that Apple had soldered the Samsung-made 1600MHz LPDDR3 RAM into its slot, unlike the previous model, as well as the dual-core Intel i5 4260U processor.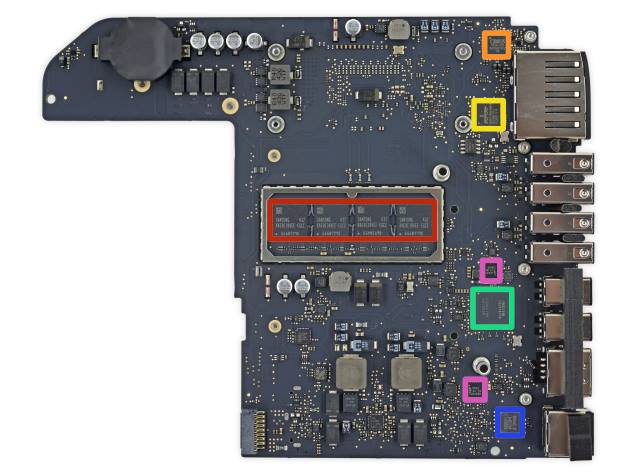 While user replacement of components is not extremely common, there are plenty of users out there that look to upgrade a machine when it reaches further along in its lifespan, and some replace the components on day one to save money on higher-specification models, whilst others just replace failed components themselves after the machine goes out of warranty. The fact that Apple has soldered the CPU into place will not really trouble most users, as CPU replacement is relatively rare, though the RAM being soldered into its slot will certainly affect more people who were hoping to upgrade the 2014 Mac mini themselves.
The iFixit team, which also rates the devices based on ease of repairability and other factors, suggest that the new Mac mini is more difficult to repair than the previous models. The team has given it a repairability score of 6 out of 10, which is notably lower than the previous Mac mini (2012), which had a score of 8 out of 10. It further notes that while the repairing of new Mac mini is little difficult than previous model, its "disassembly is straight-forward and simple" if the proper tools are used.
The new Mac mini comes in three models and is expected to be available via select authorised resellers in India this week. The new Mac mini model at Rs. 36,990 comes with a dual-core Intel Core i5 CPU running at 1.4GHz with a Turbo Boost speed of up to 2.7GHz and integrated Intel HD Graphics 5000. It features 4GB of RAM and a 500GB 5,400rpm hard drive.
Another model, priced at Rs. 49,990, comes with a dual-core Intel Core i5 running at 2.6GHz with a Turbo Boost speed of up to 3.1GHz. This model has a 1TB Fusion Drive standard and ships with 8GB of RAM and Intel Iris graphics.
Lastly, the highest-priced model comes in at Rs. 69,990 and boasts of a 2.8GHz dual-core Intel Core i5 CPU with a maximum Turbo Boost speed of 3.3GHz, 1TB Fusion Drive, 16GB of RAM and Intel Iris graphics.