Shares in Lenovo Group Ltd slumped more than 16 percent on Tuesday after a weekend media report said the Chinese personal computer maker was in talks with Sony Corp about a possible joint venture to buy Sony's loss-making Vaio PC business outside Japan.
Speculation about the Sony joint venture comes after a hectic two weeks of deal making by Lenovo, with the Chinese company launching $5.2 billion worth of overseas acquisitions, partly funded by its own stock. Lenovo's announcement last week that it will buy Google Inc's Motorola Mobility handset unit for $2.9 billion surprised some investors and triggered a raft of analyst downgrades.
Lenovo declined to comment on Tuesday. Sony has said the media report is inaccurate, but acknowledged it was looking at various possibilities for Vaio.
Lenovo, the world's biggest PC maker, is expanding into the fast growing smartphone business to offset sluggish PC demand. Its purchase of the Motorola handset business is aimed at challenging Samsung Electronics and Apple Inc in smartphones, though there are doubts about how quickly these acquisitions might pay off.
Late last month, Lenovo said it was buying International Business Machines Corp's low-end server business for $2.3 billion.
Motorola Mobility's $915 million pre-tax loss last year is not far short of Lenovo's annual pre-tax income, noted Jefferies & Co, underscoring the financial stress the deal could have on Lenovo.
"The market's going to focus on the short-term impact on its earnings, but both deals seem to fit very well with their longer term strategy," said Erwin Sanft, Standard Chartered's Hong Kong-based China equity strategist.
In the five trading days since Lenovo announced the IBM deal, the Chinese firm has seen close to $3.8 billion wiped off its market value.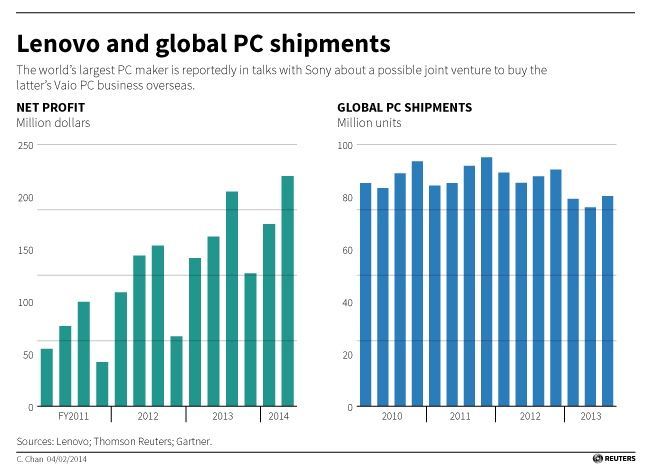 Global brand
Lenovo earns about 80 percent of its revenue from PCs and has struggled to make inroads into the global smartphone market due to a lack of patents and distribution network. The Motorola deal would increase Lenovo's global smartphone market share to above 6 percent, still well behind Samsung's 28.8 percent and Apple's 17.9 percent, according to Lenovo and IDC.
"It took them a while, but Lenovo is one of the few corporates to successfully elevate a China-only franchise to a global one, and these deals would be very encouraging for Lenovo bulls," Standard Chartered's Sanft said.
Lenovo shares closed down 16.4 percent - their lowest close in nearly 10 months and the biggest one-day drop in over 5 years. The benchmark Hang Seng index <.HSI> fell 2.9 percent.
Sony, due to report its latest quarterly earnings on Thursday, has been battling a challenging operating environment in the PC and consumer electronics business. Losses in PCs and televisions were a key reason behind Moody's Investor Services decision to cut Sony's debt rating to junk status last week.
© Thomson Reuters 2014