Intel has finally discussed details of its much-anticipated new Core M lineup of processors, which appear inside many of the thin-and-light products unveiled at this year's IFA show. First unveiled by company President Renee James on stage during her Computex 2014 keynote address, Core M will be the first shipping processors designed and built on Intel's new, shrunken 14nm fabrication process.
The first of the "Broadwell" family, now known as fifth-generation Core, is an especially small processor designed to run without a fan, enabling thinner and lighter devices without having to step down to the level of current low-power Atom processors. The "Llama Mountain" prototype Intel showed off at Computex was just 7.2mm thin, and the Asus Transformer Book Chi announced at the same time will be 7.3mm thin.
Another promise is vastly improved battery life. The 14nm lithography combined with Intel's specific optimisations and architectural improvements should result in up to two hours more power on each charge cycle.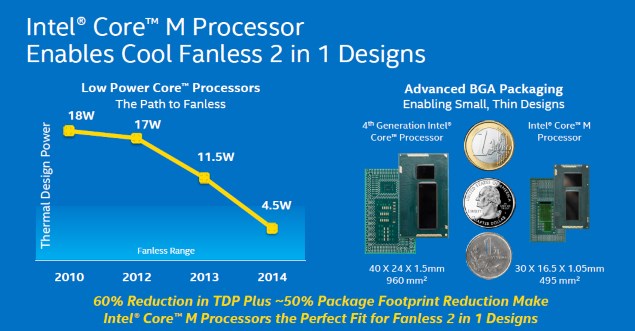 Three models of the Core M will be available: the 5Y70, 5Y10 and 5Y10a. All are dual-core processors with Hyper-Threading, and have integrated Intel HD 5300 graphics with 4MB L3 caches. While the 5Y70 has a 1.1GHz base frequency and can reach up to 2.6GHz with one or both cores, the 5Y10 models are clocked at 800MHz and can touch up to 2GHz. The 5Y10a and 5Y10 are identical other than the fact that the latter SKU is described as a "4W config down unit" which can presumably consume even less power. The 5Y70 also supports Intel's vPro feature set for business-oriented products.
Core M is a new product category for Intel that will sit alongside the existing Core i3, i5 and i7 and is specifically designed for fanless ultraportable devices. While "2-in-1" tablets with detachable keyboards are the primary use case scenario, the company expects that manufacturers will use it in a variety of designs including more traditional notebooks.
Intel claims up to 50 percent better CPU performance and 40 percent better graphics performance than the previous generation ultra-low-power Core CPUs. Thermal Design Power (TDP), or the amount of heat dissipated by the processor, is reduced by 60 percent.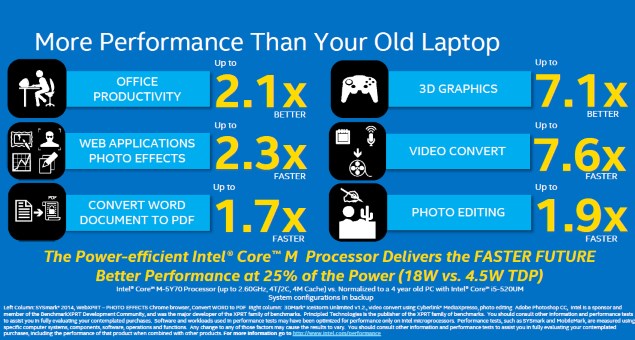 The integrated graphics component, which will be called Intel HD Graphics 5300, supports DirectX 11.2 and can power a 4K (3840x2160 pixels, 24Hz) screen. QuickSync video promises accelerated video editing and transcoding, while 1080p and 4K video playback should not impact battery life as much. Intel suggests that you can get 1.7 hours more playback time compared to a device based on the previous-generation Core i5-4302Y processor operating in the same 4.5W thermal envelope.
Intel says over 20 products based on Core M are on the way, including the Asus Transformer T300 Chi and Zenbook UX305, the Dell Latitude 13 7000, HP Envy x2, Acer Aspire Switch 12, and Lenovo ThinkPad Helix.